Gear Review: Gregory J53 Backpack
Gregory is one of the most popular pack brands you will see on the trail. This review will focus on Gregory's women's internal frame pack, the J53.
The J53 was donated to me by Gregory for review purposes. I want to thank Gregory for providing me with this lovely pack. I will be making a few comparisons of this pack to Gregory's Sage 55. I have hiked the past two years with the Sage 55, including my 2013 thru-hike of the Appalachian Trail. You can check out my review of the Sage 55 here.
Now, time to check out the specifications of this backpack and then get down to how this pack holds up on the trail.
Brand: Gregory Mountain Products
MRSP for all sizes is $199.00
Extra Small (XS):
Volume: 51 L
Weight: 2 lbs 12 oz*
Torso: 14 – 16"
Waist/Hips: 22-28″
Small (S):
Volume: 53 L
Weight: 3 lbs*
Torso: 16 – 18"
Waist/Hips: 22-28″
Medium (M):
Volume: 55 L
Weight: 3 lbs 3 oz*
Torso: 18 – 20"
Waist/Hips: 28-34″
The weight limit is 35 – 40 lbs for all sizes.
*When it comes to weights provided on an online website or even a retail tag, take this information with a grain of salt.
Weight on website for J53 XS: 2 lbs 12 oz
Measured weight of J53 XS: 3 lbs 2 oz
Pack Style: Internal Frame
Intended for: Female, Hiking, Backpacking
Hip belt: EVA foam
Back Panel: CrossFlo Suspension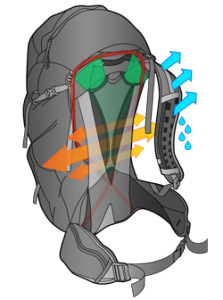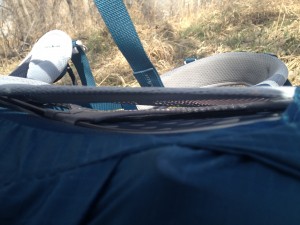 Pockets: Zippered top pocket on lid and zippered stash pocket underneath lid, zippered rain cover pocket, zippered waist belt pockets, zippered front pocket, front bucket pocket, two water bottle pockets on each side, U-shaped pocket to access body of pack from front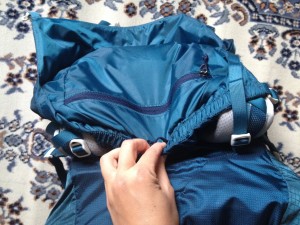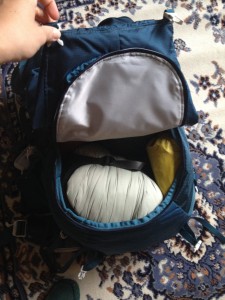 Compression: Side and bottom compression systems
Other features: Trekking pole loops, water bladder access, matching rain cover
Gregory Warranty:
Gregory offers a lifetime warranty but only from defects in materials or workmanship, not regular wear and tear.
Test Subject Information:
Weight: 115
Height: 5'1"
Waist: 28″
Test Area:
The great thing about this pack is that it can be used for a day hike or a long distance trek. I used the pack on a variety of day hikes (less than 10 pounds). However, I also used it in overnight adventures with a full pack (27 pounds, three days worth of food). I used this backpack in Fort Collins, Estes Park, and Golden, Colorado. The weather was spring-ish type weather, some ice, some snow, some sun!
Personal Note:
I have hiked with Gregory's Sage 55 for the past two years.
First Impressions:
The first thing I noticed, before even trying it on, was the ventilated back and the beautiful color. Upon the first wear, I noticed the buckles were smaller and lighter than Gregory's Sage 55. Compared to the Sage 55, I also noticed the hip belts were cushioned differently, resulting in a less padded belt than I was used to with the Sage 55.
Pros of the J53:
Back Ventilation
Hallelujah Gregory! Thank goodness for this improved back ventilation system. I could definitely tell a difference compared to my extremely hot Sage 55, which lacked any sort of ventilation. It truly is breathable and fabulous and I could feel the difference. My back was a lot less sweaty than normal, which is such a good thing!
Shape
The shape of the J53 is a winner. I like how not too tall and bulky it looks. It can cinch to look as small as a day pack but can definitely widen and open up to fulfill a thru-hiker's needs. However, do keep in mind that this pack does have a smaller liter size, 55 liters for medium, 53 liters for small, and 51 liters for extra small. I love this liter size because it prevents me from over stuffing my pack, which in turn, keeps in lighter.
Top Pocket/Lid/Brain
Wanna lose some weight on that pack? Well, you are in luck. The top pocket/lid/brain (whatever jargon you prefer to use!) of the J53 is detachable. This can be super duper nifty to cut weight if the extra space is extraneous to your needs. For me, I love a good top pocket. If you are the same, you will be happy to hear that the lid of the J53 features two pockets, one on top, and another on bottom.
Lightweight Features
I could tell Gregory definitely tried to trim the weight on this model of pack. The buckles and other plastic parts of the pack are smaller and lighter than my previous Gregory. At first, I didn't like how small and light they felt because I was so truly attached to my previous pack. However, after a couple good hikes with this pack, I discovered that this is a wonderful feature. The only thing that made life a bit harder was that the buckles and clips were a bit harder to undo when my hands were cold. Talking more about lightweight features, I did notice the foam padding in the hip and shoulder straps have cut-out holes to still give the straps cushion but to also cut on weight.
Lots of Pockets (and they aren't mesh!)
I would not say that I am obsessed with pockets but I do appreciate a pack that places pockets in unique and functional places. There are some interesting pocket decisions with the J53, especially in the front. I like the unique design they chose and have no complaints. My absolute favorite component about the pockets and pouches must be the fact that none of them are made of mesh! Thank god! With my previous packs (not just Gregory), my mesh pockets would end up ripping with time and extended wear. Instead of mesh, Gregory used a stretchy fabric for the side water bottle pouches (yes yes yes!) and also ditched the mesh hip belt pockets to a stronger fabric.
Compression
This pack's compression straps make things great when you want to compress your load. There are compression straps at the bottom and on the sides. The bottom compression straps even have a nice little feature that holds the excess strap (see photo).
Cons of the Gregory J53:
Questionable Sizing
One of the reasons I love Gregory is because the company offers size extra small in packs. I am a petite hiker and this is one of the big reasons I chose Gregory in the first place. I put my waist size, height, and weight in this review (under Test Subject Info above) to give smaller hikers an idea of the kind of person this pack fits. To be honest, I am not the smallest hiker I have seen on the trail. This brings me to the first con of the J53. I am a 'bigger' XS if I must say. When I wear this pack, the hip belt is nearly cinched to its limit. Therefore, if your waist is smaller than 27-28″ than the hip belt might not actually fit you, it might be too big and you might not be able to cinch it tight around you. That is why I put questionable sizing as a con. If you can, get to your local outfitter to try this on before committing.
For anyone looking into the small and medium sizes, always check the pack's specifications and measurements or, better yet, try the pack on in a gear outfitter.  Listed above are the specifications of the J53 and the extra small and small have the same waist belt sizing.
Lighter Padding on Hip Belt
Compared to my Sage 55, this pack does have less padding in the hip belt. However, I did not have any bruises or issues while hiking with the J53. The hip belt does have foam padding and still does feel wonderful. Do keep in mind that the cushioning on the hip belt will flatten with wear. At this point, it is hard to tell if the padding on the J53 will degrade quicker than it did with my Sage 55. Only time will tell and I will keep this review updated for this exact purpose as I wear the pack more and more.
Some Chaffing
I did experience some chaffing in the arms while wearing the J53. The chaffing did not occur when I wore it as a day pack but only with a heavier load, a full pack. I tried adjustments in all the relative straps but I still chaffed in my upper arms as they lightly scraped the shoulder straps. I do use trekking poles and that does require my arms to be in constant in motion.
Hard to Reach Water Bottle Side Pouches
To be honest, I am a water bladder hiker. I do not use water bottles. But, I must reveal to my water bottle-loving friends that the J53's model makes it hard to retrieve your bottle from the side pouches when you have a full pack. I couldn't reach my bottle at all, let alone try to put a bottle back into the pouch. Maybe I need practice? However, I did not find a problem using the water bottle side pouches when I was simply using the pack as a light, day pack.
Quick Comparison to the Sage 55
For all my hikers who have used the Sage 55, let me make a quick comparison of this pack and the J53. The J53 is lighter, has a heavier loading capacity, has no mesh pockets, has smaller/lighter plastic pieces and buckles, and has back ventilation. The J53 also has a removable top pouch/brain, less cushion on the hip belts, and an extra pocket in the front.
Rating System
Based on my own experience, I have rated this pack on a 1-5 scale, 5 being the best rating.
Comfort: 3.5
I knocked a whole point off because of my chaffing issue and a half point because of the hip belt padding. Overall though, this pack fit me beautifully and felt comfortable. I am hoping that with more time and use, I will get to the bottom of the issue with the chaffing caused by contact with the shoulder straps. In favor of the comfort, I must mention that the sternum strap does move up and down and can be adjusted to fit your needs.
Design: 4
Design gets a solid four points. I knocked a point off because I was unable to reach the side water bottle pouches when I had a full pack. The side pouches were totally reachable when worn as a day pack though. The design was a winner with the breathable, ventilated back system and the lack of mesh pockets. Also, the pack features a huge zippered U-shape pocket in the front that, when opened, you can retrieve items at the bottom of your pack without going through the top. I really enjoy that style feature.
Durability: 4
Currently, I can't quite give a great rate for durability because my experience with this pack is still fairly new. But, I kept the score high because I did notice the shoulder straps were reinforced with more material at the seams, which is usually one of the first places you regrettably start seeing wear. Also, no mesh pockets make me happy because I always tear mesh pockets sooner rather than later. Gregory definitely reinforced the features that I found would wear the soonest in my Sage 55.
Fit: 5
As I have stated above, Gregory's extra small packs fit me amazingly. I must give the fit a perfect score. The hip belt, although not as cushy as my previous pack, still protects and comforts my hips. The pack also fits my spine perfectly. Although this pack fit me perfectly does not mean it will fit you the same.
Value: 5
Let's be honest here, packs are expensive and the J53 isn't any different. Would I recommend this pack for 200 dollars? Yes, yes I would. Remember, when you are purchasing gear, the brand does mean something. Gregory has a wonderful warranty and does make quality pieces. I set the value at a perfect score because this is what I would expect to pay for a high quality pack like this.
Alternatives:
Gregory Packs with larger capacity
J 63 (same pack, larger liter size, heavier than J53)
Deva 60 (heavier than J 63 and more expensive)
Amber 60 (heavier than J 63)
Cheaper Gregory Pack:
Wander 50 ($179)
More Packs in XS:
Osprey Ariel 55 (also comes in 65)
REI Flash 58 Pack (One liter more than the Gregory Sage 55 and lighter!)
Granite Gear Aji 50 Ki Pack (comes in short)
Do you have this pack and feel something should be added to this review? Comment below and tell me what you think! 
OVERALL RATING: 4.3 out of 5
Sources:
https://www.rei.com/product/866155/gregory-j53-pack-womens#tab-description
https://www.backcountryedge.com/gregory-j53-womens.aspx
https://www.wta.org/signpost/backpack-review-ten-pack-picks-from-hydration-to-trekking
https://www.rei.com/product/866155/gregory-j53-pack-womens/?cm_mmc=cse_PLA-_-pla-_-8661550003&mr:trackingCode=1DEF4130-8A97-E311-90E9-BC305BF82162&mr:referralID=NA&mr:device=c&mr:adType=plaonline&mr:ad=52774014280&mr:keyword=&mr:match=&mr:filter=70388244880&msid=i9Zv9RV5_dc|pcrid|52774014280|#tab-specs
https://gregorypacks.com/en/GM378_cfg.html?dwvar_GM378__cfg_gmp_color=twilight_blue
Gregory
Affiliate Disclosure
This website contains affiliate links, which means The Trek may receive a percentage of any product or service you purchase using the links in the articles or advertisements. The buyer pays the same price as they would otherwise, and your purchase helps to support The Trek's ongoing goal to serve you quality backpacking advice and information. Thanks for your support!
To learn more, please visit the About This Site page.
Comments
3
Hey Madison — Quick question for you. I just picked up the 2015 Z55 (male version). I'm noticing in just walking around the house with around 25-30lbs of weight in the pack that the frame really sits on a concentrated section on the back of my hips. My other two packs (Kelty Redwing and Osprey Atmos) seem to distribute the weight to all sides of my hips. Not sure if it is the design of the frame (X frame) or I'm just not adjusting it correctly. I know the J53 is the same as the Z55, just the female version.

This is a very late comment, but I wanted to say thank you for this review! I'm replacing my beloved Gregory Sage 55 so this is perfect.