Gear Review: Melanzana Micro Grid Hoodie
If you live in Colorado, owning a Melanzana is basically a rite of passage. I can say with confidence that this is my favorite base layer I have ever owned and worn. Although Leadville, CO, is almost an hour from my home, I find reasons to visit this amazing mining town just to wander through the store as they are currently not accepting online orders. Talk about a hot commodity, am I right? In fact, if you visit the Leadville store, you can see employees working on their amazing products in the back; just another reason to love this brand.
Price: $69
Materials: 90% polyester, 10% Spandex; Polartec fleece
Weight: 9.5-12.2 ounces, depending on size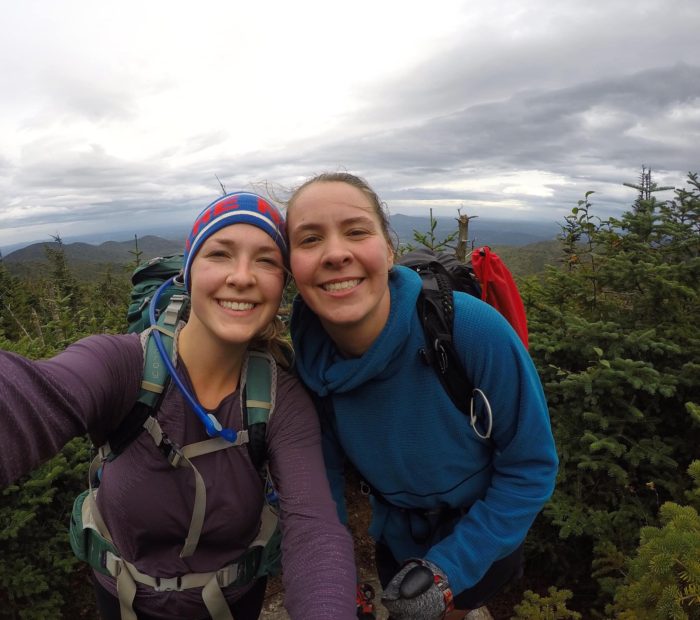 Circumstances of Review
I acquired the Melanzana Micro Grid Hoodie last Christmas and have taken it on ski touring trips, day hikes, and even my attempt on the Long Trail. It's warmth to weight ratio is on point and has withstood freezing-mid temperature conditions.
Pros
Hoodie: The hood on the Melanzana Micro Grid Hoodie is one of a kind. I've never encountered a hood on a sweatshirt that literally cocoons your face. It's amazing for those chilly evenings and early mornings where you can cinch it so just your eyes are peeping out. Also, who doesn't love a good hood that stays on for those windy summits?
Warmth to weight: If my calculations are correct, my women's large Melanzana Micro Grid Hoodie weights around 13 ounces. Generally, I run pretty hot and can wear this alone on a snowy day when trekking uphill, whether foot powered or on skis. This was my go-to item on the Long Trail, especially for the cold mornings and brisk nights. For those taking on long distance thru-hikes, I really recommend carrying a Melanzana as it can double as a sleep shirt, base layer, and provides a lot of warmth for its weight.
Durability: I'm known to rip, tear, or break gear. It's not that I'm careless, but I do enjoy more technical terrain that involves rogue tree branches and sudden wipeouts. To extend the life of your Melanzana, I do recommend handwashing and air drying. However, I haven't always abided by this advice so it's withstood washing and commercial air drying.
Dry time: The dry time for this fleece is impressive. In general, fleece tends to be hydrophobic and this is really important when carrying a limited amount of clothing in variable conditions. Putting on wet clothes in cold climates can accelerate hypothermia. When it rained and my Melanzana got wet, or even from sweat, I found the Micro Grid Hoodie dried faster than other base layers I've worn in the past.
Cons
Availability: Every Melanzana item is made and sold in their Leadville store. Supply is limited and demand is high, thus making it difficult to purchase in the color or style you like. They value quality control and supporting the Leadville community, which I totally respect, but selfishly wish online ordering was an option.
Fit: If you prefer a snug, athletic fit, a Melanzana Micro Grid Hoodie may not be the piece of gear for you. The fit tends to be boxy, which is a style I prefer as it allows for layering. With that being said, the larger, boxy design can be a con for this gear item. I'd say the only area for improvement would potentially be a cinched waistband but I'm not quite sure if that would be worth the additional weight.
Value
Honestly, I wish I could have a Melanzana in every single color and style. For a base layer, it's versatile, warm, and the hoodie allows you to snuggle in. Plus, it seems pretty odor resistant. I've worn this gem on morning ski skins, which is a serious workout, and despite me getting stinky/sweaty AF it doesn't smell horrible after. If you don't own one you should definitely make the visit out to Colorado, go to Leadville, and make your Melanzana purchase.
Comparable Items
For base layers, I also own a Patagonia Capeline Thermal Half Zip, which weighs less than the Melanzana Micro Grid Hoodie but comparable in terms of fabric warmth and use as a base layer. As to which one I prefer, it honestly depends on the conditions. I like the Melanzana Micro Grid for windy and colder conditions because of the hood, but for milder conditions I'll save weight with the Patagonia Capeline Thermal Half Zip.
Affiliate Disclosure
This website contains affiliate links, which means The Trek may receive a percentage of any product or service you purchase using the links in the articles or advertisements. The buyer pays the same price as they would otherwise, and your purchase helps to support The Trek's ongoing goal to serve you quality backpacking advice and information. Thanks for your support!
To learn more, please visit the About This Site page.