Gear Review: NiteRider Adenture 180 Headlamp
Gear Review: NiteRider Adenture 180 Headlamp
Disclosure: The following product was donated for the purpose of review.        
Introduction: The perfect headlamp doesn't get nearly as much attention from gear nerds as the perfect sleep system or the perfect backpack, but for a serious hiker, it's one of the most essential pieces of gear.  A good headlamp is the enabler for night-hiking, the extender of shoulder-season hikes, the safe-guard for late night visits to the 'facili-trees', and, as I learned directly, an essential piece of gear in an emergency.
A good headlamp, while dorky (see top left), lets you take pictures like this one (see top right, taken after a sunrise hike).
Why it is important to have a good headlamp (a digression):
When I was 24, I hiked up the 12,281-foot sister mountain to Ranier, Mount Adams. There were several of us in the group I hiked with who were unaccustomed to high elevation, including myself. Adams is a relatively easy high elevation mountain which many people do as a day hike, but to avoid taking any chances we decided to base camp at a flat area known as 'lunch counter', around 9,000 feet, so we could acclimate. That was fortunate for me, since this would be the hike where I realized that I struggle with elevation.
Related: The Best Headlamps for Thru-Hiking
We began our day at nearby Trout Lake (elevation 1,900), and drove up to the trailhead. We began late in the day, knowing we would be base-camping half way up. An important thing to note about Mt. Adams is that areas of it are glaciated. The path we took up was not glaciated, but further around the mountain to either side of us there were areas with crevasses lurking beneath the opaque ice.
At the rocky belt separating tree-line from snow, the group became spread out and darkness started to fall. By 8,000 feet, where dirt gave way to snow, the lack of oxygen began playing tricks with my awareness. I started to feel dizzy but remained unconcerned. In fact, it was funny to me how unbalanced I was, staggering from rock to rock like a drunk. I smiled at the stars winking on and followed them up the mountain, unknowingly traversing the wrong way.
All of a sudden, I saw a star appear far to my left. It went out. Then, it came on again. It took me a few seconds to realize what it was. I could barely make out the shape of the rocks as I made my way towards this new light. At the rim of the lunch counter, I found my relieved companions with a headlamp, strapped to a backpack, blinking cheerily in the darkness to guide me back.
Looking back at how a series of small miscalculations led me to a large mistake, I realize how easy it would have been, without that small piece of gear, for that climb to be my last.  Five years later I am more cautious, more prepared, and I never leave my headlamp at home.
Specs:
Weight: 85 grams
Price: $70
Lumen Output: 180
Run Time: 2:30 – 37:00
Charge Time: 2:15 hours (rechargeable)
Dimensions: 4 X 2.5 X 7.5
Red Light Modes: Night vision, flashing
White Light Modes: Diffused, walk, medium, high, daylight flash, locator beacon, and SOS
Best Feature: Comfortable strap, many settings, rechargeable (there are a lot of good features)
Worst Feature: Expensive, charge time could be a problem for thru-hikers
Circumstance of review: I used this headlamp for fall hiking and winter running near the solstice, when it gets dark at 4:30. After doing my first thru-hike with several different lights, I made a specific list of what I wanted in a headlamp:
Red light mode for nighttime and flashing mode for emergencies.
Lightweight (under 3 ounces).
An adjustable strap that doesn't slip its buckle (this has been a reoccurring issue for me. Maybe my head is just oddly shaped.)
Some kind of control to avoid the light turning on in my bag.
Adjustable head and range of modes for walking or reading in my tent.
Good battery life and run time.
Testing the Adventure 180 was interesting because NiteRider usually caters to cyclists rather than hikers. I didn't notice any major differences, and actually preferred some of the features that seemed more bike-specific, such as a secure headband and rechargeable batteries.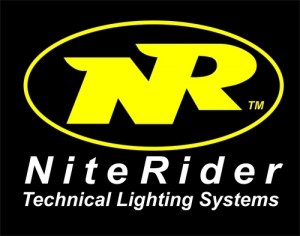 Pros: Features that make the NiteRider Adventure 180 ideal for a thru-hike: 
It's light for what it offers. The Niterider isn't the lightest headlamp on the market, but it's close. And for the features it offers – rechargeable, 9 different light settings (if you include the flashing settings), high lumen output, and cushioned, adjustable strap – it's remarkable that the weight is still so low. I'm not a headlamp expert, but I have used a lot of headlamps by popular brands and I'm used to lights falling into two categories: A. light and limited or B. heavy and complex. Niterider has packed a lot of options in a very small package, managing to walk the middle ground that I never knew existed.
The headlamp, strap, and charging cord together weigh 3.35 ounces total, less than most headlamps (especially when you consider extra batteries).
The strap is amazing.
This is my experience with headlamps:
I'm rushing along a trail, trying to beat the sun, knowing that every minute the terrain is getting darker and harder to navigate. This is my favorite time to hike because it is charged with a certain energy that is both present and urgent. The sky is changing its mind, turning from blue to yellow to purple, and backlit trees make dark shapes that suddenly cease to be a forest and stand out as individuals. The sharp edges of mountain spines become more pronounced as the light slips away softly and stars become lighthouses in the inky black night. I could live in this moment.
Except that I can't, because I'm fiddling with the strap on my headlamp.
This is the first headlamp I've found that is intuitive in the way it straps on to my head. It doesn't fight me or slip out of its adjustable buckle. It doesn't ride up or pinch when I'm running. It even has space for a ponytail. Thanks to this strap, my blood pressure is greatly improved.
It's rechargeable. For thru-hikers, who are all about saving money (see: being cheap), this is a big deal. I would always rather hunt for an outlet than buy batteries. Of course, this isn't for everybody. You'll need to carry a cord with you to charge it, but the cord is less weight than replacement batteries.
There is also the reasonable concern that you run a higher risk of your light going out while you are away from an outlet, and the fact that it is not always easy to find an outlet for charging (and when you do, it probably has a dozen smart phones attached to it). So you should keep in mind how often you'll be near a useable outlet or how often you'll be stopping for the night in a town.
Note: If you're already carrying a solar charger for other devices, this light will easily save you weight and money.
It's idiot-proof. Not to be too critical of thru-hikers, but we tend to put our gear through a lot of abuse. I constantly drop, crush, or manhandle the gear in my bag (especially if it's between me and lunch). The problem with headlamps, though, is when they accidentally get turned on. I have opened a dry sack many times to find a dead headlamp. Some of them lock with a series of button pushes to prevent this. This works great for a lot of people, but I'm impatient and find this feature sometimes frustrating. NiteRider won big points with me by passing my gear abuse test. I've dropped, mashed, hit, tossed, and manhandled this light, but it hasn't yet turned on accidentally in my bag. This seems to be because of the button design. It doesn't work by pressing it on a flat surface or just hitting it, as with other headlamps. It requires a small, rounded, direct point of pressure to activate it – like a finger. Good move, NiteRider.
It won't make enemies. The best way to become unpopular in a shelter is to blind everyone in the middle of the night with your headlamp's highest setting. But the Adventure 180 has a solution for that, as well. When you first turn it on, it's set to the ambient red light setting that prevents you from losing your night vision. No matter what setting your light is on when it's turned off, it comes back on as red. That's something that you, and everyone else in your vicinity, can appreciate.
Con: The battery life isn't ideal for serious night hikers. Lower battery life can be a trade-off for a rechargeable product. I've already clarified that I like being able to recharge my light, but I'm not a frequent night hiker. I might hike for an hour in the dark, but usually it isn't intentional (see: bad planning). The high lumens and comfortable headband make this a great night-hiking light, but the charge life is not ideal for thru-hiking. If you're a major night hiker and planning to go four or five days between towns, you might prefer a light that uses batteries – or a solar charger to accompany this one.
A note on Run Time: Outdoor Gear Lab has a great article about how headlamp manufacturers lie about how long their lights last.  To test out what the likely run time would be for anyone using the Adventure 180, I fully charged my headlamp and left the light running on walk mode. It was in my apartment, which is roughly 60 degrees, but the rechargeable battery is lithium polymer – which is less susceptible to the cold than other batteries – so you shouldn't see its run time decrease much in bad weather.
The walk mode (advertised as 37 hours) lasts, in reality, about 13 hours and 45 minutes.
What's important about these findings: When I first wrote this article, NiteRider asked me to repeat my test.  I did, and found the same results.  Then, they repeated their own test and also found my results.  Products change a lot between design, testing, and final specs, so it's not uncommon to find that a sleeping bag weighs an extra ounce than the initial catalog suggested – or that a light produces a different amount of lumens than was originally agreed on.  In the case of the Adventure 180, the walk mode produces 30 lumens, rather than the 11 it was originally intended to produce.  That means that it doesn't last as long as advertised.
But none of that is surprising.  What is surprising is that the company listened to a reviewer, re-tested their own product, and is now changing their instructions to accurately represent the product in an industry that is known for lying.  As a reviewer who worries that good marketing supersedes honesty, it's pretty heartening to get to work with a company like NiteRider.
Value: Yes, this is absolutely worth the money. For a headlamp with this number of features and weight savings, this is a fantastic MSRP.  Not to mention that rechargeable products save a ton in batteries. On the other hand, if you plan to use this for camping a few times this summer, you could get by with something cheaper. I will concede that $70 is a lot of pasta sides, but this headlamp is honestly underpriced.
The NiteRider Adventure 180 is available here.
For more information: Check out this article by Madi Dragna  to learn more about headlamps!
Affiliate Disclosure
This website contains affiliate links, which means The Trek may receive a percentage of any product or service you purchase using the links in the articles or advertisements. The buyer pays the same price as they would otherwise, and your purchase helps to support The Trek's ongoing goal to serve you quality backpacking advice and information. Thanks for your support!
To learn more, please visit the About This Site page.