Getting Comfortable Being Uncomfortable: Rainy Reflections from TN
There's nothing quite like falling asleep to the sound of rain on a roof. But it's even more satisfying in a shelter in the middle of the woods when you're sleeping next to strangers (who smell just as bad as you so it's basically a wash, pun intended) surrounded by a cacophony that includes snoring, howling coyotes, chirping crickets, and many other noises that you'll never be able to identify. Other fun noises may include falling 30-foot trees or locals shooting bullfrogs with Ruger 22s at your campsite at midnight (I slept through those last two examples by the way – Advil PM and Mack's earplugs, do you sponsor hikers?).
It's Day 56 of my thru hike and a significant number of those days have involved rain of various temperatures and intensities. I've hiked over 400 miles through Georgia, North Carolina, and Tennessee and will shortly enter Virginia to tackle the state's 550 miles. Pictures I've taken capture only a small portion of the incredible views across many microclimates – from rolling meadows with swaying yellow and white flowers, to cold and serene pine forests that simultaneously remind me of the Forbidden Forest and selecting the perfect Christmas tree, and bare balds with high winds and 360 degree views.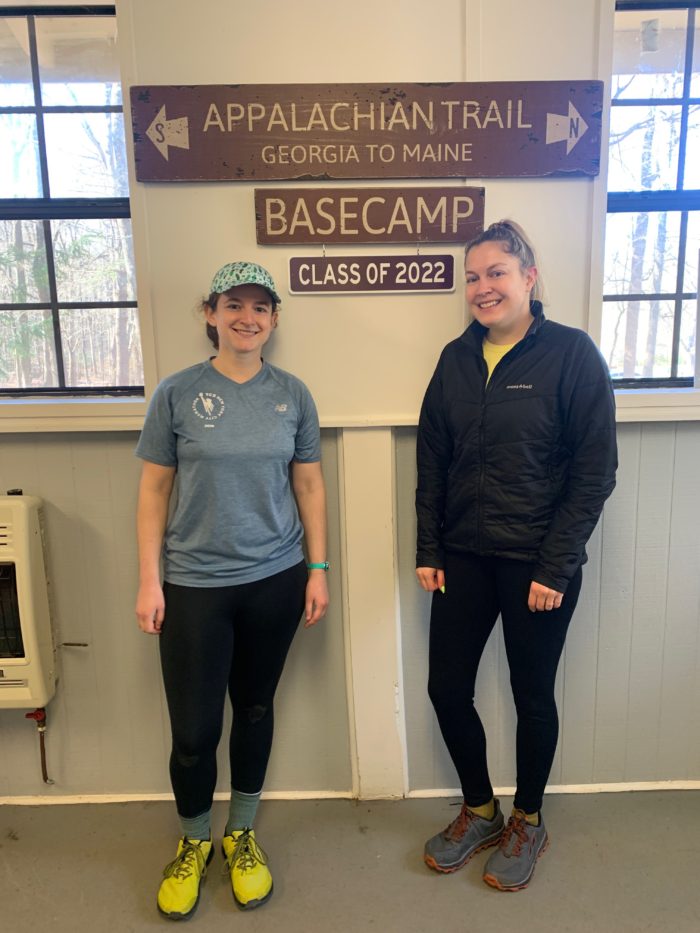 The Good
I've watched watercolor sunsets without any light pollution, hitchhiked and ridden in the beds of pickups through small towns (I was in a group, Mom!), roasted sausages over an open fire, and met friends from all over the world, including France, Switzerland, Germany, and Ireland.
I've stumbled out of the woods hungry, hot, and exhausted to discover incredible trail magic from church groups, former AT hikers, and dayhiking families alarmed at my feral appearance. Whether it's well wishes, a prayer, a ride, or a feast, the trail community is truly one of a kind.
The Bad
It can be all too easy to romanticize trail life – the views, like-minded friends, the freedom, the health effects. But the lows on trail can be incredibly demoralizing. After climbing the stairs at Amicalola Falls State Park on Day 1, I was already doubting myself and my hike. Amanda's friend Adam had joined us and encouraged me to give myself a chance. Trying to make it up Springer Mountain, I got such severe leg cramps that I couldn't walk. I'd never experienced anything like this during my years of cross country and running half marathons. Amanda gave me an electrolyte drink, made me eat some snacks, and led me slowly up the mountain to "begin" our hike. It was not the start I was hoping for.
On Night 3, an intense storm combined with poor staking technique led to my tent collapsing and flooding. Above the Clouds Hostel took Amanda and I in the next day despite being completely full and likely saved my hike.
The Ugly
And after the excitement of completing our first state and crossing into North Carolina on a frigid day, Amanda called me over to her tent at the beginning stages of hypothermia. Thankfully she was able to walk the 4 miles to a parking lot where Bobby the Greek rescued us with encouraging words and Burger King. After resting in Franklin for a few days, Amanda decided to take a break and I continued solo.
Later on in the Smokies, I would meet my new trail family after the second scariest event so far: surviving a freezing rain/hail storm with 40+ mile per hour winds. There was no time to stop for breaks or lunch or water – the only goal was to make it to the Mollie's Ridge shelter before it was full. We squeezed over 20 people into the double-decker shelter after the ultimate bonding experience.
I'm now writing this warm and dry and cuddled up in my quilt with our group dog napping on my legs taking a zero (rest day). It's been raining for 24 straight hours. And even though I barely have enough service to get a few texts out, my friends next to me are watching the new season of Ozark.
Lessons Learned
When I attempted to go SOBO in 2020, I met/attatched myself to a couple from Colorado. It was Jerome's second attempt going SOBO and his wife Anna decided to join him on the trek. They seemed so confident and comfortable, whereas I was miserable and overwhelmed. He understood how I was feeling, especially when I decided to quit. He said his first attempt was similar – nothing was fun or interesting. He said it was okay to quit and that this just might not be my time. He said that, this time around, he was appreciating the little things and not solely focused on the negatives.
Though I still have a long way to go, I'm feeling much more comfortable as Jerome described. I'm actually sleeping through the night in my tent, believing I can actually make it to Maine, I'm liking uphills more than expected because the downhills hurt my knees, and can go longer without breaks. I know that there's much more to come, good, bad, and ugly. But I'm ready to face the challenges and more confident that I can overcome them. Virginia, here I come!
Affiliate Disclosure
This website contains affiliate links, which means The Trek may receive a percentage of any product or service you purchase using the links in the articles or advertisements. The buyer pays the same price as they would otherwise, and your purchase helps to support The Trek's ongoing goal to serve you quality backpacking advice and information. Thanks for your support!
To learn more, please visit the About This Site page.