Gossamer Gear The Two Ultralight Tent Review
I will probably be forever lamenting the fact that I carried a five-pound tent on the JMT. Though I didn't have much money to spend before the trip, if I had known how much of a difference three pounds could make, I might have skipped the new clothing and gone for a new shelter.
The Gossamer Gear The Two is an ultralight, non-freestanding classic. Weighing in at just under two pounds, I found it extremely easy to set up (with practice) and very cozy at night. It was a bit daunting for me to make the leap to a trekking pole tent, but it's so worth it. Even if you're not a gear nerd, learning to use a more intricate and ultralight shelter system is exciting and saves your knees and shoulders in the long run.
MSRP: $375.00
Shelter Weight: 27.9 oz
Total Weight: 29.35 oz (includes stakes, extra tie-outs, and stuff sacks)
Packed Size: 6.5″ x 12″
Vestibule Area: 32.4 sq ft
Floor Size: 52" at head, 42" at foot x 89" ( 29.04 sq ft)
Head height: 46″ (with 125 cm trekking poles)
Design Type: Non-freestanding
Shelter Design
Trekking pole setup. This tent stands with trekking poles set to 125 cm. The poles are intentionally angled outward and are held into place with a fabric cinch.
Single-walled. The tent body is all one large piece of fabric. As a result, once you stake the corners down and set the trekking poles in place, you're done.
Tent body and floor materials. The main body and floor have UTS (Ultra Tear Strength) coating, which is waterproof up to 1800mm, over Gossamer Gear's custom 10D Nylon SIL.
Circumstances of Review
I took The Two on a desert section hike of the PCT and a weeklong trip in the Northern Sierra. It handled both cold and warm weather extremely well. Both of the vestibules can fully open for airflow on warmer nights and zip tight when it's chilly. However, when the vestibules are fully zipped the condensation can be gnarly on a cold night. It's a blessing and a curse. I would estimate our tent was roughly 50 degrees inside while it was in the high 30s outside. But as a result, our little heat bubble made for a long morning of waiting for the sun to dry out the inside.
Even on a couple of extremely windy nights, The Two held up really well. Their custom 10D Nylon SIL fabric is strong and durable. Again, the tent is meant to be pulled taut, and the tent body stretches really well. Though I haven't encountered any storm conditions (so far) this fall, I would feel comfortable snuggled in The Two. Even before I figured out how to pitch it effectively, I never had any issues with the tent collapsing under roughly 40 mph winds in the desert.
Recommendation: Practice at Home First
I highly recommend practicing the setup before heading into the backcountry. My first night using The Two was a mid-road trip quick sleep, where I did my best to pitch my first non-freestanding tent at 1 am. I nearly gave up, but goddamit I am a thru-hiker and I can't let a tent win on round one. After roughly 15 minutes I had something that slightly resembled a shelter. With time, practice, and patience my chops have strengthened, and I've grown to appreciate the ease of The Two's setup.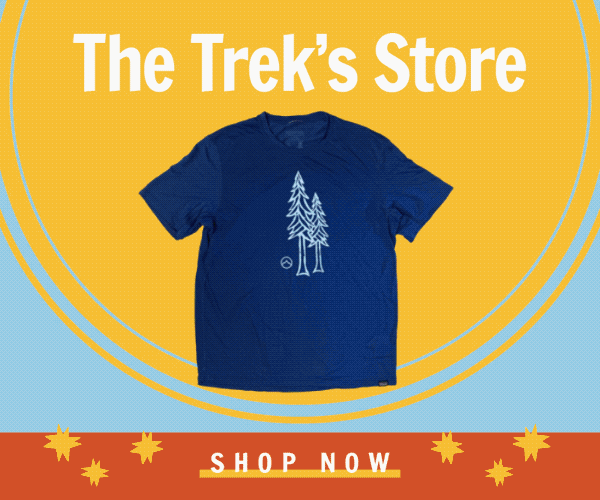 Because the tent is so lightweight, I was overly conscious of treating it delicately. I didn't want to pull any lines too taut or force any zippers closed. This is the main cause of my sagging issues. The way the tent is sewn together makes it feels like staking the four corners as taut as possible will pull the bathtub floor off the ground, but that's not true. Also, the trekking poles are supposed to be slightly tilted outward, which wigged me out at first. However, after a few watches of Gossamer Gear's setup video and a few unfortunate pitches, I got it down.
Notable Features
Four doors / two vestibules. As a result, lots of different airflow options. Also, plenty of space for both people to have all of their gear inside the vestibules.
Reflective tie-out lines. In the dark with a headlamp, the lines on your tent are easier to see than the stars. This makes for some precious peace of mind that you won't trip over a stake on a midnight pee.
Incredibly easy tension adjusters. Once the tent is staked in, it's simple to pull it taut with the tension adjusters.
Lots of headroom. My 5'10 self and 6'2 boyfriend really appreciated this one. There is seriously so much room in this shelter.
Trekking pole cinch. This definitely makes the setup feel more secure.
Internal pocket. Where else would I store the gloves and beanie I inevitably take off in my sleep?
What I Love
Weight. With eight stakes and all tent pieces included in the bag, it weighed in at just 34 ounces. Split between two people, this is an incredibly light shelter option for the protection it offers.
Roominess. A picture speaks 1,000 words. With two tall people in it, the Gossamer Gear The Two still feels roomier than my five-pound REI tent. On solo trips, I pulled everything inside with me and was able to lay out all my gear. With my boyfriend, we both still had room for extra layers in the tent, and separate vestibules to keep our packs and shoes.
Packability. This would easily fit in a front mesh pocket. Or, as I do, shoved in between my quilt and sleeping pad at the bottom of my pack.
Single-walled design. Though it would be nice to split the tent weight between two people, the setup is made so easy by not having to attach a rain fly separately. You just lay the tent down on the ground once, and within five minutes it's standing.
Stakes included. Spending upwards of $400 on a shelter and also having to buy your own ultralight stakes doesn't sit right with me. I love that this shelter includes six ultralight stakes. I bought two more for the guylines, which Gossamer Gear recommends.
What I Don't Love
Tough to pitch on solid ground. You have to know what you're getting into with a trekking pole tent. The one night that I camped on straight-up bedrock, I ended up cowboy camping. I know with big enough rocks you could get it to stand, but it was more work than I was willing to do in the dark. With any non-freestanding tent, finding soft dirt or sand to stake into is priority number one.
Performance in the wind. I didn't have any issues with my tent collapsing, but one night I was camped in a more exposed area, and I heard my tent flap all night. Gossamer Gear's website notes that because the two is a roomy tent, "it presents a pretty high profile to winds." They suggest finding as sheltered an area as possible, but sometimes ya gotta work with what ya got. Someone please remind me to *actually* bring earplugs one of these days.
Condensation on cold nights. This goes back to the tent not having an attachable rain fly (single-walled design), which I like. However, double-walled tents do have the advantage of superior moisture management thanks to the mesh interior. On colder nights, condensation in The Two built up right above our heads and had started raining down onto our quilts by 7 am. I would recommend leaving a door open to increase airflow if it's warm enough. This article on Gossamer Gear's website shares some tips on managing condensation.
Overall Value
I highly recommend this tent for any hiker who's looking to start shaving their base weight, without breaking the bank. Though $375.00 is a significant chunk of change, the Gossamer Gear The Two is still cheaper than many comparable options. After a few trips to practice, I was pitching this tent like a pro. I might look for a lighter one person option in the future (when I have a trip planned and I have some funds), but for now, this tent will be in my pack. Even when I expect I may cowboy camp, it's worth the extra two pounds.
Shop the Gossamer Gear The Two
Use code: PoopStory for 15% off your entire cart at gossamergear.com (does not apply to sale items).
Comparable Shelters
MSRP: $599.00
Packed Weight: 19.4 oz (without stakes)
MSRP: $689.00 – $899.00
Packed Weight: 28.6 oz
MSRP: $299.00
Packed Weight: 40 oz (using trekking poles)
MSRP: $795.00
Packed Weight: 28 oz
This product was donated for the purpose of review.
Affiliate Disclosure
This website contains affiliate links, which means The Trek may receive a percentage of any product or service you purchase using the links in the articles or advertisements. The buyer pays the same price as they would otherwise, and your purchase helps to support The Trek's ongoing goal to serve you quality backpacking advice and information. Thanks for your support!
To learn more, please visit the About This Site page.