GSMNP…take that BAM
19 May 2017
Mileage
AT – 182.9 miles
Today's – 17.3 miles (most to date)
Time – 9 hrs
Speed – 1.922mph
I psyched myself out about the GSMNP uphill hike.  I was WORRIED!  After only a few days back on the trail, I worried I'd lost my trail legs.  That's why I've been slowing down my time and distance.  I was hopefully saving my legs for the climb to come.
Well GSMNP, you didn't disappoint, but I was ready, more ready, than I thought.  In fact, I think I crushed the first section.  It was my most miles to date and no issues.  Also, this was mostly on a climb up.  In comparison, Jacobs Ladder and the climb out of the NOC was more challenging…and thank goodness for that.
I also started earlier that I have in the past.  I was on my way by 0630 after a night of almost no sleep.  I'm not sure if it was GSMNP jitters or the shelter.  It was warm, no breeze, with plenty of bugs biting.  And then there was Joe.  Even though he was at the shelter before dark, he decided that having a fire was more important than setting up his sleeping gear.  So at 11:30pm he finally comes strolling into the shelter making ALL kinds of noise.  He woke everyone.  Thanks Joe!
So around 1am,  I took a stroll to look at stars.  I took another walk at 3am too.  Finally, about 4am I fell asleep only to be up at 6am and hiking by 6:30am.
The Honey Bun I purchased yesterday for my breakfast treat this morning was a NoGo.   It came back up almost immediately…too much sweet!  Lesson Learned — no crap food from town again…no matter how great it looks.
I then leisurely strolled across the dam….it was just me out there.  I also captured a great sunrise from the dam with the sun rising over the mountain. And I spotted today's fire tower.
I can't believe I made it to the Smokies !  I deposited my back country registration in the box and off I went.  The trail today was in much better condition than the previous sections.  Yes, it was UP and Tough, but so enjoyable.
A short time later Joiner was soon passing me.  However, he slowed his pace and I was able to conquer more miles today than I expected.  I was just hoping to make it 8 miles today, but I doubled that.  A BIG THANK YOU goes out to Joiner for not pushing me too hard.
We stopped at the fire tower and was worth the extra mileage — 0.2 miles.  A little rickety but great views.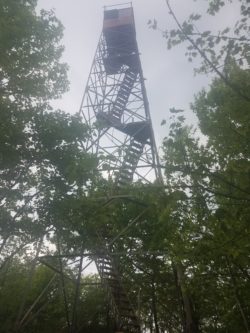 Also, I saw my first black bear of the trip.  A little guy!  He was up a tree and when heard us coming scampered down it.
I also met another ATC Trail Runner.  A big Thank You goes out these people and this guy was about to have his hands full.  We met at the 1st shelter in the Smokies and he had 2 groups with dogs heading his way.  Why can't people/hikers follow the rules. NO DOGS in GSMNP!
So tonight, the crew from Fontana Dam is also at Spencer Field Shelter.  I didn't think they'd do the miles with their late start of after 8:39am, but they did it.
We also met Panda who is a thru hiker who is here tonight.  I'm hoping he gives me a few guest blog posts to put here.
Great day, great people, great times!  Tomorrow is a planed 12-13 mile day with a potential sunrise at Clingman's Dome. And then it's 10 into Gatlinburg.  After that, it's Hot Springs here I come.
Affiliate Disclosure
This website contains affiliate links, which means The Trek may receive a percentage of any product or service you purchase using the links in the articles or advertisements. The buyer pays the same price as they would otherwise, and your purchase helps to support The Trek's ongoing goal to serve you quality backpacking advice and information. Thanks for your support!
To learn more, please visit the About This Site page.