Hiker Trash Stories Vol. II
If Instagram is to be believed, thru-hiking is six months of triumphant peak bagging and sun-drenched selfies next to state-line signs. Except when it's not. Thru-hiking is also eating a hot dog out of a cold fire pit, washing your socks at McDonald's, sleeping next to literal dumpsters because you couldn't get a hitch back to the trail. The theme this year seemed to be eating outrageous amounts of food (of course), and getting caught quite literally with your pants down.
Pineapple Mud Bath Express
Trail Name: Casper
2016 AT NOBO
Just one of my many low/high points on the trail was at one of the gaps in Vermont just after the AT joins up with the Long Trail. As I was walking along, I found a PINEAPPLE! Sitting half buried in the mud right in the middle of the trail. I was so confused at first, but decided I better put it in my pack and go before someone came looking for it. I carried it down hoping to find someone to share it with. When I reached the road crossing there was an older couple who just started the Long Trail, and their daughter had met them with real food. The lady had only eaten half of her breakfast sandwich when she said she couldn't eat anymore. Without thinking twice I offered to finish it as any good hiker would never let food go to waste. They also didn't want any pineapple, and since I had a big climb ahead I wasn't going to carry it any further. I carved it up with my 2-inch pocket knife and devoured it, sitting there in the middle of the parking lot.

Jerky Butt Explosion
Trail Name: Fat Hen & Talon
2016 AT NOBO
One of our lowest points occurred in New England at a garden center where our friend "Big Red" found the hiker-box score of the year, a one-pound bag of name-brand beef jerky. This bag had already been opened but we took it without question. When we got around to eating it, we realized the color and taste were off. That didn't stop us as we ate nearly half the bag. This resulted in horrifying gastro-intestinal problems for us. I won't go into details, but without a second to spare and no time to remove our packs, a cat-hole was filled. That's not all. We knew the jerky was to blame, and decided to throw it out at the first trash can. At our next break however, we started eyeing the bag and proceeded to eat the rest, knowing full well the consequences.
The Hand Sanitizer Bath
Trail Name: Purple Mist (Beth Harper)
2016 AT NOBO
So we had just gotten into Pearisburg, VA and we were waiting for our check-in time to the local hiker motel. While we were waiting, we decided to get our resupply at the Food Lion across the street and then head next door to the AYCE Chinese buffet. I had been dreaming about this buffet for weeks and by this point was delirious with hiker hunger. Normally I was used to hanging out at restaurants while looking grungy, but we took one look inside and it was packed with people in their Sunday best. I didn't want to ruin anyone's lunch with my week's worth of trail grime and stink, but waiting for our room to become available and shower was not an option. I grabbed a handful of the hand sanitizer wipes next to the shopping carts and proceeded to fully scrub down while sitting on the curb in the parking lot. I may have gotten a few dirty looks, but I was sparkling clean.

Like a Rolling Stone

Trail Name: Fire
2016 AT Flip-Flopper
So there I was, in the land of no privies, AKA Tennessee. It was a brisk morning at the Vandeventer Shelter and the time had come to get down to business. I scouted out a prime pooping log and dug a cat hole like the responsible hiker that I am. Well, little did I know that a hole on a steep hillside turns into a ramp. I very quickly realized my mistake as a rogue ball of poo was launched down the hill, performing an elegant double tuck at peak launch height, then proceeded to tumble down the hill with the final dismount somewhere in a giant pile of leaves. Was I disappointed that I did not follow proper LNT protocol? Yes, I was quite honestly startled by the whole incident. But I have to admit I was also quite impressed at the gymnast-level performance of my morning deuce.

"God That's Bad"
Trail Name: Alex (CAP) Smith
2016 AT SOBO
My trail family and I were taking the Amtrak from Harpers Ferry into Washington D.C. for a few days. We had all placed our stinky backpacks in the baggage area in the lower floor of the train car. Unfortunately they are also lying on top of other people's (unstinky) baggage. We finally reached our stop in Union Station, D.C. and began departing the train. As we are walking down the stairs to exit the car, we hear a non-hiker lady as she is leaving the train exclaim, "What smells so much like sweat? God thats bad!" None of us could stop laughing.

A Section Just For You
Trail Name: Violet
AT 2016 Flip-Flop
Hops and I went for breakfast as soon as we arrived in Gatlinburg. The host had us wait a minute while she asked her manager a question. Then we were seated in a closed section. She didn't say why, but we know it was because we smelled so bad.
Squatting Small Talk
Trail Name: The Giver
PCT 2016 NOBO
My group of hikers had spent the whole day without being passed by anyone else, so when we stopped for lunch I decided to hike ahead to use the bathroom. At this point in the hike, the trail lined the side of a cliff, making for a single-file area. With no real place to hide, I stepped off to the side knowing my group was at least 30 minutes behind me. Out of nowhere, headed south, was a couple walking their dog. They caught me mid-squat. I tend to talk when embarrassed, and I proceeded to try to chat with them about their day, all the while being too afraid to stand. Finally the couple wished me good luck on the journey. Two days later I ran into the woman in town. After making eye contact she hurried off, which was a relief.
The Trail Name Origin Legend
Trail Name: Whitney Shoeston
PCT LASH 2013
The first time I attempted my thru-hike in 2013, the shoes I had in the Sierras bothered me so much that I started hiking with just socks on. The day I hiked Mt. Whitney, the shoes were bothering me so badly that I took them off and put on three pairs of socks.The trail is very rocky and snowy, and I ended up hiking the entire thing with no shoes on, giving me the trail name Whitney Shoeston.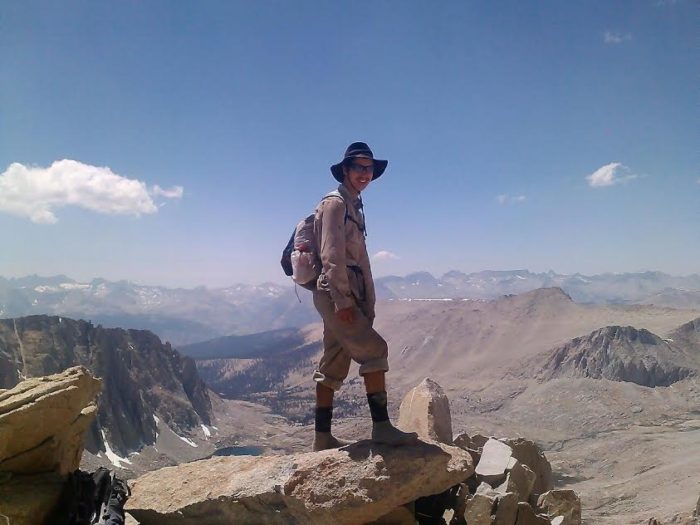 Adventures with Gravity
Trail Name: Anonymous
2016 LASH
There is very little private space in the Grayson Highlands… especially on a sunny day. What does a gal do when nature calls and the area is littered with hikers, scouts, and ponies? She finds a human-free area, a small tree, and leaves her pack on to save time. I didn't realize that standing up from a squatted position was going to be an issue. As I attempted to stand I was immediately thrown forward by my pack, landing me face first, with my buns in the air, in a particularly…damp…patch of grass.
I tried again to get up, not at all thinking I should remove my pack. Down I went again. So I grabbed onto the innocent bystanding tree. I did make it up this time, feeling triumphant. As I let out a sigh of relief it quickly came to my attention that my shorts were still at my ankles. 

Full Moon Over the Swimming Hole
Trail Name: Sunshine
PCT 2015 NOBO
I was traveling solo in Northern California, and started spending time swimming and just chilling in order to slow down. One afternoon I crossed a bridge over a lovely swimming hole. I was a good 15 miles from town so I figured no one would be around, and I hadn't seen another hiker in days. I scrambled down to the water, stripped naked, and jumped in for a swim. As I was getting out I noticed the rock I'd left my stuff on was now in full sun, so I decided a sunning was in order. I laid out on a cool rock with sun directly on me and promptly passed out buck naked and spread eagle. A half-hour later, I woke up to an odd clicking noise. I looked around and couldn't find it so I laid back down. That was when I saw a day hiker with a fancy DSLR snapping photos of the swimming hole—and me—from the bridge. To her I was just another part of the scenery.
Throne Fit For A Hiker
Trail Name: Gary Sizer (Green Giant)
AT 2014 NOBO
We decided to try for Roan Mountain at sunrise, which meant we would have to night hike. No one checked the weather first, and a freak thunderstorm pinned us down around 3AM. We took shelter in the bathrooms in the parking lot of the first gap. Each of us took a stall and slept on our own personal thrones. In the morning, we yogi-ed tortillas and M&Ms for breakfast from a day hiker, no shame.
Dirt is Extra Fiber
Trail Name: Brakes
2013 LASH NOBO
I knocked my cook pot over in the dirt in the dark, so then ate my pasta side off the ground by the light of my headlamp. Once I got down to the level of the dirt I let my dog finish it. You're welcome, buddy.
Spit-Seasoned Tortillas
Trail Name: Turbo
2015 AT NOBO
I reached the summit of a mountain somewhere in North Carolina/Tennessee. It was supposed to be a scenic bald, but thanks to a prior week of rain it was muddy and disgusting. I didn't want to put off my tuna/cheese/tortilla lunch, so I got my tortillas out of the bag, and when I cut open my tuna, I flung tuna juice all over the eight or so tortillas. I was four days out from food  and didn't want to have soggy tortillas, so I licked them all individually and then laid the tortillas all over my body as I lay down on the trail, allowing the sun to dry them. Later in the week I had extras, so I offered them to my friend, explaining what had happened. He took the dry-spit covered tortillas and thanked me profusely.
Check out the first edition of Hiker Trash Stories here :
Have a submission for us? We are always looking for your undignified-yet-glorious trail moments. Submit your story here. 

Contributions have been edited for length and clarity 
Affiliate Disclosure
This website contains affiliate links, which means The Trek may receive a percentage of any product or service you purchase using the links in the articles or advertisements. The buyer pays the same price as they would otherwise, and your purchase helps to support The Trek's ongoing goal to serve you quality backpacking advice and information. Thanks for your support!
To learn more, please visit the About This Site page.