Hiking in Vanoise National Park in the French Alps
Day 1
After finishing the Tour de la Haute Tarentaise in the French Alps yesterday, I have a quick and easy hitch to Tignes, not very far, to start a traverse/loop of Vanoise National Park.
My route combines the Tour des glaciers de la Vanoise and the GR 55, which is an alternate for the famous GR 5, a trail going from the Netherlands to Nice and going through a lot of mountains.

I had never been to Tignes before and it's a actually a really cool location for a ski resort.
It is surrounded by dramatic mountains and has an alpine lake in the middle.
The beginning of the trail is really beautiful and has a kind of otherworldly quality.
But it just gets better all day long.
It's absolutely stunning, with tons of marmots and chamois.
Though most of the glaciers are sadly not what they used to be, it's still amazing.
Wild camping is forbidden in the park so I walk till I get to a refuge, where you're allowed to pitch your tent.
I contemplate having a beer but feel too lazy to leave the tent.
Day 2
It's a bit strange to leave the campsite by the refuge.
There are quite a lot of hikers on trail.
More hikers than I've seen in years actually.
Even more than I've seen last week on the Tour du Mont-Blanc.
I didn't realise how popular Vanoise is.
Well, actually it makes sense because it's freaking amazing.

Today's section was all on the GR 5 and I have to say, it's by far the easiest mountain hiking I've done in France.
Usually it's a pretty brutal walk uphill, followed by a brutal walk downhill.
Repeated day after day.
But the trail today is following the mountain side on an easy trail for most of the day.
I could get used to this.
But all good things must come to an end.
The way down to Modane is a steep one and on slippery terrain.
My knees aren't feeling too good.

I manage to ressuply just before the supermarket closes, get some water and walk back up where I came from.
I'll be continuing my loop tomorrow, joining now the GR 55.
Though I still have no clue on where on the loop I'll finish the trail.
There's no traffic where I'm supposed to stop, but apparently there are some shuttles that can be found.
Better than walking 6 hours I already hiked to go back to Tignes.
I'll play it by ear.
Day 3
Well, it definitely ain't flat no more…
The climb from Modane to col de Chavière is one of the biggest I've done in recent years, but at least it's the morning!
And it's worth it.
The views from the pass are amazing and it's stunning all the way down to Pralognan.
There's nowhere to camp for a long time so I have to stay in town.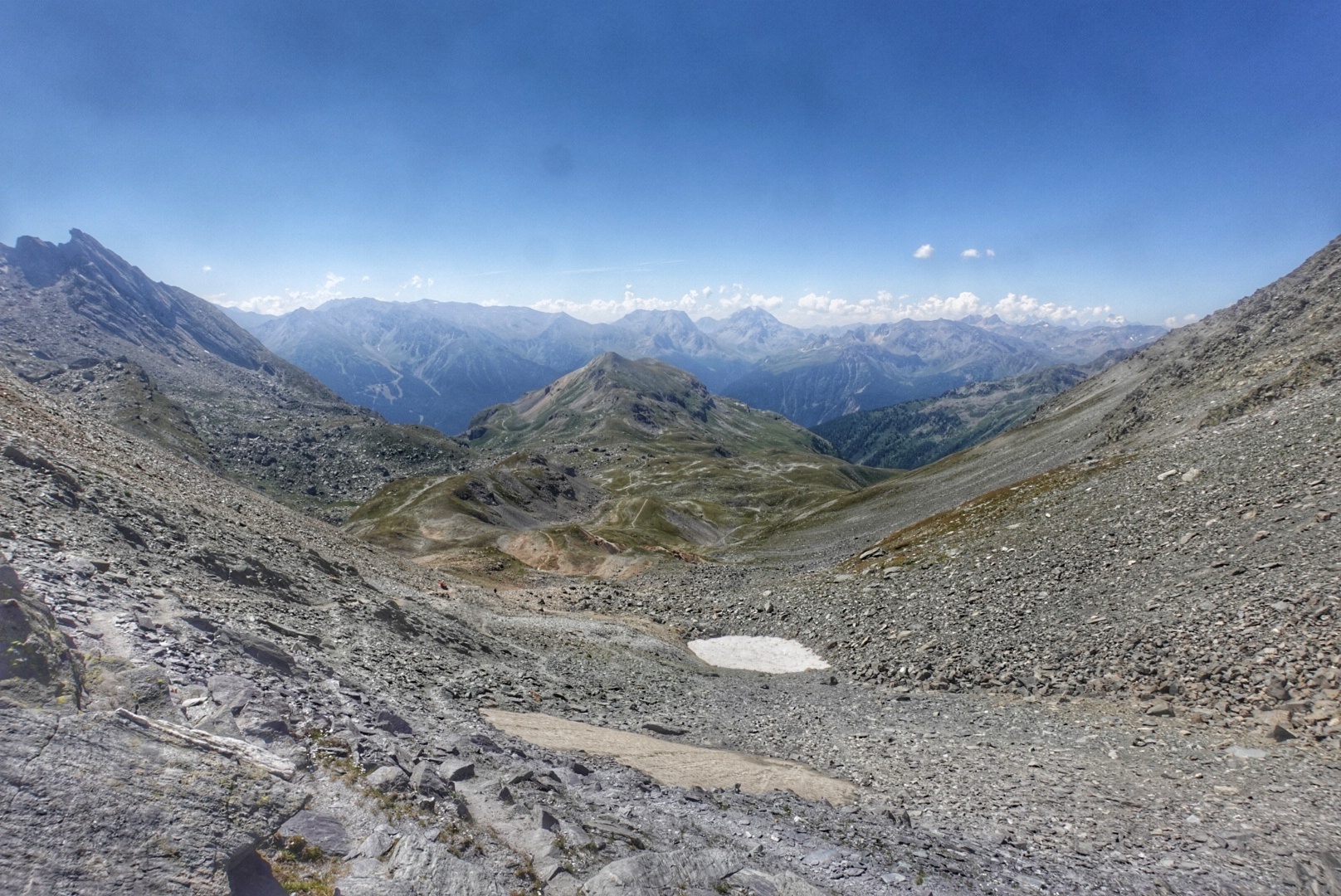 I was considering cowboy camping, which is allowed, but I have to do some urgent internet stuff (my sim card isn't working).
But turns out there is absolutely nowhere to find internet in town, so I'll just hope for the best regarding shuttles and trains for my trip back home tomorrow.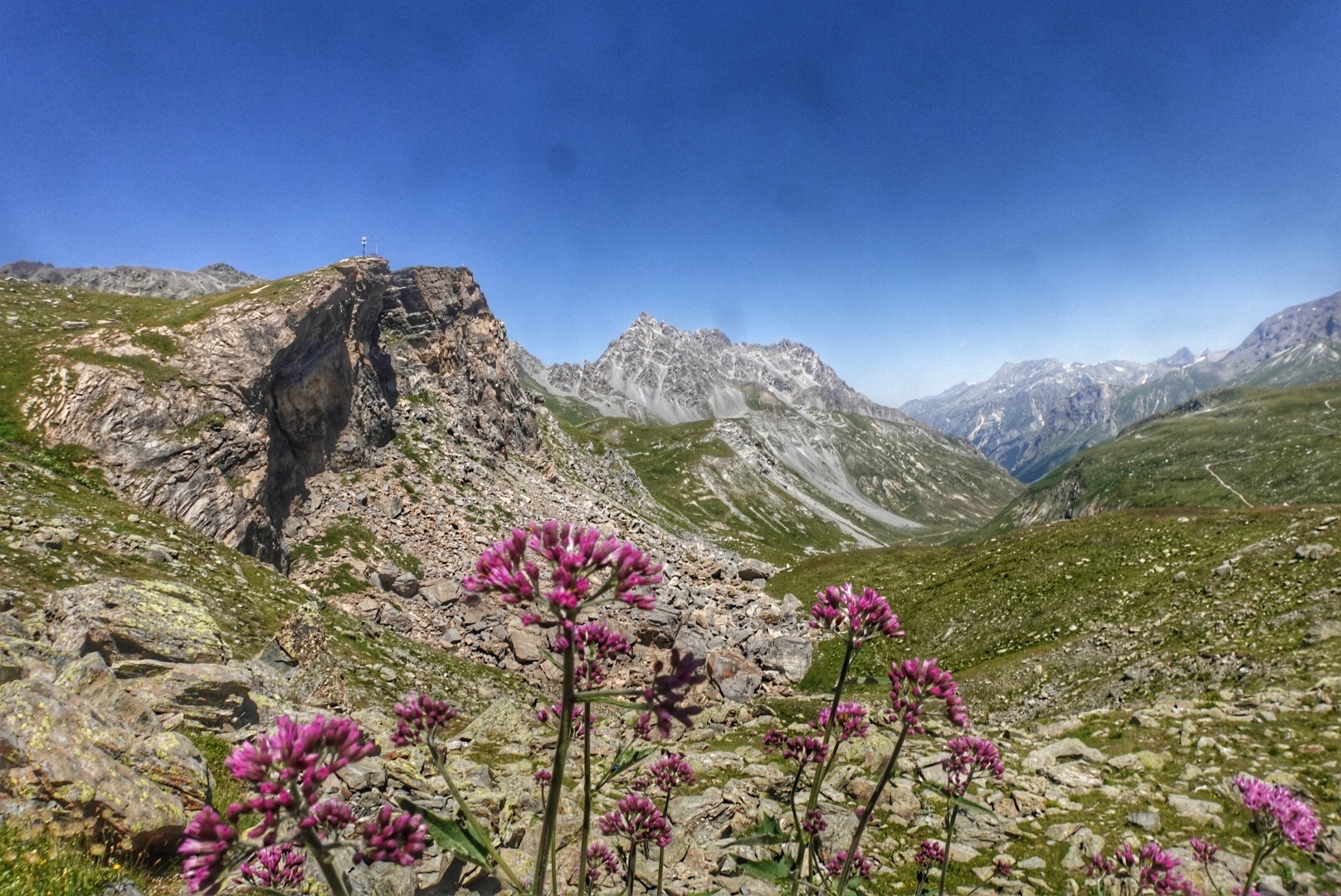 Day 4
I wake up earlier than usual (early mornings are not really my thing, 7am being early enough for me) so I'm sure I have time to make it home today.
I have a big climb to col de la Vanoise but it's not hot yet, so it's not too bad.
This final section might even be more spectacular than before.
It's beautiful all around, marmots are chilling on the side of the trail and don't even bother moving when you walk pass… It's one of these days when it feels extra good to be alive.
And that makes you fall in love even more with hiking (not that I needed that, but it's always nice)

I have a snack break at the refuge at the pass and chatting with a staff member, she tells me that the numbers of hikers have exploded in the past two years.
I know a lot of people might find that it's something to bitch about.
But that kind of makes me happy to know there are that many people out to see the world's beauty.
Though I guess a good thing would be to get the word out about some other, lesser known trails in France.
I have hiked in so many amazing places here where I never saw a hiker.
Spreading the traffic on trails would definitely be a better thing for the environment and the hikers.
But I would never tell anyone NOT to hike in Vanoise, because it's freaking amazing.
Though the camping situation requires some more logistics, it's definitely worth it.

On the last stretch of the trail, I realise that if I hurry a bit, I can get an early shuttle.
As I'm only 100 meters from the bus stop, I see the shuttle arriving and wave my walking poles in the air and start running uphill.
But the driver saw me and waits for me.
That was close.
The shuttle takes me to the first town from where I hitch to Modane, where I was yesterday morning and manage to get a train way earlier than I expected.
I'll arrive home right time for apéro with the family.
Affiliate Disclosure
This website contains affiliate links, which means The Trek may receive a percentage of any product or service you purchase using the links in the articles or advertisements. The buyer pays the same price as they would otherwise, and your purchase helps to support The Trek's ongoing goal to serve you quality backpacking advice and information. Thanks for your support!
To learn more, please visit the About This Site page.