Hiking the AT in 100 Days: Q&A with the 10th NOBO Thru-Hiker of 2016
In the process of featuring our daily favorite #AppalachianTrials photo on Instagram, a shot of a pair of hikers at Katahdin's summit jumped out at us.  This was either a misplaced #ThrowbackThursday, or less likely, a VERY early NOBO summit.  Turns out, it was the lesser likely of the two.
Wanting to know more, we caught up with Jeremy "Hoho" Sjodin to learn what it takes to complete a NOBO thru-hike by early June (in just 100 days!), how the AT compared to his PCT thru-hike, and what advice he'd offer to those who wish to complete a faster thru-hike, amongst other topics.  Get more from Hoho at his personal site, jeremysjodin.com.
Appalachian Trials: What number NOBO thru-hiker were you for the year?
Jeremy Sjodin aka Hoho: I was the 31st NOBO to register at Harpers Ferry. The ranger at the Katahdin Stream Campground said I was the 10th NOBO to summit Katahdin this year.
How long did it take you? What were your average miles per day?
Hoho: The total trip took 100 days. I decided to accelerate my schedule part way through the hike, so my average mileage increased. I averaged about 17 mpd from Springer to Damascus and nearly 24 mpd from Damascus to Katadin.
Around how big was your "bubble" when you started? Did that fade away? If so, when?
Hoho: I saw a couple dozen people my first day. The numbers faded pretty quickly but there were a few smaller bubbles of six or so periodically up through Damascus. I hit a second real bubble just north of Harpers Ferry after the Flip Flop Festival. The last bubble was in the 100 Mile wilderness with the SOBOs getting going.
What state were you in by the time it got hot and green?
Hoho: It never really got consistently hot. There were a couple days here and there that were warm, but they were typically followed by a week of rain or a random snow storm. My hottest days were in Maine when I was wearing my rain gear to combat the mosquitoes and black flies. The green really started popping in northern Vermont and southern New Hampshire.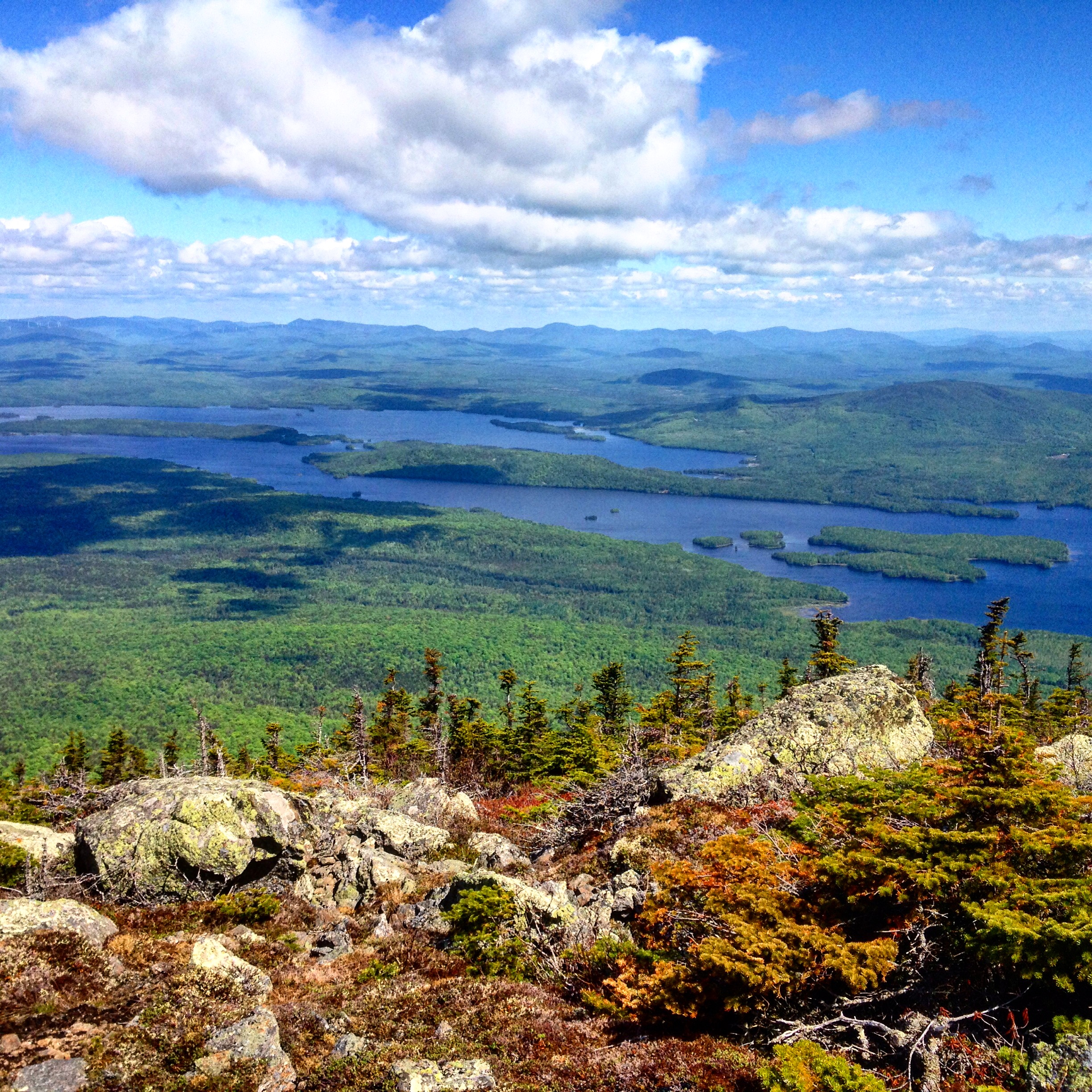 What is the atmosphere like on the AT this year, as far as you saw?
Hoho: Most of the hikers I met were within the first week or two of starting their thru hike, whether it was at Springer, Harpers Ferry or the 100 Mile Wilderness. The atmosphere was filled with excitement and the positive attitudes of people jumping into nature and realizing their dream of hiking a long trail. I didn't experience the developing community so much, the bonds that are formed between hikers that push their limits and experience the magic of the trail together, but I made a few very strong and rewarding friendships. Since I was in front of the bubble, the record number of AT hikers this year really didn't affect my hike.
How did it compare to the PCT?
Hoho: I feel that the PCT is beautiful on a larger scale. The landscapes are powerful and the views are constantly wide open. Without the constant vistas, I found smaller scale beauty on the AT. I noticed the cool colored moss clinging to the trees or the vibrant efts chilling along the trail. The AT terrain is much more strenuous (rocks, roots, grades), but the water and resupply logistics are easier. I got extremely lucky with the weather during both hikes. Each trail attracts people with a passion for adventure and is enjoyed by some of the best people I've ever met.
Did you have good encounters with others (thru-hikers, locals, day hikers) along the entire trail?
Hoho: I had good encounters with nearly every thru hiker I met on trail. I saw many day hikers, but most of my encounters with them were brief. The locals were consistently amazing along the length of the trail, especially in Vermont, New Hampshire, and Maine. The locals in these states go very far out of their way to take care of hikers. I met one couple in Andover, ME that significantly impacted the last 10 days of my hike. My hiking partner and I were feeling run down and doubted that we could hit our finish goal. Spending a day with this couple gave us a needed physical break and the mental reboot to keep going. Experiencing the unexpected support and generosity of trail angels is always a mental game changer.
How many zeros did you take?
Hoho: I took 6 actual zeros (five separate single days with family and one miserable day with a stomach bug). I generally prefer taking neros.
What advice would you offer to someone who wanted to thru-hike quickly?
Hoho: Avoid zeros, limit time in towns, have your gear dialed in before you start, and plan on hiking longer days at a comfortable pace. Having previous long trail experience and a fast hiking partner really helps too.
Undoubtedly, you'll get some remarks that you hiked too quickly or that your hike "missed the point". Anything you'd like to say to these critiques?
Hoho: People hike the trail for a multitude of reasons and have their own personal motivations. I don't think that there is defined "point" to hiking that can be universally applied to every hiker. The wonderful thing about long trails is that they can simultaneously provide exactly what everyone is looking for, while no two people are looking for the exact same experience.
What was your summit day like?
Hoho: My girlfriend and I woke up to rain and potential thunderstorms in the forecast. We were unsure whether it would be safe to summit, but as we packed up the rain slowed and then stopped. Much of the trail resembled a river, and clouds greatly limited our visibility above treeline. Unfortunaltely, there weren't any views from the summit. We snapped one selfie before my phone died, then started back down the mountain to try and miss any afternoon storms. We didn't see another person on trail until we were partway back down. The solitary climb up was a pretty neat expereince.
What is your best memory on the trail?
Hoho: The time I spent in Damascus was one of the highlights. My dad joined me on trail for about two weeks from Hot Springs to Damascus, and the hike into town with him was memorable. While we were there a handful of hikers staying at Woodchuck's hostel put together a homemade Easter potluck. It was one of those times that make you feel completely immersed in the hiking community. My girlfriend, Chicory, decided to join me on the trail and jumped on in Damascus, which made the weekend even better.
Would you do anything differently?
Hoho: I enjoyed my early start and quick pace. Thru hiking quickly was a great experience and my time on the AT pushed my limits and built my confidence as a hiker. That being said, I am pretty sure that my next thru hike will have a more flexible schedule.
Best and worst food (and/or restaurant) you ate on the trail?
Hoho: The best food I had was at the breakfast at the Mountain Harbour B&B/Hostel in Roan Mountain, TN. Also up there was the 100 Miler breakfast at Pete's Place in Monson, ME. The worst food was a cold, partially rehydrated rice side I had to choke down when I ran out of fuel.
What kind of food do you never want to see again?
Hoho: I need a break from the flavored packets of instant oatmeal, but I'm still pretty stoked on everything else I was eating.
Most memorable part of the hike?
Hoho: Touching the sign on Katahdin and struggling through the Whites. The terrain in the Whites thouroughly kicked my butt, but it was epically beautiful.
Advice you'd offer to future AT thru-hikers?
Hoho: There's no right way to hike a trail. Figure out why you're out there and what works for you and stick with it. You will experience intense highs and lows, but if you push through the low points you'll realize that you are capable of much more than you thought. Most limitations are self imposed.
Anything else you'd like to add?
Hoho: Thru hiking will ruin your life…in the best way.
Note: All photos in this post are courtesy of Jeremy.      
Affiliate Disclosure
This website contains affiliate links, which means The Trek may receive a percentage of any product or service you purchase using the links in the articles or advertisements. The buyer pays the same price as they would otherwise, and your purchase helps to support The Trek's ongoing goal to serve you quality backpacking advice and information. Thanks for your support!
To learn more, please visit the About This Site page.