Hiking the Grande Traversée des Préalpes
The Grande Traversée des Préalpes is a 161km trail going from Sisteron to Entrevaux in France.
As the name suggets, it's not quite the Alps yet but is still pretty hilly.
The area also has a pre-Provence feel, which is really cool.
And there should be quite a few cool towns and villages on the way, including Sisteron, the Northern terminus.
It's not a traditional GR, but a GRP (GR de Pays), which usually stands for local, shorter trails, often doing a loop. This one does not though.
Instead of the famous red and white lines for markers, those are red and yellow.
Day 1

After a month of August pretty intense hiking-wise, I ended up having a longer than expected break and staid home for a week.
Went to the cinema, saw some friends, got some new gear, some rest, as well as some beer and cheese in me.
I'm definitely ready to get back on trail.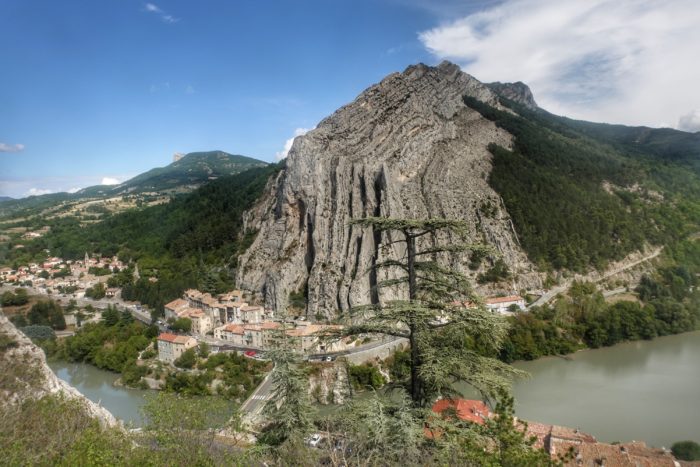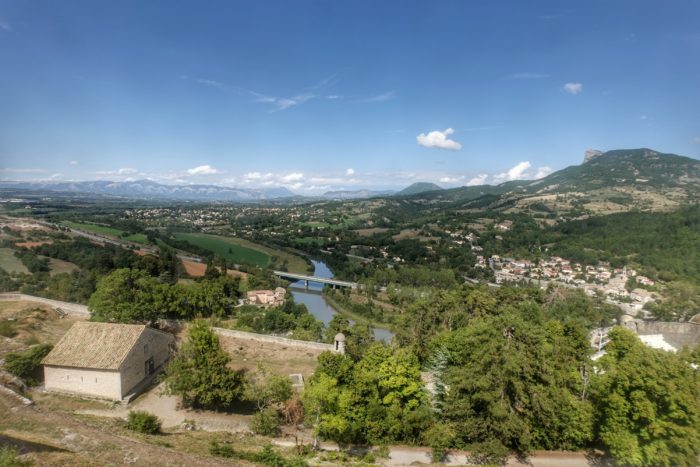 Though it looks like the weather is going to be horrible everywhere in the country for the next week.
After a week off trail I decide to go anyway, but obviously avoiding high mountains trails.

It's a freaking mission to get to Sisteron.
I feel too lazy to hitch and it might rain, so I decide to take buses and trains even if it takes much longer.
The thing is, I've been somehow sold a ticket for a bus that doesn't exist.
We were 8 people waiting for this bus when another bus driver told us this line is not running and hasn't been for 7 months!
But it's still advertised everywhere and on the monitors.
They even had an announcement for the bus in the station!
Anyway, after getting very angry at some hopeless lady from the railway/bus company, I realised they couldn't care less and I had to hitch.
Lucky for me, the first car pulls over and takes me to Sisteron.

The town has a spectacular location, with a weird looking giant rock on one side and the citadel on the other.

I visit the citadel before ressuplying and finally getting on trail quite late.
But just in time for the weather to crash!
After an hour, thunderstorms are all over the place, rain gets heavy and even if I'm not high on a ridge, it's still pretty intense.

But the rain thins out after a while and when checking the forecast in my tent for tomorrow, surprise, they announce sunshine instead of the rain and thunderstorms I'm supposed to have for a week.
Fingers crossed it doesn't change again.
Day 2

It is indeed a sunny day.
But there's still a lot of mud, and it's sticking to my shoes, making them really heavy.

I get some good views walking on a ridge for a while, before going down to Thoard.
I have to say, I might not be hiking big moutains like I've been for 2 months, but the ups and downs are still pretty brutal.
And the terrain isn't the easiest.
It's mostly rocks rolling underfoot, my ankles are not loving it.
But going up for the last time of the day, I get to a ridgeline that has fantastic views in the evening light.

I make a short 30mn side trip to the summit of La Bigue and pitch my tent not long after.
I'm pretty tired but it's been a beautiful day.
I was hoping to get to Digne tonight, but it's still 6km away.
Day 3
Finishing the ridge walk with the sunrise is quite a treat.
After a couple of hours I reach Digne where I ressuply.
It's going to be my last one till the end and I somehow get a bit carried away with food.
And of course there's a climb right after, where I'm definitely regretting buying extra stuff.

But again, it's a beautiful day and the scenery is fantastic.
There's definitely a different vibe to this trail, compared to others I've hiked in France.
I'm really enjoying that mix of mountains and Provence.

Though there isn't a ton of water and for a few hours I'm not sure I'll find a source in time for tonight.
Meaning I'd have to walk to the next village, which would be an hour of night hiking at least.
But luckily I find a river and a camping spot nearby.
Day 4
Today is an easy one where I make good progress.
I'm feeling good and it's pretty flat.

I enter the Verdon area, which is famous for its gorge.
This trail doesn't go there, but I hiked it last year on my big thru-hike across France and it ended up being one of my favorite section.
The gorge is amazing and walking around Sainte-Croix lake was definitely a highlight.

I finish the day in the village of Méailles, which has an amazing location.
As I'm checking my GPS to see where I can find water, a local tells me there's an area behind city hall that's good for camping, has toilets and picnic tables.
That's just perfect because it's getting dark and I don't feel like looking for a camping spot with my headlamp.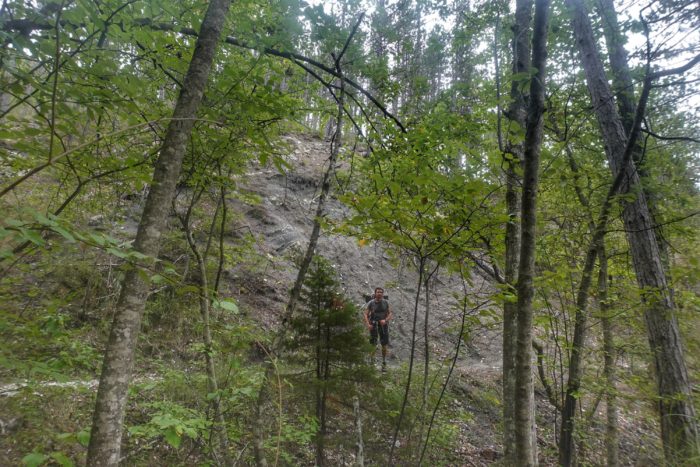 I'm not sure if I'll finish tomorrow, but that's possible and that would make my life easier for transportation the next day.
Day 5

Well, I was pretty happy with my progress yesterday, but today is a different story.

As I was following the yellow and red markers, I ended up in Le Fugeret, a village that I'm not supposed to go through.
I was going to blame an insufficient amount of coffee this morning, but I spot a GTPA sign in the village.
I follow it but the markers quickly disappear.
I look at my map to find the best way to get back on trail and decide to follow a track that should do it.
It's a very steep walk uphill, only to have the track disappearing in the woods at the bottom of a cliff that seems impossible to climb.
I backtrack to try a second track and get more lucky this time, even though I probably lost a couple of hours, meaning I'm not sure to finish today, which messes with my transport plans for tomorrow.
But it's still very beautiful and I'm going through really nice forest that's typical from Southern France, with cool rocks on the way.

During an afternoon snack break a shepperd starts chatting with me, which is always nice when you're on a solo hike, but quickly it turns into an inaudible monologue about his life, where he's staring in front of him as if I wasn't there.
Not to mention his two dogs barking at me for ten minutes, probably some of the weirdest looking/scariest dogs I've seen.
Their eyes were basically saying "Yes, we're going to jump at your throat"
I'm never scared of dogs, but this time I am.

After this strange encounter, I see a sign saying I'm actually much closer to the terminus than I thougt.
That's good news.

I then finish my hike in Entrevaux, a really beautiful fortified town overlooking a river.
I check the train schedule for tomorrow, visit the town and get some pizza and wine in me before pitching my tent by the river.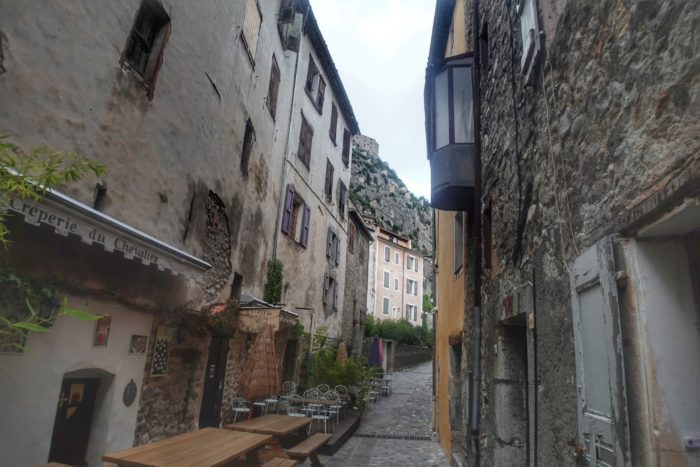 I really enjoyed this trail and the different vibe it has from other trails I've walked this summer.
It's definitely a hidden gem, I've seen zero hiker on it, including day hikers!
Affiliate Disclosure
This website contains affiliate links, which means The Trek may receive a percentage of any product or service you purchase using the links in the articles or advertisements. The buyer pays the same price as they would otherwise, and your purchase helps to support The Trek's ongoing goal to serve you quality backpacking advice and information. Thanks for your support!
To learn more, please visit the About This Site page.