Hiking the Grande Traversée du Jura (GTJ) / GR 509
The Grande Traversée du Jura, or GR 509 is a 400 kilometers trail between Vosges and the Alps.
It's also an alternate for the GR 5, that goes from the Netherlands to Nice.
It's a pretty well known trail in France, though I'm not sure I'll see a ton of hikers with the heat wave going on.
It's cheese central in France and home to the best cheeses in the world.
Fact.
And the white wine isn't too shabby.

It's also a special place for me since I was born here, though we left when I was very young.
I would still visit my grandparents here every single school holidays.
I can't really say there was much exploring of Jura that I can remember, so it's going to be interesting to see it on foot.
Last time I was in Jura was more than 20 years ago, so I'm really super stoked to be back and hike this trail.
And feast on cheese. So much cheese…

Day 1

After finishing the GR 533 in Vosges this morning, a quick train + bus ride takes me to Mandeure, where the trail starts.
The town seems strangely dead.
I thought I'd get water from a bar, but as I can't find one, I go to the cemetery, which is typically the go-to water spot for French hikers when in an urban area.

The climb out of town isn't too bad and there's mostly shade, which feels amazing because it is a zillion degrees.
It's a short 2 hours walk to Pont de Roide, the next town, where I can get more water before starting to look for a camping spot.
---


Day 2

Not the most exciting hiking day…
Pretty boring to be honest.
A lot of road walking in the heat.
But it is what is and I don't really mind having days a bit meh… when there's good stuff after.

On the bright side, I end up in a campsite that has a cheap refuge for hikers.
Time for long overdue shower.
The sky gets dark and everybody hopes it's going to rain.
It does, but not very long.

Day 3

This is a much better day.
Apart from the fact that I started the day discovering that the shop I was planning to ressuply at doesn't exist.
Instead there's a butcher that also sells very limited and crazy expensive general food.
Lucky it's only for one day.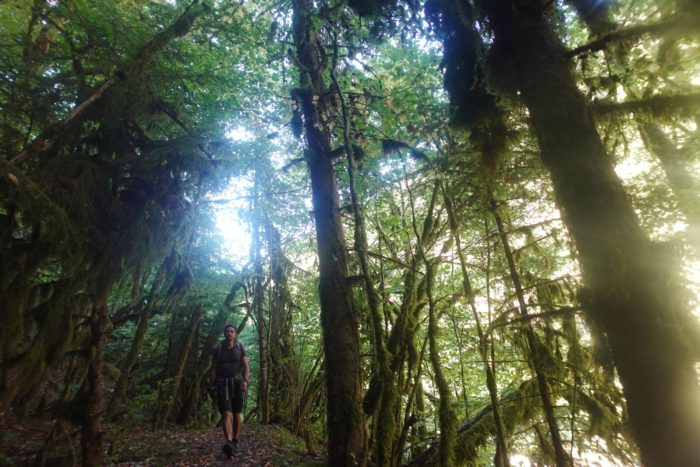 It's not hot, which hasn't happened since I started to hike in France in the heat wave a month ago.
It feels great.
I follow the Doubs river in the Doubs gorge pretty much all day.
It's beautiful mossy forest and the gorge itself is really nice.
On the other side of the river is Switzerland, so I follow the border for most of the day.


Day 4

I'm still following the Gorge in the morning and then I move to rural areas.
I manage to get to town before the supermarket closes as it's Sunday and closed in the afternoon.
I've been craving fruit and veges for a while, so I treat myself to a lot of it.
It's almost lunchtime, so I won't be carrying it for long.

In the afternoon I get stung by a bee on the calf and it really hurts for a couple of hours where I'm limping.
I worked for beekeeper for a couple of weeks and got stung on the foot by a few bees and my foot got so big, I couldn't put my shoe on.
So I'm kind of nervous about how my calf will react but at the end of the day it seems ok.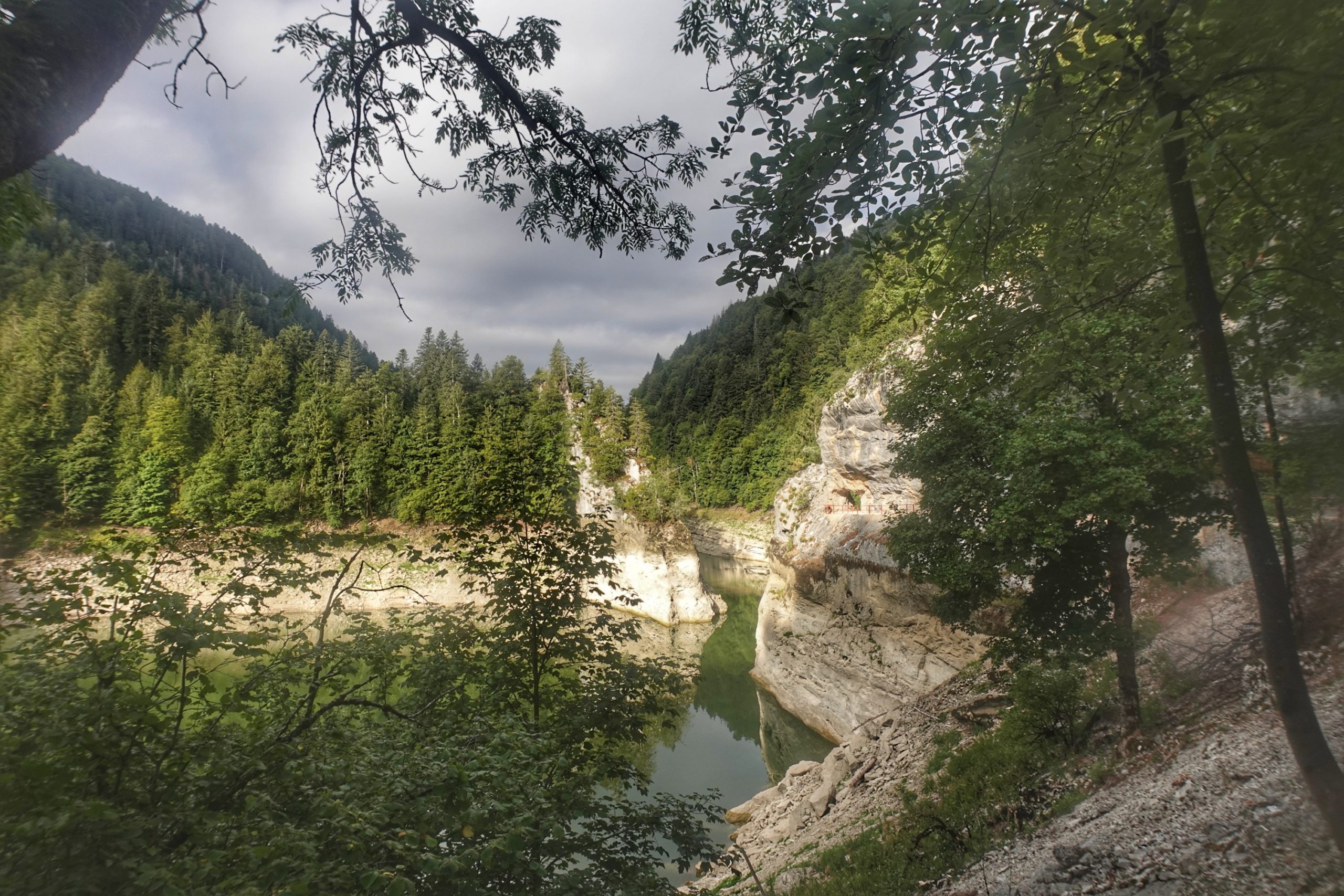 Day 5

It's a pretty easy day through countryside today.
I was counting on a bakery to get some lunch, as I have only dinner food left and I'm too lazy to cook at lunch, but it's closed today, so I go to the restaurant next door where I get a boeuf bourguignon and way too much wine.

That keeps me going nicely till the next town where I ressuply and decide to cook something nice for dinner.
It's already late, so I won't have to carry it for long.
I buy some cancoillote, a strong and creamy cheese (there's even a really cool song about that cheese), that usually goes well with steamed potatoes and a Morteau sausage.
But this sausage takes forever to cook, so I get some kind of bacony bits with diced frozen potatoes.
I just add garlic and it's freaking delicious.
Definitely beats the old noodles.


Day 6

Pretty early in the morning I meet Quentin, who's hiking a section of the GTJ.
We get along well and end up hiking together all day.
We do a short side trip to the summit of Mont d'or, a name famous for cheese lovers as the cheese of the same name is the stuff of legend.

We're hoping to get a beer at a campsite located near the source of the Doubs river (that I was following a few days ago), but it's closed.
So is the bar at the next village.
Which happens to be the coldest place in France, with the record being -45°c (-49°f) in 1985.
Well, it's definitely not cold today.
So we get ice cream from the town shop.
And the last bar of the day in the next village is finally open, so our beer mission is successful after all.

The trail has changed recently and my gpx track is inaccurate for a bit.
Quentin has the right one, but they probably didn't finish the marking for the reroute because we miss a turn that seems hard to miss.
But it's just an extra 20 mn, so not that bad.

Day 7

Quentin left before I woke up but we catch up later in the morning.
We go through a village that has a nice local cheese shop, but the queue discourage me.
I'm contemplating stopping at the butcher shop where they sell a sandwich with Morteau sausage and Morbier cheese, but thinking of the weight of the food in my backpack, I decide to not stop.
After 5 minutes I already regret it.
Lunchtime comes and looking at my wrap with tuna and crappy cheese, I simply hate myself.
Hiking in Jura should be all about the food, and I'll make sure to make up for it tomorrow.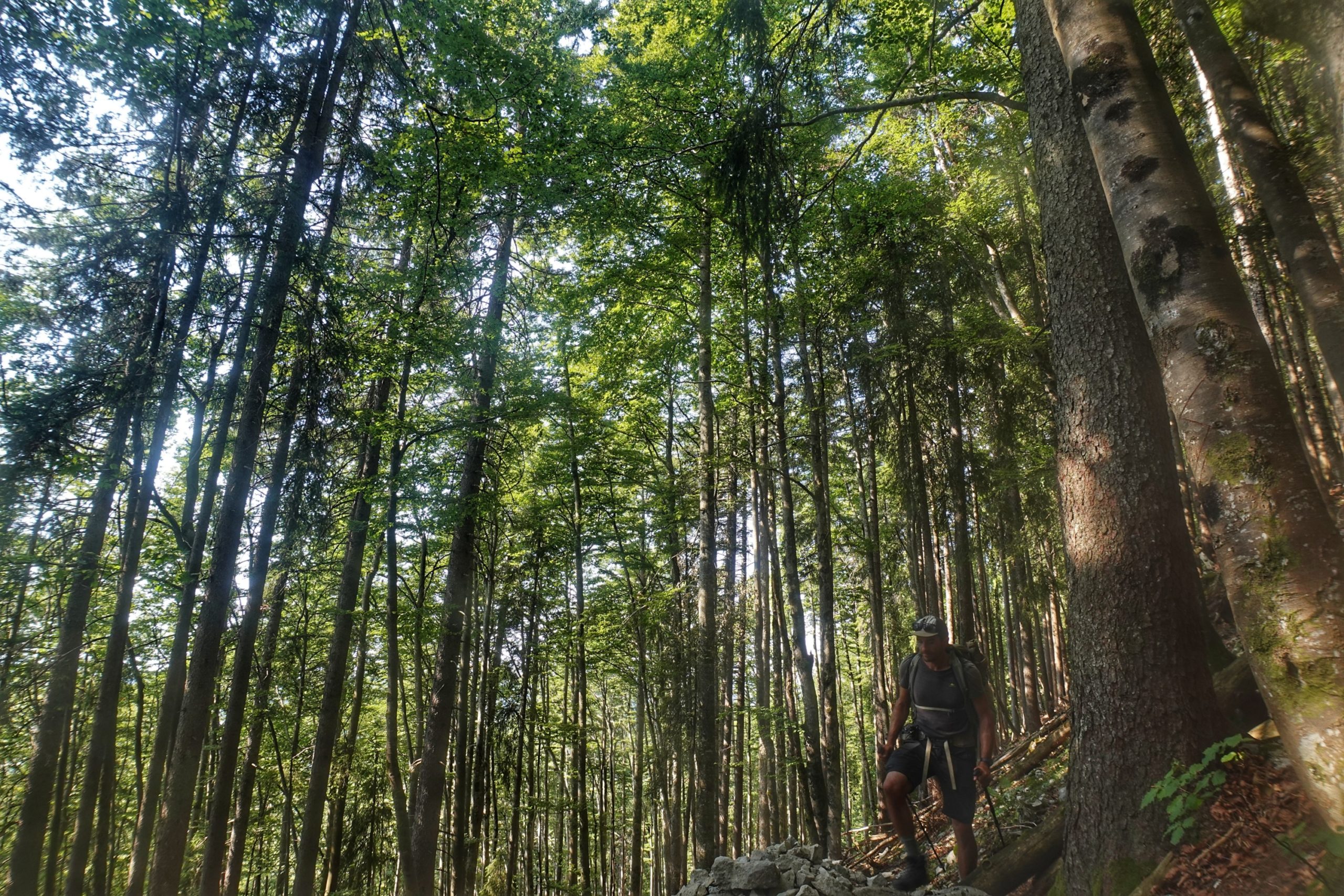 The rest of the day is fairly easy in nice shady forests, which is good because it's getting hot again.
We stop at a bar and I try sapon, a local drink that I never heard of and that Quentin has been raving about.
It's a kind of local Pastis, plus pine syrup and water.
It is indeed really good and it might even become my new drink of choice for a while.
We have then a good climb that takes us to wonderful views of the area, before a pretty brutal way down on rolling rocks.
We end up hiking till 9pm and find a flat-ish spot that will have to do, as we're pretty tired.


Day 8

It's a nice and not so hot morning all the way to Les Rousses, which happens to be where I learned skiing when I was a kid.
I get a bit carried away with my grocery shopping…
I get some morbier, some gex and some comté.
It's the perfect Jurassian cheese trilogy.
I also get some nice bread and a smoked morteau sausage to go with it.
That's not lunch…
That's probably lunch, dinner and another lunch.

I catch up with Quentin at a nice viewpoint for lunch and we hike the rest of the day together.
It's quite nice and pretty easy hiking, though the landscape is really yellow and dry, which feels weird in Jura where it's green even in summer.
We get some beer near the end of the day and it's hard to keep going after that…
And we take the wrong trail downhill for 20 mn.
Meaning we have to climb back up…
But that's alright, the thought of delicious cheeses and morteau definitely keeps my spirits up.

The area happens to be home for lynxes, which I think is the only big wild cat to be found in Europe.
But I might be wrong.

Day 9

Quentin left two hours before me, so I'm not sure I'll see him today.
I finally finish my treats for lunch just in time before the cheeses get too funky.
There's a pretty long way down to Lélex.
And we all know what going down means.
Going back up.
And of course with a lot of water, as I'm not sure to find some til tomorrow afternoon.
It's a long climb but it was worth it.

I walk on a ridge with great views on both sides just in time for sunset.
East, I can see Geneva and Léman lake.
Definitely my favorite section of the trail so far.
No sign of Quentin, but maybe tomorrow, for a last beer before he gets on a train in Bellegarde.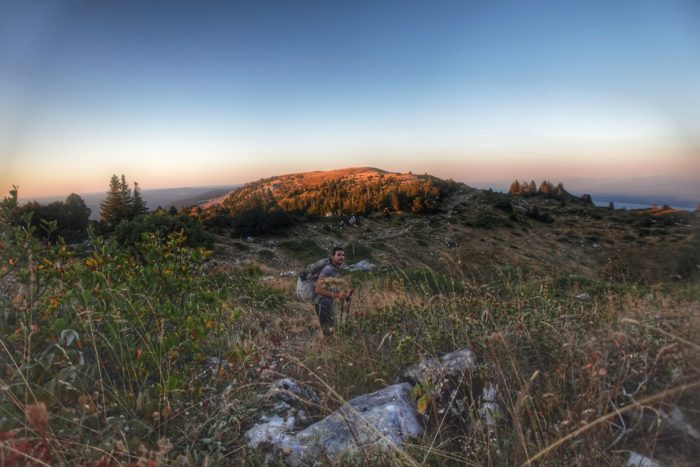 Day 10

I walk on the same ridge line for most of the day.
It's absolutely stunning, with France on one side and Switzerland on the other.
If it's the most beautiful day so far, it's also the hottest.
And with a 24 hours waterless section, I have to make it last.

Turns out I won't be able to catch up with Quentin as he's on rush to get his train.
Finally arriving at a cemetery where I find water, I drink 1,5 liter before heading towards Bellegarde.

The batteries of most of my electronics are flat, so I need to find a place to recharge for a while, but it somehow ends up being a mission.
And I also need to leave town with a lot of water as it's going to be pretty dry again tomorrow.


Day 11

It's a bit of a shock to see clouds when I get out of the tent.
France has a crazy heat wave now and didn't see rain for quite a while.
As I start walking up, it starts raining heavily and won't stop for more than two hours.
And for most of it, it's pretty exposed.
By lunchtime it starts thinning out to a drizzle.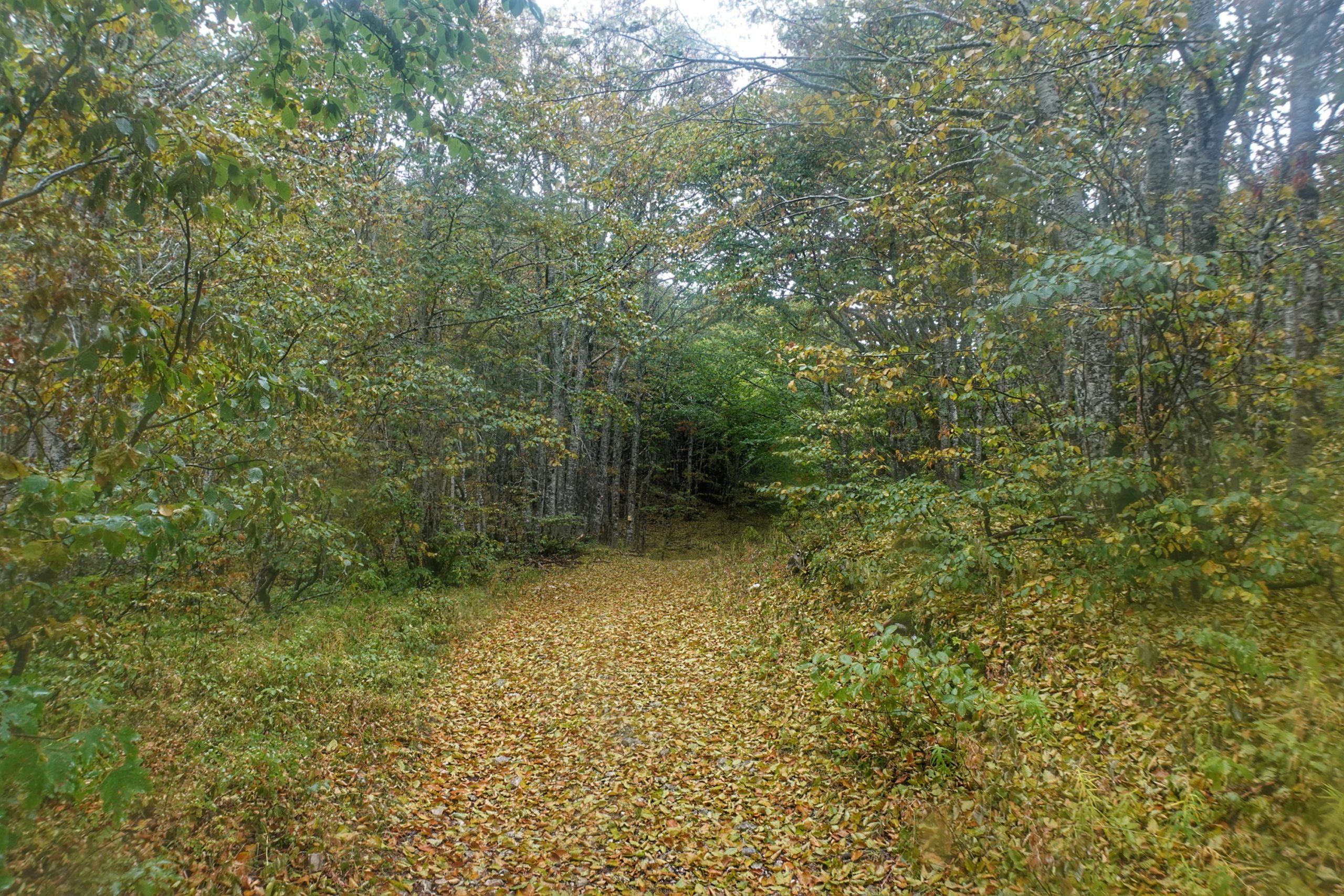 There will be a few showers, but nothing as bad as this morning.
And it's a beautiful section.
I'm going through some really lovely forest and even if I don't get the great views I was supposed to get from the top because it's foggy, I'm still enjoying it.

My plan is to finish tomorrow morning, but I see a sign saying that I can be in Culoz, the terminus, in 2,5 hours.
Looking at my watch I get excited and already see myself having a shower and a beer tonight.
Then I come back to my senses and remember that all the signs on the GTJ are a bit stupid and give you times to places you don't go or to a place you do go to, but via a road or a shortcut that's not the trail.
And an hour later I see another sign saying I'm four hours away from Culoz, which seems more accurate.

I've been pushing harder today so that I can finish early tomorrow and I have only an hour and a half left.
Which should give me enough time to go to the camping in town for a shower and laundry before hitching to my next trail in Queyras.
I was going to take a train but it would take between 7 and 9 hours.
It's only 2,5 hours driving so that definitely sounds better.

Day 12

It's a short walk to Culoz, the end of the trail.
After going to the camping, I'm off to hitch to Queyras.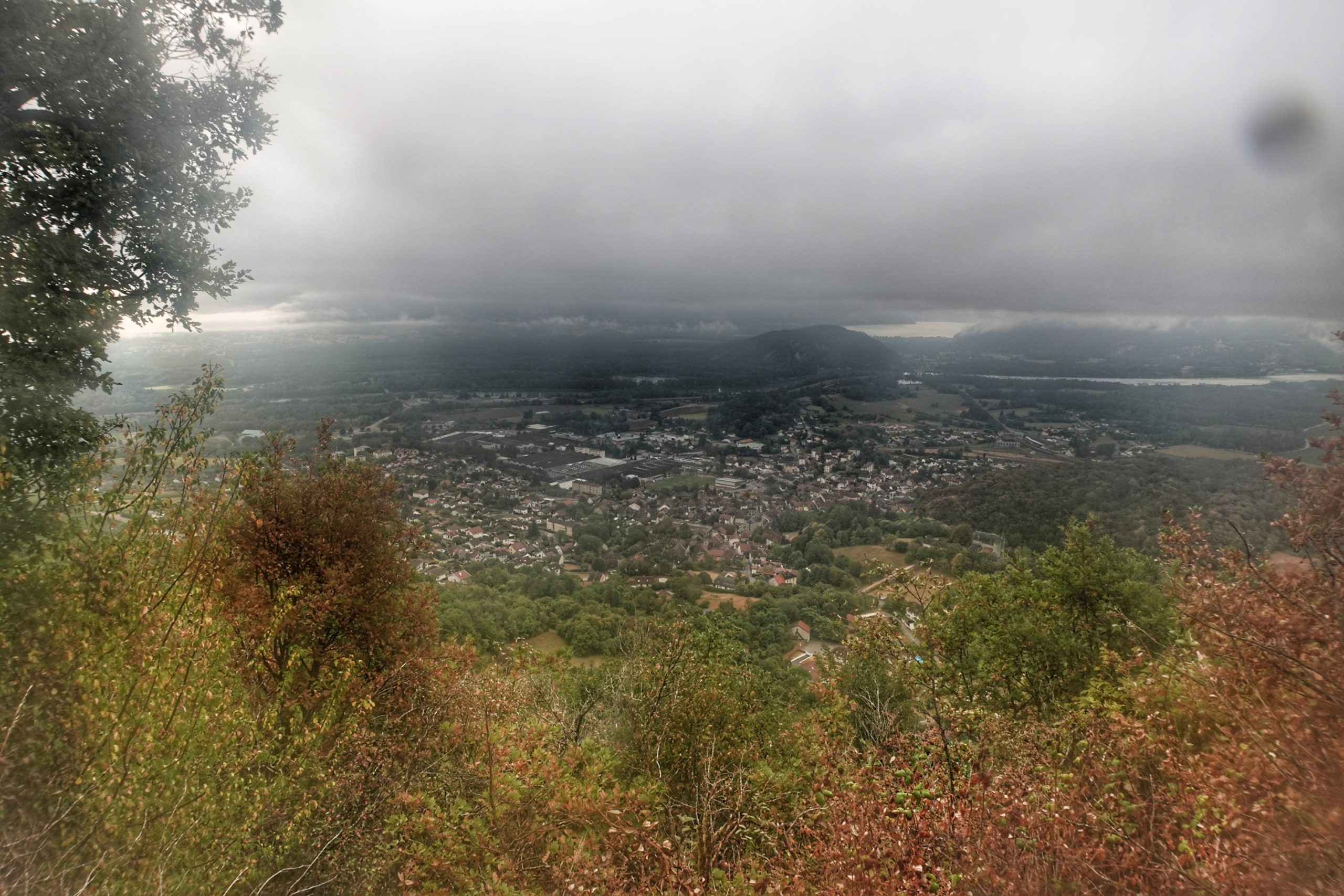 That was a really interesting trail.
Some pretty boring sections and some spectacular ones.
I'd say that it was definitely not the best time to hike it.
I imagine spring and autumn being much better, for greener landscapes or spectacular autumn colours.
Though there a few GTJ, that you can do on a bike, on skis, horse or snowshoes.
I'm actually really keen to come back in winter with either skis or snowshoes.
Affiliate Disclosure
This website contains affiliate links, which means The Trek may receive a percentage of any product or service you purchase using the links in the articles or advertisements. The buyer pays the same price as they would otherwise, and your purchase helps to support The Trek's ongoing goal to serve you quality backpacking advice and information. Thanks for your support!
To learn more, please visit the About This Site page.