Hiking the Skye Trail in Scotland
Day 1
After finishing the West Highland Way, I am now on my way to Isle of Skye to hike the 128km/80 miles Skye Trail.
I gave up on buses, so I'm hitching from Fort William to Broadford, where the trail starts.
I only wait 10mn to get a ride all the way to Skye. I can't believe my luck.
It's a 2.5 hours drive, so we have plenty of time to chat.
The driver is an English gentleman in his 80s that has a lot of cool stories and historical stuff to share.

After doing some grocery shopping, I start hiking by noon, way earlier than I thought I'd be.
And after just a couple of hours of walking, it is already stunning.
A lot of beautiful coastal hiking with some gloomy skies.
After checking the forecast I thought it'd be actually worst than that.
But the wind is unreal.
I somehow manage to find a sheltered spot, but its almost 10pm…
Day 2
Another absolutely stunning day.
This island is truly amazing.
I bump into a Canadian hiker that tells me that it even gets better and better going up North.
I come across a beautiful bothy in a great location, but it's only 11am so that won't be where I'm staying tonight.

In the afternoon I stop at a brewery, and if I've been really enjoying Scottish beers so far, this one is pretty bad.
The wind today has been even crazier than yesterday.
The one thing I'm thinking of all day is, I hope I'll be able to find a sheltered spot because my tent won't survive that wind.
And finding a sheltered spot in Scotland can be a challenge.
There aren't usually a lot of trees around, and when there are, it feels like there are more that fell on the ground than some standing.
Not to mention the giant branches that have fallen off and would just destroy your tent and you at the same time…

I'm finishing the day with a pretty long road walk, which makes me even more sceptical about finding a good spot, but I do find a decent one, going up a small dirt road.
Day 3
Wow…
What a day.
I do a short road walk before getting to Portree, the main city on the Isle of Skye. I get some groceries and some coffee before deciding to take my rain gear off.
After 10mn I put it back on, and if I thought the wind was insane so far, little did I know I had seen nothing yet.
The weather keeps getting worse, turning into a total disaster with probably some of the worst weather I've ever experienced on a hike.
Insanely cold and strong wind, rain, fog, you name it…

Luckily I bump into another hiker and it feels better to have someone to hike with in that mess.
After 3 hours, we finally find shelter in a bus stop where we get lunch.
That's also the first time we actually talk since we can now hear each other.
Isaac is from Chicago and has hiked the AT last year.
He tells me he's going to take a bus to a hostel. That sounds pretty good, I decide to do the same.
We get there and boy it feels great to be warm and dry!
After dinner we go to the beautiful and cosy bar next door for what is a great ending to a really shitty day.

I did not picture this day ending well earlier, seeing myself completely soaked and shivering after spending hours trying to find a spot where my tent wouldnt get totally destroyed by the wind.
But the trail provides.
Day 4
I decide to stay another night at the hostel and slack-pack the section from where I took a bus yesterday to the hostel.
I'm still a bit shaken from yesterday and knowing that I can end the day here will help going through rough weather.
Plus I'll just carry a small bag.

If the spot where I stopped yesterday was very quiet due to the weather, it is now completely packed.
It is the parking for Old man of Storr, one of the most famous spots in Scotland.
It is pretty cool, but there are so many people that I don't stay too long and keep hiking.

The weather isn't great, though still a zillion time better than yesterday.
Which is not hard.
While having lunch I actually consider turning around as I know I'll be walking on a ridge all day and the wind is still crazy strong and freezing.
But it's also supposed to be worse tomorrow so I keep going.
And again, what a day…
It's quite a rollercoaster in every way, with lots of ups and downs, the wind being crazy, but also a mind-blowingly beautiful section.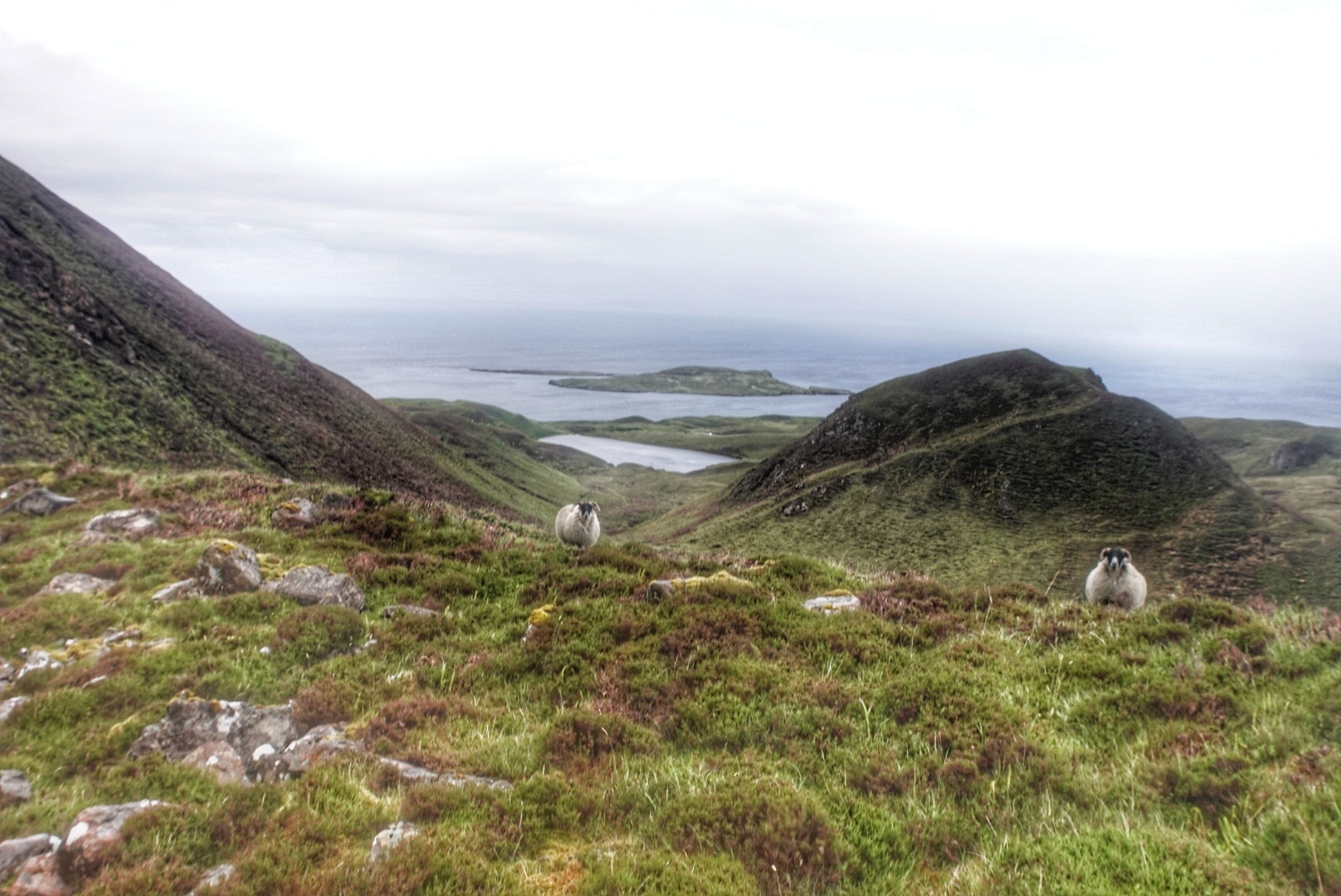 Day 5
I have only 11km to walk today.
I leave the hostel with a Swiss guy also hiking the Skye Trail.
We're walking along a stunning coast all the way, but the weather is still pretty rough.
I'm not going to lie, the past 3 days I've been thinking a lot about jumping in plane to go back to France.

I have a very high tolerance for bad weather, but I'm not sure I want to keep hiking in these conditions.
My next hike is the Hebridean way and what I'll do is, hike for a few days and see how I'm feeling about it.
I was supposed to get a ferry today but it took me 3 hours to hitch the 20km to the jetty, so I'll take the morning one tomorrow.
Affiliate Disclosure
This website contains affiliate links, which means The Trek may receive a percentage of any product or service you purchase using the links in the articles or advertisements. The buyer pays the same price as they would otherwise, and your purchase helps to support The Trek's ongoing goal to serve you quality backpacking advice and information. Thanks for your support!
To learn more, please visit the About This Site page.