Hiking the Speyide Way aka the whisky trail
Day 1
After finishing the Great Glen Way in Inverness this morning, I take a bus to Aviemore where the Speyside Way starts.
That's what I thought.
I knew there are plans to extend the trail further South in the future, but instead of a terminus, what I find is a information board saying that the trail actually starts somewhere else down South.
I'll have to do some research later and maybe when I'm done, I'll hike that section if it's open.

There's some heavy rain when I start walking, but it doesn't last long.
I'm going through some really nice forest and it's actually pretty different vegetation from the other trails I was on.

I'm pretty pumped about this trail and can't wait to stop at all the distilleries on the way.
You can't drink and drive.
But you can drink and hike.
Day 2
Another day mostly through forest.
I'm feeling pretty tired all day, probably because of a lack of sleep.
Or… maybe it's lack of whisky.
I only pass one distillery today and it's not open to the public.
One think I didn't think of before starting the trail, is that it might be difficult to deal with the distilleries opening hours.
And opening hours in Scotland can be very short for a lot of stuff, so I'll have to do some planning so I don't end up losing a lot of time or even worse, not go to a distillery.

There's a side trip (that can also be an alternate start/finish for the trail) of 24km/15 miles going to Tomintoul.
I originally wasn't planning on doing it, but according to my guide book it's the most scenic section.
And there's a distillery that looks pretty cool.
So I'm planning to hitch to Tomintoul this evening and walk back up to the main trail in the morning, but I arrive a bit later than I thought and there's very little traffic.
I wait half an hour and decide to pitch the tent nearby and try again tomorrow.
Day 3
Not much more traffic this morning, but I'm lucky and only wait 20mn to get a ride to Tomintoul.
It's definitely worth doing this side trip, it's really pretty all day.

The weather is all over the place and even when it's pouring down like crazy, I don't bother putting any rain gear on because I know I'll be completely dry 20mn later.
I finally arrive to my first distillery, Glenlivet.
It's a big and fancy one.
I try to get a drink at the bar but it's so busy that I give up.
I'm going to the shop and buy two 5cl bottles.
One for lunch, one for dinner.

In the afternoon I'm back at the junction, which is also where Cragganmore, my second distillery is.
It doesn't really look like there's a bar so I ask someone if its possible to get a glass of whisky.
He looks around and tells me that it's complicated because there are a lot of people touring at the moment.
But then he sneaks a glass out of an office and gives it to me.
It's a delicious special edition that you only get at the distillery.
I also get a small bottle before leaving.
I walk a few more hours along the Spey river in a pretty lush forest before pitching the tent.
Day 4
It's a bit of a weird day…
It's only 5km to Aberlour where I get some coffee waiting for the local distillery to open.
There's no bar or small bottles to buy but you can taste some whiskies for free, which is nice.
Sadly I haven't done any of the distillery tours, because they need to be booked weeks in advance, which is obviously not doable when hiking.

Then I head towards a ridiculously expensive campsite where I can do some long overdue laundry and have a shower.
I have a small walk in the rain to Craigellachie, where I'm planning on visiting two distilleries.
But the first one is not open to the public.
The second one is not either (only on weekends!) and it feels like I wasted my afternoon when I could have visited the Speyside Cooperage, a place that restores old whisky barrels and looked interesting.

On my way back I see a whisky bar and stop there.
It's a fantastic place.
Beer is cheap and the whisky menu is unreal.
I feel better already.
I want to go back to the campsite, but the rain got torrential, so I HAVE to stay.
I didn't want to try that many whiskies, but really… I HAD to, just to stay out of the rain.
I also take advantage of the internet to organise my last days in Scotland.
Day 5
Another day with weird weather, from blue sky and sunshine to torrential rain and cold.
I'm doing another side trip today, the Dufftown loop, that adds an extra 15km/9 miles.

I quickly arrive in Dufftown, "the world's single malt capital "
Sadly only one out of the seven distilleries here is open to the public.
It's Glenfiddich, the most famous one.
Their 12 yo is apparently the most sold single malt whisky in the world.
I manage to get on a tour.
It's pretty interesting, even though between the accent and the noise of the place I actually can't hear everything.
There's a tasting at the end, with some really good stuff.
I get myself a last little bottle of the 18 yo.
The Speyside Way is definitely not a trail where you go ultralight…

I want to visit a castle next door, but it's closed for no reason.
It's pouring down really bad when I leave but it gets better after an hour and I walk a few more hours in a nice forest.
Day 6
It's a short day for my last one.
I reach the coast in the morning and have just a few kilometers left before Buckie and I am greeted by a dozen dolphins jumping out of water.
What an awesome way to finish a really cool trail.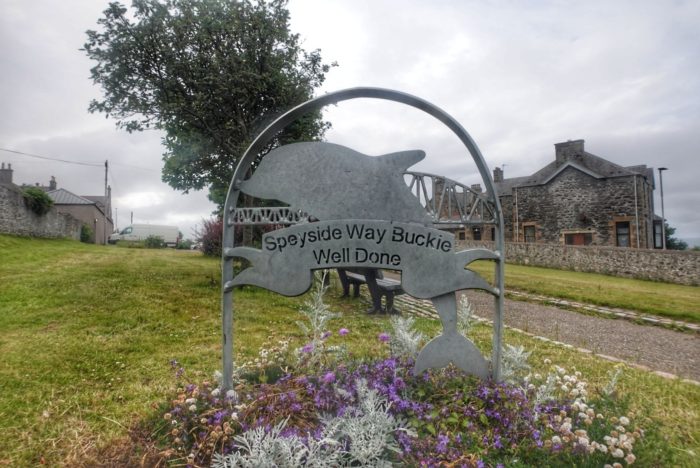 Looking back on this trail, I realise that I only saw two other hikers even though it's a national trail.
Before starting I had this "from distillery to distillery " idea in mind, and while this is true, I also didn't realise that so many weren't open to the public.
So I don't want to paint this trail for what it's not.
But this is Whisky Central, there are distilleries to visit and buy whisky from, whisky bars and museums, whisky history… but there's quite a few that you can't access to.
Personally, what I take from this trail is that I feel so lucky not be a rich person.
Because I'd be drinking that stuff every day and that would be a problem.

That was my last trail in Scotland and it's been quite a rollercoaster.
Definitely some of the most challenging hiking I've done, due to terrain and the weather. Even though I absolutely loved it, I'm not going to lie, 2 months was a bit long and I'm looking forward to be warm and out of the wind.
Affiliate Disclosure
This website contains affiliate links, which means The Trek may receive a percentage of any product or service you purchase using the links in the articles or advertisements. The buyer pays the same price as they would otherwise, and your purchase helps to support The Trek's ongoing goal to serve you quality backpacking advice and information. Thanks for your support!
To learn more, please visit the About This Site page.