Hiking the Tour de la Chartreuse
The Tour de la Chartreuse is a 101km loop between Grenoble and Chambery in France.
Grenoble was home of the 1968 winter Olympics and is one best places for hiking in France.
From there you can easily access the Ecrins, Vercors, Belledone and Chartreuse.
It's pretty much as good as it gets.
I've never been to Chartreuse before and I'm really looking forward to explore that area that's pretty close from home.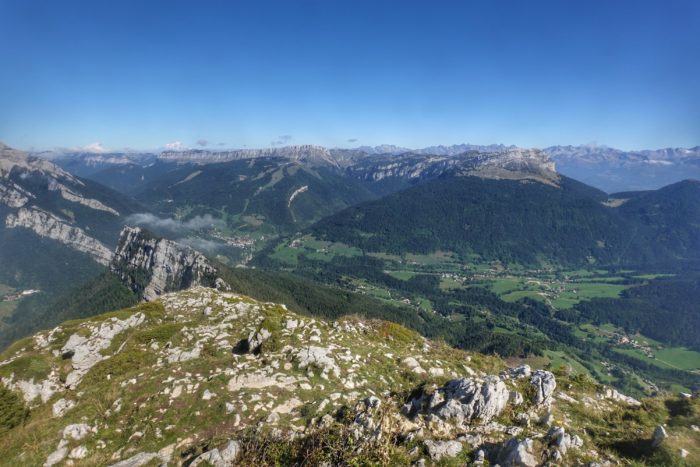 If you're a Tarantino fan, the name Chartreuse might ring a bell.
It's the drink of choice of the bartender, played by Tarantino himself, in Death Proof.
Because it's obviously the name of a famous strong liquor made here.

Apparently the area has seen a lot of traffic in recent years, with some bad behaviors, and it's been prohibited to wild camp in the Park in July and August.
Sad to see it has come to such extremities because some people don't give a crap about respecting the outdoors.
The hike can still be done, as they are a few campsites on the way.
But now it's mid-September and the Park should be quieter.
---
Day 1
Yesterday I finished my hike of the Cathar Way in Foix, far away in the South of France, and I was hoping to zero in Toulouse and take a bus the next day for Grenoble.
But all the cheap accommodation options that I had seen when checking earlier are now full, so I booked a night bus from Toulouse to Grenoble.
Not the best way to rest in between trails, but it is what it is.

I arrive at 6am and wait in a cafe for shops to open so I can buy groceries.
Then I hitch to Le Sappey-en-Chartreuse, 10 km from here, to start the trail.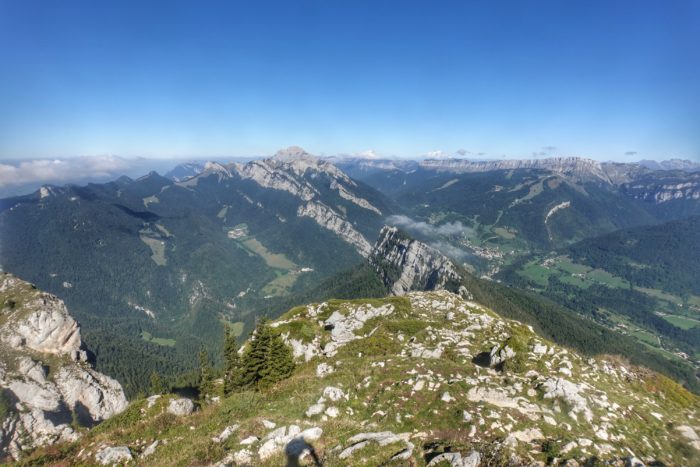 It's an easy and gradual hike before reaching Charmant Som, from where the 360 views are awesome.
You can even see Mont-Blanc.
The walk down is also beautiful.
It is a really good hiking day until I get bitten by a freaking dog.
I was so pissed I started to run after it to give it a taste of my hiking poles.
But I'm obviously not going to outrun a dog, especially with a pack on, so I let it go.
That's actually the first time it happens to me…

I've seen day hikers going to the peak but no-one with an overnight backpack.
I've heard that water can be an isue in Chartreuse, but it's been pretty good today.
Day 2
I start the day with a short side trip to the peak of Petit Som.
Once again, the views are incredible.

After going down for a while I look for my hearphones to listen to some music, but I realise I lost them.
Unfortunately there is zero chance for me to find them, so I don't turn around. Sucks being the one littering, but there's not much I can do…

I'm not going to lie, not having music or podcasts while hiking is difficult for me.
I don't listen to it all day, but not being able to have it at all is tough.
Well, it's only for 3 days till I can get new ones…
I've always known that I would have never started hiking long distance trails (or in that case, long hiking period) without access to music.
It's just too important for me.

I manage to get a nice spot with a view for lunch, and after that it's much easier terrain that the rocks I've had so far.
I have great views of the impressive Mont Granier for most of the afternoon, but seeing it in the evening light is a treat.
---
Day 3
That was a really cold night…
I'm struggling to get out of my sleeping bag to face the cold.
But it slowly warms up and it's another spectacular hiking day.

It's a long climb up to reach a beautiful plateau with a lot of wildlife. Marmots are usually more active early or late in the day, but it's now midday and there are dozens of them.
There are also at least 30 chamois, running around.

I have a last climb to get to Col de Bellefont, from where the views are amazing.
Mont-Blanc looks really close…
Quite a lot of paragliders around here.

Now I'm going down towards Saint-Pierre de Chartreuse, where I arrive litteraly one minute before the shop closes.
I don't need anything but a Belgian beer will be nice for tonight.
---
Day 4
A day much shorter than I expected it to be.
After one last big walk up and down, I finish the trail in Le Sappey, before lunchtime.

I start hitching and two minutes later comes a lady that also starts hitching, at the exact same spot, as if we're hitching together.
I find that a bit rude, hitchhiking etiquette and common sense usually making the second hitchhiker go a bit further. Though I wouldn't have really cared if she asked me.
But luckily a car stops quickly and takes us both to Grenoble.

As I am on the backseat, I don't really hear the conversation going on, but after 5 minutes, I understand that this lady is a Ukrainian refugee hitching to her job at the hospital.
Well, at that moment I really did feel like crap for getting all wound up in my head about something as unimportant as "hitchhiking courtesy ".
French people are known for being world class moaners.
And boy do we bitch and moan.
A lot. About everything.
A bit of perspective doesn't hurt I have to say.
Affiliate Disclosure
This website contains affiliate links, which means The Trek may receive a percentage of any product or service you purchase using the links in the articles or advertisements. The buyer pays the same price as they would otherwise, and your purchase helps to support The Trek's ongoing goal to serve you quality backpacking advice and information. Thanks for your support!
To learn more, please visit the About This Site page.