Hiking the Tour de la Haute Tarentaise in the French Alps
I was wondering if I should keep blogging about the next 3 months where I'll be hiking different trails all over France, but I think it can be interesting for non-French people to hear about trails a bit more off the beaten track than the Tour du Mont-Blanc or the GR 20.
This one I chose to hike because it's actually where I work during winters (in La Rosière), but I've never been here during summer.
So it will be cool to see that place in a totally different way.
It's a 83km loop starting in Bourg-Saint-Maurice, which is at the crossroads of a lot of ski resorts in the French Alps.

Day 1

As I just finished the Tour du Mont-Blanc yesterday, I need to go from Chamonix to Bourg-Saint-Maurice, which on the map, looks like it's only 50km away as the crow flies.
But this is the Alps.
So it actually takes 7 hours!
It seems absolutely ridiculous, but after all, there are a few mountains to go around.
I'm pretty tired but I can't even sleep because I have to change trains all the time.
I eventually make it to Bourg-Saint-Maurice and it does indeed feel weird to be here in summer.
Rather than starting here, I'm hitching to La Thuile, a bit further.
That's just going to make it easier for me to finish there for my next hike.

I'm only hiking a few hours, mostly through some really nice forest, though somehow I get lost and end up doing a big climb in the wrong direction.
That sleep I didn't get on the trains…
The marking is actually not very obvious so it's the kind of trail where you check your phone a bit more frequently.

For dinner I got myself fresh pasta and half a reblochon to go with it.
Reblochon is a cheese from Savoie and it's freaking delicious.
Not the best choice during a heat wave though.
That means I need to finish it tonight.

Day 2

In the morning I arrive at Les Arcs 1600, which is a famous ski resort.
Later on I'm back in Bourg-Saint-Maurice, that the trail circles around.
There's some nice variety today, from forests to nice hamlets and beautiful valley views.
I arrive on the other side of where I was this morning and I can see Les Arcs and above it, Mont Pourri (Mount Rotten).

I also find myself on a road that's very close to the Tour du Mont-Blanc, less than 10km.
Which is funny considering it took me 7 hours by train to go from one trail to another.
I somehow end up not being able to find a possible camping spot at all.
I walk till 11pm on a steep uphill and finally find a field that's not the best but will have to do.

I'll be arriving in La Rosière tomorrow and I can smell a trap involving Belgian beer and desperipinte.
What is a desperipinte?
Dangerous is what it is.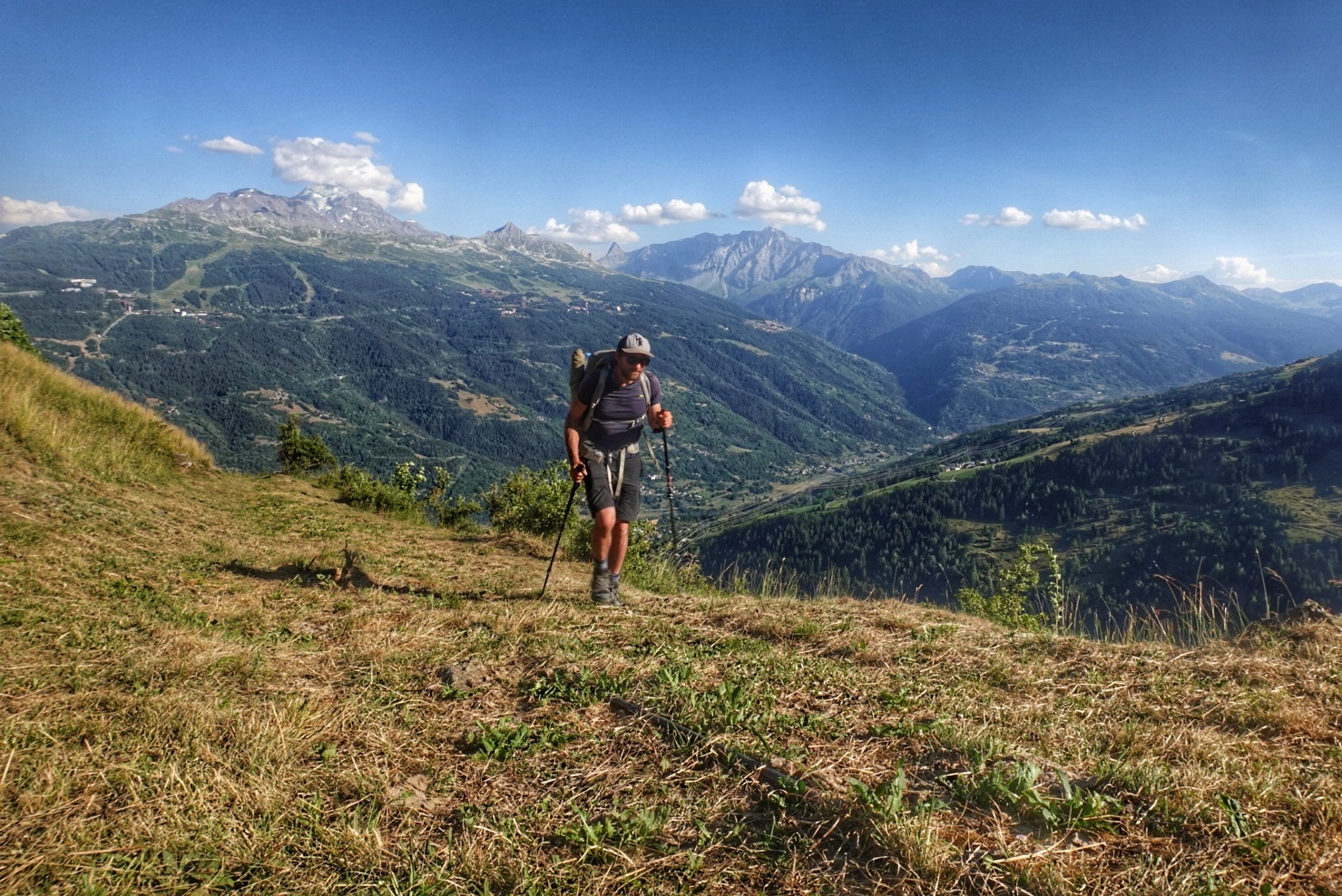 Day 3

It's a fairly easy morning as I've done most of the climbing yesterday.
Though there's a wee reroute that I missed because I was probably daydreaming, so I need to walk some extra…
I'm pretty close to col du Saint-bernard, a road taking you to Italy.
It's funny to see it because it's closed during winters and I work right where the road stops.
If you're into skiing, La Rosière is the only ski resort in France from where you can go to Italy by ski, which is pretty cool.
I'm not very far from La Rosière so I'm thinking to have lunch there.
I start seeing a lot of day hikers and they are actually the first hikers I see on this trail.

I get to the snack bar where I work and get myself a nice burger and a lemon tart.
And two Trippel Karmeliet on tap.
This beer is simply the best but it's also strong and combined with yesterday's walk, I'm ready for a nap.
After a nice rest I'm ready for an evening out.
It's actually Bastille Day, but a lot of people don't usually really care in France.
I don't anyway.
I'm meeting with my coworker/flatmate Coco and we surely get in a desperipinte mood.
A desperipinte is a pint size mojito with desperado beer instead of sparkling water.
We're joined by Marianne, another friend and go to a restaurant where it's mussel night. I don't eat seafood but a burger will do.
More Belgian beer, wine, génépi…
We finally get home with Coco but it looks like that moonshine bottle on the table is saying it's not bedtime quite yet.

Day 4

Yes… It's now time for the hangover.
After some aspirine and coffe I feel better but still take it easy.
I get myself a pizza before saying goodbyes and go back on trail.
It's even hotter that it's been and it surely doesn't help feeling better after yesterday's night.
It's still really pretty and I'm really glad I got to see this place in a different light.

I'm back in La Thuile (well, one of the three places called La Thuile in the area, because you know, you only have a handful of names to chose from when naming a place…) where I started and I was originally planning on hitching to Tignes, where I'll be starting my next trail in the Vanoise National Park, but it's already 9pm so I just pitch the tent nearby and will hitch tomorrow.
Affiliate Disclosure
This website contains affiliate links, which means The Trek may receive a percentage of any product or service you purchase using the links in the articles or advertisements. The buyer pays the same price as they would otherwise, and your purchase helps to support The Trek's ongoing goal to serve you quality backpacking advice and information. Thanks for your support!
To learn more, please visit the About This Site page.