Hiking the Tour des Écrins – GR 54
Day 1
I just finished the Tour du Queyras (GR 58) yesterday and was planning to hitch to the start of this trail and start hiking the same day, but I got a message in the morning from a friend saying she's in Ceillac, only 30 km away.
Well, when I say friend, we actually never met, but the thru-hiker world is so small in France that we kind of all know of each other.

With some other friends, Jeanne started a group to connect French long distance hikers together, which is a great idea.
I had a great time with her family and her and even though she invited me to stay for the wedding she's here for, I'm trying to be home next Saturday for a friend's birthday, and that won't be possible if I stay another day.

I have a hard time leaving, but finally start hitching and get pretty lucky all the way to Bourg d'Oisans where I'm starting and finishing this 192 km loop trail.
It is located in one of the eleven French National Parks, between Briançon and Grenoble.
The two hours drive from Ceillac is unbelievably gorgeous and I can't believe I've never been to the Ecrins National Park, as it's pretty close to home.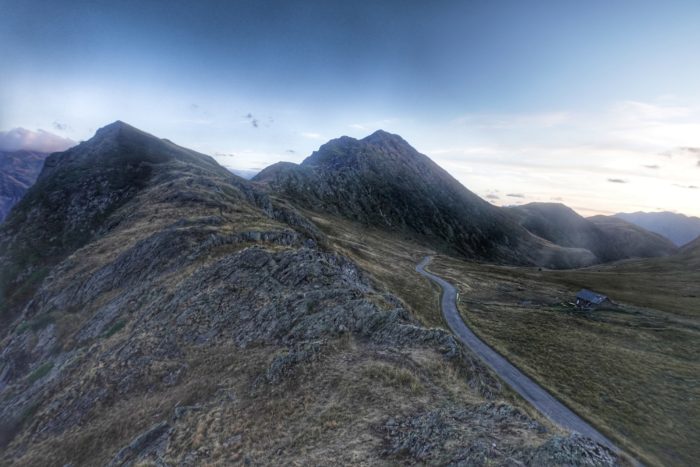 I start hiking a bit late, around 4pm, and I'm starting off with a massive and never-ending climb.
I finally get to Col de Sarenne around 9pm, where I could camp, but it's cold and windy, so I keep hiking down towards Clavans, where it's warmer and more sheltered.
Day 2
I go through a bunch of really lovely villages this morning.
That's one of the perks of hiking in the French mountains.
You see a lot of really cool towns and villages, which really adds to the hike for me.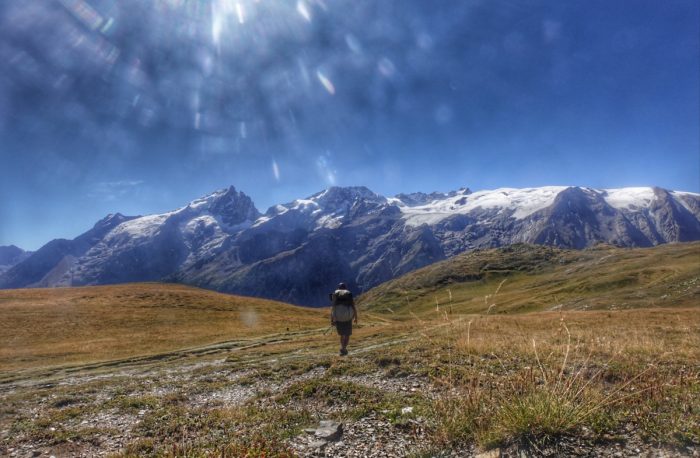 Then I get La Meije, the main mountain in the Ecrins, in sight and it's impressive.
With its glaciers and even some fresh snow on the top, it really looks dramatic and beautiful.
It already feels like it's up in your face, but I keep getting closer and it's really stunning.
In the afternoon I enter the National Park boundaries and it's absolutely amazing and it kinda feels like I'm in Canada.
There are a lot marmots around, to the point it's not that easy to find a marmot den free spot to pitch.
Day 3
Wow, that was a cold night!
And it's not easy to get out of the sleeping bag this morning…
The heat wave that was going on until a week ago definitely feels like a distant memory.
Which is great because it's actually now the perfect temperature to hike during the day.
I make a side trip to see some alpine lakes and surprise a hiker taking care of business.
We've all been there…

Again it's an absolutely stunning day and it's even easy-ish terrain for French mountains.
I seem to be moving much quicker than I thought, which is great.
I want to be at a friend's birthday party next weekend.
Having a 7 months hiking adventure by myself, if I can manage to squeeze some fun socialising in, it doesn't hurt.
Also, a lot of my gear needs fixing or changing.
I need to swap my backpack for a smaller one (had to take a 60 liters one because I forgot to fix my smaller one in time), I need a new gorilla pod, a new air mattress, I've been fixing my shoes with duck tape for 600 km because I can't find the model I want, and my hiking sticks need fixing too…
So a few days at home won't hurt.

Getting into the beautiful town of Vallouise, I realise it's the last decent place to ressuply at, so I load up.
I end up pitching much lower than yesterday, so the night should be warmer.
Day 4
The day starts with a looong climb up to my first pass of the day.
What I didn't realise at the time, is that I would have four passes to climb today!
And I'm pretty sure that's the first time I climb that many passes in a day.
Needless to say it's pretty exhausting, but the views are absolutely incredible all day long.
And I'm really glad I'm doing this section in good weather because that would be really scary in the rain.
The terrain is definitely not the easiest one.

As if the day couldn't get any better, I pitch my tent near Refuge de Vallonpierre, which has an amazing location.
That also means I get a nice pint of local beer while watching the sunset.
Altogether it's up there with the best hiking days I've ever had.
Though I saw a guy hiking in his underwear… That was different.
Day 5
Well, if yesterday was amazing, it was also hard and I'm feeling really tired today.
I've been hiking big days in the mountains and haven't had a rest day in a month, so it makes sense that I finally hit the wall.
Good thing I'm getting some rest between this trail and next one.
I spend the morning going down to La Chapelle en Valgaudémar (what a great name!), but it's actually not that easy because the terrain is made out of small rolling rocks, so it's pretty slow going.
After a short but enjoyable flat and easy section, I'm back at going up, but it's "only" one pass today.
Quite a climb though.
Being tired definitely doesn't help going down on rolling rocks, so I get some coffee to help a little.
And some hip-hop bangers to help a bit more.

I thought I'd finish tomorrow but that's more likely to be the day after tomorrow in the morning.
Which is fine because I have enough food and I don't want to rush tomorrow.
I finish the day at Le Désert en Valjouffrey (another great name), a really lovely village where I find a spot to pitch, then hit the bar to get myself a Picon bière (beer plus orangy liquor/syrup).

The moutain villages and towns really are a big part of the appeal of hiking these kind of trails (though it also doesn't hurt that the scenery is mind-blowing).
It's a shame I don't really have the time to make the best of it (as I am also hiking for work – sort of-), but I'll be back for sure.
Seriously, this is only a two hours drive from home, so I'll have to.
Day 6
I start the day with a big climb and I'm feeling bad pretty quickly.
I have a terrible stomach ache and because I'm walking uphill on slippery rocks, it takes me an hour to find a decent spot to rest.
I lie down for a good twenty minutes and I feel much better after that.
Which is good because it's not an easy day!
I have two more big climbs waiting for me.
The second one, just before lunch, is pretty rough.

I am exhausted when I reach the pass, but the view on Lac de la Muzette is spectacular and I can even see Bourg d'Oisans, where I'll finish.
It looks pretty close, but it's not.
I won't make it there today.
I'm still tired and the terrain is very difficult.

When reaching the lake, I have to climb right back up to Col de Vallon, the last pass of the trail for me.
From there it's all downhill, but that doesn't mean easy…
It's still spectacular though.
I'm passing Lac Lauvitel, an incredible alpine lake, then another two hours before pitching the tent.
I'm now only 7km away from Bourg d'Oisans, so tomorrow will be an easy and short one.
Day 7
It's a short walk to town, from where I get a bus to Grenoble, then a train home.
Though I was tired in the end, I really loved this trail.
It is incredibly beautiful but strangely enough it doesn't quite have a reputation in the hiking community.
I haven't seen a single hiker doing the whole trail, whereas the Tour du Queyras is pretty well known and popular, even though it's further away from everything.
It probably has to do with the fact that it's a harder trail than other French moutain trails.
If I felt like I was making good progress when I started, in the Northern section, it definitely became much harder in the South, comparing in difficulty to the GR 20 in Corsica.

Now, I've been hiking for four months and didn't rest for a month, so it's more than time to get some proper rest before my next trail.
I finished right in time to be tomorrow at a big party some friends organise every year at their house surrounded by beautiful mountains.
That's gonna be great to see friends and get some beer in me.

I'll also need to go to the movies.
Last time was almost four months ago in Scotland (which is unthinkable for me) and it was a Marvel movie, which I still feel dirty and ashamed of (my excuse being that it was Dr Strange 2, directed by Sam Raimi, that I'm a big fan of).
Affiliate Disclosure
This website contains affiliate links, which means The Trek may receive a percentage of any product or service you purchase using the links in the articles or advertisements. The buyer pays the same price as they would otherwise, and your purchase helps to support The Trek's ongoing goal to serve you quality backpacking advice and information. Thanks for your support!
To learn more, please visit the About This Site page.