Hiking the Tour du Mont-Blanc (with all high route alternates)
Day 1
After hiking 2 months in Scotland, I am back in France to do some more hiking.
I'm starting with the Tour du Mont-Blanc, a trail that has of course been on my list (like every hiker), but that for some reason, I've never hiked before.
I guess you always think that you have all the time in the world to hike the trails close to home…

Needless to say that it's quite a shock, weather-wise, after Scotland.
It was still cold, windy and miserable when I left Edinburgh yesterday, and it's very hot with blue sky in Chamonix.
That's also a relief not to have the same horrible summer we had last year in France.

As I have a few things to do (internet, post office, get new shoes…), I have a late start and don't leave Les Houches, the starting (and finishing) point, before 3pm.
I've decided to do it the traditional anti-clockwise way as I thought it could be annoying to constantly run into people going the other way.
As I've had a few days to rest between my last hiking day in Scotland and today, I feel great.

Two hours after Les Houches, you get to col de Voza, where you can chose between a low route and a high route.
Considering the weather, it's a no-brainer.
It's a beautiful section, with great views of the Bionnassay glacier.
I meet Pablo, a Brazilian guy who's hiking for the first time and seems really stoked to be here.
Well, with the TMB as a first hike with that kind of weather, I reckon it's the best way to get quickly addicted to hiking!
It's always great to see people super excited to be on trail.

I get to Miage where the camping area is right in front of some glaciers that get some unreal sunset colors.
Oh boy, I'm loving this trail already.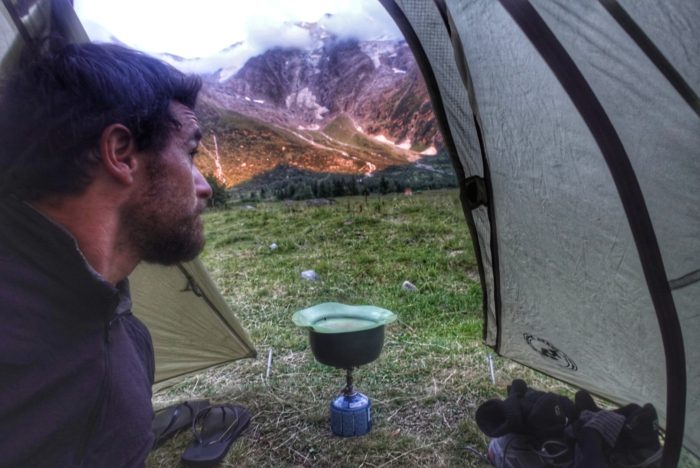 Day 2
Another glorious day.
An hour after leaving camp I do a short 15mn side trip to Mont Truc, which is a funny name for a peak.
It means thing, stuff.
But there are a few peaks in France with funny names, like Mont Pourri (Mount Rotten), or my personal favorite, Lancebranlette, that's just weird and that I'm not going to translate here.

It's all downhill now till Les Contamines, and from there, there's a bit of flat section before going back up.
From the refuge at Col de la Croix du Bonhomme there's another high route altenate going through Col des fours.
The weather is good, so I take it.
And it happens to be a short cut.
It's beautiful and definitely worth it.
And there are a ton of marmots and bouquetins on the way, which is really cool.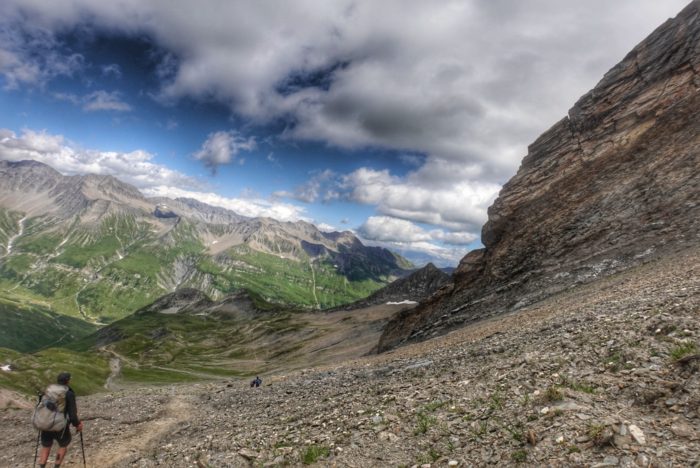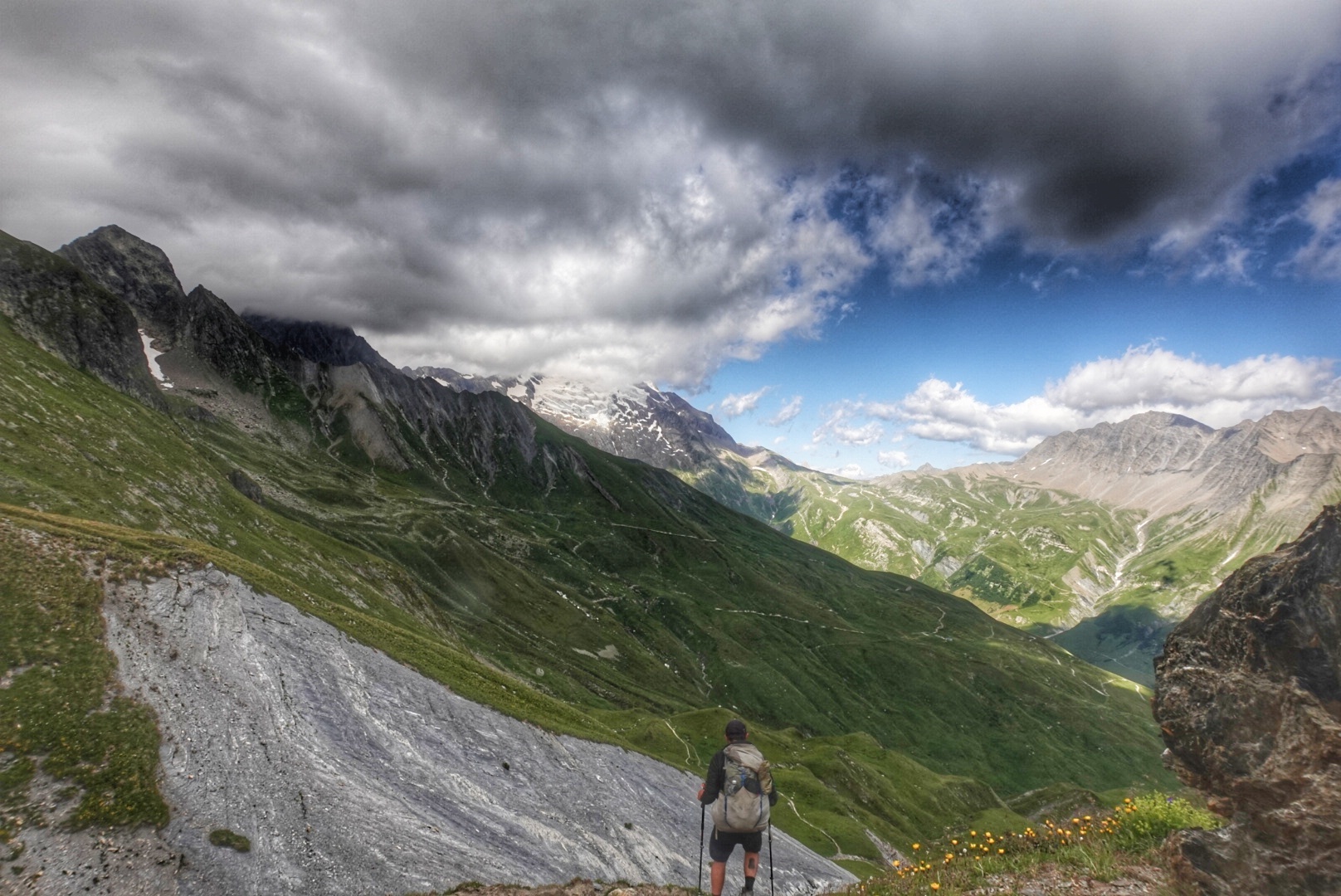 I am now approaching Col de la Seigne, which is the pass where you go into Italy.
I find a nice camping spot before the pass and stop here.
At nearly 2300m of elevation, it's going to be a chilly night.
Day 3
I arrive at Col de la Seigne pretty early and the way down to Italy is absolutely stunning.
I spend all morning walking along an amazing valley before getting to Refugio Maison Vieille, where I get a panini and a beer.
The rest of the way down to Courmayeur is pretty steep and brutal on the knees.

I was thinking to stay in Courmayeur but it's not the most hiker friendly place when it comes to accommodation and ressuplying.
The grocery shop is strangely small for a town this size and there's no camping or hostel in town.
So I decide to keep walking, and it's pretty steep going back up too.

At Refugio Bertone there's another choice for low or high route.
The weather is still good, so high route it is.
Actually if I keep hiking I don't have a choice as wild camping is only permitted above 2500m and the the high route alternate takes me at that elevation.
Though technically you can probably also cowboy camp anywhere.
I know that in France if wild camping is not authorised somewhere, you're allowed to cowboy camp.
Day 4
Hard to believe but this is an even more spectacular day than yesterday.
I rejoin the main TMB in the morning and the views over Val Ferret are just unbelievable all the way to Grand Col Ferret, that is the border with Switzerland.
There's definitely a change of vibe whenever you change countries.
They all have a different feeling about themselves.

It's an easy walk down to La Fouly, a town that has an amazing location with glaciers overlooking it.
Though it could be said that there's always a glacier in sight on the TMB.
I decide to push to Champex and it's an easy and flat walk in the forest for most of it.
Also going through some typical Swiss hamlets, which is pretty cool.
Nice to have a wee break from the ups and downs that can be brutal, especially when you hike long days.

One thing is certain, the TMB is not an overhyped trail.
It is gorgeous out here.
I had the same feeling when hiking the GR 20 in Corsica.
Which is a trail actually more famous locally than the TMB, that seems to have more of an international fame.
I was afraid it wouldn't be as great as everybody says it is.
But it was better.
Same here.
Day 5

Leaving Champex I take another high route alternate to Fenêtre d'Arpette and it's no joke.
It is a long and difficult climb that probably wouldn't be doable in bad weather.
Some people in front of me lost the trail and a lot of rocks come lose and all the hikers behind have to dodge them.
But it's beautiful (and crowded) up there.
The way down is as difficult and my knees are not loving it.

And as soon as I'm down, I have to climb back up for another alternate.
Though it's not nearly as difficult and it's absolutely stunning.
I arrive at Col de Balme, which is the border with France.
The walk on Aiguillette des Posettes is fantastic in the evening light.
I arrive at Tré le champ where there's a gîte and campsite.
I pitch the tent and get myself some wine before dinner.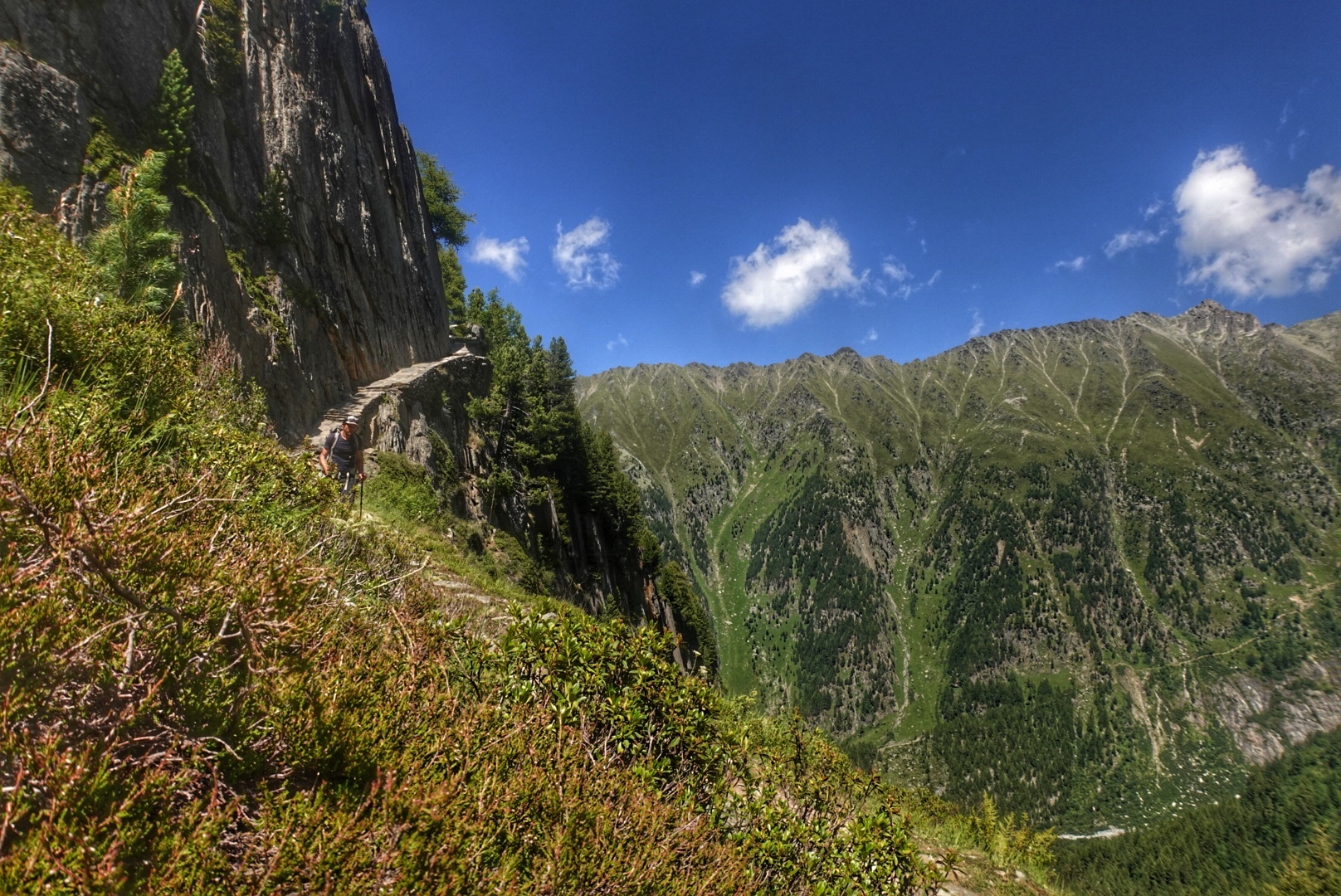 It was by far the most difficult day and I'm knackered, but somehow when it's this beautiful all the time around you, difficulty doesn't really matter because you're just happy to be here.
Day 6
The day starts with a big climb for the last high route alternate going to Lac Blanc.
Again, it's definitely worth it.
Arriving at Lac Blanc it's pretty busy due to its reputation of having the best view in the Chamonix valley.
And it is a pretty view indeed.

As I keep going, there are all the people doing the climb to Lac Blanc and it's A LOT of people.
I don't think I've ever seen that many people on trail.
I know some people hate that but I don't really care.
I think it's cool to see people going out in the mountains and most of the trails I hike are totally empty so it's not exactly like I see that every day on trail.
I remember when I hiked the PCT and wanted to take a week off trail to hike in Yosemite, everybody thought it was a terrible idea.
"It's the Disneyland version of nature" was what I kept hearing a lot.
But that week ended up being by far the best time I had when doing the PCT (though it wasn't on the PCT)
Yes there were a lot of people in some places but I really didn't mind because it was worth it in the end and Yosemite is big enough that you have also a lot of places to yourself.
Went a bit off topic here…

I bump into Christopher, an American hiker met yesterday when I was having wine, and we hike together for a bit.
He takes a lunch nap, so I keep going as I'm finishing today and have quite a few things to do in Chamonix tonight (laundry, shopping, train booking…)
The views are still amazing all day and it feels like Mont-Blanc is right up in your face for most of it.

I meet two TMB hikers from California and we walk together for a bit.
They tell me the story of a guy that's hiking behind us and doing it in quite an unusual fashion…
He's wearing sandals and a white robe which gives him a Jesus look, and he's doing the TMB with zero food and drinking only 2-3 liters of water a day.
He's being filmed by a friend all the way so I'm assuming there's more to the story, like raising awareness for a cause?

The big drop back to Les Houches has been in my mind a lot.
It's a 1770m elevation loss, which is absolutely insane.
But doing it, it's actually not nearly as bad as the one yesterday. The grade isn't too brutal, it's just very long.
I still can't believe my luck with the weather and the fact that I've been able to do all the high route alternates.
It's definitely one of the best hikes I've done and there's actually a possibility that I'll hike it again via the low route this autumn for work.
Affiliate Disclosure
This website contains affiliate links, which means The Trek may receive a percentage of any product or service you purchase using the links in the articles or advertisements. The buyer pays the same price as they would otherwise, and your purchase helps to support The Trek's ongoing goal to serve you quality backpacking advice and information. Thanks for your support!
To learn more, please visit the About This Site page.