Hiking the Appalachian Trail with a Dog (Part 1)
The topic we're asked about most frequently (aside from "why in the world would you hike for that long?") is hiking with a dog.  It fascinates people and they are always curious how our dog, Rooney, handles living in the woods.  So we thought we'd take a minute to sum up what we've learned and how we make hiking with our dog a positive experience.
Real quick, we'll give you some background on Rooney, to put everything in context.  He's a 3 year old Weimaraner, which is a very high-energy bird hunting dog with a natural prey drive (i.e. his instinct is to chase wildlife). He's incredibly athletic and strong.  He weighs anywhere from 70-80 pounds, depending on his level of exercise and his diet.  On the trail, he was a solid block of muscle weighing in at 75 lbs.  He's friendly, cute and likes to be around people.
Another quick disclaimer:  we are not veterinarians or experts on dogs.  We are just sharing what works for our dog and us.  We encourage you to do your own research and talk to your vet about your dog's situation.  Each dog is unique.
Diet.  We started our hike with dehydrated dog food (they sell it online) and bought enough for the first month, then shipped it ahead on the trail in mail drops.  We wanted to see how it went for a bit and then reevaluate our options.  We had used this food before on weekend hikes and it worked perfectly, but we weren't sure if it would work for months on the trail.  And sure enough, it didn't.
There weren't enough calories in the dehydrated food and Rooney dropped about 5 pounds in the first week.  He was always hungry for more food and never seemed satisfied after a meal.  It was clear right away that we needed to adjust.  We switched to dry bags of food and supplemented it with olive oil for extra calories.  This did the trick and he put the weight back on quickly.  When we walked out of town we typically had a 6-7 lb bag of food and a big bottle of olive oil, for 3-4 days on the trail.  In town, we fed him a TON of food.  Pretty much anything we could afford to get our hands on.  Raw meat, sweet potatoes, eggs… anything that was safe for him to eat.
And again, to put it in perspective, his diet before the trail included raw foods.  We would not have introduced him to a brand new diet on the trail.   A typical day for Rooney pre-trail was 2 raw meals (chicken, sweet potato, kale) and 1 dry meal (regular dry dog food) so the trail was just an increased amount of things he was already familiar with.  We also carried acidophilus supplements, to prevent/reduce infections in his floppy ears.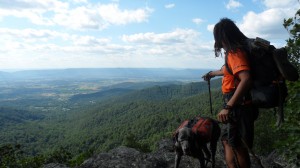 Paws.  One of the concerns for dogs that are walking all day is that their paws may crack or wear down.  Thankfully, this wasn't an issue for Rooney, but we do have a few suggestions for keeping paws healthy.  Many train their dog to hike in boots.  We started out carrying boots, but it was pretty clear that Rooney wasn't having it.  Plus we felt it was a little risky to mess with his agile footing on such tough terrain.  His paws are massive and strong which is one of the reasons he hikes so well.  So instead we did some research on other options and found a paw wax product called Mushers Secret.  We started using it in Damascus and it gave his paws extra conditioning and protection from the elements.  But the best thing we did was work up to our hike.  Rooney grew up on the AT and was used to the terrain so his paws were conditioned over time.
Ticks.  The only thing I truly fear on the trail.  They are so tiny and yet require so much attention.  Last year was a reportedly bad year for ticks because of the mild winter so we found a LOT of ticks on ourselves, but mostly Rooney.  We applied a monthly tick treatment and checked him multiple times a day.  It wasn't unusual to find 10-15 ticks in one day.  We carried a tick key and tweezers and used a rock or flame to kill each tick after removing it.  Even with all of our best efforts, Rooney did end up with a tick-borne illness.  We're not trying to scare or discourage you, but we do want to stress that it's a real risk and not one to be taken lightly.
If you would like to learn more on ticks, associated diseases and tick removal, please visit these websites: Dogs & Ticks and The Humane Society.
Gear.  Rooney carried his own pack and gear.  On average, it weighed about 5-8 lbs (remember, he weighs ~75 lbs) and fit him snugly, without being over-stuffed, so that it didn't move around & chafe him while he hiked.  He carried his food, bowl, supplements, pack cover and first aid kit.  We often carried 2-3 lbs of his food in our own packs – be prepared to help your dog with the extra weight coming out of town.  For a complete list of his gear, click here.
That's it for Part 1.  Check out Part 2 here!
Also, you can read all of our posts on hiking with a dog by clicking here.
~Minutes, Serial & Rooney
Affiliate Disclosure
This website contains affiliate links, which means The Trek may receive a percentage of any product or service you purchase using the links in the articles or advertisements. The buyer pays the same price as they would otherwise, and your purchase helps to support The Trek's ongoing goal to serve you quality backpacking advice and information. Thanks for your support!
To learn more, please visit the About This Site page.
Comments
9
I'm just curious what the total bill was on the food. I'm sure in town visitors varied.

What about water for the dog? Are there enough sources on the trail or did you have to carry extra?

Hi,
Thank you very much for posting this. My husband and I are from Ontario, Canada. We have done a lot of multi-day hiking with our 2 medium-large sized dogs (70lbs each). We're looking to hike some of the Appalachian Trail in Vermont (just a week's worth) with our dogs. On average we hike about 10-20km/day on our trips (so that would be 6.25-12.5 miles/day). This depends on how vertical the climb is though. I am not familiar with the Appalachian Trail and I was wondering where you would suggest starting from? We'd be looking to drive down to Vermont and then park our truck somewhere while backcountry camping – which means half way we would be doubling back to the truck. I have not done a lot of reading up on it yet, I've just started and found your posts. Just wondering if you had suggestions. We are looking for a lowly populated area that has some nice views and a good hike – I was hoping to stay away from Parks and shelters if possible. Please let me know what you think! Thanks so much.

Nice answer back in return of this query with solid arguments and describing
the whole thing concerning that.

Curious on the type of pack used on Rooney. Have tried a few and they all seem to chafe a little.

Hi! Question on the ticks….was he vaccinated for Lyme? Was that what he ended up getting, or was it another tick borne illness? Thanks in advance 🙂