How My 2019 Hike Ended
With my start date tomorrow morning it feels like the appropriate time to share the story of how my first PCT attempt ended.
I had initially started the hike Northbound, but elected to flip to Canada from Lone Pine with the intention of finishing my hike walking southbound back to Mount Whitney where the dream all started in 2016.
September 17, 2019
The wind battered my tent, pulverizing fine snow through the mesh of the lightweight and tattered structure I had lovingly named Patches. It was 3am and we had been hunkered down in the small grove of subalpine trees for twelve hours already.
My feet were inside my mummy bag, which was inside my pack. Everything was wet, the snow was impossible to keep out. I reached into my bear canister and forced myself to eat more calories to stay warm. A headlamp clicked on nearby, maybe Waffles or Hot Pants? Minimouse, the northbound hiker we had encountered from Korea had gone quiet a few hours ago. I hoped the three of them were fairing better than I was. This was all a mistake, such a preventable miscalculation.
It was around four days to Tuolumne. We heard there was a storm rolling in, but we were invincible hikers with thousands of miles under our belts that could push a 4mph pace whenever we needed. Except for yesterday afternoon when we needed it most. If I could feel my feet at this point, I would sense the pain of the plantar fasciitis I had in both of them. Waffles and Hot Pants probably still could have pushed that pace, but they had me walk ahead of them, probably knowing how injured I was.
Earlier
The south side of Sonora Pass is an exposed stretch of trail that runs for around nine miles over 10,000 feet of elevation. There is no reprieve from the wind or weather except the occasional shrub or boulder, but nothing for a sustained pause if the margins become unsafe. The thing is, the situation was turning south long before we topped out on the pass.
We knew the storm that was coming was going to be bad. It took far too long to get a ride to the trailhead from Kennedy Meadows North. We practically ran up the pass, topping out with massive wind gusts you could lean into. We still could have turned around there, but in hindsight, it is actually a good thing we didn't. We snapped some photos and got some funny videos of the wind, trying not to take it too seriously.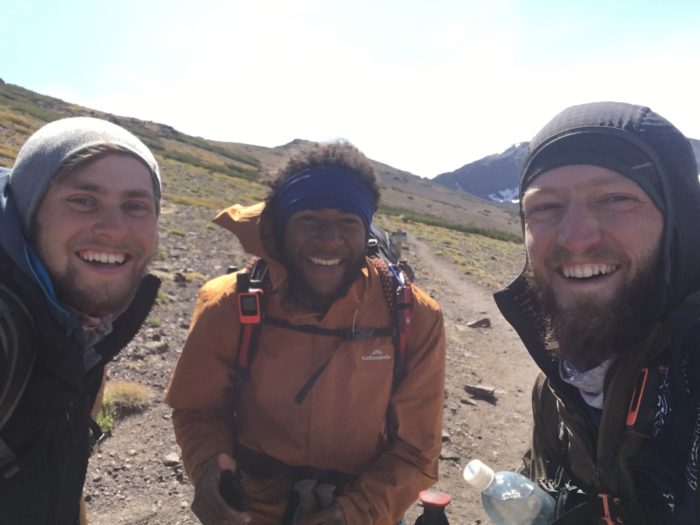 Northbounders
I remember feeling tired as we walked along the rolling ridge line of the first mile or two. Several northbound hikers scurried past us trying to make it to town before the storm. They gave us searching looks, wondering what our plan was. We should have seen their concerned expressions for what they were: foreshadowing for what was ahead of us. Some told us the terrain was easy but exposed. We reasoned that we could move fast and at worst hike a mile or two in the snow. I know at least one of them suggested it wasn't a good idea. We continued on.
It was just before we topped the saddle that lead to the windward side of the peaks. I remember a gust of wind slowly building, picking up small rocks and pebbles that I could feel pelting my legs through my thin hiking pants. I started to brace and duck into the wind. The next thing I knew I hit the ground about six feet to my left. The wind had literally blown hard enough to knock me off the trail into the scree field. "Holy crap this is serious" was the first thing I said. Waffles and Hot Pants were just ahead of me. I hurried after them, recounting what had just happened as we all topped the saddle together.
The Storm
There it was, the most intimidating cloud wall I had ever seen churning ominously and staring us in the face. We were now around four miles from the road and five miles from the trail descending to safety. We all agreed to push on. I took the lead, pretending it was because I had more experience in the mountains though I knew it was them not wanting me falling behind when every step I took felt like a shard of broken glass piercing my foot.
Almost the instant we started walking on that side of the ridge, the snow began. It quickly turned to graupel; in the harsh winds it sanded any exposed skin in excruciating fashion. The cheap sunglasses I had were freezing up and offered no protection from the blasts of ice blowing horizontally. I remember losing vision in my right eye for around a minute or two. Every so often I had to plant my trekking poles sideways to brace myself from the winds. I screamed angrily at the wind only for it to be lost in the deafening torrent.
It felt like if we stopped to rest we would surely die, swallowed in some icy embrace of snow and wind. I was more exhausted and cold than I have ever been in my life. My friends took shelter behind a small rock face to put their rain pants and I cursed myself for mailing mine ahead to Tuolumne. We talked about finding a small grove of trees but there was nowhere to descend and camping at 10,000 feet in that weather felt suicidal in our three-season tents. We pushed on.
An Encounter
Those few miles must have taken hours. As we approached where we thought where the trail should start descending, we came across a northbound hiker frantically setting up her tent. She was very clearly not thinking straight and possibly frightened as she was trying to setup in an accumulating snow drift. We approached her and told her to stop and come with us to a safer spot. Waffles and Hot Pants acted instantly, helping her take her tent down and pack up, I numbly followed suit helping where I could with nearly frozen hands. As we moved on, we didn't realize that we had passed the turn off where the trail descends and found ourselves climbing into a more and more exposed ridge line.
We realized we had erred, and had a quick discussion. Then I saw it. "There!" I pointed. A little oasis of a tree grove about a thousand feet downslope on the southern side of the peak, opposite of where the storm was blowing in. We found on an obscure path that led us down to the grove where it took two of us to set up each tent on the howling gale. When we finally crawled inside our respective bivies, it was around 3pm. We would not emerge again until around 9am the following morning.
Overnight I was forced to eat almost all of my food to burn calories and stay warm. Checking the weather on my gps, I saw there was a possibility of a similar storm blowing through two days later. Through intermittent shivering and restless tossing, I reflected on the day's events. I had no food to speak of and deep down I knew I needed to turn around.
Northbound Again
That was it for me, I knew it. There wasn't even a thought to get more food and push on at that point. This was the third time I almost died on my hike, and was going to be the last time.
After we emerged and dried off, I bid my farewells to Waffles and Hot Pants with loose plans to meet them in Yosemite with beers before I went home. I hiked back to the pass, catching up to Minimouse continuing on her way north. I stopped somewhere along the way to meditate and make peace with it all. I don't know if I was very successful, because very clearly I am back here again.
One Last Summit… or Two
I kept my promise with my friends, renting a car in Reno and driving into the valley. My last night hiking consisted of an overnight trip where we camped just before Clouds Rest, later bagging its summit and Half Dome the following morning. We spent the night in the valley at the backpackers campground, appropriately the place where I had spent my first night three years prior on the JMT which started this all. I guess after all, I had managed to end my hike where it all began, just not in the fashion I had imagined.
Aftermath
It took a long time to come to grips with how my hike ended. I remember at first I hated the line of decision making that led to us walking into that storm. As someone who loves climbing and spending time in the mountains, controlling risk is your number one priority.
I later realized that despite this recklessness, there was a positive outcome. I still to this day think that had we not walked Southbound into that storm, there is a very real chance Mini would have set her tent up in that snow drift. She likely would have spent the night exposed to the elements and in a way, I think the quick actions of Waffles and Hot Pants saved her life.
---
That's all for now. My next post will likely be from some way down trail and while it's fun to revisit and share old memories, I hope to make and write about new ones as well. Who knows, maybe I will even have a different trail name by then?
Affiliate Disclosure
This website contains affiliate links, which means The Trek may receive a percentage of any product or service you purchase using the links in the articles or advertisements. The buyer pays the same price as they would otherwise, and your purchase helps to support The Trek's ongoing goal to serve you quality backpacking advice and information. Thanks for your support!
To learn more, please visit the About This Site page.