How to Hike West Virginia's Cranberry Wilderness
I've been going through trail withdrawal hard since finishing my AT thru-hike in September. With winter quickly approaching and hiking season winding down, I decided to peel myself off my couch and do something about it. I finally checked off a bucket list item and went on a short backpacking trip in the Cranberry Wilderness, a unique, spectacular bit of forest in the Allegheny Mountains of "Wild and Wonderful" West Virginia. For anyone who thru-hiked this year and may be dealing with post-trail depression, I highly recommend doing something similar. Even a couple of days in the wilderness did wonders for my state of mind.
What You Need to Know about the Cranberry Wilderness
The Cranberry Wilderness is a 47,815-acre remote woodland in the Mountain State's Monongahela National Forest, with an elevation profile ranging from 2,400 feet to 4,600 feet. It gets its name from its proximity to the Cranberry River and the Cranberry Glades Botanical Area, a unique ecosystem that features bogs and plant life usually only found in more northern climates. According to the US Forest Service, this is one of the most ecologically diverse areas in the United States and is one of the largest pieces of wilderness devoid of roads east of the Mississippi. It is a designated black bear sanctuary (West Virginia's state animal) and you can also find bobcats, whitetail deer, turkeys, rabbits, foxes, and the rare blue crayfish only found in Virginia, West Virginia, and Pennsylvania. It also boasts old-growth red spruce forest, tangles of rhododendrons, vibrant green mosses, dense stands of Appalachian hardwoods, crystal clear streams, rushing waterfalls, and some exciting river crossings.
Choosing a Route
The Cranberry Wilderness has a pretty extensive trail system, and there is no one specific hiking or backpacking route within it. You can easily do a one day out-and-back hike or plan a multiday backpacking trip. The most popular hikes seem to be 22-, 24-, and 27-mile loops. You do not need a permit to hike or camp, and there are plenty of camping options along the trails, including some AT-style shelters, found on the official Cranberry Wilderness trail map.
These trails are quite primitive and unmarked except at trail intersections, some of which are easy to miss. The trails are also overgrown in some areas, so it's important to pay attention to where you're going, where trail markers should be, and to watch out for expected landmarks. It's also important to note that while this wilderness is gorgeous in winter conditions, Route 150, where a few of the trailheads are located, is not maintained in winter and the Forest Service discourages use from November to March.
Getting There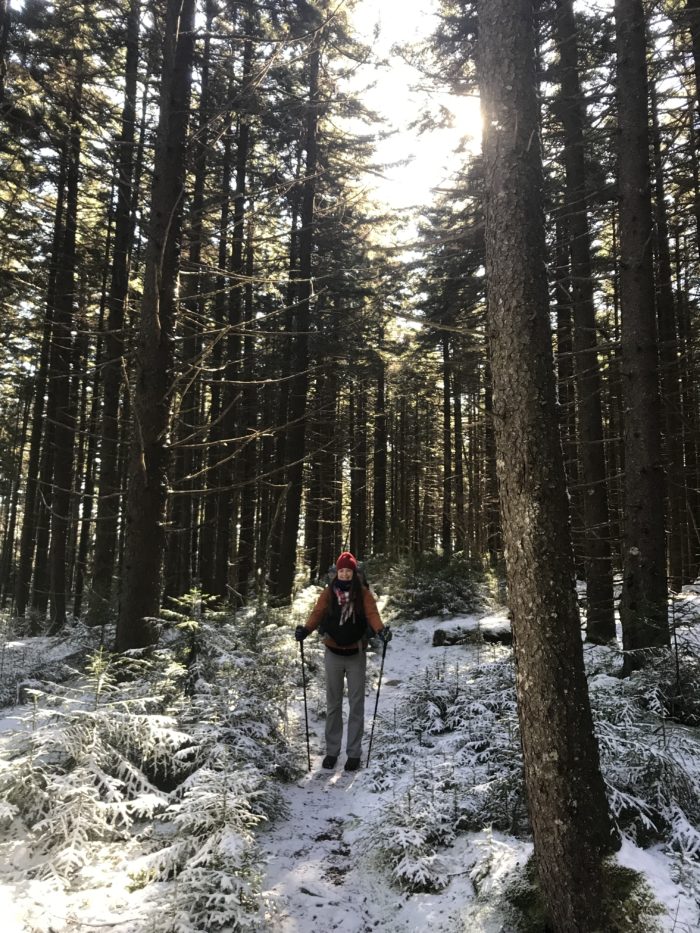 The Cranberry Wilderness is found in the southeast corner of West Virginia in Pocahontas and Webster counties, contained within the Monongahela National Forest. The closest cities by car are Pittsburgh (four hours), Richmond (four hours), Washington, DC (five hours), and Baltimore (five hours). For general directions from the Forest Service, click here. It is about a 30-minute drive from Snowshoe, WV, and many trailheads are found on Route 150, otherwise known as the Highland Scenic Highway. HikingUpward.com is helpful for trailhead GPS coordinates.
My Personal Experience
Because I had a limited amount of time to spend in West Virginia and was hiking with a non-thru-hiker (read: normal person who doesn't aspire to hike 15+ miles per day), we decided on a fairly easy 17-mile(ish) loop over the course of two days beginning and ending at the Big Beechy trailhead off Route 150. Because this trailhead rests at above 4,000 feet, we were greeted with snow and ice for the beginning of our hike, losing the snow only when arrived almost at our campsite at about 2,800 feet several miles later.
Our itinerary included hiking about seven miles the first day along the Big Beechy Trail through snow-dusted red spruce forest, descending through rhododendron tunnels, and making our way to camp through the familiar beech, birch, and poplars found throughout the Blue Ridge Mountains. The last two to three miles of the day included a fairly steep descent on a narrow, unkempt trail, but we were greeted at the bottom by the diverging of two streams, a campsite next to a waterfall, and a clear sky full of bright stars.
The first part of our hike reminded me of Narnia and Kelsey of Santa's North Pole. I expected a magical creature to pop out from behind a tree at any time. Instead, we followed bear tracks through the snow for a good bit of the day, but never saw said bear.
The lower portion of the hike reminded me of Virginia's Jefferson National Forest, which makes sense geographically as it runs parallel to the Cranberry Wilderness. It may not have been as "magical" as the red spruce forest at the top of the mountain, but I can only imagine how beautiful it is in spring when the mountain and flame azaleas, rhododendrons, and mountain laurel bloom.
The next day we followed the Middle Fork Trail, a wide, flat path along the Middle Fork River for about eight miles before we began a gradual ascent up to the parking area after turning onto the North Fork Trail. We had to cross the river (and get our feet wet) multiple times, which was a bit of a pain in the chilly November weather, but it was an absolutely stunning path and there were swimming holes galore, which I imagine would make for a pretty spectacular day of summer hiking. If you wanted to do this same loop, keep in mind that even if the campsite at the waterfall at Beechy Run is taken, there are plenty more sites located along the Middle Fork River.
The Cranberry Wilderness's reputation did not disappoint—it was incredibly beautiful. I'd love to see it in its friendlier seasons, but even so, November hiking had its perks. We did not see a single other person on our entire hike, the snow added to the magical beauty of the spruce forest, and it was a pretty phenomenal backpacking trip to end the season. I would highly recommend visiting the Cranberry Wilderness in any season.
Nearby Attractions
Yes, the Cranberry Wilderness is remote. But, if you have some time to spend in the area, there are several other attractions to consider while you're there. West Virginia has a little something for the outdoorsman in all of us.
For more hiking, the Dolly Sods Wilderness, also part of the Monongahela National Forest, is about a two-hour drive north and is also supposed to be quite spectacular, especially during its spring and summer wildflower bloom. For more local hiking, Seneca State Forest, Virginia's oldest state forest, is less than an hour away from the Cranberry Wilderness, features easy hiking, multiple woodland cabins for rent, a swimmable lake, and a fire tower you can pay to sleep in.
For the snow lovers out there, skiing and snowboarding are available during the winter months at Snowshoe Mountain, only about a 30-minute drive from the Cranberry Wilderness, and Canaan Valley Resort, about two hours north (closer to Dolly Sods). Pro tip: the Inn at Snowshoe has a hot tub that feels pretty phenomenal after a day or two of hiking!
For the rock climbers amongst us, Seneca Rocks, a popular trad climbing locale, is about two hours north and New River Gorge, a whitewater gorge that flows through deep canyons, popular among whitewater kayakers and sport and trad climbers as well as boulderers.
Happy exploring!
Affiliate Disclosure
This website contains affiliate links, which means The Trek may receive a percentage of any product or service you purchase using the links in the articles or advertisements. The buyer pays the same price as they would otherwise, and your purchase helps to support The Trek's ongoing goal to serve you quality backpacking advice and information. Thanks for your support!
To learn more, please visit the About This Site page.