How To Stay Safe While Hiking at High Elevation
Planning to trade green tunnels for alpine views this summer? High elevation hiking can lead you to pristine and breathtaking scenes that feel like you're in a dream. From alpine lakes to rocky summits, hiking above treeline can make you feel like you're on top of the world.

This beauty doesn't come without risk though. Hiking at high elevation is not for the faint of heart, and there are a handful of tips you need to know to make sure you are able to safely finish your hike. From unpredictable weather to snowy trail conditions, it's essential to do proper research and preparation for your hike before heading towards the trailhead.
Hiking at High Elevation: 6 Essential Safety Tips
Leave Time To Acclimate
Ed. Note: We are hikers, not doctors. This advice is not intended to be a substitute for professional medical advice, diagnosis, or treatment. Always seek the advice of a qualified health care provider with any questions you may have regarding a medical condition. 
If you're coming from lower elevations (anywhere below 5,000 feet), then you need to leave time for your body to adjust to the higher altitude before starting your hike. Leaving 1-3 days to rest and get supplies together will not only make your hike more enjoyable but will prevent any of the adverse effects of altitude sickness.
Altitude sickness is your body's way of reacting to a rapid decrease in oxygen pressure. This decrease makes it harder for oxygen to enter your lungs and vascular system, often leading to mild or severe altitude sickness. On the more mild side, you may experience headaches, shortness of breath, or nausea. However, if you travel to higher elevations too quickly (or leave mild symptoms unchecked), then coma, difficulty breathing, and even death are sometimes possible.
You can read more about preparing for potential altitude sickness here, but one of the best ways to avoid it is by being mindful of what elevation you sleep at. Since the oxygen levels in your blood are at their lowest when you're sleeping, many people start feeling adverse effects after waking up from a night spent at a higher altitude than they are acclimated to.
One rule of thumb: once you start feeling symptoms, be sure to end your day no more than 1,000 feet above your starting point. For most people, ascending higher than this during the day should be fine. Just make sure that you come back down to this "elevation gain limit" at the end of the day to sleep.
Bring Sun & Weather Protection
When up above the trees, there is often little shade to protect you from the sun. Pair this with the fact that you are a few thousand feet closer to the sun while hiking at high elevations, and you have the perfect storm for severe sunburns (including to the eyes, lips, and skin). Always wear and reapply sunscreen, use sunglasses, and cover your skin with sun hats, long-sleeved shirts, and pants to prevent any unpleasant experiences with the sun. Chapstick with SPF also works great to ensure your lips don't get burned.
Dressing In Layers Is Key for High Elevation Hiking
Although the sun is brutal at high elevations, conditions can suddenly change from sunny to stormy at any time during your hike. Depending on how high your climb is, you may be starting in summer clothes and summiting in full winter jackets, hats, and gloves. Temperatures can differ dramatically along different sections of trail, so it pays to always pack warmer clothes than you think you'll need.
In perfect weather, the temperature will drop about 5.5°F for every 1,000 feet you gain in elevation. However, clouds, storms, and wind can make this temperature drop more drastic. Always bring warm layers and rain gear – even if the skies look clear in the parking lot.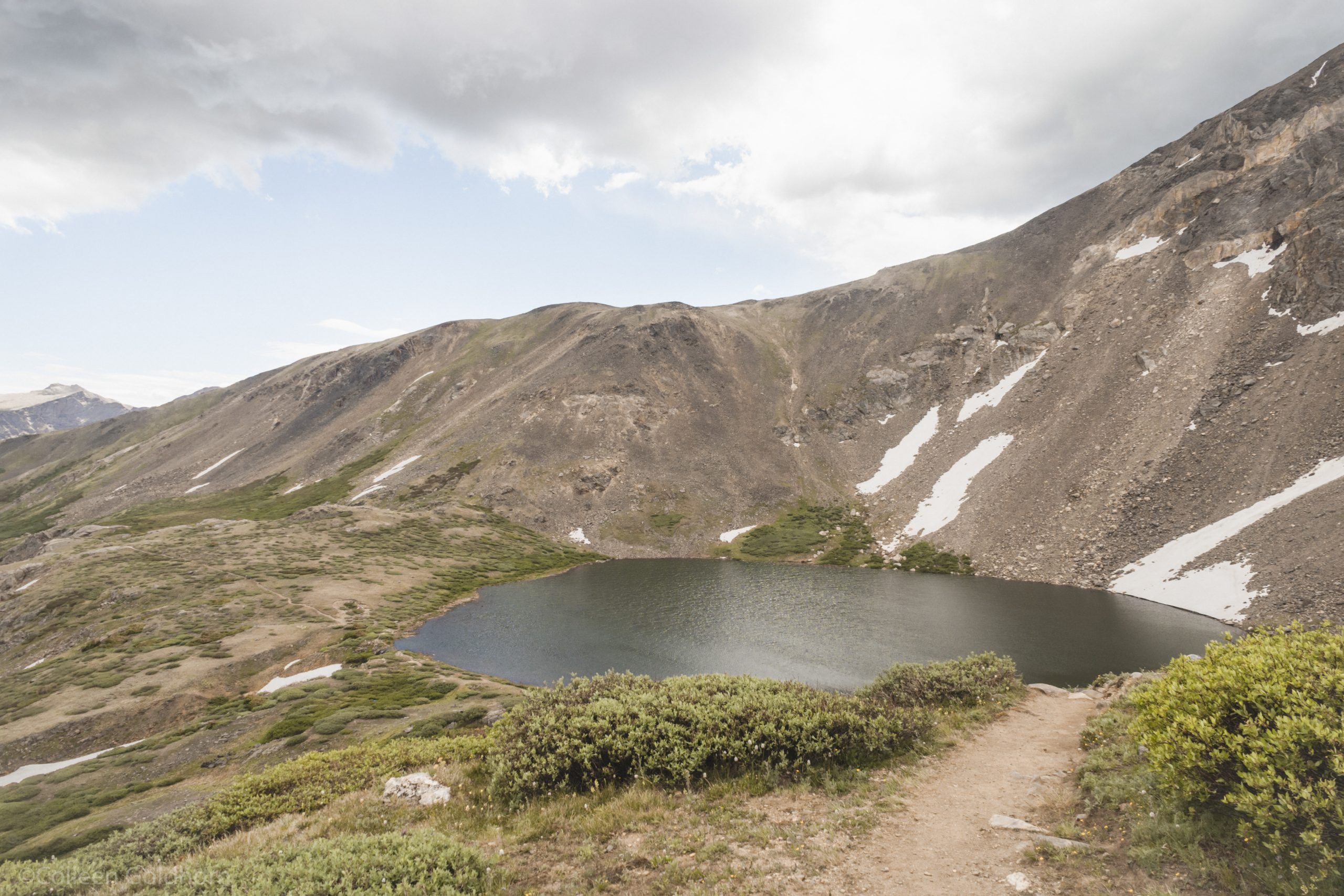 Research Trail Conditions Before Hiking at High Elevation
With snowpack not melting until June or July on certain trails, winter lasts significantly longer at high elevations. Apps like Guthook can help you plan a safe route by showing recent user comments. However, if you want a more accurate trail forecast it's wise to look at information published by the governing body of each trail. For example, the Colorado Trail often posts weekly trail condition updates during the spring and summer months. These posts include information on which areas still have dense snow, and other important conditions such as mud, blowdowns, or avalanche damage from the previous winter.

If you're going to be hiking in the spring or early summer, bringing along gear such as microspikes (sometimes even snowshoes or crampons) will help ensure you can safely cross any patches of unmelted snow.
Read next – MSR Lightning Ascent Snowshoe Review.
Know The Weather & Start Early in the Day
One of the craziest things about hiking at high elevation is the often unpredictable weather. The sky can be blue and sunny one minute, then 20 minutes later you're fighting a pop-up storm. Wind, hail, thunderstorms, snow, and bitter cold temperatures can suddenly appear at all times of year. Always check the weather before your hike, and do not summit any peak if there is a possibility of a storm.

Lighting is a real threat, and people do die on high peaks. If you feel your hair stand on end, you may be about to be struck by lighting. When this happens, remove all metal from your body (backpacks with frames, trekking poles, phones, jewelry, etc), stay at least 50 feet away from other people in the vicinity, and squat down on your tiptoes as low as you can to minimize your contact with the ground. Cover your ears with your hands, and stay like this until the threat is over. Never stand beneath a lone tree or high point during a high elevation thunderstorm.

When attempting a high elevation hike, starting early in the day is crucial. It's safer and easier to cross snowfields early before they begin to melt and destabilize in the afternoon heat. Also, on most summer days, you can expect a thunderstorm to pop up sometime during the early afternoon. Alpine summits are the last place you want to be when this happens.
Plan to start your hike as early as necessary to ensure you are off the trail (or at least below treeline) before 12-1 pm. This time frame is just a suggestion and thunderstorms can pop up at any time of day in higher elevations. Use your head and do not keep climbing if you see a storm rolling in.
Bring Along Proper Backcountry Knowledge
Help can often be unreachable (or miles away at best) when hiking at high elevation, so it pays to bring along proper knowledge of how to stay safe in the event of an emergency. Wilderness First Aid knowledge is great to have on any hike, but in some cases, a mountaineering class may offer useful information on how to handle unpredictable high altitude situations. Bear in mind that extensive snowfields can obscure trails and markers, so if you anticipate significant snow coverage, bring navigation aids and make sure you know how to use them.
Regardless of how you choose to gain the proper safety experience, it always pays to follow basic wilderness safety. This includes carrying extra food and water, giving someone the details of your planned route, and wearing proper clothing.
Listen next – Walking Distance #04: Backcountry Safety ft. Dr. Elizabeth Andre and Molly Herber.



Hiking at high elevation comes with different factors to consider than hiking closer to sea level. There are plenty of factors that need to be considered when planning an alpine adventure. With planning and preparation, you'll set yourself up to enjoy some of the most beautiful and remote terrain on earth!
Affiliate Disclosure
This website contains affiliate links, which means The Trek may receive a percentage of any product or service you purchase using the links in the articles or advertisements. The buyer pays the same price as they would otherwise, and your purchase helps to support The Trek's ongoing goal to serve you quality backpacking advice and information. Thanks for your support!
To learn more, please visit the About This Site page.