HRP- a Mountain Wilderness
Section 4: Salardu – L'Hospitalet-Pres-L'Andorre
Day 25
We set off from salardu after a breakfast of omelette sandwiches and magdelenas. The zero did the job (we needed it too) and we both felt refreshed and excited to get back into the mountains. Even after only a day I wanted to get back there. As much as the rest was enjoyed just lying in bed, it felt weird not walking.
Straight away we could tell our bodies felt stronger. The little pains in my knees were gone.
We climbed out of town, hitting a ski resort. It was empty, which gave off an apocalyptic and abandoned air. Here I had to leave behind one my of poles as the bottom had broken off. Not the ideal start to the section.
It was hot again. Hiking sweaty. We stopped by a lake for lunch. I missed this lunchtime swimming.
We headed up this ridiculously steep climb. We couldn't really believe the map, just directly straight up to the peak. Grabbing at tufts of grass, we pulled ourselves up.
At the top looking around we could instantly tell we were entering a different landscape. Vast, dry, and green. This was the first day out of town and already it felt wild. Wilder than anything before. It had this barren feeling. A vulture was circling above us. Its wings a humongous size.
We continued along the ridge. I absolutely love the feeling of a ridge walk, the drop on either side. The evening was spent hopping from boulder to boulder. A never-ending expanse of boulder fields. My shoes were getting shredded. The bottom of my other pole had now also broken off.
This stage feels different. Barely any trail or markings. A sense of freedom in this wilderness. To walk where we want and to take the path we choose.
Day 26
Today was a sufferfest. We spent the whole day climbing in the heat. Never-ending climbing covered in sweat. My moment of joy, swimming in a river ended up with me covered in leeches.
It's clear that from now on the heat is no joke. We are going to have to start hiking early, siesta during midday and then hike late into the evening.
I think today might have been the toughest day for me on trail so far. I barely smiled. I can already tell that this stage is going to challenge me and try to break me. In two days both my poles are broken, my shoes are getting shredded and one of my glasses lenses has fallen out. Duct tape has become my new best friend.
For most of the day I was stuck in this mental pit. Every minute a struggle. I just kept counting one and two. Trying to give all my attention to placing one foot in front of another.
Getting stuck in these low point can feel so suffocating. Inescapable. But like everything else, it will pass. In the evening I finally got out of the pit. Most of the climbing was finished and I finally began to appreciate my surroundings. Sitting on a pass, I just thought of how lucky I am to be one of the few people in this world to get to experience this. I can't waste these moments in despair.
At camp we watched the sky turn to darkness. Listening to music we lay in silence and occasionally talked. It sounds weird but I want to be more childlike, to have no inhibition. To do the things I care about and to care about these things fully. I'm tired of just coasting. The last six months I've tried to not care about things, thinking it would make everything easier. But in truth, I want to care. If you don't wholeheartedly care about things then what's the point?
I think my struggle is coming from feeling in a weird limbo. I'm close to the final stage but I'm not quite near the end. The initial excitement at starting this trail is gone and now this is just my existence. It just is. But the approaching end is starting to become a regular thought. Focusing on the now is becoming tougher and tougher.
Day 27
Out here so much can change in a day.
We started the day descending to a hamlet. There's no road access to this hamlet, almost completely cut off from everything else. Beautiful old houses.
After a climb through a pine forest, the midday hit was in full force. We emerged from the climb and dove straight into a lake. We were no longer coated in sweat. We found a spot in the shade and started our siesta. Laying there the thought of hiking was unbearable.
Lying there my happiness came back to me.
A few hours later we started hiking again. Still hot but now more bearable. We climbed over a pass. The section has the weirdest variety. It seems every pass and every different valley has a different landscape. The mountains on one side look different to the other. From green and lush to suddenly rocky and red.
The evening was simple cruising. Walking in the evening cool is like a breath of fresh air to the day. 
The HRP never makes life easy for you and right before the lake we were planning to camp at we were faced with a brutal last climb. We could see the climb from a distance. Small zigzags up the mountain. It was as heinous as it looked.
The climb was worth it. On the other side again a whole different landscape. Massive lakes surrounded by rock. We dropped our packs and went for another swim. Despite all the effort required to get here, swimming in that lake I couldn't help but smile and scream with joy.
At camp, we were joined by a German hiker. Sitting there eating my cold noodles and mash, my mouth was watering watching him eat his freshly cooked mushroom and noodles. The insatiable hiker hunger is now in full force. In a day and a half, I'll hit a supermarket.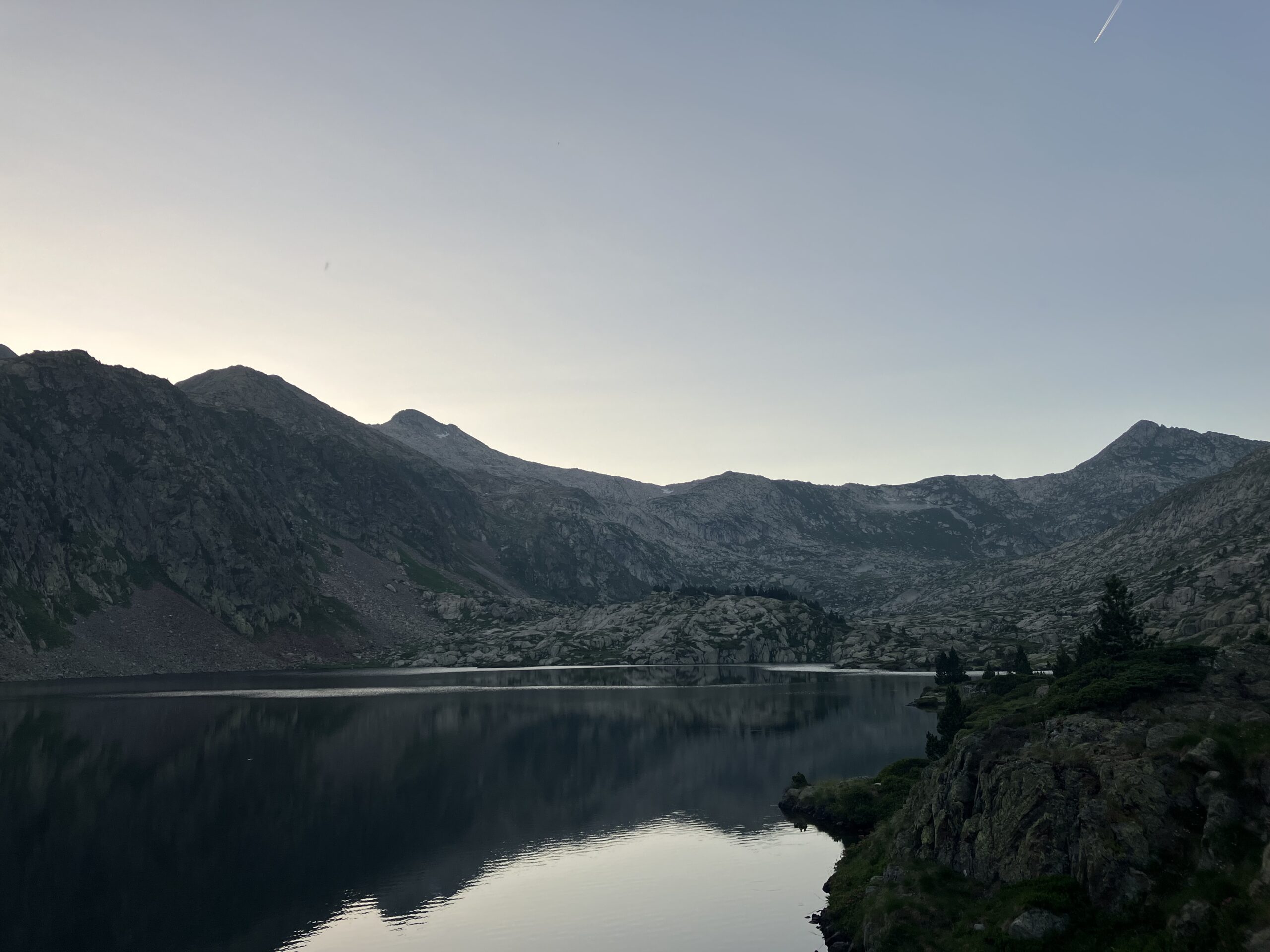 Yesterday was a low and today was a high.
Day 28
We had an early start to try and get some miles done before the heat came in. Descending down a valley without much of a path. I took multiple falls slipping on the scree and dirt.
My mental state seems to be correlated with the terrain. Whenever we do big long descents I always feel pretty miserable. Then the moment we hit the bottom of the valley and start climbing back into the mountains my mood improves.
From the valley we climbed through a forest. Huge trees all around. Climbed and climbed. We hit a pass and descended to a lake. The lake was surrounded by red dirt mountains. Out of the lake's basin, the land turned arid. Rock hard, dirt and dying trees.
Another big descent. I felt fresh after our siesta. We bumped into a man hiking with a staff that bore more resemblance to a tree trunk. He was wielding it two-handed in a rowing motion. It was incredible to watch.
Back into the valley and then another massive climb to finish the day. It was the first time on trail where my legs felt like lead. Every step was a strain. A serious plod to the top. Exhausted and hungry I started having dreamlike daydreams of being at home in the Philippines eating at a family feast.
We arrived at the pass. Finally that was all the climbing for the day done. Screaming with joy I turned around and see Dan dancing up the last bit of the climb. We felt good. Today was a mammoth of a day. Over two thousand metres in elevation gain.
After all that a tiny dinner was all I could have. I've ran out of almost all my food. I have a little bit of snacks to get me to a supermarket tomorrow. I cannot wait.
Tomorrow we enter Andorra. A new country with new mountains to explore.
Day 29
I struggled to sleep all of the night with the howling wind. Wind just pounding my tent. There was a big snap. I instantly woke up from a sleepy daze. My tent pole had snapped and gone through my rain fly ripping it. That was a pretty bad night.
We climbed up to a pass and crossed into Andorra. Even though it felt like a milestone to finally be here it was shrouded with the fact my tent was broken and we had no food.
On the other side of the pass was a ski resort. We noticed that a gondola was working so we went to check it out. Music. Music was playing. There it was, a restaurant. We couldn't believe it. We went up and asked if they were serving any food. Next thing you know we were sitting there with two burgers in front of us and a cinnamon pastry. They were incredible. What a welcome to Andorra. Sitting there everything felt like it was going to be ok. Despite most of my gear breaking this section, despite the mental beating, I was ok.
We descended along ski runs to get to el Serrat to resupply. We arrived at a Carrefour Express at a gas station. We had decided before that first we would do an eating shop and then once our hunger was gone we would do another round of shopping for our resupply. We've learnt we make terrible resupply decisions when we are hungry. So we sat outside with a tub of chocolate ice cream, a foot-long ice cream sandwich cake for eight people, two Spanish omelets and two packs of breaded chicken with cheese. A lot of people laughed at us walking by. It didn't bother us, sitting out the back of that gas station we were in heaven.
We were back inside, this time shopping for our resupply. I was laughing the whole time in there. I watched Dan trying to resupply and I couldn't help but crack up. He looked so lost in there, he was basically blacking out from the food coma and had no idea what was going on.
We got on a bus back to the trail. The driver kindly let us on for free. There was even Wi-Fi on this bus. A few minutes into the drive about fifteen old-school hikers piled in. It looked as if they were doing a boys trip. James Blunt was playing on the radio and they were all singing and dancing on the bus. I hope I'll still be like them when I'm in my sixties.
Considering we had eaten more calories today then in the last week combined we decided to crunch some miles in the evening. Hiking was a breeze, even hitting big passes was relaxed. It was the first time I realised how calorie deficient I've been on this trail. Resupplies in Europe are always tough.
I'd be cowboy camping tonight so we tried to find a nice sheltered spot. The evening hiking was beautiful and we both felt amazing getting to camp. It was probably the first time this section where at camp I just felt completely content, even with my tent ripped. We didn't sleep till about midnight, the stars were too crazy.
Day 29
We aimed to get to town this evening so we had a big day of hiking ahead of us. What a day it was. It was perfect. None of this dropping a thousand metres into a valley and then climb back up. Just great hiking amidst a beautiful landscape. In the afternoon we almost didn't want to get to town we were having so much fun. And after the section we've had that's saying something.
We were only in Andorra very shortly but it gave us this jolt to the system. It woke us from the weird sufferfest that was the last week.
We got to town and found a hiker hostel to stay in. The kindest woman runs the place and now it's time for a zero.

Only one more section to go. In a bit over a week I'll be finishing the HRP and arriving at the Mediterranean. Ending a thru-hike is such a weird experience. You work so incredibly hard to reach a goal, you break yourself mentally and physically every day to reach a goal you ultimately don't want to get to. Yes obviously I'm excited to get to the finish point and finish but a big part of me knows that that finish point also represents the end to this beautiful life on trail.
I am stoked for this final section. It looks like a great section. It has quite a lot of challenges before I finish. We are currently in a heatwave and the closer we get to the sea the hotter it gets and there isn't much water in this section. The final hurdles. Ultimately, you have experienced so much hurt during a thru-hike that a little more doesn't bother you.
Affiliate Disclosure
This website contains affiliate links, which means The Trek may receive a percentage of any product or service you purchase using the links in the articles or advertisements. The buyer pays the same price as they would otherwise, and your purchase helps to support The Trek's ongoing goal to serve you quality backpacking advice and information. Thanks for your support!
To learn more, please visit the About This Site page.