HRP: Into the Mountains
Section 2: Lescun – Gavarnie
Day 8
A childhood friend from home, Jack, was coming out to meet me, so I took a zero in Lescun. I basically didn't leave my bed and just let my body recover. He turned up late in the night. It was awesome to see him again and we spoke excitedly about the weeks to come.
Day 10
We left the hostel early and began our journey together. Climbing through a valley and then into some mountains. My body felt strong after having a rest. It was also a nice change up being able to speak to someone on trail. We had fun reminiscing about when we were kids and catching up on everything that's happened since we had last seen each other. We had both recently been through a breakup. A big reason both of us were out walking.
We made camp early at Lake d'Arlet. There's no better feeling than swimming in a lake after a day of hiking and then sunbathing on the banks before bed.
Day 11
Our first morning on trail together was spent getting almost mauled by a Pyrenees mountain dog as it chased us down a valley. I think we may have gotten a bit too close to its sheep.
We tackled a brutal climb through a forest. Not the easiest start for Jack. At the top we popped over the pass and there below was this incredible alpine lake. Huge. We hustled down and dove straight in. It's always nice to be rewarded after a climb and this was a special reward. The regular occurrence of these lakes was a blessing.
We descended to this weird ski resort Candanchu. Everything looked abandoned, it being the off season. We were meant to resupply here, but it wasn't looking hopeful. We were at a bit of a mental low, so we were really hoping. Nope. The small supermarket was shut. We sat around thinking of what to do. As we sat there, I realised Jack's ice axe wasn't on his pack. A lot of swearing commenced. It had somehow fallen off and neither of us had noticed. He hiked back a bit to see if he could find it while I waited. He came back empty handed. Spirits were now very low. An ice axe isn't a piece of gear you want to lose.
We decided to walk through the town along the road and to try hitch to the nearest supermarket. As we turned the road, we could see some people moving around outside a building. Something was open! We ran over and it was an open restaurant! We proceeded to devour a schnitzel and three cokes each and a beer. Now it seemed everything was going to be ok.
After chatting to the table next to us for a bit, I decided I might as well ask them if they had a car and if so if we could get a lift to the supermarket. It was all coming together. They kindly drove us to the supermarket and back. Whizzing along the mountain roads in an Audi. Just when we were feeling our lowest the kindness of these people saved us.
With a fresh resupply, we tackled a climb to a lake where we were to camp. I don't know why, but that climb almost broke me. At the top I stood retching, feeling like I was going to throw up.
It felt like the purest freedom camping by a lake, swimming and dancing listening to music.
Day 12
The morning began by a tough climb up a boulder field. Hopping from boulder to boulder. I felt a bit like a kid in a playground.
The brutality of this trail was getting to Jack. He's a long-distance runner, so physically he was managing, but mentally he was not. In light of this and the ice axe, he decided he would leave the trail at Gavarnie at the end of this section. We agreed this was for the best and that knowing this we would treasure the upcoming days.
After a brutal day, we had yet another evening climb. Coming up was the Passage d'Orteig, a slim path around the mountain with a big drop down below. Jack decided to take the safer alternate to the refuge. As I went along, I felt like I was going to pass out when I looked down. I squeezed the chains bolted to the mountain desperately. Coming out of the passage, I collapsed with relief. I then scrambled across some boulders. The cutest marmots were scurrying about below me. I could see the refuge and the lake below me and it just blew my mind.
I ran down and then Jack and I went straight for a swim in this pristinely clear lake surrounded by snowy mountains. Our screams from the cold echoed around us.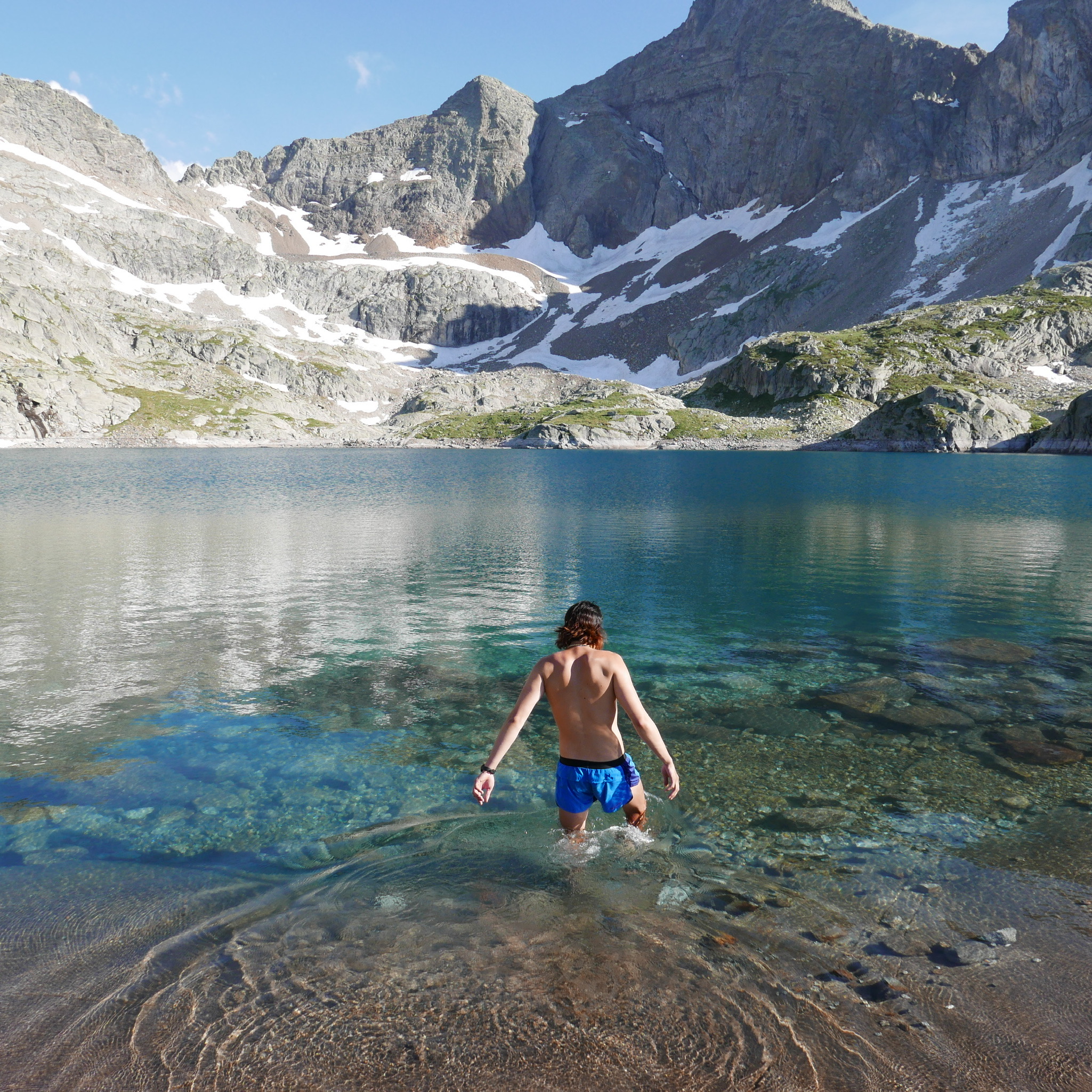 We went to set up camp and nearby sat a man reading a book by his tent. We went over to join him. He was walking the HRP as well but the other way. We traded information as to what was ahead for each other. Turns out he used to be a ranger here for the last six years. He spoke of these mountains with such knowledge that we learned a lot. Two Slovenian brown bears had recently been re-wilded here in the valley we had just come from. He had spent the Covid years working on an island near Antarctica doing penguin research there. We spoke about why each of us was here on the HRP. He said he was here walking as his girlfriend died here in the Pyrenees six months ago. "Life can be weird sometimes, but we cannot control it," he said.
A group of eight Spaniards arrived. They were shocked to find out that the refuge was shut for construction. Panicking, they ran around. They had sleeping bags and pads but no shelter. We couldn't help but chuckle a bit. We laughed even harder when they decided to take the construction wood and start building themselves a little base to sleep in.
Later on in the evening, an American came into camp. His name was Garret and also a HRP hiker. He was the first native English speaking thru-hiker I'd met. He was an experienced thru-hiker from Colorado. We sat by the lake talking late into the night and agreed that Jack, myself, and Garret would all set off together in the morning.
Sleeping by that lake was the most beautiful place I've ever camped. Behind me the sun was setting behind the outlines of the jagged peaks and in front this snowy lake.
Day 13
Within 30 minutes of us setting off, we had lost the trail. We began an off-trail traverse around the peak to get to the pass we were meant to be on. We scrambled around, hoping we didn't get cliffed out. Jack looked pretty shaken, but he pressed on.
After getting back on track, we began the climb to Port du Lavedan. Even though we were back on route, things definitely didn't get any easier. Far from it.
We began by traversing this steep scree slope. Garret was ahead and above, while Jack and I were taking our time. As I was going along this scree field, the scree around me started slipping. Desperately trying not to move a bone, I hoped it would steady itself. After sliding down a few metres, the scree thankfully steadied.
Jack and I decided to head down lower to where there were some bigger boulders.
We strapped on our microspikes and began climbing this snow slope. We decided it would be best for Jack to take the ice axe. We slowly made our way up. We spotted Garett at the top at this tiny pass. We finally made it to him. That was an exciting climb. We looked around on either side of the pass, it was indescribable. It was far from a comfortable climb, but I think comfort leads to stagnation in this life.
We began the descent down. Garett bombed it straight down navigating some boulders and scree. Jack and I decided to traverse around the high snow fields to where it descended more gently. Without an ice axe, I was pretty terrified crossing these steep snow slopes, knowing that if I slipped it would be a long tumble into some boulders.
All went well and we celebrated by having lunch and coffee at the refuge below. A plate of meat and cheese. The cheese was apparently from the cows in the valley just below.
The afternoon was a tough battle for Jack and I. Physically drained after the morning, our mental states soon took a hit. This afternoon was the lowest mental point of the trail so far. We decided to take it easy and camped at the base of the next big pass. We pitched up on the literal boarder, being half in Spain and half in France. Garett was crushing it and pressed on. I hope I bump into him again on this trail.
Day 14
We woke feeling rested and ready to tackle the pass. We climbed along with some mountain goats beside us. They made the terrain look like it was nothing. The snow was solid due to it being early in the morning, so we hit the pass without too many problems.
On the other side of the pass was a snowy paradise. Glacial lakes below us. A landscape of white and crystal blue. True beauty. Knackered from the climb up, we slid down the snow slopes on our bums. Enough of this hiking, we fancied some skiing.
There was no way I was going to pass on swimming in a glacial lake. Thrusting my ice axe in the ice, I hobbled in. Your whole body kind of goes into this shock. Needless to say, it was a very brief swim, quickly followed by a lot of screaming climbing out and trying to get warm.
As we sat in the snow eating Nutella, we couldn't help but marvel at everything around us. The snowy landscape and the silence.
After a long break by this lake, we decided that it would be best if we actually did some walking today, so we quickly descended into the valley. This was Jack's last day on the trail, so we decided to treat ourselves to some food at refuge Wallon. Delicious chocolate crepes and omelettes. After that I was walking basically half asleep, struggling in my happy food coma.
We climbed and then descended, climbed then descended, climbed then descended. Pass after pass. The day was getting pretty brutal. We stopped just before the final climb of the day. In front of us was the highest peak in the French Pyrenees, Vignemale, above a huge glacier. An impressive sight, to say the least. We charged the final climb, refusing to take any breaks. Finally we arrived at the highest manned refuge in the Pyrenees.
We popped inside with the hope of some hot food. The man hurried us and quickly sat us down in a dining room with 30 people in it. I wasn't expecting that. Jack and I smiled at each other. We had soup, pasta, and cheese! It felt dreamlike. They put big pots of each course on each table to be shared around. No one on our table seemed to be very hungry. So Jack and I just kept eating. Everyone around us was laughing and every time our plates emptied they would pass us the pot. It even got to the point where other tables started passing their pots to us to finish. The thru-hiker hunger had kicked in. I think I must have eaten five bowls of soup and seven bowls of pasta.
Feeling full for the first time in a long time, we went back outside to find somewhere to sleep. There were rock wind shields around some places to camp. So I lay out my ground sheet and quilt and cowboy camped in the presence of these mountains.
Day 15
Fuelled by last night's pasta, we made quick work of getting to Gavarnie. On arriving, we celebrated Jack's completion of his time on the HRP. A tough week, but one that we will no doubt reminisce about in the future. We found ourselves a hostel, washed some clothes, and then headed straight to a restaurant. The bond you get from sharing experiences from the trail is something special and it's been an incredible way to reconnect with a childhood friend.
And so another stage was finished. My friend Danny has just joined us, and together we will do the rest of the trail. Each day this trail gets more and more challenging and yet I get happier and happier. Walking each day is starting to feel more and more normal. My body is pretty knackered, but tomorrow section three starts.
Affiliate Disclosure
This website contains affiliate links, which means The Trek may receive a percentage of any product or service you purchase using the links in the articles or advertisements. The buyer pays the same price as they would otherwise, and your purchase helps to support The Trek's ongoing goal to serve you quality backpacking advice and information. Thanks for your support!
To learn more, please visit the About This Site page.