HRP: The Beauty of the Basque Country
Section 1: Hendaye – Lescun
Day 1
At sunrise I got up, packed up my stuff, and left my camp. I was now standing waist-deep in the Atlantic. The next sea I would touch would be the Mediterranean.
This was the start of the HRP.
Standing there I thought of all those before me who had stood  in this ocean before attempting this walk and all those who would come after me. Despite standing there alone I took some comfort in this.
I dried my feet and started walking. I followed the GR10 at first. The towns and villages slowly gave way to rolling green hills. It felt good to be walking again. It was a good introduction to the journey; a nice trail, bumping into hikers on the GR10, having lunch with a herd of horses nearby.
The first day ended with a climb on La Rhune. Pretty brutal for the first day. I guess this is what I've got to get used to anyways. So I motivated myself with the thought of the view from the top. I finally hit the top and all of a sudden there were hundreds of tourists at the top. I was seriously confused. Ahhh, there's a tram that goes up and down on the other side. It was a cool view though. After a brutal descent I pitched the tent at the bottom.
After all the planning and preparation, finally being on the trail felt amazing.
Day 2
When I woke everything was shrouded in fog. My body was pretty sore so I was going to have an easy day. The morning consisted of walking through these misty hills on the GR11 and occasionally breaking through into the blue skies above. The Basque Country brings out this peace in you. I've never felt this calm starting a trail. I wasn't stressing out about anything, my mind was just peaceful.
I often don't know whether I'm in France or Spain so when I bump into someone what greeting to use is a bit of a lottery.
I stopped for some snacks near some day hikers. It felt nice to feel some sort of company sitting in their vicinity and listening to their voices.
The afternoons here are boiling. Between 1:00 and 3:00 p.m., I struggle to walk. The sun is just too strong. It bakes you. So in the spirit of being in the Basque Country, it's siesta time. I crawled my way under a bush, seeking some shade. I took off my shoes and socks and listened to some music looking out over the green hills. I don't think I've ever seen so much green. I ran out of water a while ago and am pretty dehydrated but at least I found some shade.
The intensity of the sun slowly waned, so I forced myself up to find some water. A descent on rough trail to a little village called Arizkun left my legs scraped and bleeding, but there at the entrance of the village was a cold water tap!
Arizkun is a beautiful little Basque village with white cracked buildings and orange tilings. I treated myself to a night in a guesthouse for my birthday.
Day 3
After a long lie in, I finally got out of bed. It was my 20th birthday! I had a nice hot shower and went to the local market to get some fruit. I sat around for a bit enjoying myself before setting off.
The heat made me slightly regret having a lie in. Already I was cooking. I ascended to top of some hills through pastures while peering nervously at the nearby bulls. At the top was this primeval forest which was very fairytale like.
At the village of Aldudes I resupplied at the local gas station. The woman at the till told me I could pitch my tent in the local park, so that's where I spent my birthday evening. Sitting outside the gas station I bumped into another HRP hiker. He was going the other way, so he was about to finish his journey. He said the trail was crazy and that there was still a lot of snow up there. I was getting pretty psyched to get into the big mountains.
I ate at a restaurant nearby where I devoured my first hot meal in a few days. Oh it was tasty. Using their Wi-Fi I called my family and friends, which was a welcomed break from the solo birthday.
It feels weird not being a teenager anymore. Everything in life feels a tiny bit more real or serious. I don't know, I feel this pressure for maturity.
I'm unbelievably grateful that I got to have my birthday on the HRP, albeit by myself. Something I've realised recently is that over the last year I've taken a lot of people for granted. In my idealism I often forgot the importance of others and of sharing.
Day 4
Ambling along as usual, I spotted two hikers up ahead, I could see their massive packs from afar. I ran to catch up with them and to my luck they were also on the HRP. One was a Frenchman and the other a Spaniard. I barely spoke either of their languages and they barely spoke any English. Nevertheless, we started walking together. So it was me, Roger and David.
It was at lunch I realised why their packs were so big. While I sat eating my raisins and crisps, I think David took pity on me and offered me some food. He untied a 20l dry sack that was strapped to his pack. It's full to the brim with food. He cut up a load of bread, and sliced some strips from a whole ham joint and then delicately drizzled some olive oil on top. I actually couldn't believe what I was eating. He was basically carrying an entire restaurant in his pack.
We spent the afternoon hiking on the Camino de Santiago. It was a bit of a shock passing by 100 or so pilgrims all saying 'Buen camino!' as they went by.
Climbing up a pass a storm hit us. Lying under a farmer's truck for shelter, we decided to keep going as the storm seemed to be passing. Once I was at the top I could tell when David and Roger were near by all the French and Spanish swearing that was being screamed.
It was around 10:00 p.m. when we set up camp. Cold, wet, and knackered. From my tent I could see the high Pyrenees for the first time. They looked dark and intimidating in the distance.
Day 5
Last night was the worst night I've ever spent in a tent.
After midnight the wind started picking up and pelting our tents. It was too loud to get any sleep. Then in the early morning the proper storm hit. Just carnage, the wind and rain smacking my tent. I was inside on my knees bracing my body and pressing my arms against the tent to try keep its structure. After an hour or so all the pegs had been ripped out. The only thing keeping the tent to the floor was my body. I was so exhausted and tired I kind of just gave up. I sat there drenched, with my quilt wrapped around me. My tent, completely loose, was being whipped around by the wind and was flying all around me.
At around 6:00 a.m. the storm died down a bit. I knew I had to move, I couldn't risk staying here and it getting worse. Myself and everything I owned was already soaked. So I quickly got up, stuffed everything randomly into my pack and started jogging. I found this abandoned shepherd's hut. I hopped through a window. The whole inside was covered in cow and horse poo. Not ideal but it was better than being outside as the storm was picking back up.
Needless to say the day wasn't great. But in the evening we found a little cabin in the woods with a fireplace to dry out our stuff. So it wasn't all bad. I slept like an absolute baby.
I was enjoying hiking with David and Roger. We were getting better at using our hands for communicating.
Day 6
Leaving the cabin to go back out in the rain was tough. The distant sound of thunder is not what you want to wake up to in the morning.
Today we were hitting our first 2,000 m peak, pic d'orhy. On the way up we lost our way for a bit and ended up on this seriously intense knife ridge. Most of the time it was so thin you couldn't walk along it. We had to manoeuvre across with our hands holding the ridge line and then placing our feet carefully below. The rock was also pretty loose so all in all it was pretty terrifying. But it felt pretty sweet to finally get to the peak.
Today was the first day I felt that I was in the mountains. Going along different ridges, going from pass to pass, hiking above the clouds. Seeing the big mountains now only a few days away felt pretty surreal.
I've been thinking a lot about the ephemeral nature of life. Time will march and you must accept the change that comes with it. Whether that's turning twenty, a breakup, or anything else. These big changes I often struggle with. I'm starting to see the flip side of change, with it comes possibility.
Day 7
After a pretty damp night in the tent, we had some cake and coffee at this manned refuge early in the morning. A nice cup of coffee can do wonders for your spirit.
We entered into this muddy and wet forest. A big change up from the grassy mountains in previous days. I've never seen slugs this massive in my life. They were crazy.
Then suddenly out of nowhere we popped out of the forest into this amazing Karst landscape. Everywhere was just white limestone and pine trees. We climbed up and up. The landscape becoming more dramatic by the minute. In typical HRP fashion a storm came along. We sheltered behind some rocks to wait it out. We pressed on, following Roger as he sang loudly to himself.
The higher we went the more barren the landscape became. It turned into this alien world. The contrast between the blue sky and the sun and this grey rock. We even hit the first bit of snow on the HRP. We stopped for lunch. There was this powerful silence there. Genuine stillness. Lying there, drying out our stuff, looking around I thought to myself this may be the most beautiful place I've ever been.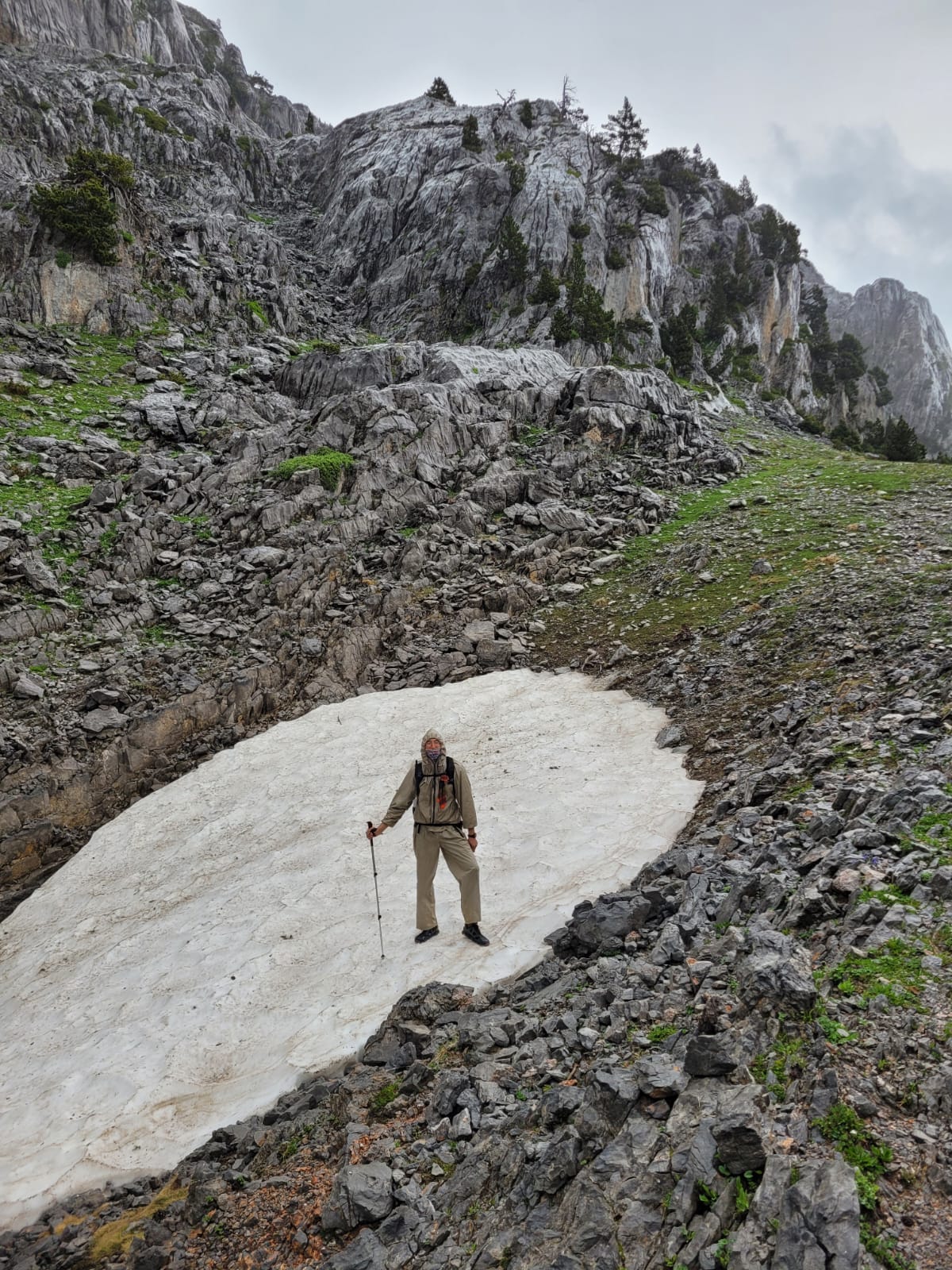 We crossed a pass and then descended into the valley. From barren grey rock to this luscious green alpine valley with streams flowing everywhere. It was the the best day of hiking I've ever experienced.
We finally arrived at Lescun. We celebrated the end of section one by going straight to the local bar. A beautifully quaint bar with sheep running around the streets outside and vintage Citroens being driven. This is where we would all part ways. Roger was going to swap to the GR10, David to continue solo on the HRP and I'm waiting here for my friend to arrive tomorrow and having a relaxing zero. Even though we could barely talk to each other, we had shared a lot of laughs and experiences together and I'll miss them.
So, section one finished after a week of being on the trail. It's crazy to think it's only been a week. Already it feels like so much longer. I can't wait to start section two and to get into the high Pyrenees, especially after the last few days. It's only going to get better and crazier.
Affiliate Disclosure
This website contains affiliate links, which means The Trek may receive a percentage of any product or service you purchase using the links in the articles or advertisements. The buyer pays the same price as they would otherwise, and your purchase helps to support The Trek's ongoing goal to serve you quality backpacking advice and information. Thanks for your support!
To learn more, please visit the About This Site page.