HRP: The Heart of the Pyrenees
Section 3: Gavarnie – Salardu
Day 16
We bumped into Garett last night while eating pizza. So here we were, all four of us having coffee together in the morning. A new section was about to begin. Jack and I said our goodbyes and we headed off onto the trail.
Climbing up out of town is always brutal. It was foggy and rainy. Yet Dan was so excited to get started on this trail it was rubbing off on me.
Garett had packed out of town this beautiful freshly baked blueberry muffin pie. He offered to share it with us tomorrow morning for breakfast if we were all together.
It was Dan's first day, so we took it easy and stayed the night in this cabin we came across. Garett pressed on, hiking into the clouds above.  It was a great night just hanging out and talking about the days to come. Warm in our cabin while we could hear thunder above us.
Day 17
The weather hadn't cleared in the morning, but we were still eager to head out. As we descended a bit below the clouds, Dan was able to get his first taste of the Mountain views. After being on trail for a few weeks, I've almost become numb to a lot of the beauty I'm constantly surrounded by, so having Dan freaking out at everything has definitely made me more appreciative.
We hit a road and tried to hitch to a supermarket nearby. No luck at first. Then a car pulled over and out came a man saying 'long time no see.' I squinted, trying to work out who it was. Aha! It was a man and his son who we bumped into on trail yesterday afternoon!
Outside the supermarket, we were the epitome of hiker trash. We sat barefoot outside the shop drinking a beer and eating whatever weird cravings we had. For me it was chocolate milk, olives, and a pecan cake. An older woman and her son, hiking the GR11, came over and joined us. It was great to feel full and refreshed.
We hiked on for a bit and then found a spot on the side of a dirt road to pitch the tents. It felt really good to just be walking. I think I've hit the stage in a thru-hike where it no longer feels weird. The daily routine of just waking up and walking every day has become my new normal. It feels good.
Day 18
We spent the day strolling through pine forests. We both felt very relaxed and just enjoyed taking it slow and chatting.
We found ourselves a little rundown cabin to stay in for the night. The door was smashed down, but not too messy inside. It would do nicely for the night. From our little cabin, we had a view down the entire valley. We sat eating our cold soaked noodles. I felt particularly lonely that night. The novelty of being on trail had worn off and I just got caught up in thinking about people I missed and thinking of happy times that were in the past.
I was snapped out of listening to my sad music by Dan shouting 'bear!' I looked at him like he was crazy. There were hardly any bears in the Pyrenees. He pointed and there walking around was what looked like a little bear. I couldn't really believe it, they were basically extinct in the Pyrenees. We watched it and tried to work out what else it could possibly be. At first I thought it could be a sort of hog, but as it got closer, I really do think we saw a bear in the Pyrenees. We felt pretty lucky.
Day 19
We tackled a big climb in the morning. Dan's first time climbing on scree slopes. We felt like little kids in a playground, we were just having so much fun. On the other side of the pass was just a blanket of clouds below us.
We descended down through the clouds on a steep slope. At a cabin we stopped for lunch. We realised that we had both lost our spoons. We were now spoonless! We solved this issue by using tent stakes as our cutlery from now on.
There is no flat ground on the HRP. It's a climb then a descent and Dan was feeling it. His knees and ankles were hurting. So he did his best to improvise and put some tape strapping around them.
We climbed through some abandoned mines and buildings to some beautiful lakes. The sun came out for the first time on section 3. So we were able to have our first swim of the section. The lake was this beautiful green with an island in the middle. We sat there on the banks drying off, not talking, but every now and then we would glance at each other and smile. We both understood that here in the mountains we were happy.
We pressed on up after the lakes. We started hitting snowfields and glaciers. It was beautiful to be in this landscape again. Dan was blown away by it all.
Out of nowhere fog started rolling in. It was getting seriously thick. Soon we had no visibility. We could see a few metres ahead of us and that was it. Going along, we kept postholing through the snow. It was pretty slushy. The conditions were far from ideal.
We suddenly hit a very steep snowy descent. Carving our way sideways and then back we went down. I slipped and fell but my ice axe got trapped in the snow, so desperately with one hand I clung to the axe head. Pulling myself up, I sorted myself out and tried to calm my brain. Slowly, one foot in front of another. I was falling down the slope again. I managed to self-arrest and get my axe fixed in the slushy snow. When I looked up, I saw Dan falling as well and self-arresting.
We were beyond happy to have got that descent done. The conditions weren't any better, and now there was a bit of light rain. I'd lost my water bottle falling down, so without much to drink between the two of us, we kept going. Our visibility was still terrible.
We continued on a crazy scramble across boulders and snow, hitting multiple passes. We desperately tried to follow any cairns we could see. I had now broken a bit of my pole and had some cuts and bruises on my legs.
At around 9:30 p.m., we found Refuge Portillon. We stumbled inside wild eyed, disturbing the people inside peacefully playing cards. Adrenaline still pumping, we drank some hot chocolate and beer and ate a huge amount of chocolate. I was so exhausted I was almost half asleep at the table, but we had done it.
We were in no rush to go back outside and to set up camp. We were in a kind of shock of what just happened. We were still in high spirits though.
We finally packed our bags and prepped ourselves to go back out in the snow and wind. The hut guardian came over and told us to follow him. He pointed to a corner in a room and said we could sleep here for free. We thanked him profusely. Dan and I looked at each other and collapsed on the floor laughing with glee. We were inside, it was dry, and there was heating.
That was a crazy day.
Day 19
We woke at sunrise. That was one of the best sleeps of my life. My knees were pretty sore after yesterday, but overall, I wasn't feeling too bad. Today we were going to hit the highest pass of the whole HRP, so we were pretty stoked.
We ordered some nice hot coffee to go with our cold soaked porridge. I put all the sugar cubes that came with the coffee into my porridge.
After a heartfelt goodbye to the hut guardian, we began the climb.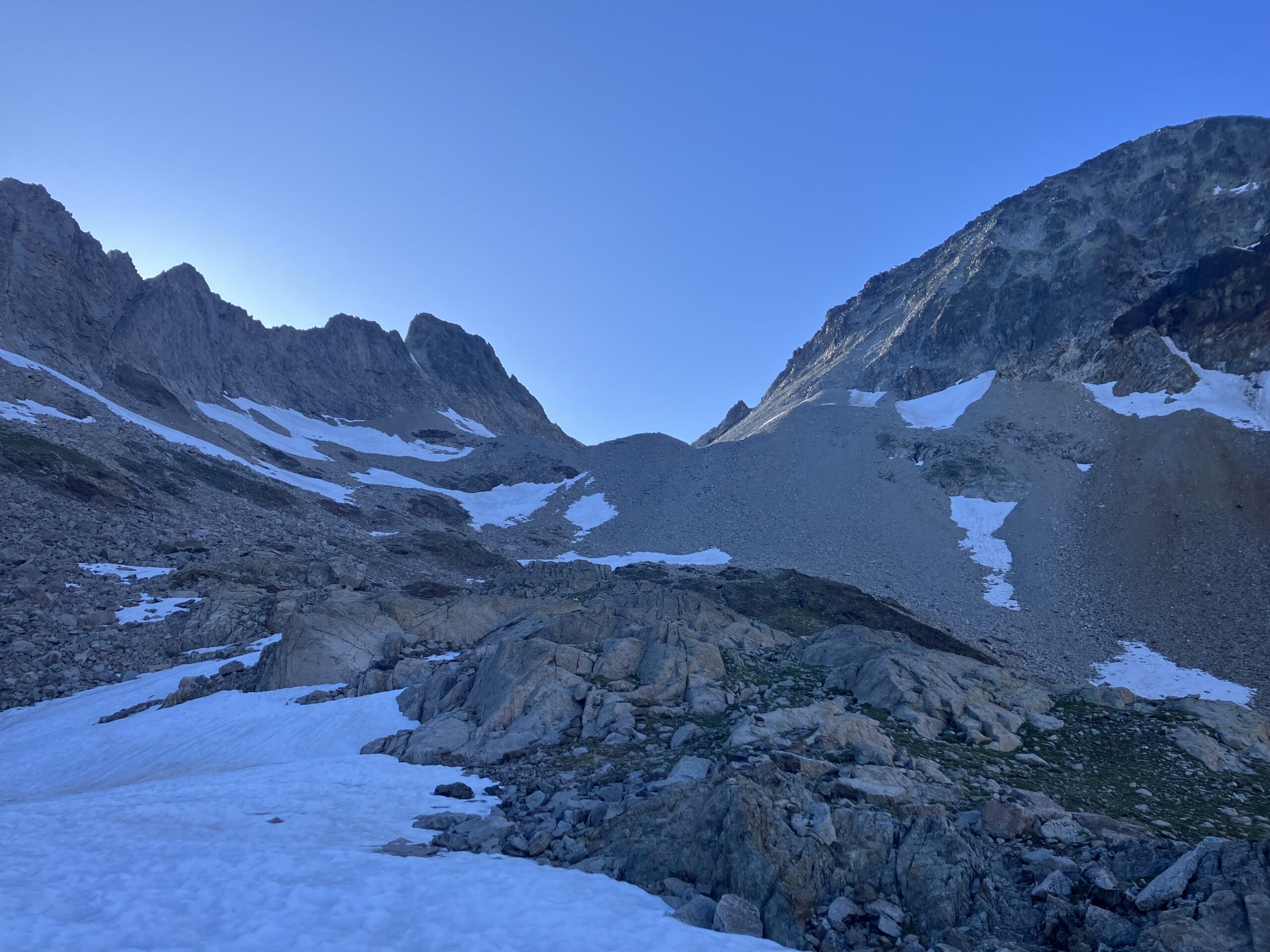 We crossed a dam and the scramble to the top began. It was a pretty relaxed climb by HRP standards. But the views from the top of the pass were beautiful. Down on the other side were snow fields and glacier lakes. We celebrated the pass by eating some chorizo and cheese.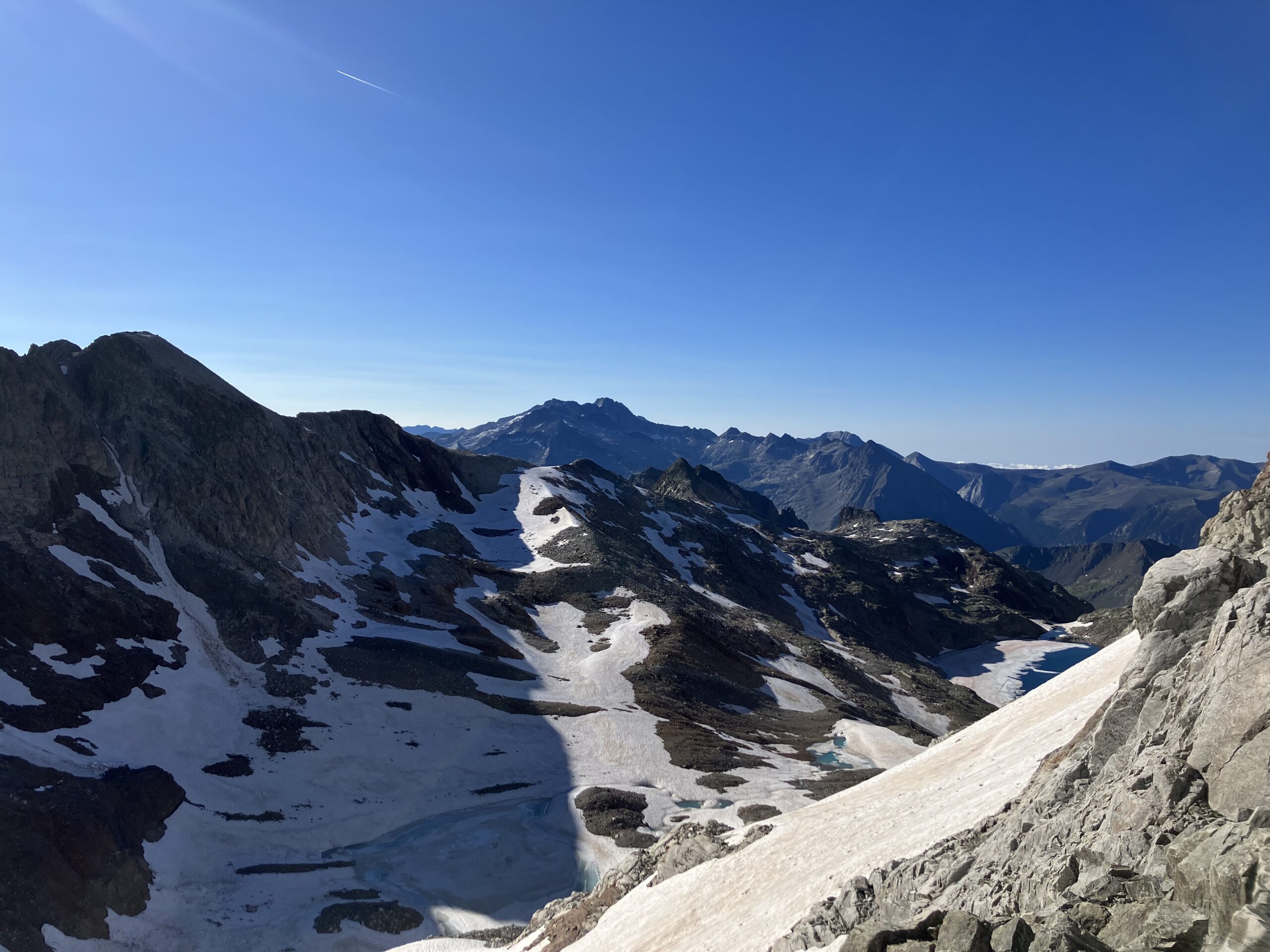 We descended down some steep snow slopes and hit another pass. The view was great, so I went to grab my camera to take a picture. It wasn't there. Panicking, I realised I'd left it right at the bottom of the climb. That was a pretty terrible feeling, knowing you have got to go down what you just climbed and then back up. Pretty annoyed at myself, I decided to give trail running a go and tried to do this trip as fast as possible.
Back with my camera, we now had a long descent to the bottom. This descent drove me insane. Constantly boulder hopping and going down scree slopes for hours. So much focus is required going down that I just wanted it to end. It's tough not to feel frustrated with the trail in moments like this. I would just try breathe and look around at everything around me.
At the bottom was the entrance to the national park. We sat around waiting for a bus to town to resupply. As we sat there, a bus started to pull up, and who do we see waving to us in the front. Garrett!
We couldn't believe it. He got out and we ran over to say hi. We chatted about the last few days and how everything went. His blueberry muffin pie was apparently absolutely incredible. We told him about our white-out hiking yesterday, and he broke the news to us that that section was some of the best views he had had on trail. Dan and I laughed at each other. This was probably the last time we would bump into each other on this trail, so we said our goodbyes. I really hope if I ever get the chance to go to Colorado or to hike the Colorado Trail, I'll get to see Garett again.
The experience of meeting people on trail is so unique. Often, they are such brief encounters and yet they are all so meaningful.
The bus to town was going to be a few hours, so we hitched instead. We resupplied and tried to find a restaurant, but everything was shut for the afternoon. Waiting by the bus stop to get back, we both felt knackered and pretty low. Physically we were okay, but mentally we were both just absolutely drained.
We got off at the national park and sat around eating some food, trying to get our morale up. We discussed our plan for the next few days. Tomorrow we had planned to do a side trip to summit Mt Aneto, the highest mountain in the Pyrenees. We decided to bail on that plan. Instead, we would have a half day of hiking and get to this beautiful shelter and relax there.
It's tough in moments like this not to feel like a failure. But in reality, we made the decision that would lead to the most enjoyment. We didn't come out here to climb peaks, we came out here to thru-hike and to enjoy living amidst nature. On a thru-hike, as weird as it feels to say, your strength sometimes lies in knowing when to slow down and to enjoy yourself rather than getting caught in the go, go, go mindset.
At camp we went to bed very content and excited for the next day.
Day 21
We somehow managed to avoid getting caught in any storms last night. There were storms basically all around us and yet in the centre we got off lightly.
We set off, excited for a relaxed day. The morning we walked through some nice gentle rain that was very calming. We snacked by beautiful streams and lakes. We were doing a bit of walking, but mainly just hanging out and talking. We talked of food, books, movies, and more food.
We did a big climb to Coll de Mulleres and then decided we might as well climb to the mountain's peak. We climbed up over this smooth rock. Even with our packs, we were quicker than this group of day hikers who had come out to climb this peak. It was here I laughed to myself and realised that I must actually be super fit right now.
At the top you couldn't see much. You were surrounded by dark grey clouds with storms happening not too far off. Weary of the potential for a storm, we climbed down a bit and got comfy in this little nook in the rock.
From here it felt like we could see everything. We could see Aneto glacier, hundreds of jagged peaks all around, snow, glacier lakes and a sea of clouds in the distance below us. We were in no rush to leave. We knew we had a technical descent on the other side of the ridge, so we wanted to wait for the clouds and rain to pass. The clouds kept on passing over the ridge above and descending swiftly in front of us.
It was just amazing sitting there. I was now past the halfway mark on this trail. Thinking about the end, I don't really want it to come. I don't want this to end. I know it's still a really long way to the end, but the days are going quicker and quicker. I'm trying not to think of it too much and just trying to focus on being present in every moment. Sitting there on that mountain, I realised there is absolutely nothing in this world I would rather be doing. I was completely content. I think that's a special and rare feeling to have.
After hours of being in that nook, we finally left. We tackled the technical descent, which felt like down-climbing when rock climbing and made it to our hut. There were even beds in this hut! We very much needed this day to just relax and refresh mentally.
Day 22
It felt incredible to wake up in a nice, warm cabin. Eating breakfast sitting on a chair with a table in front of you. In front of the door was the sun shining through the clouds over the mountain peaks in front of us.
Dan was a bit out of it in the morning, but I didn't think anything of it, I just thought he was still half asleep. After a few minutes of hiking, he started throwing up on the side of the trail. He said his stomach was all messed up. He couldn't even keep down any water.
He wanted to keep on hiking. He kept throwing up as we went. It wasn't looking good. We were hitting town tomorrow, so he wanted to just keep going. After a descent, we stopped for an hour so he could nap, hoping it might do him some good.
He woke feeling better but feeling the effects of basically no food or water in his system. He still couldn't eat, but he sipped on some electrolyte water.
He took on the big climb of the day. I kept looking behind to check on Dan and he looked like he was properly fighting. It's hard enough to hike each day when you are enjoying it, but when you're suffering like that it becomes a drastically different experience.
The hours passed and after several naps I noticed Dan was talking more and more. He was feeling better and his spirits were high. He still hadn't eaten anything all day but was able to consistently drink water.
We hiked late into the evening, enjoying a relatively flat section passing by lake after lake. 'Laketown,' we called it. It was just all incredibly beautiful. When you're constantly surrounded in this environment, you really start to believe in the beauty of life. No matter the issues you have or the pain you feel, it is drowned in the beauty of this life.
Day 23
The last morning of section three. We were both absolutely knackered and we couldn't wait to get to town. The thought of food, a bed, and a shower. That was what spurred us on. Physically I was doing fine but mentally I was drained. I desperately wanted a zero just to recharge.
The trail didn't make this last day easy. The morning was spent in rainstorms and getting pelted by hail. The final test before the reward of food, we told each other. All I wanted was a burger. Hot food.
As we descended to the valley, we saw some trail runners down the trail. Initially we didn't think anything of it until we noticed they had racing numbers on their shirts. More and more started running by us. We quickly realised we had stumbled into the middle of the UTMB World Series Val d'aran race. We were pretty alarmed to find out that the racecourse was the trail we were taking to town. Panicking, we started to jog along down the trail amidst hundreds of trail runners sprinting around us.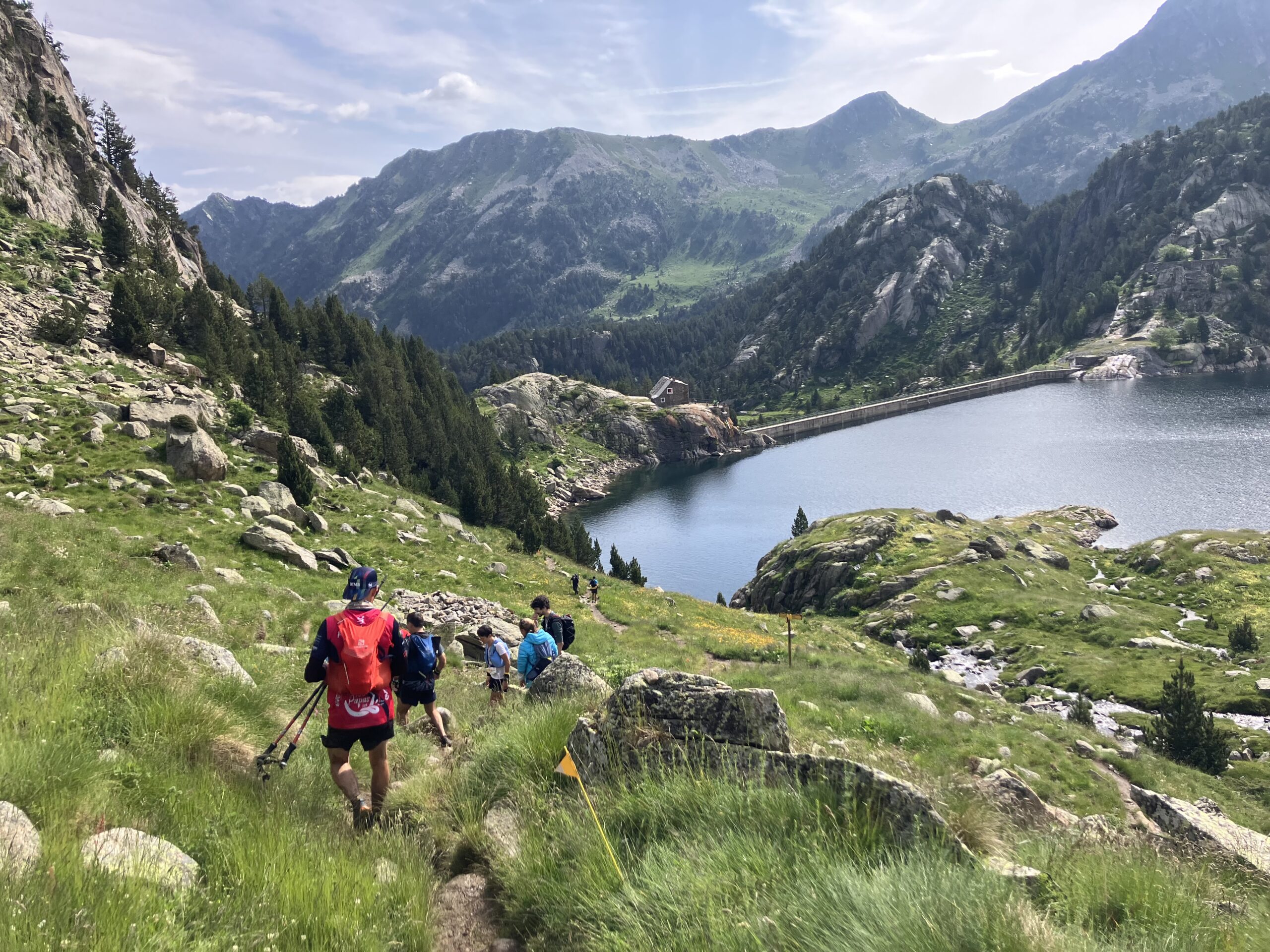 We finally hit town. Food was all we could think about. A burger and a pizza later, I felt like a functioning human. Section three was finished, and it was now time for a zero.
The next stage is the penultimate stage. We will be hiking across Andorra. It's crazy to think how far I have come. Time is slow and fast at the same time. It feels like this journey will go on forever. That this lifestyle will go on forever. Yet I know that in a few weeks it will end.
Affiliate Disclosure
This website contains affiliate links, which means The Trek may receive a percentage of any product or service you purchase using the links in the articles or advertisements. The buyer pays the same price as they would otherwise, and your purchase helps to support The Trek's ongoing goal to serve you quality backpacking advice and information. Thanks for your support!
To learn more, please visit the About This Site page.