HRP – The Mediterranean
Section 5: L'Hospitalet-Pres-L'Andorre – Banyuls-Sur-Mer
Day 31
After filling up at the local bakery and stuffing a pizza in my pack we set off from town. We were starting the final section.
Usually climbing out of town is heinous but this was lovely. A nice, gradual climb in the forest before arriving at a beautiful lake. We couldn't help but swim. We made a pact that if we could we would swim at every lake and not miss any opportunity. We refused to get caught up in the finishing sprint.
Now returning to the mountains feels like returning home. Returning to what feels familiar. The mountains have become all we know.
Starting the final section feels surreal. Looking around, I try to remind myself to just savour it all, but right now it doesn't feel like this could possibly end. You know the end is coming but for now it's still this abstract concept that has no place in reality.
We camped at the base of Pic Carlit. The climb looming above us. We were psyched to tackle it in the morning. Lying there watching the sun set was better than any bed in a hostel.
Dy 32
Straight away we began the climb to Carlit. Steep zigzags on scree. My shoes have no tread on them anymore, so for every step I'd slip half a step back. Looking down on where we camped and the mountains below. There's simply no better way to start a day.
We slowly pushed our way up. As I approached the pass on the other side the sun was beaming through the clouds and it was pretty magical. We touched the cross marking the summit and sat there marveling at our surroundings. These moments I will miss. It was seven in the morning and here we were just chilling on top of a mountain.
We descended down and quickly became happy that we hit the summit early. It was Sunday and herds of day hikers were climbing up. It was the most people I've seen on trail this whole time. At points it was quite overwhelming.
The afternoon was unlike anything I've had on trail this whole time. The trail was actually pretty flat. We were just cruising for the whole afternoon and we ate up the miles. A swim by a lake and it was time to resupply. 
The supermarket had a deal on snickers, so we walked out with forty snickers in our trolley. We've made our supermarket feasts a tradition. Another tub of ice cream down, we continued on. 
We were dreading a long road walk, but it was actually quite enjoyable. We hadn't seen a valley this wide yet and it was beautiful. Passing through quaint towns and farmland. 
Each day that passes the end is becoming more real. I don't know how I feel when I do finally finish but the one thing I know for sure is that I will miss this trail. 
Day 33
We woke and climbed to the ridge line. We were basically sticking to the ridge for most of the day. Just following the spine of the mountains. 
The wind. I've never felt wind so powerful, it was absurd. On one side of the ridge you were safe and on the other you were attacked by the wind. The wind was so strong you had to brace yourself against it. I was walking with both hands on my pole pushing it against the ground to counteract the wind. A few times I was blown over and even blown into Danny once. Luckily it wasn't a knife ridge or anything.
It was like walking through jelly. My legs were fatigued and it was still morning. Eventually we descended down from the ridge and escaped the wind. The basin was covered in quartz. Everywhere you looked was this shining white that made you squint. 
We had a late lunch by a hut, using it as a water source. The plan was to push on but there wasn't a water source for about eight hours. So we had to take enough water for the rest of the day, the night and the following morning. We decided to camel up. I thought I was going to throw up with the amount of water I drank. The pack was heavy. Climbing up to a plateau was not fun. For some reason it was also boiling even though it was five in the afternoon.
Up on the plateau, the landscape changed. It looked like a sort of steppe. Just vast open land. Mountain goats running across the grass. It was beautiful. A landscape I haven't seen on the HRP yet. I'll never get used to the variety of this trail. Everyday something new. No day like the last. 
A thru-hike is a life. A life sprawled across a trail. Experiences are the exploration of the unknown. Discovery. And that is what a thru-hike is. Each day you walk into the unknown, and you subjugate yourself to whatever that holds.
I can feel that I'm approaching the end. The end of the mountains. I'm no longer in this labyrinth of mountains and jagged peaks. There's this openness now. You can see into the distance. 
This whole time on trail I've felt many things, but I've never felt bored. Even though I've just been walking for the last month not once have I ever felt bored. I've felt scared, lonely, desperate, happy but never bored.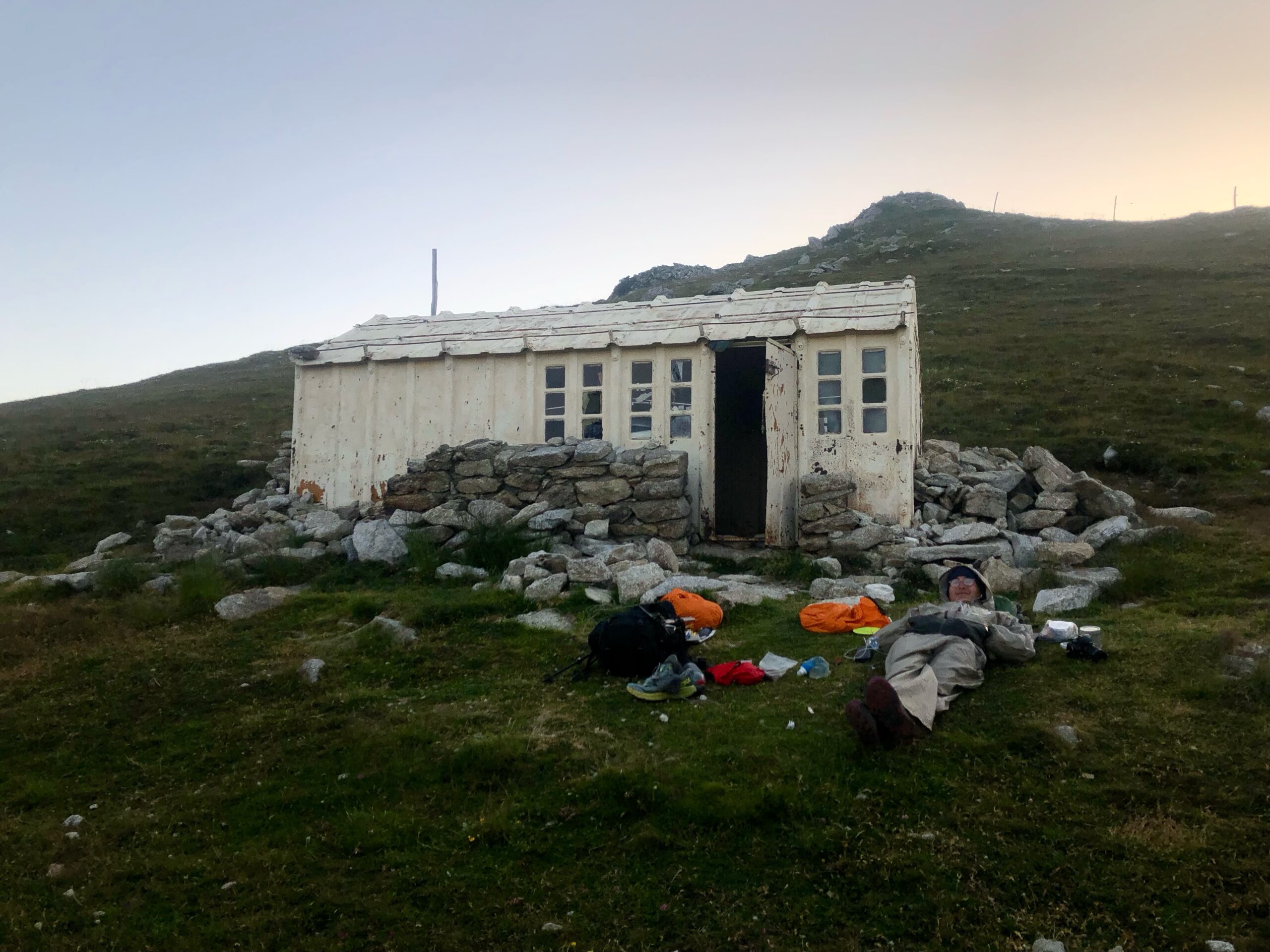 Happiness has been a constant of this trail. In past trails I've never felt this consistently happy and it's not something I ever expected to. Usually, there's the daily rollercoaster of highs and lows but here it's been a pretty steady ride.
We stayed up till midnight looking at the stars.  Shooting stars. The stars I'll miss. 
Day 34
It felt like a practice run for normal life, waking up in a cabin and having breakfast at a table. We hurried off in the morning trying to get to the first water source of the day. 
We got there at around midday. Water and even a toilet. The heat here was different to previous sections. It's this stifling heat in the air. You choke on the air almost. It's dry and dusty. The heat throughout the day sucks all your energy. I looked at my arm and found that the sun had blistered the skin on my forearm. It formed these little boils on my arm.
After a siesta, we set off to climb the last big mountain of the trail. The approach was nice and shaded in a forest and then the proper climb began. Massive switchbacks brought us to this chimney leading to the peak. They had made this chimney using dynamite. We did some light rock climbing and hit the peak. 
The guidebook said we would be able to see the Mediterranean from here, but we had no luck. Still, the view was incredible. A full three-sixty view. Now that things were flatter you could see for miles and miles.
Sitting there on the top was bittersweet. A certain sadness knowing that this was the last time we would do a big climb to a peak. We had done so many over the last month. But knowing that the sea was there excited me as well. The thought of ending this trail no longer scares me. I think I've definitely come to terms with it and am even excited to finish now. Like everything else, it must end at some point and life will go on.
We descended from the peak to this refuge for water. Most of the streams on the map were all dried up. Approaching the refuge, we couldn't believe our eyes. Tents everywhere. People milling about everywhere. The refuge itself ram packed. Overwhelmed a bit, we filled our bottles and found a quiet place in the woods to spend the night.
Day 35
I left the outhouse by the refuge and there it was. The Mediterranean. The first time I've been able to see it. The end point of this trail. I always thought the first time I would see it would be the this big dramatic moment, maybe climbing a mountain, but no instead it was just after a morning poop. 
It took me a while to digest what I was seeing. For over a month now this has been what I've been walking towards. I sat down in the grass. I waited for some flood of emotion, but it never came. I didn't really feel anything. I thought the first time I saw it I would be overwhelmed with emotions. Nothing. This confused me quite a bit. Then I realised why. This trail has never been about finishing. The finishing line never really mattered to me. The end goal was never what I valued. It's the path.
The morning was the pure zen walking. Pure meditation moving through flat trail in the forest. Nicely shaded from the sun. 
This zen was broken when out of nowhere a helicopter started hovering right above us. Recoiling from all the dust being blown everywhere, we looked around. There was a group of hikers in front of us and one of them had messed up their ankle. People were rappelling from the helicopter to help her out. 
In the afternoon we ended up getting caught in a storm. It went from blue skies and baking heat to thunder and hail. There were even palm trees around us. The ground was so arid and dry that all the rain was just running along the surface. The trail became a muddy stream. Soaked to the bone we plodded along it.
Eventually we arrived at Arles-sur-Tech. We found shelter from the storm in a pizzeria. Not a bad place for shelter and the pizza was even better. Dripping everywhere we devoured some pizza and cake. We were smiling again. The pizza was incredible, maybe one of the best pizzas of my life. 
The rain stopped and we strolled about. The town was like something out of a movie. Every building just stunning. It was like a glimpse into the past. 
A hot shower at a campsite was the cherry on top.
Day 36
After waking up at the campsite and a resupply we felt fresh for the day. 
Within a few hours basically all our stuff was dry from the sun. The forests now seemed like a rainforest after yesterday's storm. Humid and wet.
Even two days from the end we had over a thousand metres of climbing. We crushed all the climbing in one go. This trail has made me fit like I've never been before. Near the top, we weren't even out of breath, but chatting. We reached Roc de Frausa, marking the peak of the climb. That was it. The last big climb of the trail.
The landscape is no longer one of towering mountains and jagged peaks. Vegetation, arid and dry. Thoroughly Mediterranean. 
The sea is getting closer and closer each day. Tomorrow would be the last day of hiking. It's been a crazy journey, the adventure that I needed. Everything I wanted to get out of this trail I've got. While I'm sad to see this trail end, I'm now excited for the future. Dan and I are already talking of our next adventure: an Iceland traverse and the Arctic Trail.
We pitched our tents in the park of a village. Seeing other hikers just a few days into their journey. I envied them. The beauty of the Pyrenees is ahead of them.
A school trip or something rocked up to where we were camped. One by one they walked in. About forty of them pitched their tents next to us. Not exactly the ideal campsite.
Day 37
The morning walking felt like walking through a desert. This wasn't the south of France. Cicadas croaking, stifling heat, and no water. The walking was tough.
This was the last full day on trail. I spent the day thinking through everything I've experienced in the last month. The memories made and the lessons learnt. Friendships rekindled and friendships developed. It's been a special walk.
In the afternoon some thunder started. In the space of an hour, we went from the desert to a forest storm. We crawled under a picnic table and wrapped Dan's tent footprint around it. Fitting both of us underneath wasn't an easy task. We laughed as we lay there eating our baguettes while the storm was going on. We were both shivering uncontrollably. We actually missed the heat. It was bizarre. 
Once the storm started to pass, we stayed underneath, napping. People would walk by saying bonjour and laughing. It was an interesting last lunch on trail. 
We climbed up to our final ridge. Following the ridgeline across different peaks. The wind blowing aggressively and bits of rain now and then. It was an awesome last evening. Down from a peak we found a sheltered spot and pitched our tents.
We climbed some nearby rocks and would spend the evening up here. The sea is right there. A four hour walk to the sea. Behind me lies the mountains silhouetted in the setting sun. In front the Mediterranean. I'd finally made it.
Looking over everything, the sun set and we watched all the lights of civilisation turn on. It was time to go back. 
I feel this surge of emotions when I look at the sea. As if I could cry at any moment. You put so much into a thru-hike, physically and mentally, that I guess when it ends it's pretty overwhelming. So much suffering and so much joy. A journey of extremes. 
The ability to do an adventure like this is something I'm eternally grateful for. It's not something everyone gets to experience. This journey may be coming to an end but there's a lot of life ahead. To live fiercely each day, the wheel of time is remorseless.
Day 38
The original plan was to wake and watch the sun rise over the sea. A morning storm kind of ruined our plans, so we instead had a lie in to wait it out.
Then we walked to the sea.
I dropped my pack and dove into the Mediterranean. The saltiness caught me off guard, this wasn't an alpine lake. Here I was. It was done. I'd walked from the Atlantic to the Mediterranean. A deep sense of accomplishment and happiness. A tear slid down my cheek while I smiled.
I'd finished the HRP. Easily the best trail I've ever done. I knew it was going to be beautiful, but I think it's impossible to picture just how beautiful it truly is. Before starting the trail, in talking to friends I said that I was slightly scared that I was putting too much pressure on this trail. Too much pressure to be this amazing trip or too much pressure to make me feel happy. This trail did everything I dreamed of and beyond. Thru-hiking gives you so much, and I can only hope to retain some of it as this trail becomes a memory.
Affiliate Disclosure
This website contains affiliate links, which means The Trek may receive a percentage of any product or service you purchase using the links in the articles or advertisements. The buyer pays the same price as they would otherwise, and your purchase helps to support The Trek's ongoing goal to serve you quality backpacking advice and information. Thanks for your support!
To learn more, please visit the About This Site page.