Humbling the purist: Days 1&2 on the ECT
Wowza, is it hard to update a blog while on trail!
First, I am exhausted at the end of the day, and it seems to be when my inspiration lacks most. On top of that, conserving battery power is a significant concern out here, and then sometimes there's just no reception at all once I get to camp. Hey, I'm here now, and that's what counts.
I know I said in my last post that I would do a gear and food post, but I have decided to do that at the end of my hike. That way, I can let you know if there is anything I didn't take that I wish I had and vice versa.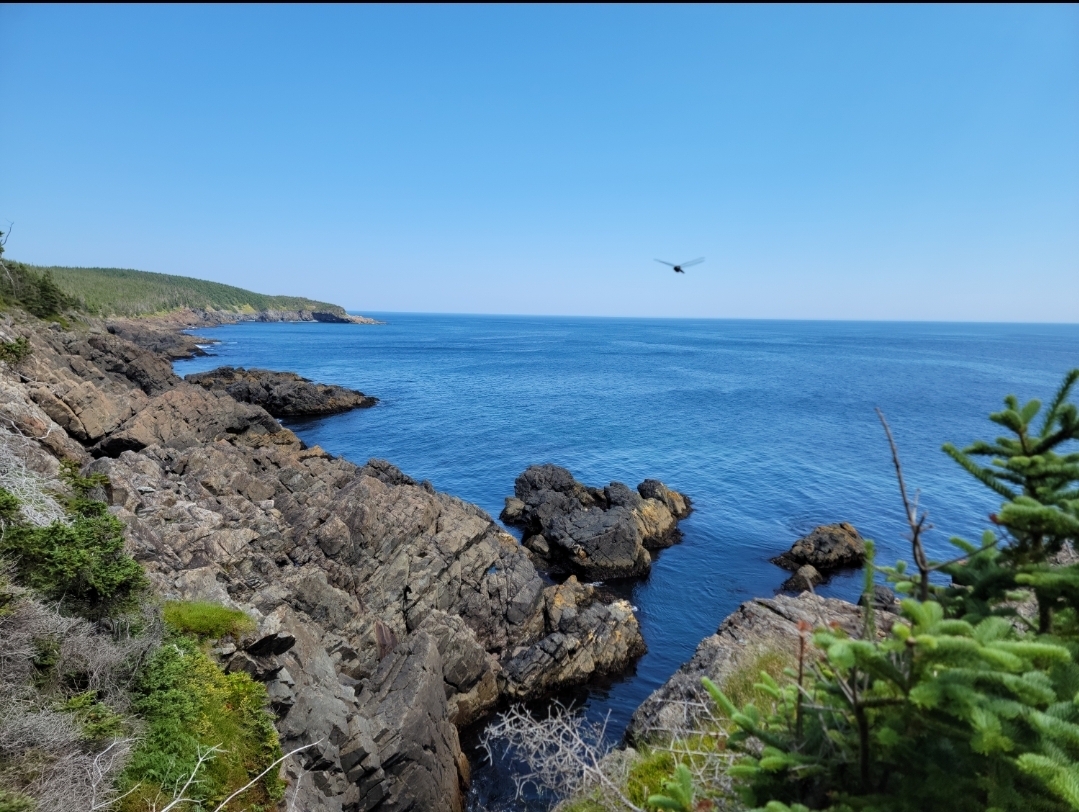 Day 1
On a red-eye flight into St Johns, I was exhausted and overwhelmed. My flight arrived slightly delayed, and I caught my connection in a fraction of a hair. However, I made friends in the war zone of an airport that I would gladly welcome as part of my colony when the zombie apocalypse happens (and that's a challenging position to get)
A fabulous local I met on Facebook offered to get me from the airport and drive me to the southern trailhead. Don't worry; he gave me references before I accepted the ride, and he checked out.
Charlie and Kim took me on the scenic route to the southern trailhead in Cappaheyden. I got the tour guide experience, filling me in on the land's history and everything we passed.
Day 1 – Kilometre 0 – 10
Cappaheyden
At 330 in the afternoon, I took the obligatory selfie at the beginning of the trail and waved goodbye to my first friends in Newfoundland. The trail begins on an open grassy hillside that looks over the ocean. Suddenly I've forgotten I have yet to sleep, and the excitement fills me. I made it! All the way from the west coast. The following steps are to put one foot in front of the other until I get somewhere to camp for the night and then do it all over again for the next 336km. Not hard, right?
I'm not sure if I'm just tired, but all I want to do is sit on the edge of the hill and watch the ocean; I think it's even prettier here than I imagined it would be already. Following the grassy coastline, the trail eventually dips into a rocky beach where I can dip my feet into the Atlantic ocean for the first time.
Newfoundland (like the rest of the world) is experiencing some very abnormal weather this year. This week it is sweltering with winds coming from inland instead of the cool breeze you would generally get from the chilly Atlantic ocean. When I stopped to filter water from a stream, I almost cried when the colour of the water looked as though it was liquid rust. On top of the colour, the creeks were warm and not at all refreshing!
But some nasty ass water wasn't enough to spoil my mood, and I felt like the luckiest person to be here, walking along this beautiful coastline. What a weird life I live sometimes.
The trail eventually makes its way into coastal woodlands, with views still appearing around every corner. I took every opportunity to sit down and take in the scenery. It doesn't look like I'm getting anywhere fast. That's ok with me because so far, I have seen a whale, a seal, and a red jellyfish!
Since I started later in the day, I only hiked for about three hours before I decided it was time for bed as I had not slept the night before. I found a nice grassy area overlooking the Renews Harbour and watched as the sun went down.
Great first day on trail. Loads of black flies.
Good night Newfoundland
Day 2 – kilometre 10 – 44.5
I thought I would allow myself to catch up on some much-needed sleep I missed the day before. So instead of setting the alarm, I decided to let my body wake up naturally. When I woke at 8 am, my body was glued to my sleeping bag. The morning sun was already so hot I was cooking in my tiny tent, even with my vestibule wide open.
After guzzling loads of water, I was on my way off the trail and into my first road walk. I had only been walking a few minutes before I had multiple cars pulling over and asking me if I wanted a ride to the next trailhead. Politely I declined, letting them know that I intended on hiking the whole trail. After about the 4th car that stopped and asked, I wondered… Why do I have this need to walk the road sections? I wouldn't miss anything by accepting a ride. If anything, I may learn more about the town and the area as well as it may free up some time to do more exploring in the area.
I thought hiking the whole thing was the "right" thing to do. I blame my time on the PCT. My trail family and I were quite the purists. Never skipping a mile, and we were pretty dang proud of it. It felt wrong to get a ride. Never would we have accepted a ride through a town if it was considered part of our trail milage.
But this wasn't the PCT, and I wasn't technically skipping anything… I would just be finding a faster mode of transportation on the same road I would have been walking. Besides, it's crazy to walk on the pavement in this heat. So after my first road walk, I concluded that I wouldn't hitchhike, but if I got offered a ride. I will accept one for the road walks. Purist be gone.
By the time I got to the next trailhead, I had been offered four rides and three bottles of ice-cold water. The people here are phenomenal!
The heat made an excellent excuse for frequent breaks to watch whales or soak in another unique coastal cliff line. The trail ground is extremely muddy and rocky with exposed roots making it a little difficult to navigate sometimes with the overgrown shrubs covering the path. It's a rolled ankle just waiting to happen, so I take my time and enjoy the views as I walk.
Just before the trail dips into Kingsman cove, where a 7km mid-day road walk awaits me, I come across a cabin on the trail. A sweet woman named Cathy insisted I come in for a cold glass of water, and I couldn't refuse. Cathy and her husband Reg sit so each can see a different direction of the trail, and they watch for hikers to come along. They have a trail registry and love getting to know the people travelling the path. Reg is a humourous man with loads of stories, and if you are willing to listen, he will pull out his old family photos and teach you his entire family history. It's a good time, I promise. You should stop in for ice water when you pass through.
They insisted that I walk to the end of the path and they would meet me at the road in their car to drive me the 7km road walk through town. My first road walk ride! It did not disappoint. Reg took the scenic route showing me everything there was to see of the little town of Femeuse and Kingsmans Cove. He showed me all the houses he's lived in and everything he has helped build over the years. It was not hard to understand that he is incredibly proud of the area he is from.
After Reg and Cathy dropped me off at the trailhead, It was nearly 5 pm, and I was eager to get to my camp spot before dark. So I hit the trail hard and didn't stop until 9km into the trail. I turned the corner, and there was the beautiful enormous Berry Head Sea Arch. The Arch is one of the first photos that will pop up if you search for the East Coast Trail on google. I had no idea where it was on the trail, and even less of a clue I would run into it tonight.
The sun was starting to set, and I still had a kilometre and a half to my planned camping area, but the trail told me to stop there. So I did. I found a sheltered spot with a view of the arch, and I watched the sky change colours behind this magnificent rock structure.
Affiliate Disclosure
This website contains affiliate links, which means The Trek may receive a percentage of any product or service you purchase using the links in the articles or advertisements. The buyer pays the same price as they would otherwise, and your purchase helps to support The Trek's ongoing goal to serve you quality backpacking advice and information. Thanks for your support!
To learn more, please visit the About This Site page.
Comments
1
Sounds amazing!! Can't wait for the next update!!!