Hunger Sweetens The Beans
A decision to push miles led to a realization that I may have miscalculated my necessary food supply. Some trail magic saved me from what would have been a very hungry hiker. The beauty of Virginia continued to reveal itself. This section finished with a fun trip into Roanoke with family (and also allowed me to escape some bad weather)!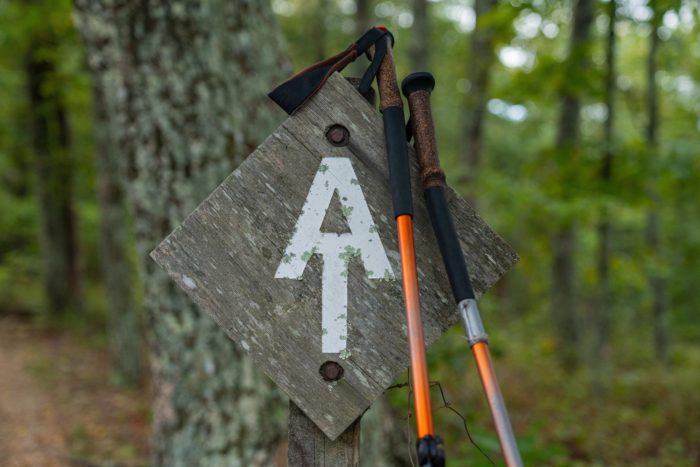 Day 94 (23.5 miles)
It was cold and windy, but I managed to get up for the sunrise at Spy Rock. Although it wasn't as beautiful as the sunset, it still was a sight that I did not want to miss.
I made my coffee as I watched the sun climb higher into the sky. It is weird that something that occurs every day can still be so beautiful. Maybe it is because it represents one of the few certainties of everyday life. After allowing the sun rays to warm me for a few minutes, I left the rock and returned to my tent. I packed up and headed down the trail. The camp area did not have a water source, but there was a stream a few miles away. While I was filling up my water, a couple passed by. We recognized one another and realized that we had previously seen each other in Maine. They were finishing up their flip-flop hike. It was a reminder of how interconnected the trail can be. I never expected to see them again and we could just have easily passed by without recognizing one another.
A cold morning led to a beautiful day. I took lunch in a peaceful and sunny field. It was at this point that I realized that I likely didn't have enough food to make it another 3 days and 80 miles. I adapted my plan to include a quick resupply stop in Glasgow. This stop upset me. I don't like to make mistakes and it was going to set me back a few hours. This meant I would have to hike faster. Trying to be as light as possible is fun… until you are hungry. After lunch, I hiked up to Cole Mountain Bald. There were some stunning views up there.
The day ended with a big descent off the mountain and a few miles of flat terrain to camp. I nearly stepped on a black rat snake while going downhill. The snake did not want to move an inch. It laid there motionless, even after trying to get it to move with my trekking pole. I eventually just hopped over top of it and continued along the trail.
I camped alone along a creek. It was a peaceful early night. I recalculated my food situation, but I came to the same conclusion as before. It was either stop in town or run out of food.
Reservoir Road Campsite: T1, S2, P1, W1, B3
Total Score: 6
Day 95 (22.7 miles)
It was a later morning until I got going. My body and mind felt well rested and ready to go. I accepted my fate of my food miscalculation. There was a big climb to start the day. About halfway up the climb was a road crossing and small parking lot. When I crested the hill there was a truck parked in the lot with multiple coolers. An older gentlemen was standing there and asked if I was hungry. He began pulling out fruit, drinks, honey buns and more. "Take as much as you want! Take some to go as well". I was in a bit of disbelief. Yesterday I was kicking myself for my mistake, today I was in food heaven. I ate until I was stuffed. He even made me eggs and sausage. I couldn't thank him enough!
The second half of the climb felt easy with the new nourishment. The next few miles flew by. My mind was just trying to comprehend how lucky I was. The views along the ridge of Bluff Mountain were beautiful.
I crossed mile 1400 at some point along the ridge. The hiking was all kind of a blur. My focus was on the kindness of that man. Unknowingly, my day was going to get even better. I descended off the mountain and down into a valley. The trail was relatively easy as it followed a flowing creek.
At the bottom of the mountain was another parking lot. Sir Stops A Lot (the same man) was now at this lot. Only this time he had burgers, hotdogs, and beer. He insisted that I eat multiple of each! I was sure to give him a donation before leaving. Getting back on the trail and hiking another 7 miles was hard. My stomach felt like it might explode. A train loudly rode past as I crossed the James River Foot Bridge.
The next few miles required a steady climb up the next mountain range. It eventually leveled out and led to some great views in the evening.
I stopped for the day at Marble Creek Campsite. It was a partially open area situated between two peaks.
It was a windy evening and night. The temperature dropped quickly! I was in my sleeping bag early and enjoyed reading a book and eating some snacks from Sir Stops A Lot.
Marble Creek: T1, S2, P2, W1, B2
Total Score: 8
Day 96 (24.3 miles)
It was a very chilly night! Likely somewhere in the mid 30's, especially with the high winds. I emerged from my sleeping bag around 7 am and packed up quickly. My hat and gloves finally got some use! Another climb up to Apple Mountain Orchard. Too bad they didn't have a hot apple cider stand at the top. At least I got some good views.
The descent was just as long and pretty. Luckily, the weather was perfect!
I stopped at the massive Bryant Ridge Shelter for a late lunch and water. It would have been a great place to stay, but I couldn't stop just yet.
It was another 7 miles to the Cove Mountain Shelter. The shelter didn't have a water source. I carried water up the mountain from the creek at the base. A decision that was made worthwhile because of the nearby lookout. I cooked dinner and watched the sunset. A perfect reward for a long day of hiking!
I went back to the shelter as the last bit of light was leaving. To my surprise there was another hiker who showed up. We chatted for a bit and then I climbed into my bag and didn't come out until morning.
Cove Mountain Shelter: T1, S2, P1, W5, B1
Total Score: 10
Day 97 (25.0 miles)
I got up around 6:30 am. It wasn't as cold as the previous nights and the shelter helped to block the wind. There was just enough fuel in my canister to make coffee! That was a sign it was going to be a good day. It was a big day of hiking, but I was fueled by the knowledge that I would see my fiancé, Kara, and parents that night. They were coming to visit me for a day before I get too far away from home.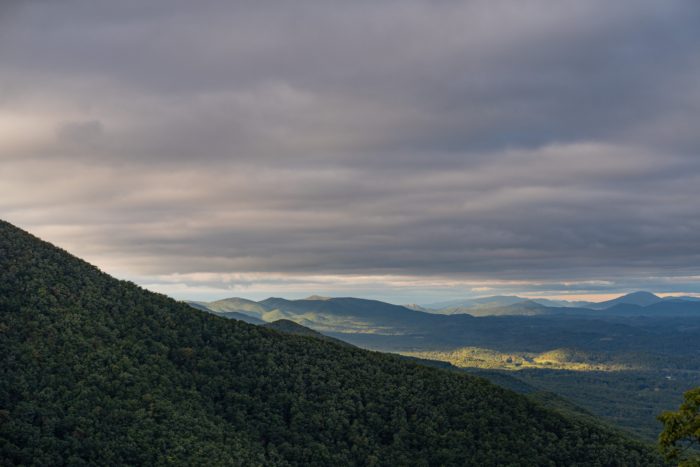 I began hiking and set a fast pace. At the top of one of the short climbs was an overlook. A guy who was hawk watching was doing some trail magic. He made me a hot cocoa which was perfect for the chilly morning air. From there I didn't stop until lunch time. I did, however, pass by some beautiful lookouts.
The terrain was easier this day, but my muscles were sore. My right shin kept cramping as I tried to keep a fast pace. My mind was on seeing my family.
I got into town just after 4 pm and resupplied. Then a few hours in a fast food restaurant to write. Kara and my family picked me up just after 8 pm and we headed to our hotel in Roanoke. It was a fun night talking. I was glad to have a hot shower and a place to sleep!
Day 98 (0.0 miles)
We slept in and had a slow start to the morning. The hotel breakfast was surprisingly good. The weather was already turning bad. Hurricane Ian was expected to push through Roanoke later that day. We headed downtown and walked into a few local shops.
A pinball museum provided hours of enjoyment! There were 60 machines and we each played almost all of them. They ranged from extremely old and completely mechanical to modern and electrified.
Afterward we grabbed a beer at a local brewery and then ate at a nearby sports bar.
We finished the night at a brewery with live music and then attempted to watch a movie at the hotel. My dad and I fell asleep quickly, I at least got to watch the ending!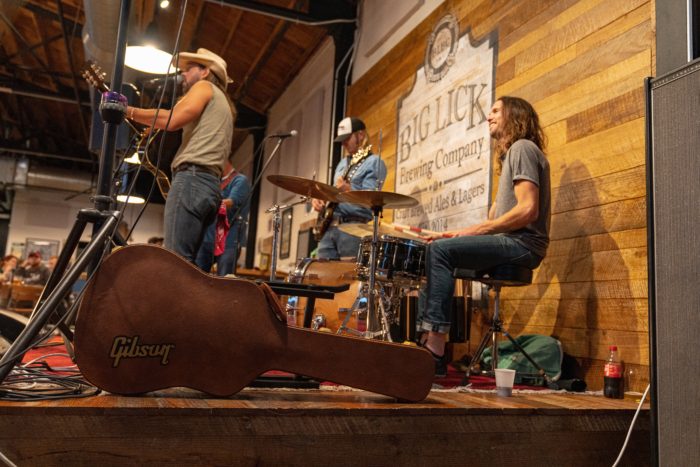 Thank you for reading this trail update! I hope you enjoyed the stories and pictures I was able to capture. I've been enjoying Virginia and was happy to avoid the hurricane. Some of the most iconic parts of the AT are coming up soon, so stay tuned. Until my next post, remember to keep wandering in your own direction!
Affiliate Disclosure
This website contains affiliate links, which means The Trek may receive a percentage of any product or service you purchase using the links in the articles or advertisements. The buyer pays the same price as they would otherwise, and your purchase helps to support The Trek's ongoing goal to serve you quality backpacking advice and information. Thanks for your support!
To learn more, please visit the About This Site page.
Comments
7
You popped up on my Goggle news feed and I started reading about your hike on the AT. I am in PA between Chambersburg and Gettysburg for an aunt's 90th birthday celebration. We passed by the AT at Calhoun SP, on the road between Gettysburg and Chambersburg. Then your blog popped up and I got hooked reading of your adventures and people you've met on the AT. You're about to get to one of the most beautiful sections of the AT that runs through NC. Hope the hiking is good and you see some beautiful views! Make sure to take in the views at Clingman's Dome and savor the views at Waterrock Knob. Happy hiking!

Loved the pictures! The sunrise was spectacular! Happy for your good fortune running into stops a lot! Great family pictures too! Gods speed!

Thanks Dana! Definitely lots of fortunes on this section and some lovely views 🙂

Restaurant food, a girl, pinball, and the AT.

Do you know how lucky you are?

Thx for the post and the Sunrise shot was cool.

Luckily, yes I do know how lucky I am. The trail has further solidified this knowledge.

1) your posts are not being tagged properly with yellow lines on The Trek (they're green which I think means CDT)
2) great job, love the rapid fire style and abundant pics!
3) I now have another example of someone who enjoys hiking AND pinball. Pretty rad.

Lol! Thanks for the comment, glad you enjoyed it. I'll look into the tagging… didn't realize the colors were significant!