The International Appalachian Trail in Québec: Where the Mountains Reach the Sea
International Appalachian Trail at a Glance:
Length: 650 kilometers (404 miles)
Location: Canada, Province of Québec, Gaspé Peninsula
Trail Type: Thru-hike with many options for day hikes and section hikes, divided in three territories
The Valley (115 miles) The trail goes through some forests and farmland, the first few days sees some steep climbs and a couple of river fords, but it smooths out afterwards.
The Chic-Chocs (156 miles) The trail follows the peaks of the Chic-Chocs and McGerrigle mountain ranges. Very remote and rugged section, especially in Matane Wildlife Reserve. Some of the best views are in Gaspésie National Park with summits above treeline.
The Coast (134 miles) The trail goes from village to village along the St-Lawrence river. This section is generally easier, but it still climbs from time to time in the mountains near the coast.
Navigation: Official guidebooks and maps can be found on the IAT website
Getting There
The town of Matapédia is located on road 132, 184 kilometers away from Rimouski There is a bus service that can get you there from most of the big towns in Québec and you can also take the train. You can then walk to the entrance of the trail who is a archway right by the side of the 132, near des Saumons street.
Why Hike This Trail?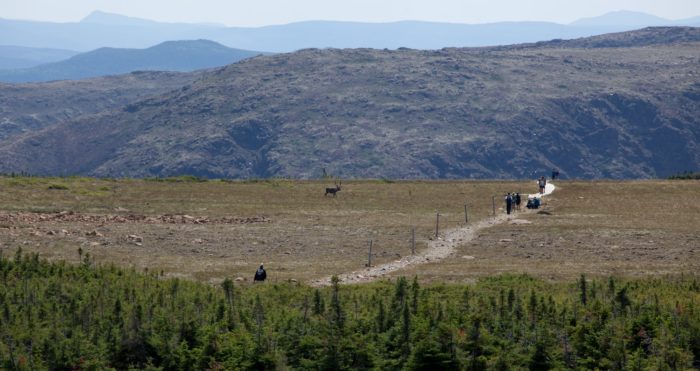 The IAT-QC it is a great mini thru-hike with lots of different sceneries and a great finish. You walk on farmlands, fjord rivers, up and down mountains, cross two national parks, walk on the shore of St-Lawrence River, on snow patches in the heat of July, and finish at the "End of the world," where the continental Appalachian Mountains meet the sea.
If you are lucky you could spot a few Caribou from the southernmost population living in North America in Gaspésie National Park. Since only 15 to 30 people attempt to thru-hike each year (numbers might be up this year) it is a solitary experience outside of the popular day-hiking areas. The Chic-Chocs section is very isolated and wild, hikers do not cross any paved road for more than 100 miles. If you are not into hitch-hiking, it is possible to walk the entire trail without ever doing so because it cross many small towns.
Hiking Season
The IAT in Québec is open from the end of June to the end of September. There is usually too much snow in the highest mountains before and after, and a few summits are closed for the Caribou reproduction season. Black flies and mosquitos can be bad in June, but it tapers off in July. Nevertheless, you should carry some bug spray. Usually the weather is nice with a few rainy days mixed in, but sometimes temperature go down near freezing at night, so be prepared for it.
Camping and Permits
Camping on the IAT requires you to make paid reservations for each of your night, but you can also buy a passport that let you have a flexible schedule. The camping platforms, shelters, and refuges, are spaced about every 15km (10 miles). You should also expect to spend a few nights in privately owned campgrounds once you reach the St-Lawrence River, where you go from town-to-town. The access to the trail is free for most of it, but there is some admission fees in Gaspésie National Park and Forillon National Park. Since you are entering those parks by foot, using the trail, dues should be paid beforehand.
Water Sources
Water is plentiful in Quebec, and generally of good quality with lot of clear streams. Last summer when I thru-hiked, the summer was a dry one and I never ran out of water. There is a shelter without water (Les Trois-Soeurs) but it is compensated with a great view.
Resupply Options

You cross a lot of towns in the Valley and the Coast sections, most of them have a small groceries store but they are not hiker-oriented (as they are along the AT in the US), so you should consider sending yourself a few maildrops with your favorite trail food. There are some restaurants in town, on my hike my two favorites were La Captive microbrewery in Amqui and the restaurant at Gîte du Mont-Albert in Gaspésie National Park.
The real challenge is the Chic-Chocs section where there is no resupply option until you reach the Visitor Center in Gaspésie National Park. (You can send a package to the Visitor Center, or hitch a ride to Sainte-Anne-des-Monts. They also have a small store, but it's pricy.) Hikers can do a heavy food carry, but there is a food drop service offered by the IAT-QC where they hide your food in a secret place. Arranging a shuttle to Cap-chat to spend a night in town is a third option.
Closing Thoughts
Don't forget that French is the official language in Québec, though most of us know some English too. Learning how to say hi and thank you (bonjour and merci) should go a long way to help you communicate. You should contact the IAT-QC for additional informations and reservations. As a past thru-hiker I can also provide you some tips—just leave your questions in the comments.
I will close on this: in 2016, while doing a section hike, I was lucky enough to cross Jupiter path at the beginning of his trek on the Eastern Continental Trail. He later wrote that Québec was is favorite part of the whole ECT. Maybe there is something for you too on this trail!
Want to learn more? Check out the IAT website here, or leave a comment below.
Affiliate Disclosure
This website contains affiliate links, which means The Trek may receive a percentage of any product or service you purchase using the links in the articles or advertisements. The buyer pays the same price as they would otherwise, and your purchase helps to support The Trek's ongoing goal to serve you quality backpacking advice and information. Thanks for your support!
To learn more, please visit the About This Site page.