I'll show you mine if you show me yours (gear list!)
In college I worked a gig as an outdoor trip leader. That does not make me a professional nor does it mean I have a lot of expertise/knowledge. What I had working for me is thinking on my feet and just enough common sense. Scary right? I was hired because I had enough confidence and reassurance that people with zero experience would follow me into the wilderness to see what we can get ourselves into. The on-the-job training was basically my first experience with backpacking in which I trekked up San Gorgonio Mt (11,000 ft) with a ridiculously overweight pack of at least 55lbs. I honestly had a blast. There's also that time I managed to precariously paddle up and down the Colorado river with no prior kayaking experience (see the picture above). That was 8 days of food for 11 people making a top heavy kayak that barely stayed above water… in the hands of an inexperienced kayaker leading the way through a place he's never been before. It was the best trip ever. Am I just too awesome or what?
Don't answer that.
This gear list is actually somewhat semi-unofficial. Even though my flight leaves on April 1. Let's just say I'm the least neurotic person you could ever meet. I work with what I have and play with ideas as I go. When I was still in college, any gear I needed for anything was just borrowed from my job at the time. Since then, my core gear has been mostly been accumulated through REI garage sales. I avoid paying top dollar for brand new stuff by buying relatively brand new stuff from REI at dirt cheap prices. I don't worry much about brands or trends. I always think about our ancestors if I feel like I'm on the cusp of feeling intimidated by something. People have done far more with far less.
Anyways, this will be a long post. Let's get to it. Here's a run down of my basic set up with detailed explanations.
First up: clothes

undies: Exofficio give-n-go briefs – for some reason my butt gets incredibly itchy after a case of swamp ass with certain nylon based briefs. I wore them anyway because itchiness is worth the discomfort compared to chafing your manhood. So far I have never experienced that itchiness with exofficio, so I'm knocking on wood.
base layer: Icebreaker Mondo Zip (merino wool) – still retains warmth when wet, it's comfortable, and generally a quality garment.
t shirt: Arcteryx – some super lightweight and comfortable shirt I got for dirt cheap somewhere. I don't know. I like it and its good for summer. It'll be chilly like a Free Willy.
fleece: REI Rimrock Fleece – I don't have a down jacket and don't feel like getting one. I prefer rugged stuff that I don't have to be particularly careful with. A decent softshell jacket on top gives me confidence to take on the trail without a down jacket that everybody seems to have.
jacket: REI McCone Softshell – I would never depend on this to keep me dry in a downpour, but its either this or my old Columbia rain/wind jacket. My other jacket is a POS and I like the way this one fits me. Will depend on my poncho when it comes to wetness. This is another item I've gotten for dirt cheap at an REI garage sale. I think I paid $20 and the retail price is like 130. The reason it was returned? There wasn't one.
pants: NO PANTS! WOOO. Actually I have REI Rainwall 32 pants but I think I will use them mostly as wind pants, layering on cold nights, and possibly as town pants.
shorts: Just some shorts I have with pockets. I chose these because I don't think my legs will be particularly cold while hiking. (California boy here taking a gamble.)
gaiters: REI Mountain gaiters – If its wet, sludgy, or generally crappy… I'll be wearing these. They're also why I'm not bothering with zip off pants, they are easy and convenient to take on/off anytime. So they're like… strap on pants.
leg warmers: Novara Thermal Tech – I almost have no reason to have these, but when you find a perfectly good product at an REI garage sale for $4, why would I pass that up? These make me not want to bring my long thermal underwear.
balaclava: Smartwool – merino wool face hug essentially. all day long. oh yes.
buff – buffs are nice
beanie: Smartwool – should I even bring this? … meh
hat – some hat… its cotton, sue me. Oh, I poked a hole and stuck a ring on it so I can clip it to my pack whenever I don't use it. It's my sun block, rain block, and whatever else a brimmed hat comes in handy for.
gloves: Serius all weather – I don't take these seriously. They're expensive but I got mine for about $12. They may have passed the sink test, but I don't have faith in these soft gloves holding up in serious rain. I may pick up some waterproof mittens. Its kind of cool how I can use my iphone with these on though.
Tent: Sierra Designs Lightyear 1 (single person 3 season)
Sleeping pad: Thermarest Z Lite – I really don't trust inflatables. I like being able to depend on something and a sleeping pad is pretty straight forward. Plus I like sleeping on flat surfaces, it makes my back feel good. But don't discount the warmth factor. There are better options out there to help you stay off the cold unforgiving ground.


You can probably tell right off the bat I'm not an ultralighter but, this tent is probably the closest thing I own to be considered on the lighter side. Not spacious but it fits me just fine. I have also slept with my pack inside before. I hugged it, leaned against it, and subjected it to gentle spooning. So yes, you can make space if you're not a giant and you can have breakfast in bed.
Sleeping bag: Mountain Hardware Lamina – 20 degree synthetic bag.
Liner: Sea to Summit Thermolite
Summer bag (maybe): REI Travel Down – 45 degree down


Also in the picture is a tarp. Why bring a tarp if I already have a tent you ask? This tarp essentially will serve as a ground sheet in shelters, rain cover when I set up in rain, my red bull fighting cloth when I come across aggressive cows, and maybe serve as a really stiff blankie. One side is also reflective. Not as reflective as mylar, but suitable enough for an emergency blanket.
Boots: Montrail Traverse Gore Tex – Going with boots for the general protection and stability. Would be really glad I wore these if I get snow.
Socks: Darn Tough
Liner Socks: Smartwool – I've had the least amount of feet problems with these liner socks. I always seem to get blisters and hot spots with synthetic liners. Or it just seems like my feet start to rot. Merino wool takes the win as always.

When summer comes or if my boots die on me unexpectedly, I'll switch to trail runners.


Shoes: La Sportiva Wildcat? – Overall trail runners are great. I just lean towards sturdy boots when it comes to rough places in the long run. Otherwise, you'll most likely catch me running around mountains in vibram five finger shoes. I did Mt Baldy in one day with little bitty vibrams no problem. When I switch to trail runners, I'll be swapping between 3 pairs of Injinjii toe socks.

Starting from the bottom right, I got a Mophie Juicepack which gives my iphone two full recharges before it needs to get recharged itself. The white packets above it are desiccant packs that help keep moisture out of whatever you put them in. I don't really know why I bother, but sometimes I leave them in my dry bags or toss them in my soaked boots overnight.
There's also my compass… I don't know why a lot of people don't carry/use one. As someone who likes to deliberately walk off into nowhere, I often depend on using reliable bearings to figure out where to go when in a jam. I'm sure I'll find myself lost off trail at least once.
Hygiene: Since I think I can only grow an Asian Fu Manchu at best, I'm bringing a razor. Its neat that my facial hair predominantly grows in the mustache and goatee area, but I figure a light shave everyday around lunchtime would do me some good. Maybe help increase my odds of getting a hitch as well. Don't really need a mirror for shaving, but I'll have that small one there. Mirrors can come in handy for unexpected problems. Like a ripped contact in your eye or finding a tricky tick. I guarantee you someone on the trail will be grateful I have a small mirror for some random reason. Than I've got Dr Bronners soap with a pack towel. Also sanitizer, gold bonds powder, visine, vaseline, neosporin, water purification tablets (in case), benadryl, and burts bees balm. Epipens since I'm dealthy allergic to bee stings (why I have the benadryl too). The inhaler I probably don't need. I haven't had an asthma problem since I was a wee little kid, but I've gotten into the habit of carrying one into extensive types of trips. This is justifiable considering how I may or may not have helped other people in need of a bronchodilator before plus it wouldn't hurt to take a few puffs if I do end up getting stung by a bee.
Multitool: Leatherman Micra and nailclippers above it. I like the micra for the scissors, knife, file, and tweezers. The quality of the scissors itself makes it a worthy tiny little thing in my opinion.
That black roll thing is a tshirt roll – a staple item learned from a WFR class. Use it for making bandages, gauze, compression splints, emergency TP, and so on. The uses are endless.
Watch: Water resistant, has a light button, gives me the date/day of the week, and has an alarm setting. Cheap watch with great value if you ask me. Will definitely come in handy for keeping track of your day, estimating how long something will take you, waking up, and knowing what day it is without having to think too hard.
That tin mug is another luxury item but I'm going to be sipping on green tea in the mornings like some kind of yogi. It might not last the whole way anyway. Last summer I used it as a booby trap against brown bears in Yosemite… it's got a dent that's almost punctured through the bottom now.
Stove: I'll be using a Trangia . Its a tough little brass made alcohol stove with a seal able screw on cap that lets me leave leftover alcohol inside if I want. There's also a simmer thingy-mah-jiggy. I could use a windscreen but I'll figure that out when I get to Georgia.


Inside the Blast Mint container is my emergency fire starter. It's just extra strips of paper, spare matches and a tic tac box containing paper and cotton saturated with petroleum jelly. Even if you can't dry out wood enough to burn them, the petroleum jelly will stay burning for a surprising amount of time. Or I could just put a little alcohol in the tin container and light that up. For all the EMTs out there, just think about how cool it would be if I used my emergency fire kit as an occlusive dressing. Ha, not likely, but theoretically possible… I think I have a play project tonight.
Lastly… I have the REI Crestrail 48 liter pack.


Around it are things I generally always have at the ready when I'm strapped on. On bottom is my sleeping pad wrapped in my tarp. Hip pockets have a quick snack and miscellaneous stuff.
50ft paracord at the ready with a carabiner + a few spare shorter pieces of cordage. They come in handy for making a quick tie up, stringing up my tarp, and whatever you put your mind to including emergency boot laces.
Hydration system is a 2 liter camelpack I wedge under the brain of my pack. I keep a Sawyer mini filter in a pouch strapped near my waist along with the platypus it comes with. I use a water bottle to collect water and basically don't have to take my pack off when gorging myself at a water source.


Its gotten to the point where I leave paracord tied on a bottle so I don't even have to squat down to get water. I just toss a bottle in and pull it back without having to unstrap or bend over.
The green roll on the side is a Frogg Toggs rain poncho.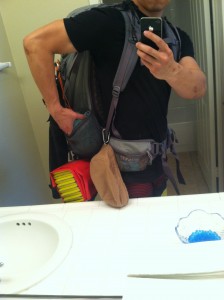 Just reach back, flick it out, and pull it over. This why I'm not bothering with a pack cover. I will be using a compactor bag liner though and organizing everything inside in dry bags.

That's about it. I think. If you're wondering about trekking poles – I don't have any. I used them as a trip leader in college mostly because of the 50lbs+ packs I would have to carry but I never bothered buying my own pair. They are nice to have, but honestly sometimes I like having my hands free and it can be a pain dealing with them when you're not on the move. I might just grab nature sticks and discard them whenever. Or maybe buy something if I spot a sweet deal somewhere along the way.
If you never used them before and you're going to start, you should be aware that there's a technique to using them if you want to maximize their utility.
Cheers! Feedback appreciated.
-Affirm
Affiliate Disclosure
This website contains affiliate links, which means The Trek may receive a percentage of any product or service you purchase using the links in the articles or advertisements. The buyer pays the same price as they would otherwise, and your purchase helps to support The Trek's ongoing goal to serve you quality backpacking advice and information. Thanks for your support!
To learn more, please visit the About This Site page.