I'm Finished…
12 Aug 2017
Mileage
Total AT Miles: 773.44 miles

Today's Miles: 13.1 miles

Time: 11.5 hours

Speed: 1.13 mph
You Know When You Know
When it was time to retire from the Air Force, everyone used to say "You know when you know!". And how this rang true for me after 26 years. I woke up one day and Just Knew It was TIME.
The same rang true on my AT Thru Hike.
I've known for a few weeks that things weren't going well with my hike. The pain in my feet, knees and ankles we're taking a toll on my mental ability to continue. However, after the fall that dislocated my finger, it had shaken my confidence to "go fast" and be sure about my footing.
Also, even after a "week off" hanging out at White River Jct, my legs had not recovered. The aches and pains were increasing. On my first day back, it was a struggle to do 8 miles on an easy trail south out of Gorham NH. I knew it was done.
The last two days, I found myself going excruitiating slow. I mean it was a snail's pace and the pain in my knees going downhill was almost unbearable. Also, my step down was almost like a fall every step.
When I came off Wildcat, I wondered WHY I didn't just take the Gondola from the mountain top. I fell 10+ times on my way down to Pinkham Notch. This is a steep decent and I was concerned I wasn't going to make it without another injury in the last 2 miles!
Some will say I'm a quitter…you are right — I quit! I didn't finish my Thru Hike, but I did hike over 700+ miles on my first backcountry hike. I guess that counts for something!
I still struggle in the Why Was I Doing This! and I still haven't been able to answer why I have been doing something I really didn't like…day in and day out for months.
The Views
Today was mostly an overcast day. However, I did get of Mt Washington as the clouds cleared on Mt Hight…
And it was nice being above the clouds….
But the rest of the day was…overcast.
I made it to Carter Hut, the half way point for today, and had some vittles…my free soup and baked item. The soup looked like dirty dish water, but the black bean soup tasted pretty good and the chocolate cake hit the spot.
The pond near Carter Hut was fogged in, but the Lilly pads made a beautiful photo.
Danny & Misha
On the Wildcat D observation tower, I ran into Danny and Misha who were doing a weekend hike. Danny caught the hiking bug at Tuff's College during the schools program to get students connected and immersed in the college life. His dad, Misha, joined him as he hiked some New Hampshire peaks.
When we met up, the views atop Wildcat were socked it with clouds. That's Mt Washington behind the clouds…
I ran into them again just before the final decent off of Wildcat. Since they were headed to Boston and I needed to get to Boston, I asked if they'd give a Hiker a ride and they said YES! Now that's some Trail Magic. THANK YOU Danny and Misha.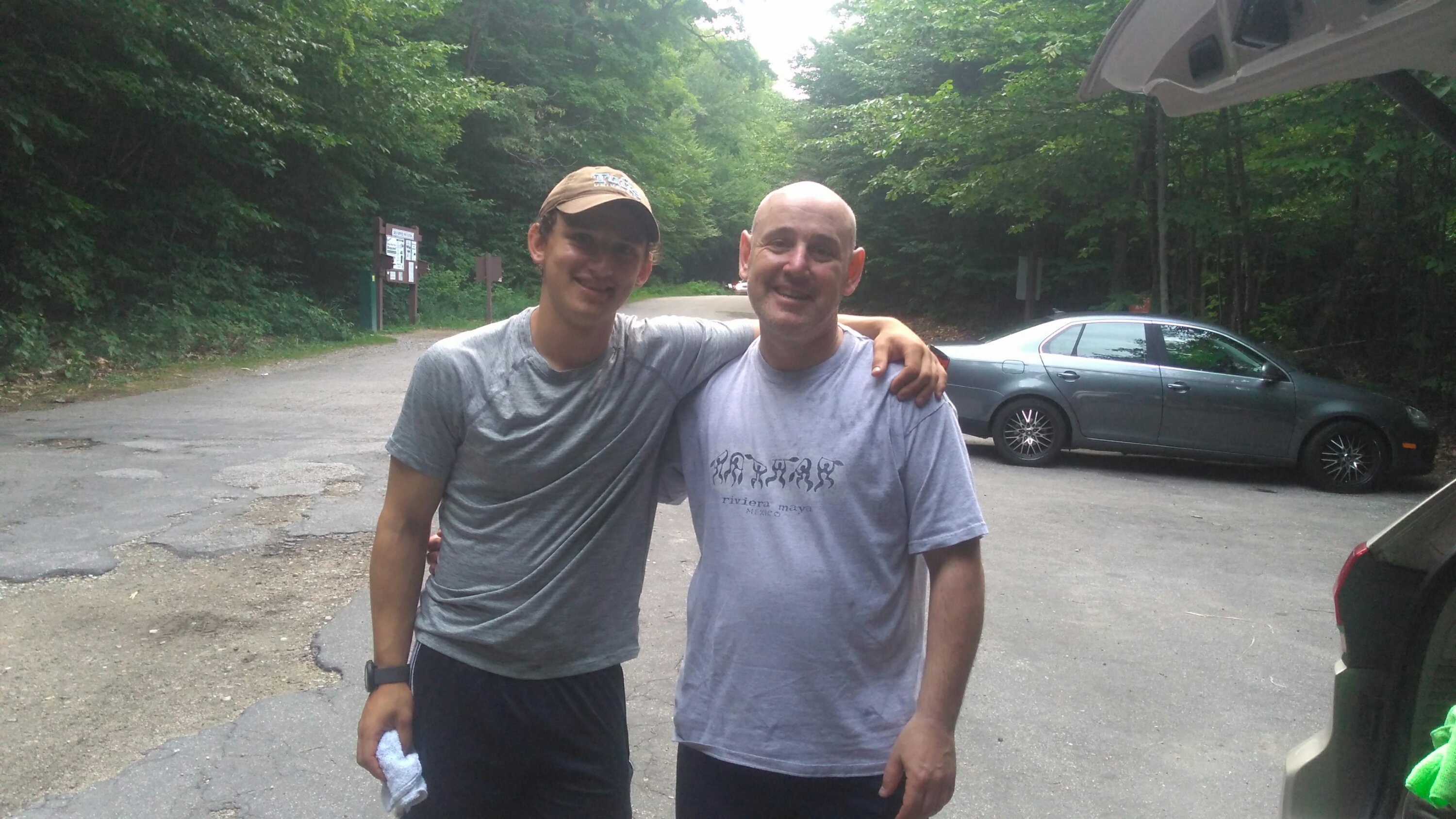 The Call Home
After I'd made my way to Boston, it was time to let myWife know I was DONE, make some lodging arrangements and work my trip HOME!
It was difficult making the call to myWife about ending my thru hike. While she remained steadfast in supporting my hike, she didn't really think I should be doing it. So…she was glad I made the smart decision to finally come back home.
She saw my injuries and pains as NOT what I needed to be doing in our retired life. We've enjoyed RVing the last 4+ years, and she LIKES being along for the adventureS. However, she's been parked while I've been hiking the last few months. It's just not been fair to her.
However, she was busy with my niece's wedding when I called so while happy I was headed home, she wasn't able as #TeamHikerBoy to assist in my travel arrangements.
Planning my ride HOME
Since I had a ride to Boston, I had to work lodging and transportation. Boston hotels are Expensive, so I was glad when I called Hanscom AFB and they had availability for a few days. However, I didn't consider my ride to the airport with this decision…Hanscom isn't close to any public transportation points, so getting to Boston Logan airport still needed to be worked.
After getting my flight secured on Monday, I worked the ride to the airport and a pickup back in Kansas City. Then it was time to pack up and relax.
I spent Sunday boxing up my backpack for the flight home. With all of the straps, I figured it best if it was enclosed.
Finally on Monday, I made my way off base to wait for my ride to the airport.
It was interesting when I saw this guy riding up to the gate for work on his single wheel. Cool commuter if you ask me.
I finally caught my flight out of Boston, but the BWI flight was delayed for hours. Southwest appeared to be cancelling flights and moving passengers to later flights because the plane wasn't full. After a 4 hour delay, I was on a FULL flight for my final leg.
Too bad all that was left were middle seats, but I was headed home.
I'll be Missing OUT
I had plans to meet up with some GREAT people during the remaining miles. Like Bethany Lanski Crisafulli who had her parents going to take me in when I got into Massachuttes. I was looking forward to meeting these parents of one great Airman I had to pleasure to serve with in Afghanistan and who's still leading Air FORCE Airmen in North Dakota right now.
Then there was my plans to reconnect with Joiner when I got near DC. He "helped me" more than he'll ever know to be a better Hiker. In the short time I hiked with him through the Smokies, these are some of the best memories I have of my AT thru hike.
Then there are my great friends, The Jordans, also in DC. When they heard I was doing this hike, they were the first people to come on board and want to host a stinky Hiker when I got to their neck of the trail.
I was also looking forward to getting to see Tony and Brenda Powers in southern Virginia. When I was recovering a few days in Tennessee, they drove over an hour just to check on me. These people are our Air Force family. They lived above us in an apartment in Oklahoma which was eons ago. But true to their form, they were willing to help me out no questions asked. There to the rescue on a rainy day ?. Also, I was looking forward to see their kiddos, Nikki and Brooke.
Then there was Bob & Toni who picked me up in Hot Springs, fed me, let me take a shower and gave me a place to rest. They stood on the ready to pick me up again. What great friends!
Finally, many days while hiking, I had visualized hiking into Damascus and meeting up with our Tennessee Family – The Johnson Clan! They took such good care of me when I was injured going NoBo that I wanted them to be part of my FINISH in Damascus VA. I dreamed about the celebration we'd have when I walked my last miles down the trail into Trail Town USA.
That is all a distant memory. No more am I "on the road to Damascus" and no AT FINISH for me!
Aftermath
Now I'm HOME! Its good, Very Good, to be home. I look forward to going to see my daughter and granddaughter. We are headed there later this week and will get to experience the solar eclipse with them which their town is in the path.
Then I'll get back into a normal life as a full time RVer. It's time to take a camping trip where I sleep in my bed, eat anything I want, and take a shower every day. Where hiking is DAY HIKING. While hiking the Backcountry is fun, I prefer a few more amenities when I camp.
As for now…my AT hiking days are behind me and I'm okay with that!
Up-n-Ready
An AT Thru Hiker Quitter
Affiliate Disclosure
This website contains affiliate links, which means The Trek may receive a percentage of any product or service you purchase using the links in the articles or advertisements. The buyer pays the same price as they would otherwise, and your purchase helps to support The Trek's ongoing goal to serve you quality backpacking advice and information. Thanks for your support!
To learn more, please visit the About This Site page.