Inov-8 Terraultra G 270 Trail Running Shoe Review
A couple of months ago, I got pretty darn excited about the Inov-8 Terra Ultra G 260 trail runners. They easily became my go-to trail runner due to their versatility, durability, and wide footbox. So when the Inov-8 Terra Ultra G 270 trail runners dropped just a month after our review, it was an understatement to say I was excited to give them a spin.
On the surface, it looked like Inov-8 had fixed a lot of our gripes with the G 260s we'd reviewed before. I wanted to check if the already great durability had improved with the new insoles. The laces were also now flat (meaning they should stay done up for longer), and the toecap looked less industrial. I hoped this would mean that the shoe would be more breathable.
And most importantly, one theme kept popping up beneath all the hype: increased durability and comfort over the 260s. Was it possible that what we'd thought was the most robust trail runner could become even more nuclear fallout-proof?
MSRP: $160
Weight: 9.5 ounces / 270 grams per shoe
Sole Composition: Graphene Grip rubber composite
Drop: 0mm
Overall stack height: 22mm
Color options: Blue, black, and green
Circumstances of Use
Jenny and I have been able to get out on some longer hikes now that many UK restrictions have lifted. This means I've been able to put a good amount of miles on these shoes. This includes one 42 mile day in the South Downs and a week hiking in Dartmoor. They've seen all types of British weather though have typically hiked on compact dirt/muddy trails. I've also taken them on several runs on mixed road and grass. So far, I've put just under 400 miles on them over the 8 weeks I've been reviewing them through a mixture of running, hiking, and general use.
Who is the Inov-8 Terra Ultra G 270 designed for?
If you're a zero drop, wide toe box, long-mile day, push-a-shoe-till-it-dies kinda person, these are the perfect shoes for you. Originally designed as a cushioned ultra runner shoe, the shoe performs well on compact trails due to its comfort and durability. It would be a great companion for the average hiker of any of the Triple Crown trails.
The Big Features
Graphene Grip: The standout feature of the Inov-8 Terraultra G 270 is the graphene composite outsole. Inov-8 is the only sportswear company that uses this graphene-rubber mix. They claim that this improves the durability of the shoe versus a standard trail runner. This is more than just marketing hype. My last pair of Inov-8s are still going strong after 650 miles, and if I had to guess, I'd say that the graphene makes the outsole last about 30-40% longer than a traditional sole.
Inov-8 claims they've made the shoes even more durable than the last version based on a new layout of the lugs, though I can't attest to this as I've not killed these shoes yet. What I can say is that it took over 700 miles to wear down my G 260s to the point that I'd removed all evidence of the lugs. If the G 270s at least match that performance, they would still double the lifespan of the Nike Wildhorses I wore on the PCT.
POWERFLOW MAX Midsole: This midsole adds a whole lot more bounce to your run. The beefy midsole and outsole comprise most of the weight of the G 270. Twenty miles into the day and with a heavy pack, you'll be happy Inov-8 made this design choice. The midsole is plush, yet not excessive. I never felt unbalanced, even with the increased stack height due to the width of the shoe.
If you're looking for a barefoot trail runner, this isn't the one for you. But if you're looking for a nice bit of cushion in a responsive, zero drop, lightweight shoe, this is a great fit. It's worth noting that Inov-8 also offers a 30-day money-back guarantee.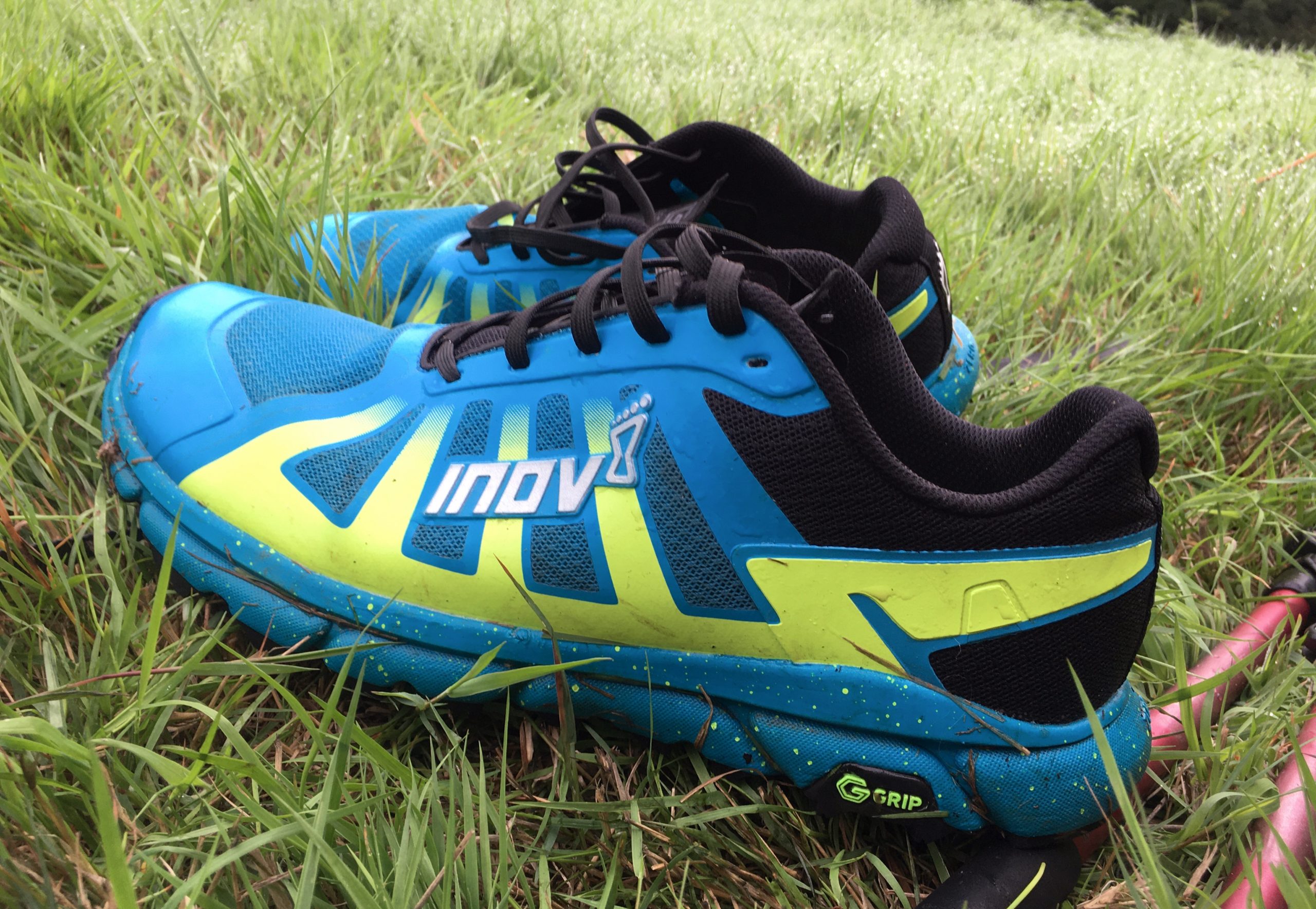 Breathable Uppers: The upper is wide, lightweight, and now has increased breathability. On initial inspection, the shoes looked almost too permeable because they let in a lot of light. However, I had no issue with particles getting in when tested them on sandy trails. The new rubber toe cap adds protection while keeping the upper flexible.
The Inov-8 Terraultra G 270 also benefits from a rubber coating around the bottom half of the upper. This makes the shoe less likely to flood when stepping in mud and shallow puddles.
Wide, Flexible Fit: The Terraultra line measures a five on Inov-8's width scale—the widest they offer. These shoes definitely run wide. Because the uppers are flexible and somewhat stretchy, they'll swell along with your feet. This feature was carried over from the Roclites we reviewed, and it was a welcome one after 10 hours of hiking.
What are the differences between the Inov-8 Terraultra G 270 and G 260?
Stack Height: The Inov-8 Terraultra G 270 shoes are 10g heavier than their predecessor, but for good reason. The midsole is 3mm taller than the last version, adding comfort without compromising on responsiveness. I've loved this upgrade and think this will help you push higher miles out of the day due to the increased comfort. Going back to the 260s now feels a little mushy, and whilst there isn't as much ground feel, that's not a bad thing if you're hiking a long day.
The "Boomerang" Inner:  One of my biggest complaints about the G 260s was that the insole was downright crappy. I ended up swapping in an old Adidas insole once the shoes hit 400 miles. The new inners are better-designed and add to the overall comfort of the shoe. They're pleasantly cushiony, and the bobbly rubber bottom stops them from slipping around. Also, the new inners don't have that annoying fabric layer that eventually peels away from the rest of the shoe. Although it's a small detail in the grand scheme of things, this new insole is a big leap forward.
Laces: The laces of our previous Inov-8 shoes always untied themselves. Unfortunately, these are no different. Despite being marginally better than the hotdog laces on the 260s, I still found myself triple knotting these to keep them tied up. I know this sounds odd, but the laces need to be more grippy. Maybe a coating of the graphene rubber could help fix this? I dunno. I don't design laces. But it feels like there is still some room for improvement in this department.
Toe Cap:  The breathability of the G 260s wasn't brilliant. That was in large part because the old toecap suffocated natural airflow. The new model employs a rubber toe cap similar to those we reviewed in the Roclite 275's. We think this is a much better choice. It adds flexibility to the toe cap while still protecting the foot from loose rocks, branches, or brush.
Smaller fit:  I found the shoes to be a slightly tighter fit than the 260s previously. Some of this is due to the redesigned toe cap not creating the excessive loft in the front of the toe cap of the shoe, but I also think the new model runs slightly smaller than the previous one. If you like a wide and roomy ride, I'd recommend going half a size up.
Thinner Tongue: The Inov-8 Terraultra G 270s have a thinner tongue than their predecessor. If you were using this shoe for its intended purpose (running), this would probably be a plus, as it makes the shoe more responsive. Unfortunately, I'm not a fan of this design change for hiking. I found the thin tongue made the laces dig into my talus (the top bit of your foot where it meets your leg). I ended up having to re-string my laces to put more of the pressure on the middle part of my foot.
The bottom line on the G 260s vs. the G 270s: If you liked the Terraultra G 260s, you'll love the G 270s. Apart from the tongue, I feel everything else is a big step forward. Better cushion, better upper, and better use of the graphene composite make for a smoother, longer-lasting shoe.
Positives

Durability: These shoes are hands down the hardest-wearing shoes I've ever worn. As a result, I have no worries saying that you'll be able to push more than 500 miles out of them, probably more any other brand of trail runner you've hiked in before. The upper is also incredibly strong. The rubber coating/mesh upper has yet to snag, yet is supple enough for a close fit.
Cushion: The 22mm stack height makes for an extremely comfy ride. The Inov-8 Terraultra G 270 joins the Hoka One One Speedgoat and the Topo Ultraventure in a recent trend toward cushy trail runners. Having suffered from plantar fasciitis on the PCT, I care a lot about comfort. I'm really happy with how much bounce these rugged shoes have.
Lightweight: Even though these shoes are generously cushioned, they still are incredibly light. In The Trek's recent roundup of our Top 10 Trail Runners, these came in as one of the lightest, despite offering so much support. The weight is well-distributed, and combined with the cushion makes these shoes feel cloud-like.
Drawbacks
Price: I almost feel guilty putting this as a negative, because given their durability, I know in the long run they'll probably work out to be more cost-effective than the average $130 trail runner. Yet it goes without saying that the $160 price tag is a high upfront cost for a shoe.
Tongue: It's something I've learned to live with, but I found the tongue of this shoe a bit too minimalist. For hiking, something with a bit more padding would have been more comfortable without impacting the performance of the shoe.
Final Thoughts
For those looking for a durable zero-drop trail runner, the Inov-8 Terraultra G 270 shoes are perfect. Although Inov-8 is a relative newcomer to the thru-hiking community, the comfort and durability of the G 270s could see them overtake the ever-popular Altra Lone Peaks. They offer similar benefits in a more durable medium.
Shop the Inov-8 Terraultra G 270
Comparable Shoes
MSRP: $110
Weight: 8.7 ounces
Cushion: Minimal
Stack height: 21mm
Drop: Zero
MSRP: $120
Weight: 10.6 ounces
Cushion: Moderate
Stack height: 25mm
Drop: Zero
MSRP: $130
Weight: 10.5 ounces
Cushion: Moderate
Stack height: 22-14mm
Drop: 8mm
MSRP: $145
Weight: 10 ounces
Cushion: Moderate
Stack height: 32-28mm
Drop: 4mm
This item was donated for purpose of review.
Affiliate Disclosure
This website contains affiliate links, which means The Trek may receive a percentage of any product or service you purchase using the links in the articles or advertisements. The buyer pays the same price as they would otherwise, and your purchase helps to support The Trek's ongoing goal to serve you quality backpacking advice and information. Thanks for your support!
To learn more, please visit the About This Site page.