Knog Bilby Headlamp Review
The Knog Bilby Headlamp puts an interesting and unique spin on the headlamp game. For long-time backpackers and outdoor enthusiasts, we know there's really not much that separates quality headlamps from one another. But this is a design that's going to turn heads with its appearance alone. 
Knog is an Australian company that seems to have set out to re-invent the headlamp as we know it. Instead of the traditional fabric strap, this headlamp features an adjustable silicone band. The actual lamp itself can be removed from the strap. It's USB-rechargeable, so you don't have to worry about replacement batteries. 
As someone who knows the value of having battery replacements on long backpacking trips, I was skeptical at first. So I set out to put the Knog Bilby Headlamp to the test and I'm pleased to share my findings with you today.
Knog Bilby Headlamp At-a-Glance
Dimensions: 250 mm x 150 mm x 28.5 mm (H x W x L); 9.84" H x 5.9" W x 1.12" L
Lumens: 400
Weight: 3.2 oz.

Charge Time: 4 hours
Price: $76.12 USD ($99.99 AUD)
Intended Use
For weekend backpackers and car campers, the Bilby headlamp is a great alternative to your standard battery-powered headlamp. If you have the ability to recharge it via a USB port frequently, you'll find plenty of long-term savings with this headlamp as well. 
Circumstance of Review
I received the Knog Bilby Headlamp for review shortly before embarking on a week-long, off-grid truck camping trip down the Eastern side of the Sierras. Since then, I've also put it to the test solving a number of household appliance issues in low-light areas. It has also come in handy performing everyday automotive repair work that requires two free hands. 
Features
Comfortable Wear:

The strap is made of medical-grade silicone with a matte finish. 

Adjustable Strap:

It can fit head circumferences from 300 to 660 millimeters (11.8 to 25.98 inches).

Light Output:

The 400 lumens output on this headlamp compares well to similarly priced headlamps from well-known companies like Black Diamond and Petzl. 

Multiple Light Options:

A total of five LED lights on this headlamp can be configured and deployed for a total of 14 different modes.  

Run Time:

The Bilby boasts a five-hour runtime on its highest setting and a 105+ hour runtime on the lowest setting. 

Rechargeable:

The USB-A port is integrated into the lighting pod, which means no cables to lose and/or break. 

Charge Time:

The headlamp will achieve a full charge in about four hours. 

Ingress Protection:

It boasts an IP67 ingress rating, which translates to a good waterproof and dustproof design. 

Color Options:

Black, Violet Blue, Putty Grey, and Fluro Orange.
Usage
Comfort
The first few times I put the Bilby headlamp on, it felt like it was squeezing my head a bit more than a normal headlamp. But, to be honest, I think I had the strap adjusted a little too tightly. Since then, I've mostly been using it over a beanie or underneath something like the HIKE Foam Technical Trucker Hat. This allows the strap to sit on a layer of cushion rather than directly on my head. 
The thinner band at the back may cause a little discomfort when worn tightly for too long. The foam pad on the back of the lighting pod itself is liable to leave you with a rectangle indent on your forehead if worn too tightly. 
Controls
Read the user manual! Because there are so many different lighting modes on this headlamp, it took me a while to get used to turning it on and off. That's not to say that it's overly complicated, however. 
There are two buttons on top of the headlamp. You press-and-hold the button on the right to turn the light on and then you press that same button to cycle through the lighting modes. 
The button on the left allows you to check the charge remaining on the lighting pod. And you'll also need to press-and-hold both buttons to turn the lamp off, which means you don't have to cycle through the 'Off' mode when changing your lighting settings. 
Now that I'm more familiar with it, I actually really like the fact that the headlamp will automatically turn on to the same lighting mode that you were using before shutting it down. This helps eliminate unnecessarily turning on the high beam when you just want to pop your red light back on for a few seconds. 
Brightness
I had no problems whatsoever with the brightness of the multiple lighting modes on this headlamp. In fact, it actually features a 'boost' mode that allows you to extract full power from two of the lamp's five LED lights simultaneously. While you can only operate on this mode for a maximum of 10 minutes, it's still useful if you really need the full brightness of those 400 lumens. 
What I really liked about this headlamp is the fact that the LEDs are positioned in such a way that allows you to direct your light downward when you're working on something close to you. This is also great for group camping setups because it eliminates accidentally shining your camping companions right in their eyes. 
Battery Life
The five-hour runtime in bright mode may be a little short for extended backpacking trips, but more conscientious users can enjoy more than 105 hours of battery life on the lamp's lowest setting. For my purposes, the four-hour charge time was reasonable as well because I was mostly able to plug the headlamp right into the 12-volt USB adapter in my truck to recharge as I was driving. 
But it can also plug directly into my solar power bank and recharge overnight if I'm on a weekend backpacking trip. Because I wouldn't necessarily want to rely solely on solar power for an extended backpacking trip, however, I'd probably go with a more traditional battery-powered headlamp if I was hiking for more than two to three days at a time. 
Knog Bilby Headlamp Pros and Cons

Pros
A wide selection of lighting modes

USB rechargeable

Waterproof and dustproof

Band separates from lighting pod for easy cleaning

Lights a distance of up to 100 meters

Reasonable recharge time
Cons
Must have a power bank or solar charger to recharge on extended backpacking trips

May leave rectangle imprint in the forehead

Takes time to get used to controls
Overall Value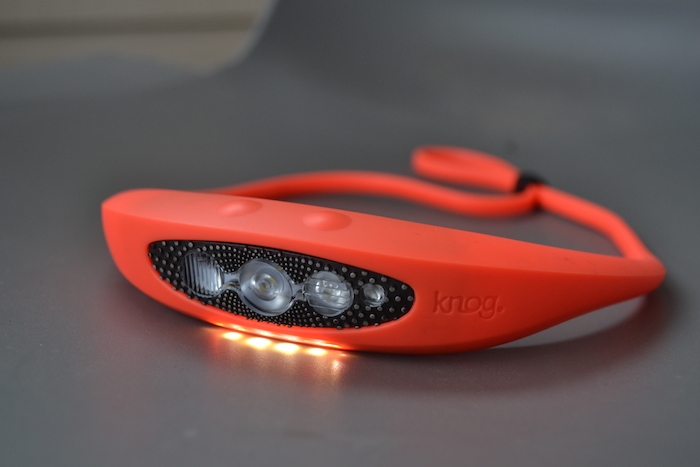 Overall, the Knog Bilby Headlamp has been an incredible addition to my outdoor gear collection. The headlamp's unique design has been a conversation starter in several socially-distanced gatherings already. It has also come in handy in a new role as a part-time laborer at a local mechanic shop. 
As you might imagine, that role constantly leads me to touch the silicone strap with oily greasy fingers. But I'm able to remove the lighting pod from the strap to easily clean the silicone, and it doesn't hold nearly as much grease, oil, or dirt as your standard fabric headlamp strap. 
The only reason I would be hesitant to pack it for a longer backpacking trip is the fact that I'd have to rely on my selection of power banks and solar chargers, which is honestly less-than-satisfactory at present. But, for anyone that feels confident in their ability to keep this headlamp charged in the backcountry, it has no other shortcomings in my eyes compared to more traditional headlamps.
A Few Comparison Items
Price: $70
Weight: 2.8 oz
Price: $43
Weight: 1.8 oz
Price: $60
Weight: 2.4 oz
This product was donated for the purpose of review.
Affiliate Disclosure
This website contains affiliate links, which means The Trek may receive a percentage of any product or service you purchase using the links in the articles or advertisements. The buyer pays the same price as they would otherwise, and your purchase helps to support The Trek's ongoing goal to serve you quality backpacking advice and information. Thanks for your support!
To learn more, please visit the About This Site page.