Looking Back At My Favorite Moments From My Appalachian Trail Thru-Hike
Last year I set out with the mission to thru-hike the Appalachian Trail and thru-hike I did. But it wasn't enough. I probably would have been saving for a PCT hike if I had known I was going to miss it so badly. A week of outdoor activities in southern Utah inspired me to, at the very least, tackle the Arizona Trail instead. This time I plan on setting off for the desert with hopes that I'll enjoy it to keep on hiking.
To help me cope with the inevitable hardships I'll be facing, in sequential order, is a short list of those pivotal moments that transformed me from a complete camping novice into a full fledged AT thru-hiker.
The Smokies:
A sign of good things to come?
I hadn't really endured the true hardships of the trail up to this point. I mean, I decided that I wanted to get an advantage over the weather of the mountains and thought pulling a 27-mile day ending with the rigorous ascent to the first shelter in the Smokey's was a good idea. It wasn't. But I was lucky enough to get a space on the shelter floor and have vivid nightmares about wild animals coming in to steal my food in my weakened state. The overnight rain transformed the trail into a muddy mess to the point where I just barely squeezed out 11 miles.
This happened every morning.
You might be thinking, "Hey wait a minute. This sounds terrible! When do you get to the good part?" Spoiler alert: it doesn't get good. My trek through this national park was filled with complete misery. Going from Clingman's Dome to Newfound Gap were literally some of the most painful miles I had hike – I slipped five times! I ended up leaving my wallet in a shelter and realizing it was gone 20 miles later. My morale was completely shattered but, because of the trail community that had pushed me this far, I never quit. That loss of momentum was extremely humbling and it helped me open up to the support of the people of the trail. The following week was filled with an outpouring of generosity, which is why I look back at one of my lowest points on trail so fondly.
Erwin to Damascus:
Expectations are a wonderful thing to lack. That's why this section of trail absolutely blew me away. It's easy to forget how beautiful and diverse the south half is until you find yourself climbing Unaka Mountain to be greeted by towering spruce trees. Expansive balds, a multitude of swimming areas and even the legend, Bob Peoples, himself dominate this section of the AT. At this time I had started falling in with the group that would eventually become my trail family for the next four months.
These views are incredible at every time of the year in the Roan Highlands.
Every day was a highlight for me over the next week. Hiker hunger was kicking in, Virginia was quickly approaching, and I felt like I was beginning to hit my stride. I may be overrating this portion because of its significance to me, personally, but it has some truly amazing scenery throughout.
Bob's Dairyland is one of the best stops for town food on trail. They have amazing 32 oz. milkshakes!
I said that I went into this section with zero expectations and you should too. Weather is important to the level of enjoyment on trail and I definitely got lucky here. I recommend planning around the plethora of awesome shelters, hostels and swimming holes that are strewn about on your way to Virginia. If you have to pick one section of the AT to hike; this is one of your best options.
This was the moment I realized that I had fallen in love with long distance hiking; watching the sunset behind Vandeventer Shelter with my new friends.
Trail Days:
Starting early and hiking with a fairly large group of people certainly limits your options when it comes down to going back several hundred trail miles to Damascus for the largest gathering of hiker trash on the east coast. I had already given up on the prospect of reaching Trail Days because I knew I'd be in Pennsylvania by the time. The group had threw around some ideas but, eventually, there was only going to be one real way it would happen. If by some cosmic alignment a bus picked us up to where ever we were on trail – that's the only way we would all make it down. What are the odds of that happening, though?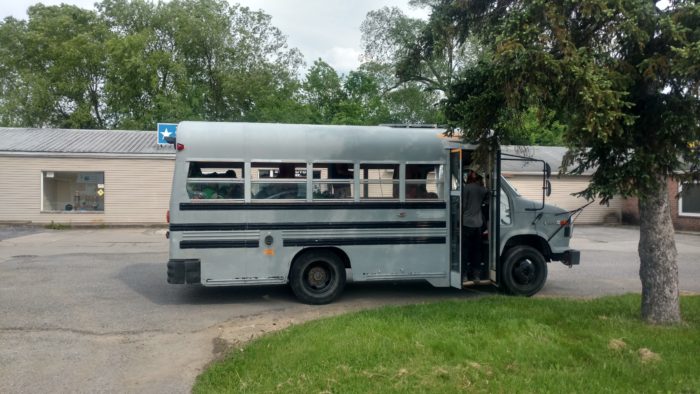 You can't make this stuff up…
Shout out to Barbarossa for taking in a bunch of strays. The fantastic nature of being in the right place at the right time on trail makes it more than just a long walk. Having those few days off from hiking was rejuvenating, despite the fact that we were tenting in the middle of a massive party. By the end, I felt much closer to the group I was hiking with. It seemed like we were all going to make it.
The Whites:
The White Mountains section has to be the most glorious, brutal, challenging, tear-inducing section of the entire trail. Going down Moosilauke's Beaver Brooke Trail is no joking matter and that's the first reality check you get in New Hampshire: this is indeed the hardest part of the trail. But you would be doing yourself a major injustice if you skipped any of it.
Lonesome Lake isn't that lonely
These mountains are, hands down, the best the AT has to offer. The first time reaching the alpine zone gave me the feeling that I was actually climbing mountains. The views started becoming so completely blown out that my mind struggled to hold itself together. I was enamored.

How many times can Franconia Ridge make you say, "whoa"?
I did not deserve the weather I got. The weather was almost immaculate throughout this section. I don't know how it happened, but all I'm saying is that I'm sorry for the soul of my firstborn child. Sacrifices have to be made one way or another.
Thru-hikers stand out like sore thumbs among the common folk of the trail.
Thru-hiking has many crescendos as far as mood goes. I went from merrily jogging up Mount Washington to crying on the way down to Madison Spring Hut. It kind of just happens. By the time we hit the Presidential Range, exhaustion had taken its toll. Slackpacking opportunities were taken with a fervent madness. Any sort of relief to the pain we were enduring was welcomed with open arms. I frigging loved it.
Thru-hikers stand out like sore thumbs among the common folk of the trail.
Maine:
I was told that Maine was the most beautiful state by so many people. They were so right, and this is coming from a guy from Maine. Maine opts for vast stretches of lakes and pleasantly green ridgelines over the wonderful mountainscapes of New Hampshire. Two states that border each other are somehow completely different in feeling. However, the first hundred miles of Maine are just as painful as New Hampshire. I'd be lying if I didn't seriously consider quitting when I got to Andover. Once you cross the Kennebec, though, things start to actually become easy.
Camping next to ponds, rivers and lakes can, and should, be a daily occurrence.
It blows my mind how little I appreciated my home state before the AT. Views from a body of water can be just as magnificent as the views from a mountain. When my aunt picked me up from Monson and brought me up to Greenville I was floored. The trail had completely changed my perception. I was surrounded by amazing scenery constantly as I was growing up and I had never noticed.  The Hundred Mile Wilderness was a straight drive from where I lived and it went unnoticed by me for so long.
If there's one blue-blaze trail you do, make it the Gulf Hagas Trail.
Maine is the reason that northbound is the definitive way to thru-hike the Appalachian Trail. You can choose to end wherever you want but how could you possibly beat ending 2,200 miles of arduous hiking on Katahdin? Walking along Maine's Appalachian corridor is akin to walking through a fairy tale forest. It's magical.
Katahdin is the reward for making it all the way. This climb is fun.
Again, let me reiterate how lucky I got. The rain in Maine remained contained and I had been trained to traverse this terrain. This was my home state. There were probably two whole days where it rained lightly and another two days that had brief showers. I couldn't have asked for a better way to end my thru.
Conclusion:
You may have noticed that good weather was a common theme in my favorite areas. I sincerely doubt I would have felt the same way about many of these moments if they had poor weather. The sections that I really despised all had absolutely **** weather. Bugs didn't annoy me nearly as much as extreme heat and humidity. Intense wind going down a mountain? Fun. Intense rain going up a mountain? Forget about it.
I've chosen to do the Arizona Trail next because those moments that happened towards the end stood out the most. Not just because they were fresh in my mind, either. They were constantly beautiful and incredibly rewarding. Hopefully I can take everything I've learned about thru-hiking and appreciate something completely different.
Honorable Mentions:
Springer Mountain to Franklin, NC
Four State Challenge (worth it but not really)
Weekend in NYC
Vermont
100° with 100% humidity into Connecticut
Mahoosuc Notch
Affiliate Disclosure
This website contains affiliate links, which means The Trek may receive a percentage of any product or service you purchase using the links in the articles or advertisements. The buyer pays the same price as they would otherwise, and your purchase helps to support The Trek's ongoing goal to serve you quality backpacking advice and information. Thanks for your support!
To learn more, please visit the About This Site page.