Momma told me there'd be days like this: Week 3 in Pennsylvania
Let's just lay it out right up front. Everything you ever heard about the AT in Pennsylvania is true: 1) The rocks are ankle-twisting, knee-blowing, jagged, and apparently spaced in exactly the configuration required to trip hikers, pitching them face-forward onto spots where no safe landing is possible. 2) The rocks aren't so bad. They slow you down a little.
Our last week in Pennsylvania demonstrated the truth of both those statements, with each typically being accurate two or three times a day.  We'd shift back and forth between cursing the SOBs who intentionally routed the trail across boulder fields when there was a perfectly good forest road within 40 feet, and mocking the rock- weenies who complained about the terrain.
So which of the Pennsylvania trail truths is most true?  Probably the first one.  I wore a brace on my right knee the whole week, and took ample doses of Vitamin I every morning and evening.   At one point we were celebrating big boulders because they were easier to navigate than the little rocks, even if they did have treacherous drop-offs.
The final verdict? This morning, descending a steep  flight of stairs in a hotel, I was happiest when I could suspend my weight from the banisters and do a one-legged swinging hop down the stairs on my left leg.   I think this means the rocks won.
One of the things we did enjoy this week was the long views of the Pennsylvania countryside. Between Pine Grove, PA, where we started, and Delaware Water Gap, where we're taking a recovery day today, the trail is mostly a ridgeline route, with views to both sides.
Palmerton was the exception. I knew as soon as we approached it that something was "off," because the oak-beech-red maple forest turned into a shrubby pine and decadent white birch forest, a good sign of a massive disturbance in the past 75 years. Sure enough, Palmerton is a Superfund site, where federal agencies are cleaning up thee 33 million tons of contaminated by-product from the zinc mining that went on from the early 20th century until 1980. We didn't stop for water….
We also didn't run into many dayhikers. Between rocks and rocky wastepiles, there's not a lot to draw folks. But we did encounter growing numbers of section hikers, mostly people in their 50s and 60s finishing a hike that had begun years or decades earlier, or just chipping away at the AT in small increments, 20 to 200 miles at a clip.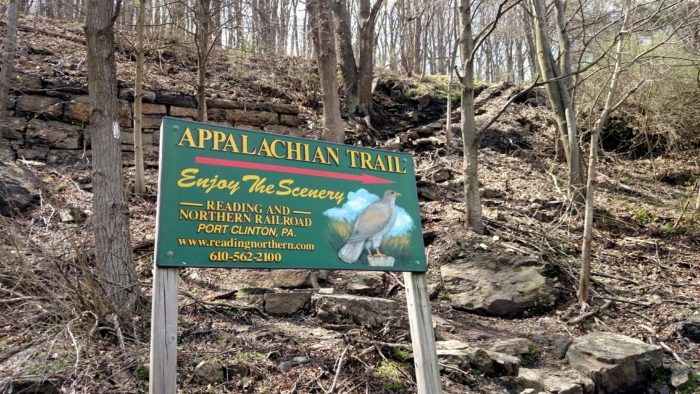 We got a little envious of one trail family that was always a mile or two ahead of us. One of the four needed to stay in close range of his truck because of his sick mother, so he was supporting his wife while she slackpacked, and showing up at trail crossings with water and sandwiches for the other two. The slackpacking angle got more appealing to us as the week went on, so before we got to Wind Gap, we engaged a local trail entrepreneur who has been providing water, accommodation, and shuttling for hikers for 20-some years. The accommodations consist of space on his garage floor and access to the bathroom by his son's and wife's rooms ( "They complained about it at first," he told me, "But I said, hey, they're sleeping on the garage floor. The hot water's what they're paying for."  His bathroom is on a different floor, off- limits to hikers, although his wife, in a fine display of marital dynamics, did let me use it at one point.) But the water was hot, and he was thoroughly cooperative about shuttling us and our stuff around. But talk? Oh my God. Let me tell you, he was a veritable fountain of information.  So is Siri. Imagine if she were On. All.The.Time. You'd smash your iPhone to bits on the nearest rock (which, in Pennsylvania, would be very near).    And speaking of phones…At different points during our sojourn with this fellow, all three of us had our heads down looking at our cell phones, even while eating at the local pub ( Kunkletown Pub, with good prices and food) where he drove us and then invited himself to join us. It made no impression. I think he decided he'd just overlook our rudeness and keep talking. Best example? That night, I pitched my tent on his lawn because he'd found 3 new people for the garage floor, and I knew at least one would be a snorer.  Protocol, he'd informed us, was to pee on the lawn, so around midnight, I stumbled out of my tent and over to a dark area to do just that. As I started back into my tent, his voice boomed out of an upstairs window, telling me he'd warned the guys in the garage not to snore. At first I thought, "creepy voyeur," but then I realized he was just seizing the opportunity to talk more.  If I could have, I would have dragged the tent farther into the woods. With my teeth.
Between rocks, I was amused by passing the random assortment of  travellers in the woods, all moving at a pace and with a purpose entirely at odds from the lives playing out a few miles on either side of us. I keep expecting a really interesting group will come along, like the travelling Symphony from Emily St. John Mandel's Station Eleven, or the itinerant magicians from Erin Morganstern's Night Circus.  But there's no magic yet, not even Trail Magic, the cold water or beer or soda that appears at trailheads down South, or maybe when the hiker bubble appears up here.  We're staying hopeful we'll run across some serendipity in the next couple of weeks.
But truly we'll be happy enough when the jumbled rocks peter out a little further up the trail.
---
Affiliate Disclosure
This website contains affiliate links, which means The Trek may receive a percentage of any product or service you purchase using the links in the articles or advertisements. The buyer pays the same price as they would otherwise, and your purchase helps to support The Trek's ongoing goal to serve you quality backpacking advice and information. Thanks for your support!
To learn more, please visit the About This Site page.