My Gear: What Worked and What Didn't
Now that the trail has wrapped up, I thought it would be prudent to talk about things that worked, and things that didn't. Before this hike, I had some gear but figured it was time to buy the exact things I wanted, then I would be able to hang on to it afterwards and use it for years to come. I didn't pick every single thing from my gear list for this post but instead picked items that rouse some kind of emotion, whether it's love or hate. If anyone has any questions or wants a bit more explanation feel free to reach out!
Zpacks Duplex- I heard someone say all tents work great when the weather is great, I feel like this tent relies on good weather to properly function. It's cheap quality, poor design with a pole in the middle of the doorway, there is a ton of condensation, and the vestibules don't pitch low enough so in any kind of storm we were getting soaked from splash back. This tent belongs in the desert or areas without frequent thunderstorms or persistent rain.
Durston Gear X-Mid Pro 2- This is simply the best tent I have ever used. Huge vestibules, pitches to the ground to create an impermeable bunker. Much larger than the Duplex at basically the same weight, super high quality, easier to setup and dependable. We switched to this tent at around the halfway mark and couldn't have been more pleased.
Katabatic Flex 22 Quilt- As a warm sleeper I didn't want to roast and having a cinchable footbox was key. I was never cold in this quilt but could imagine some people might be if they run a bit colder. My partner had an Enlightened Equipment Enigma 10F and she loved it. Both seemed like the perfect options for us.
NeoAir Xlite- Great pad, I have the first generation and it's still kicking. Crazy light, decently warm, and very comfortable.
HMG 3400 Junction Backpack- Before starting the trail I was torn between the 2400 and 3400. I knew I wanted a DCF pack for water resistance and durability and really feel like I put it through the ringer. The 3400 was key for the last section with 10 days of food. Some friends had the 2400 and they had to get pretty creative for such long resupplies. The only difference is about 4 inches of material that rolls down anyway so it works just as well for smaller loads. Felt great and I didn't have to baby my pack, great option for river crossings, wet weather and bushwacking.
Altra Lone Peak 5- I've had several pairs of Lone Peaks and I am not a fan of the 5s. By now there are newer versions out there but I think the new AltraEgo Foam is too hard. By 400km they were rock hard, while a friend with the 4.5s was still walking on clouds. In the future I would swap to the Olympus.
Arc'teryx Palisade Pants- Can't say enough about these pants. They are pricey but I've had them for nearly 8 years and wear them all the time. I've climbed in them well over 100 times and they made it through the GDT with plenty of bushwacking. They did rip but it was easy enough to sew them back up and you can barely tell.
Icebreaker Amplify Short-Sleeve Crew- My favourite t-shirt. A major take-home lesson I learned thru-hiking is to bring your favourite things. I have 2 of them and wear my GDT shirt at least 3 days a week all year round.
Icebreaker Anatomica Boxers- Again, expensive but worth it. Still my favourite pair of boxers and I wear them all the time. They kept the stank away during those 7+ day stretches and dry fast after those swims with a few too many day hikers around to drop dong.
Patagonia Baggies- I still wear them every day during the summer and on every hike. They are stained and faded but tell a story and are good for just about everything.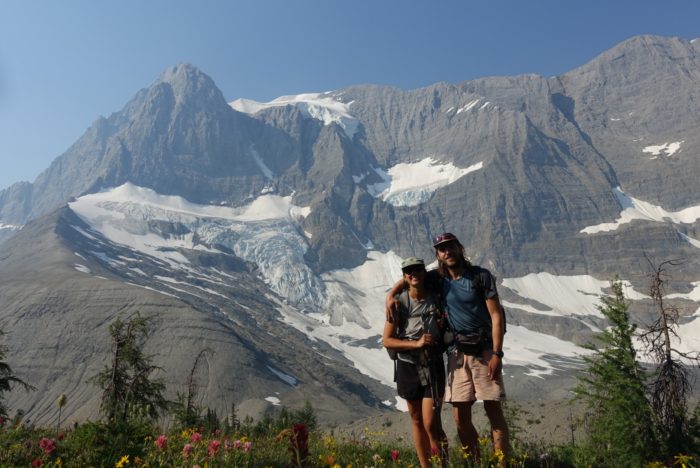 Alpha SL Anorak- Don't waste your money. I was looking for a lightweight 3L Gore-Tex shell and this seemed like the pinnacle. The anorak (pullover) style was lighter but a pretty big pain in the butt. Also, the new fabric started to leak through the shoulders after only a few days of wear and the area of the zipper lets in an absurd amount of water. I was soaked after wearing through a 1-hour thunderstorm, so what's the point? **Arc'teryx did warranty the jacket for me but I'm still surprised I got wet in a new jacket.
Outdoor Research Helium Rain Paints- Not waterproof. These might be ok if you are in light mist or a brief rain shower but for any sustained rain they will leak. Any bush or shrub you touch will push water right through too. Either just accept getting wet or get a better pair of rain pants.
Boundless Voyage 1250mL Ti Pot- Light, simple, inexpensive (relatively), and the perfect size for 2 people.
Fiasco Gelato Container with Reflectix Sleeve- Best bowl ever, has a screwtop lid that doesn't leak. Plus it comes with gelato. The reflectix really helps hold in the heat when rehydrating food. The screwtop lid makes it easy to put some water in and shake it up so you can drink down your remnants.
Ursack Major XL- I don't see any reason to carry a bear can unless required. The Ursack is the bomb. For the last section I had to carry a second regular sized one. The Major XL is big enough for about 7 or 8 days but that's it.
GoPro Hero 7 Black- The battery is so unreliable I ended up ditching this just over halfway. It does take fantastic video but just isn't dependable enough for a backpacking trip. I would sleep with the battery in my pocket and it would still manage to drain overnight. It became dead weight pretty quick. I used a Sony RX100 most of the time anyway for nice still shots.
Suunto 9 Baro- I love this watch. I can get over 5 days of GPS tracking without a recharge. Watches like this all have the same features but the battery on this was awesome.
Anker Powercore II Slim 10k- The perfect size, never needed more power than this.
Petzl Tikka- Thankfully there isn't a lot of darkness on the GDT because of the long days. I have had this headlamp for years and never needed more power. One set of batteries lasted the entire trail.
LiteAF DCF Fanny Pack- A bit of a splurge but great. Kept my stuff dry and still looks great. I could fit snacks, camera, phone, battery, and cords with ease.
Affiliate Disclosure
This website contains affiliate links, which means The Trek may receive a percentage of any product or service you purchase using the links in the articles or advertisements. The buyer pays the same price as they would otherwise, and your purchase helps to support The Trek's ongoing goal to serve you quality backpacking advice and information. Thanks for your support!
To learn more, please visit the About This Site page.