New Boot Goofin'
After a quick stop at Station 19E, I headed into the Roan Highlands. The following days of hiking were spectacular and challenging. The highlands concluded with a descent to Uncle Johnny's Hostel. My new shoes awaited me and my feet couldn't be happier. One relaxing night in a bed and then I was back on trail!
Day 119 (24.7 miles)
An emergency poop to start the morning. Most of the shelters in TN haven't had privy's, thankfully this one did. I wouldn't have had time to dig a cat hole. I hurried back to my tent and re-entered my sleeping bag. The sun was taking its time, but I waited until it lit the dew covered field. Immediate warmth followed. I proceeded to pack up and head out.
A big climb in the morning led to some absolutely breathtaking views.
After a dream like ridge, I began to descend. It was thousands of feet down and my knees were not happy. I took an early lunch with some other hikers, a decision that I slightly regretted that afternoon. It was 1:30 pm and I still had 17 miles to go. The rest of the day consisted of lots of elevation and pain. I was so happy to make it to camp. I basically threw my gear into the Cherry Gap shelter and went to bed. At least there were lots of mice to keep me warm!
Cherry Gap Shelter: T1, S3, P3, W1, B1
Total Score: 9
Day 120 (17.2 miles)
I actually set an alarm to get up at a decent hour. The mice the previous night were bad, but the stars were awesome. I booked it into town. Eager to get my new shoes and be out of pain. I took some Ibuprofen in the morning to drown out the foot and knee pain. It did it's job for the first few hours of the day.
I made it to Uncle Johnny's Hostel at 1:30 pm. Just before the hostel was a large gushing river.
I got a shower and then biked a few miles into Erwin, TN. A quick stop at McDonalds and a gas station, then I headed back to the hostel. I relaxed the rest of the night with the other hikers. We enjoyed some cold beverages, food and a fire!
Day 121 (16.8 miles)
A relaxing morning at the hostel. I didn't wake up until around 7:30 am. A hot coffee and a breakfast sandwich were a perfect morning snack. It was a gorgeous blue sky day out. I planned for a shorter day out of the hostel. This meant that I could take my time in the morning and enjoy some rest. The hiking this day was just one long climb. 6000 feet of vertical ascent. The initial ascent had a decent view of the valley and river that I came from, but after that it was a mostly viewless day.
The trail itself was relatively gradual and well maintained. My feet felt amazing in my new shoes, something that I thought I would never say. There was some trail magic about 12 miles into the day. Fried chicken, soda, beer, donuts, and fruit. A great treat before the final climb up to the Bald Mountain Shelter.
The shelter itself was a double decker and well kept. Unfortunately, late that night, a very noisy couple came to the shelter. They talked loudly and shined their lights into the shelter until 11 pm. Then they proceeded to throw their gear around as if it were a sack of potatoes. It was roughly midnight until I was able to go back to sleep.
Bald Mountain Shelter: T1, S2, P5, W1, B2
Total Score: 20
Day 122 (21.9 miles)
Dirty, Tick Bite, and I got up at 6 am to watch the sunrise on Bald Mountain. I was sure to be very quiet while packing up, I didn't want to disturb the very kind couple sleeping near me. It was just over a mile to the top of the bald. The night hiking reminded me of my time in Northern PA. The early morning was well worth it! What an amazing sunrise!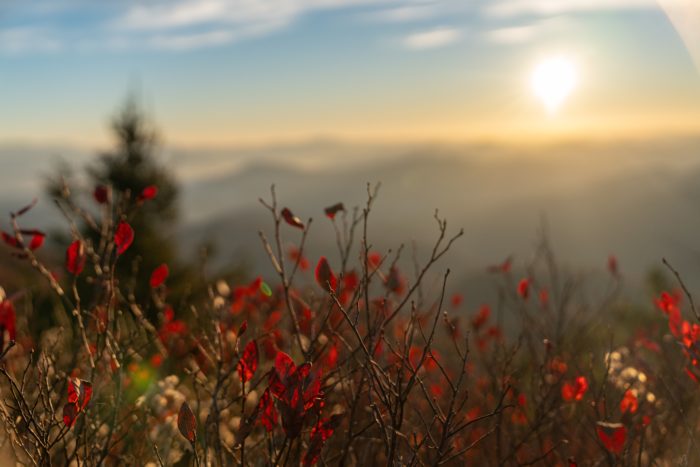 As you can tell… I took a lot of pictures. It is mornings like these that I feel completely present. I am reminded of why I put myself through the pain of hiking. You can have the worst day of your life but one thing is certain, the sun will rise and that itself is an opportunity for tomorrow to be a better day. That is of course until the sun goes into its later stages of life and completely destroys Earth as we know it. But that is a long way off. Therefore, in my life time, sunrises are a "certainty".
It was surprisingly warm this day, even at the higher elevations. I drank considerably more water than in the previous weeks. The trail meandered down for a long ways and then finished with a small climb. I ended my day at a campsite near the Shelton Graves. The Shelton brothers were Union soldiers in the Civil War. They were shot and killed by Confederate soldiers when they tried to return home during the war. It's a sad story, but they are buried in a beautiful place.
Shelton Graves Campsite: T1, S2, P1, W5, B1
Total Score: 10
Day 123 (19.6 miles)
A warmer morning, followed by a small climb up to Big Butt mountain. A funny name for a lackluster view. The terrain was rocky and there was an odd bypass around it that I didn't take. I did however take a picture due to the inherently funny name.
After Big Butt, there was a long semi-exposed ridge. It had beautiful views looking East and South. The rocks were sustained for the next few miles. It was enjoyable to have a change of pace and some nice views!
I stopped at a shelter for lunch and ended up relaxing there for nearly 2 hours. I thought the remaining 8.5 miles would go by fast. I was wrong. There were some steep ascents and descents that kicked my ass. The South is no joke! I did, however, pass mile 1900! A great milestone, less than 300 miles to go.
I made it to Spring Mountain Shelter in the evening. The wind was beginning to pick up and it got chilly. I wanted to stay in the shelter, but it was a piece of shit. Half of the boards were broken and it looked structurally unsound. I pitched my tent instead, making sure to avoid any widow maker branches and trees. I was exhausted this night and didn't move much once I got into my tent. Happy to be a few miles closer to Springer.
Spring Mountain Shelter: T1, S3, P2, W1, B4
Total Score: 24
Thank you for reading this trail update! I hope you enjoyed the content that I captured from this section. I've been loving my new shoes and my feet are finally feeling better! Hopefully that continues for the remainder of the trail. Until my next post, remember to keep wandering in your own direction!
Affiliate Disclosure
This website contains affiliate links, which means The Trek may receive a percentage of any product or service you purchase using the links in the articles or advertisements. The buyer pays the same price as they would otherwise, and your purchase helps to support The Trek's ongoing goal to serve you quality backpacking advice and information. Thanks for your support!
To learn more, please visit the About This Site page.
Comments
3
Drew- Again, thank you so much for investing the energy and the time to write these posts. If they ever feel like too much trouble and you question whether you should make the investment, just know that there are a bunch of us anxious to see your next post.

Thank you so much for this! I really appreciate it! I'll do my best to keep it up.