Not 'the Trip of a Lifetime' but a Lifetime of Trips – summering on the Pacific Northwest Trail
Hi, I'm Skunkbear.
I'm a professional cartoonist, avid coffee drinker, and food-scarfing, mile-eating thru hiker. This year I'm hiking the Pacific Northwest Trail – the forested, mountainous east-west corridor between Glacier Montana and the Pacific Ocean.
It's good to be back on trail.
The Flip Flop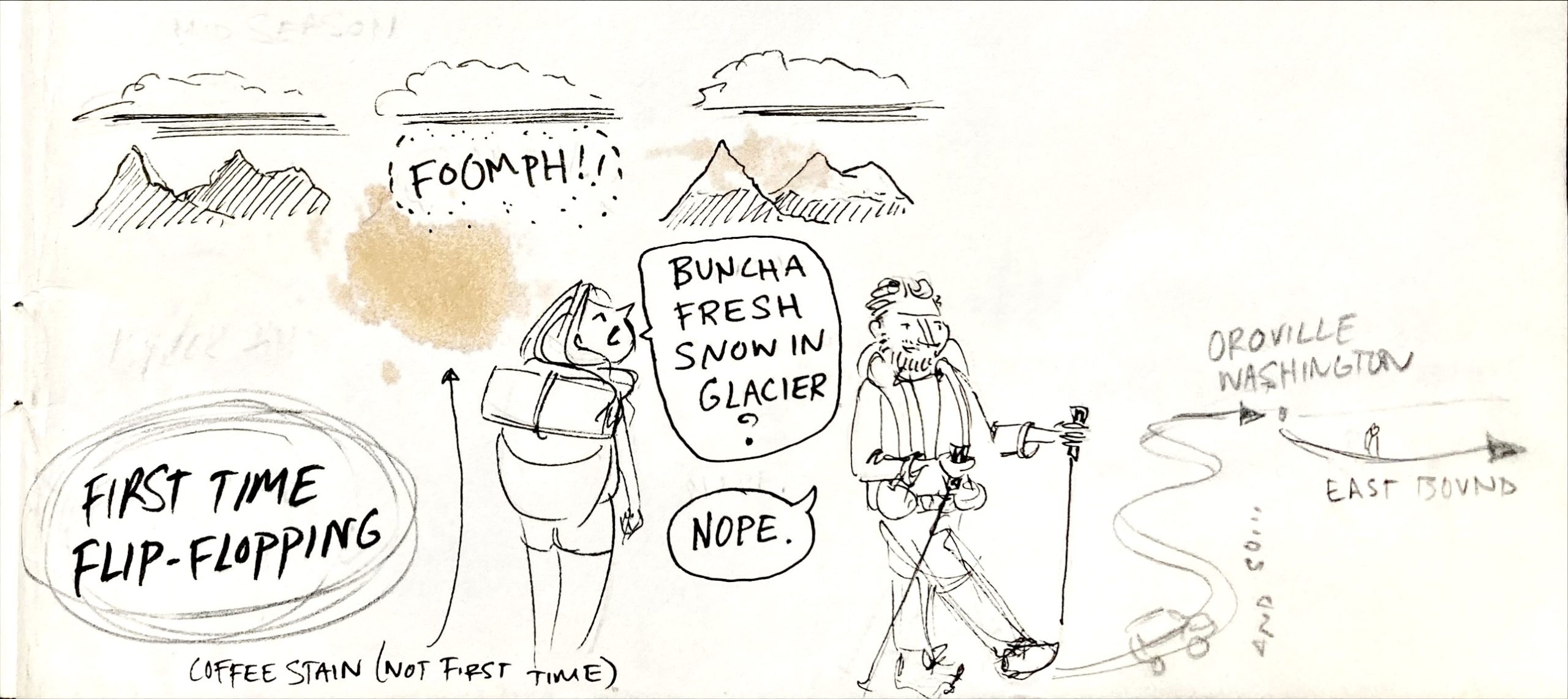 The week before we started in Glacier, it dumped two feet of snow. Did we feel like hauling our butts through that snow? Nope. We did not. So we're flip flopping. Hiking from the center of the trail in Oroville and heading east till Glacier, then flipping back to Orville and hiking west till the terminus in the Olympic Peninsula.
The Trip of a Lifetime
On my first big thru hike on the Pacific Crest Trail, people always referred to it as the trip of a lifetime but I never liked that phrase. I wanted much more, if I could manage it. Why not, if the trips are so incredible, fill a whole life with them.
Above: And holy $*@!, there are a lot of mosquitos this year.
Hikers often refer to off trail life as "real life" and often someone nearby interjects "this is real life" and sometime that's the end of it and sometimes there's a prolonged discussion about what we mean by "real" until someone gets hungry and stops for a snack.
But what does it mean for trail life to be real life?
Of course, it depends on each hiker – where you are in your life, how you like to talk about it, what you like it to be.
For me, that first thru hike on the PCT didn't feel like real life. It was a break from the norm, a trip, a way of life but a rarified one.
I thru hiked the Colorado Trail and that also didn't feel like real life. It felt like a trip. A beautiful long escape.
I thru hiked the Continental Divide Trail last year and that felt different. It was tough, but also a safe haven. It was a moving refuge, a place I knew I could be ok and strong, which I deeply needed at the time. It was no longer a trip, it was a way of being in the world. Trail was now a place I could go to live for a time.
And now, on the Pacific Northwest Trail, hiking life feels like real life.
This change of state isn't trail dependent, it tracks where I am in my life, how I'm using long hikes to ask myself how I most like to live. My PNT could be someone else's PCT could be someone else's Heyduke. I'm trying not to hunt down these trails, not to hang them on my wall as trophies. I'm attempting to meet each one where I am, when I am. Each time they're different and I'm different.
Part of why the PNT feels like real life is that it's gotten easier to be on trail.
It's no longer a week of hurting hips or a month getting up to speed. My body seems to retain the training of every trail I've done before and so each trail feels easier, more normal, more like just walking into the other side of my life.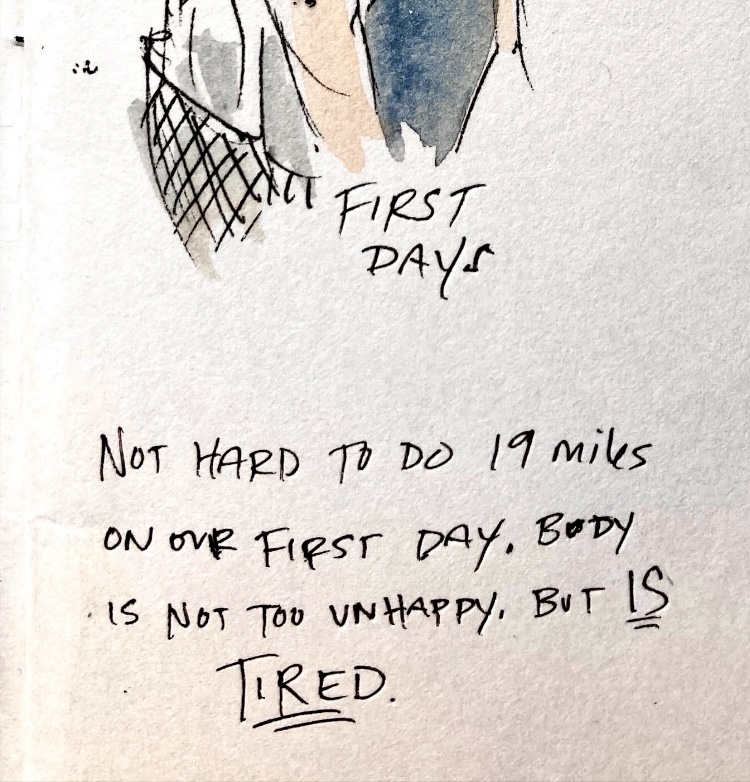 Every trail I draw a picture like this about the first few days
And every trail the first few days get easier. They're a shift to something familiar, not a big change to something new.
It's not a week of Tetris to figure out where each piece of gear best lives – I use my old setup and mull over a change or two. My town chore list is second nature. And my ideas of productivity have changed, not to be more productive in this trail life, but to be less productive in my non-trail life. Many of the things I do in that off trail life don't actually need to be done.
Trail has taken on its repetitive cadence.
We're two weeks in. Because of the snow-induced flip flop, we're starting in the lowest stretch of trail so the miles are easy and largely uneventful.
We walk rolling pastoral roads that are wonderful, then monotonous, and then wonderful again. Logging roads that are easy, then too easy. I'm carrying hydrocortisone creme for the first time and as the bugs bite, I apply, they bite again, I reapply. There are bushwhacks and long, hot afternoons and two days of cold rain and hail. I'm hiking with Sashay, my partner of 16 years and we started with Wolverine and Bug, trail friends from the end of my CDT hike last year. It's a simple, repeated joy to turn a corner and see them plopped in the dirt pulling out lunch which means I can plop in the dirt and pull out lunch.
But the repetitive cadence is why I'm here. The good boring of everyday life. Routine and routine, occasionally marked with excitement, celebration, fear, desire, gratification, then routine and routine.
This is why it feels like real life. It's a balance of heightened and mundane.
I make no claims that I'll feel this way on my next trail, or even on my next resupply. All this could change in a moment. But right now, on the PNT, trail life is real life and it feels good.
Above: Quick pee in the grass on one of the many long road walks.
Affiliate Disclosure
This website contains affiliate links, which means The Trek may receive a percentage of any product or service you purchase using the links in the articles or advertisements. The buyer pays the same price as they would otherwise, and your purchase helps to support The Trek's ongoing goal to serve you quality backpacking advice and information. Thanks for your support!
To learn more, please visit the About This Site page.