Oats on the Appalachian High Route: Day 1
Miles: 12.5, Burnsville Connector + Black Mountain Crest Trail
My day began with maple brown sugar oatmeal. My Mom and Gram were waiting anxiously for me to finish packing my things so we could begin the drive to Burnsville. I handed my freshly loaded Hyperlite to my stepdad Jerry. "Yeah, I wouldn't want to be carrying that."
At the Burnsville Visitor Center we chat with the staff and discover a paper map exists for the Appalachian High Route – something that excited my Gram so much she snagged three. I ask the kind woman that's been chatting us up to calm my Gram's fears; "She's got all the right in the world to worry, she's your Gram isn't she?" After snapping few photos and saying our goodbyes, I was off down Main Street.


The road walk out of Burnsville was charming. I would window shop if I didn't need to carry additional purchases on my back for the 50 miles. I eyed several spots that seemed up to the challenge of satiating my hiker hunger when I finish my hike once more on Main Street, missed a turn which added a half mile,then continued on towards the woods.
The road walk continued another few miles to the beginning of the Black Mountain Crest Trail. I could smell the decomposition and humus, felt the familiar humidity surround me, and noticed the trail was littered with some of my favorite minerals – kyanite and muscovite. Now we're talking.
I followed Bowlens Creek for a time until the trail took a sharp left and began climbing – and then didn't stop. I was feeling strong until about mid-afternoon when my endurance had flattened out. My partner's voice echoed in my mind, "I'm not worried about much for you on this hike, but I do worry you're not in your best shape." He was right, but I'm a Taurus; so I pivoted. "I've never prepped physically for a long trail." I recalled my first day on the Appalachian Trail with my 30-lb pack in tow: for steep ascents, I would take 40 steps and then sit for 10 breaths. That was it. 40 steps, 10 breaths. My pack is much lighter now than it was back then, but I still use this technique through the growing pains of earning my trail legs. After an outrageous outpouring of sweat and the realization I will smell like this until the next shower I receive, I made it to Celo Knob, the first 6,000 foot peak of my bagging-extravaganza.
Then, things started going wrong. My camera, the pride and joy of my pack that had already helped me capture so many memories, fell from its clip and the screen cracked on a rock. Before a panic attack set in, I checked to make sure the lens and functionality of the camera still worked. After remembering my drop accident insurance and rescuing the clip that had apartently unscrewed itself while I was hiking back to my pack, I headed down the trail once more.
A few miles down the trail, I glanced down to my camera to notice just in time a screw that was connecting the clip to my pack had unscrewed itself and fallen off – and that my camera was one wrong move away from taking another spill! Apparently the wrong move must've been moving my elbow, but the right move was bringing my forearm up to catch the camera safely. Phew! The real acceptance came when after 15 minutes of searching I couldn't turn up the still-missing screw and the clip had now screwed so tightly into the camera body it wasn't budging – rendering my tripod totally unusable as long as the clip is inserted. What a day.


Then, things started going right. I made it over Gibbs Mountain and Winter Star Mountain to settle in for the night at Deep Gap. After scarfing down some mac and cheese, I heard a male voice. "Hey! Mind if I come down to your camp for a bit?" I glanced up the hill and saw a man in his 40s beckoning to me with a wave. "Sure, come on down!"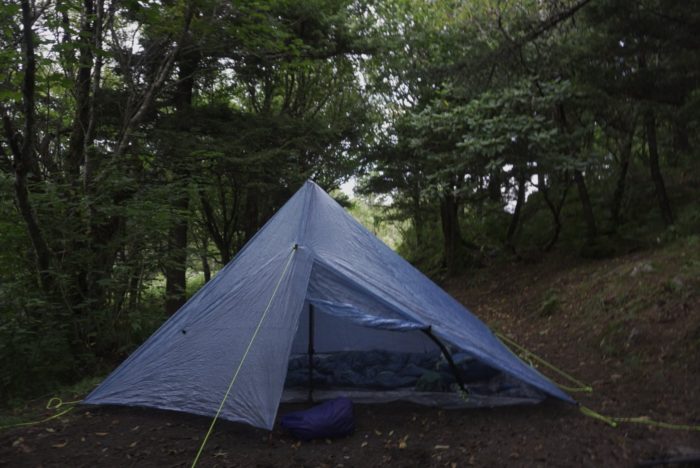 "You don't happen to know where the water source is here do you?" He asked after introducing himself as Jackson, having hiked in from Mount Mitchell earlier this afternoon. "Actually I think it's just on the other side of Celo Knob. I had to camel up," referring to my ~1.5 L of water remaining after my feast. "How much water do you have?" Jackson shuffled nervously. "Two 16 oz bottles." Knowing he still had dinner to make, I filtered some water from my dirty bottle and split our cumulative remaining water equally. Poptarts for breakfast has its advantages.
That evening, Jackson beckoned me over to a small bald just above our campsite and we watched the sun dip below the horizon. The reds and oranges danced off the clouds as we watch the entire show, as if it was only for us. "I hope you get to see some more sunrises and sunsets on your hike." I smiled, thinking of all the sunsets I've shared with my partner on our 4th floor apartment balcony with his daughter and my dog by our sides. "Yeah, me too".
Affiliate Disclosure
This website contains affiliate links, which means The Trek may receive a percentage of any product or service you purchase using the links in the articles or advertisements. The buyer pays the same price as they would otherwise, and your purchase helps to support The Trek's ongoing goal to serve you quality backpacking advice and information. Thanks for your support!
To learn more, please visit the About This Site page.