Our 2015 Fall Backpacker's Gear Guide
Stepping outside during autumn is a symphony for all the senses.  Finding time to get into the mountains and/or woods during this time of year to soak up nature's splendor is borderline mandatory for anyone who considers her/himself a backpacker.
Knowing what to pack for winter's opening act is essential.  That's why we've put together a few of our favorite pieces for this highly variable season.  Submissions are courtesy of Appalachian Trials Writers (and a guest submission), all of whom have completed the Appalachian Trail.  Any gear recommendations not attributed to another writer are courtesy of me (Zach).  Enjoy!
Mountain Hardwear's Ghost Whisperer Down Jacket is 7.7 ounces.  That much warmth at less than a half pound seems like science fiction, but really it's just science, or more accurately science plus birds.  Utilizing 800 fill power down with Mountain Hardwear's proprietary Q.Shield hydrophobic (waterproof) treatment, this jacket packs down to the size of a grapefruit while still retaining its loft after serving as both my camp insulating layer and pillow to my sweaty, stinky head.  There are warmer down jackets out there, but this is perfect choice for the shoulder seasons as it's ample warmth at a much lighter load.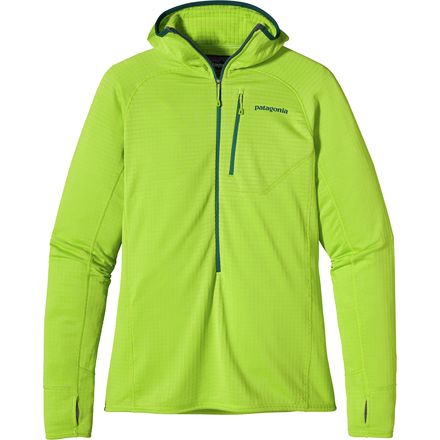 Without question, Patagonia's R1 Hoody is my new go-to cold weather mid-layer.  Utilizing Polartec's Power Grid fabric, the R1 retains your body heat, it's soft, stretchy, lightweight, and breathable.  But my favorite attribute is the piece's range of temperature control.  When not generating heat, zip up the piece all the way and throw on the balaclava style hood to cover your mouth.  During a steep climb, unzip the mid-layer all the way down to just above your navel button, leaving your bare chest out to soak up that cool mountain air.  Perhaps a technique more appropriate for the guys.  In either case, as far as mid-layers go, the R1 is a can't miss.
"My Smartwool LS Midweight Zip Top is extremely comfortable for cooler days and chilly nights. The merino wool drys quickly and is anti-microbial, which means it keeps odors from getting out of hand." – Ashli Baldwin, 2014 AT thru-hiker
"On my autumn hike of the Colorado Trail this year, I packed out the Icerbreaker Zone Long Sleeve Half Zip as my baselayer. For someone who sweats a great deal on both climbs and the contact of the pack against my back (no matter WHAT the temperature outside is), I can confidently say that this piece was about as good as it gets in terms of not overheating and being comfortable. It was the right layer for the job. On those extra cold and windy days I'd throw on my rain jacket and that combination was perfect for the high country. Not only does it dry fast, it's perfect as an extra warming layer at night in the sleeping bag. You can even get away with wearing it in town to class your hiker trashness up a bit, although YOUR stench (not the shirt's) will always be the overwhelming offensive dead give-away." – The Real Hiking Viking, 2013 AT thru-hiker, 2014 CDT thru-hiker
"Outdoor Research's Deviator Hoodie is beautiful! It matches everything (seriously, I wear it every day- hiking, hanging or working). The temperature rating is spot on. It's comfortable on 40 degree nights, and it's breathable on 70 degree uphills. At only 9.7 ounces, it's the perfect addition to any pack. I've traded it out for my long sleeved layer (which wasn't, I loved that purple polypro!) and I haven't looked back." – Ashley UpChurch-Kreykes, 2014 AT completed section-hiker
"The ULA Rain Kilt is a lightweight (2.9 oz) alternative to rain pants. It is perfect for the rainy autumn season, and much more breathable than typical lower body rain protection. Since it simply wraps around your waist with velcro, it's hassle free to use while hiking."  – Robert Peck, 2015 AT thru-hiker
When temperatures drop, gloves become a backpacking must. At least for me. Waking up and handling cold tent poles, stakes quickly turns my hands into ice-blocks. Burying frosty fists into my pockets to start the day is both uncomfortable and means I'm without my trusty hiking poles. That's why when temperatures drop anywhere into the 40s or below, Icebreaker's Apex 260 Glove Liners become an essential part of my getup. Lightweight, warm, and all the other beneficial properties of merino (moisture wicking, anti-microbial, etc.) wrapped around your high-fivers makes brisk fall mornings all the more enjoyable.
There's nothing particularly fall-focused about these- instead they're more of a 3-season staple.  In fact, I started off my recent 315-mile section hike with the waterproof version of this shoe, but quickly swapped them out for much more breathable and lighter Altra Lone Peak 2.5.  Provided I'm hiking in any conditions other than snow, the Lone Peaks are my go-to.  They're ultralight, breathable, provide ample padding, and like other Altra models, this trail runner features a very comfortable, wide toe box to let your toes fully splay out without any friction.  With hundreds of miles in these shoes, I have yet to develop a single blister.
"The Targhee II Hiking Boot are waterproof version of the Keen hiking boot. I love these in fall and winter as they are super warm. On my AT hike I wore them for first 1000 mile with only one slight hot spot. Extremely comfortable and durable." – Paul Bunker, 2014 AT thru-hiker
Ten degrees may be excessive for autumn in most regions of the country, but when you're regularly sleeping above 12,000 feet in September, as I was, each gram of Feathered Friends' Lark UL 10 down sleeping bag's fill was greatly appreciated.  Plus, weighing in at only two lbs. (score 900+ fill power), you're not exactly breaking your back to carry the added insurance of a toasty night's sleep.  The bag easily withstood my official durability testing- accidentally getting it caught in my tent zipper- twice.  The Lark is my new cold-weather gold-standard.
"The Therm-a-Rest NeoAire Xtherm is light, warm and easy to inflate, even after a long day of hiking. It has dual sides, one reflective for heat retention and one for warm weather so you don't sweat. It boasts great durability, as I've used mine for over half of AT and many trips since." – Paul Bunker, 2014 AT thru-hiker
…
In warmer conditions, the NeoAir XLite is my go to, however, when temperatures drop, I'm reaching for Therm-a-Rest's NeoAir XTherm. With an R-Value of 5.7 and a weight of only 15 ounces, you get the warmth of four season sleeping pad without the load.  The next-to-skin fabric is soft, allowing for a deep nights sleep.
"Fall is the season where I never know what to pack. Should I bring my summer bag or my winter bag? On the East Coast, fall weather could be snow or blistering heat, so whenever I backpack in the shoulder season I bring Sea to Summit's Thermolite liner with me. At 8.1 ounces, it still won't add as much weight as exchanging your summer bag for your winter bag, but it will add 10 to 15 degrees to your comfort." – Maggie Wallace, 2013 AT thru-hiker
"OK, so this isn't 'essential backpacking gear. But the Playpus PlatyPreserve Wine Preservation System weighs less than an ounce, holds exactly one bottle of wine, and preserves it better than the glass itself. When I have an unfinished bottle of wine at my house, I actually pour it into this. To me, part of the fun of fall hiking is the early darkness and having a drink around the campfire. With this, there's no nasty beer cans to crush and pack out; just roll up the empty bladder and you're good to go." – Maggie Wallace, 2013 AT thru-hiker
"Nothing is better than a hot cup o' joe on a chilly fall morning. If you need a caffeine fix while on a hike, and can't stand instant coffee, go for the lightweigh (.4 ounces) GSI Outdoors Ultralight Java Drop Coffe Maker!" – Robert Peck, 2015 AT thru-hiker
Disclosure: many of the above products were donated for the purpose of review, including those from Icebreaker, Patagonia, Outdoor Research, Mountain Hardwear, Feathered Friends and Altra.
Affiliate Disclosure
This website contains affiliate links, which means The Trek may receive a percentage of any product or service you purchase using the links in the articles or advertisements. The buyer pays the same price as they would otherwise, and your purchase helps to support The Trek's ongoing goal to serve you quality backpacking advice and information. Thanks for your support!
To learn more, please visit the About This Site page.