Our 2016 Backpacker's Holiday Gift Guide: Under $200
The gift perusing continues, with a slightly higher price point. Here are our writer's top picks for backpacking gifts in the middle price range. Good luck wrapping a pair of trekking poles…. if you figure out how to do it, please send us a message with detailed instructions. We won't judge if you buy one, two, or all of these for yourself either. Happy shopping.
Related: Our 2016 Backpacker's Holiday Gift Guide: Under $50
MSRP: $60
I love this piece for three reasons: two huge side pockets that hold everything from a phone, to maps, to snacks; ventilation; and incredible comfort (the wide yoga waistband leaves no imprints on my hips after wearing a pack all day, something I found was common in other shorts or pants). Purple Rain also make hiking kilts for the dudes! Once you start wearing a hiking skirt, you probably won't go back. 
– Katie Brown, AT Sections 2012-15; CDT 2016
MSRP: $65-70
Evernew cook pots are not only insanely light, but durable as well.  The one I used nightly on the PCT doesn't have a single char mark on it, and the rubber handles prevented accidents before they happened.  If you're a couple I'd recommend the 1300 ml. I think the 900 ml is probably the right size for one person – there is a 600 ml size, but it's clearly not made for hikers.
– Maggie Wallace, AT 2013; PCT 2016
MSRP: $69.99
The SteriPEN is easy to use, versatile, and most important of all, it's quick. Water is treated in 90 seconds, one liter at a time, so you can fill up, drink up, and get on your way! It kills all the bad stuff, but only downside is that it doesn't filter out floaties. Consider it more fiber in your terrible hiker diet.
– Connor Adams, AT 2014
MSRP: $80
I hate bugs. Going into the AT, my biggest fear was contracting lyme disease.  The good news, I didn't. The bad news, I got West Nile virus instead. Needless to say, what bugs me most about living outdoors hasn't changed (PUN!). That's why I opt for insect-repellant clothing when anticipating insect-heavy areas.  Exofficio's Bugsaway Sandfly Pants are especially great because they utilize InsectShield, which lasts for 70 washes, about 12 times longer than self-applied permethrin. Add in a mesh inseam panel for superb ventilation, roll-up snaps, and a slew of pockets, this pant is the perfect choice for extended trips with a lot of sun exposure and/or disease carrying microjerks.
– Zach Davis, AT 2011, Colorado Trail 2015-16, Wonderland Trail 2016
MSRP: $89
The prAna Monarch Convertible Pants are the most flattering and efficient hiking pants on the market. The fabric is durable, the fit is really comfortable, and the style is classy. They dry quickly and allow a nice range of motion. All of these criteria can be tough to find in a notoriously unflattering type of pants, but prAna made it happen.
– Mary Beth Skylis, AT 2015; Annapurna Circuit 2016
MSRP: $100 (Easy to find on sale)
I started out with Salomon X Mission trail runners, and I loved them. I knew I'd never find a better, more comfortable hiking shoe. When I finally wore those out (literally the soles fell off), I contacted Salomon, and they sent me a gift card for any shoe on their site, and I chose the Fellraisers. These were great hiking shoes and I wore them all the way to Katahdin, and I still wear them to work. The bottoms resemble cleats, with "spikes" that are great for rocky areas. They didn't give me any feet trouble or blisters and are super breathable. They also dry out really quickly after hiking in the rain. Salomon is a great company and I will continue to buy their products.
– Maranda Stone, AT 2016
MSRP: $119.99 (Easy to find used on Amazon)
This was my irreplaceable luxury item. As a painful introvert who loves the read, the Kindle Paperwhite was a lifesaver at camp when I wanted to be alone but wasn't tired enough to sleep. It weighs 7 ounces, but was beyond worth it as you can download as many books as you want in town, and don't have to worry about finishing a book and lugging the weight around. Out of all the e-readers, I like this one because it's made for travel. It's pretty tough (not waterproof… make sure to ziplock it when it's in your pack), the battery lasts eons, it doesn't have any bells and whistles, and you can adjust the backlight for daylight to dark for easy reading.
– Maggie Slepian, AT 2015
MSRP: $120
Altras are increasing in popularity each year on the trail. They have a wider toe box than many other trail shoes, which helps maintain comfort as your feet grow over the course of 2,000 miles. The Altra Lone Peaks (also offered in a men's version) are comfortable over rocks and roots, are very breathable, and dry fast. I never experienced any foot pain or blisters, and I refuse to try anything else! 
– Isabelle Eastham, AT 2016
MSRP: $135
We own the men's and women's versions of the REI Carbon Trekking Poles. We picked them out for Christmas last year, right before starting our thru-hike. They proved to be a wonderful gift that we used every single day during our 172-day hike.  The poles are super lightweight (14.8 oz for women's and 17oz  for men's) and feature comfy grips with optional straps. With a little creativity, they also serve as tent poles and fishing poles. 
– Claudia and Andrew Carberry, AT 2016
MSRP: $129-189 depending on model
The ubiquitous yellow sleeping pad is 2.5″ of sweet, sweet comfort for 8-16 ounces, depending on style. The unisex version comes in three sizes: small (47″ in length), regular (72″), and long (77″). The Women's is 66″ with an R-Value of 3.9, which makes it warmer and lighter for the same price as the unisex version, so if you can swing a few less inches, I would recommend the women's version over the regular. And if anyone queries you about the floral pattern on your sleeping pad, just remember that when the temperatures drop, you'll be sleeping warmer than them.
– Timex, AT Section Hiker
MSRP: $159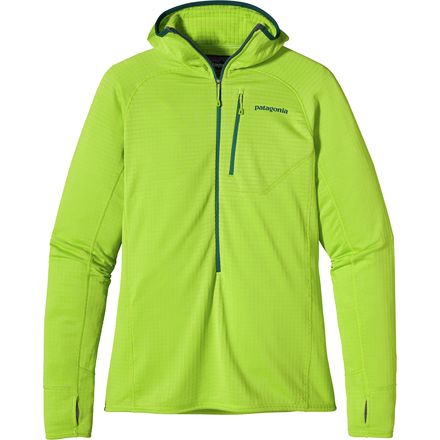 Patagonia's R1 Hoody is my go-to cold weather mid-layer.  Utilizing Polartec's Power Grid fabric, the R1 retains your body heat, it's soft, stretchy, lightweight, and breathable.  But my favorite attribute is the piece's range of temperature control.  While resting, zip the piece up all the way and throw on the balaclava style hood over your head and mouth.  During a steep climb, unzip the mid-layer all the way down to just above your navel button, leaving your bare chest out to soak up that cool mountain air.  Perhaps a technique more appropriate for the guys.  In either case, as far as mid-layers go, the R1 is a can't miss.
– Zach Davis
Disclosure: some of the aforementioned products were donated including those from Altra, Patagonia, Purple Rain, and Exofficio. All reviews always reflect our 100% honest opinion.
Affiliate Disclosure
This website contains affiliate links, which means The Trek may receive a percentage of any product or service you purchase using the links in the articles or advertisements. The buyer pays the same price as they would otherwise, and your purchase helps to support The Trek's ongoing goal to serve you quality backpacking advice and information. Thanks for your support!
To learn more, please visit the About This Site page.