Outdoor Research MicroGravity AscentShell Jacket Review
If you're looking for a versatile jacket that can be used for any activity you had planned this winter, then we may have just found the perfect shell for you. With the ability to withstand wet and windy weather – as well as constantly changing temperatures – the Outdoor Research MicroGravity is a go-to ultralight hardshell for winter hikers, backpackers, skiers, and overall adventurers alike.
Price: $249
Weight: 10.1 oz
Material: 20-denier x 45-denier mechanical stretch ripstop nylon
Type of Waterproofing: AscentShell 3-Layer Waterproof & Breathable Membrane
Intended Use
The jacket is designed for use in harsh winter environments. It's perfect for skiing, hiking, backpacking, or climbing in cold and wet conditions.
Circumstances of Review
The Outdoor Research MicroGravity jacket was my go-to for the first half of the 2020-2021 winter season. I used it on cold days skiing in the Rocky Mountains of Colorado. It was also part of my layering system on windy Utah hikes with temps in the single digits and gusts around 75mph. I also tested the jacket in multiple snowstorms. When not in the mountains, I used it daily for dog walks around Denver, CO.  I am a 5'2 / 125lb female, and for the review period, I comfortably wore a size medium. This size allowed me to have enough room to wear additional layers beneath the shell.
Features
Lightweight hardshell design: Suitable for backcountry pursuits in wintery conditions.
Helmet compatible: Enough said.
Adjustable hem and cuffs: For fine-tuning fit and cutting icy drafts.
Ability to pack into the left-hand pocket: Packs down small for low-profile storage in your pack.
4 water-sealed pockets: Keep your pocket contents safe from moisture.
Dynamic reach underarm panels: For flexibility and ease of movement.
Choosing A Shell
Waterproofing 
When determining the waterproofing quality of a shell, there are a few notable features to look for. First, waterproofing of both the zippers and seams are a great way to ensure water stays out, and the MicroGravity has waterproofing on both of these key areas. In addition, it's important to look at the type of waterproofing used to keep moisture out of the jacket. While the most popular type of waterproofing among hiking jackets is Gore-tex, Outdoor Research use's their own "AscentShell 3-Layer Waterproof & Breathable Membrane." Throughout the testing period, I have not had any issues with water or snow penetrating the jacket.

Breathability
Next to water-resistant capabilities, breathability is one of the most important things to consider before buying a shell. For example, hiking in a rubber jacket will certainly keep you dry when snow is falling, but you will likely be covered in sweat by the end of your hike because your skin can't breathe through the fabric. Breathability also goes beyond the type of fabric. Additional air vents placed throughout the jacket can also have a big impact. In most cases, these vents are sealed with a zipper. This allows hikers to open them up during periods of exertion. It's all about finding a happy medium between waterproofing and breathability. The Outdoor Research MicroGravity is air permeable, which means that it lets air and moisture leave your shell as you exert energy. This prevents sweat from building up inside your layering system.

Pros
Triple Threat
The Microgravity hit the nail on the head by striking the perfect balance between weight, breathability, and weather protection. Although this shell works best when incorporated into a proper layering system (base layer, down jacket, etc), the jacket also provides a decent amount of warmth on its own. In fact, while cross country skiing and on exceptionally strenuous hikes, I only wore a base layer and fleece, with this jacket on top – and stayed comfortable throughout the day. This functionality can be attributed to OR's Electrospun AscentShell™ membrane. The material is air permeable, which allows air and moisture to move from the inside out before sweat builds up.

Pockets
In lieu of the traditional armpit vents found in many shells, OR has integrated four pockets that double as air vents into the jacket. Two traditional pockets + two chest pockets allow for the storage of snacks and supplies. They also provide ventilation thanks to breathable mesh backings. All pockets are sealed with a waterproof zipper and can hold a considerable number of miscellaneous items.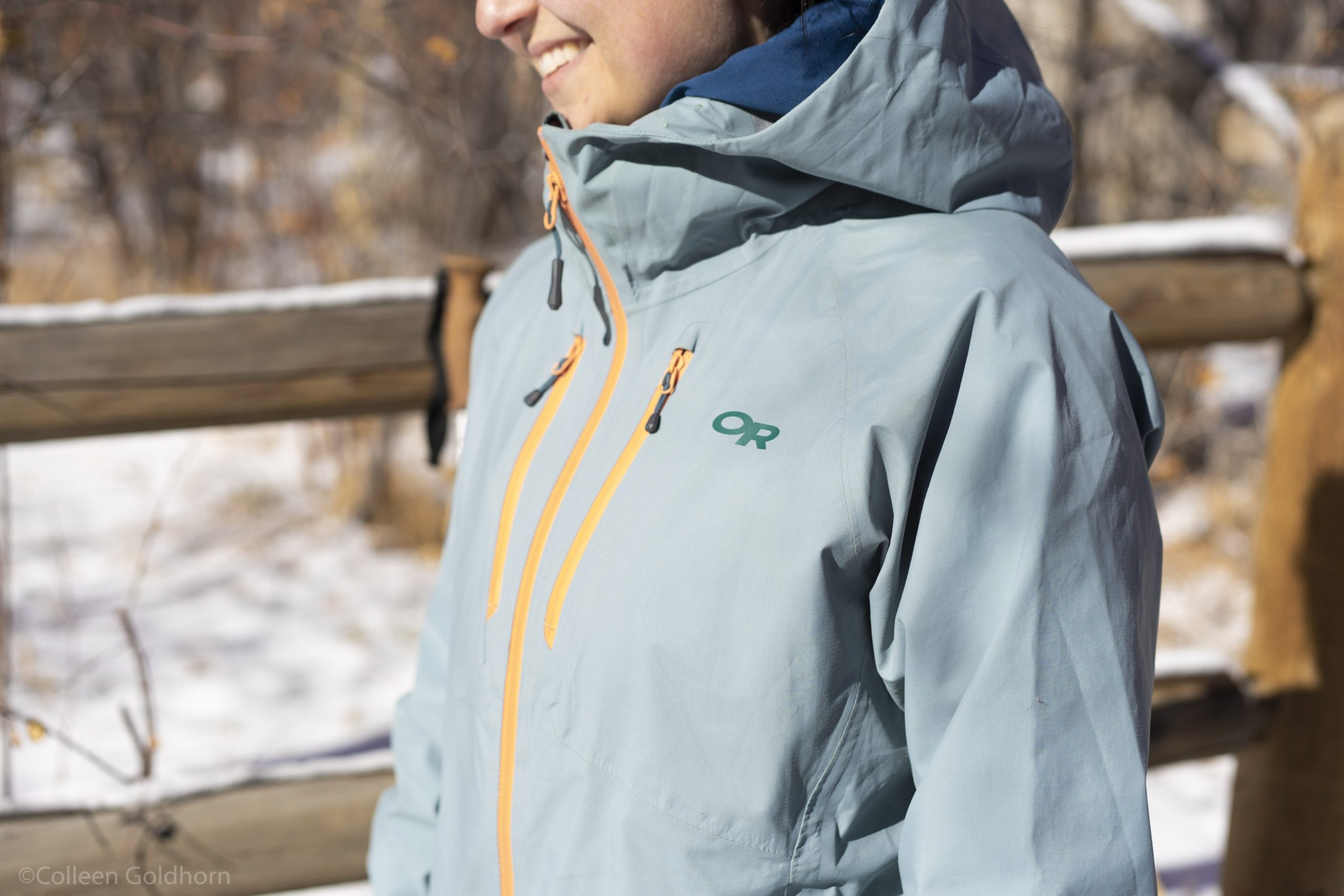 Flexible
My biggest complaint about many shells is how stiff and noisy they tend to be. I was excited to see that the MicroGravity is extremely flexible and makes minimal noise while in motion. AscentShell™ technology lends both flexibility and breathability to the jacket. AscentShell™ uses "electrospinning" to create a three-layer jacket that is more comfortable than many competitor's membranes.

Versatile
This jacket kicked ass in almost every situation I tested it in. It shone as a flexible option while squeezing into tight climbing moves. It cut through wind and allowed me to stay warm, yet free of sweat, while hiking. And it kept me surprisingly dry while skiing during a snowstorm. This jacket is the go-to for winter adventurers who don't want to buy a different shell for each activity they get into.
Cons
Lack of Armpit Pockets
I was honestly floored by this jacket and don't have very many complaints. However, I sometimes found myself missing the armpit pockets when I didn't want to keep the chest pockets open for fear of losing whatever I had inside. The ability of all the pockets to double as vents definitely helps save on weight by not adding additional zippers. However, it may be best to not plan on utilizing the chest pockets for storage so that you can travel with them open and not worry about whatever you have inside falling out.

Hood
A small thing to note is that OR designed the hood on the MicroGravity to fit a helmet. For someone who strictly hikes throughout the winter (and therefore never needs a helmet), the hood may feel large and clunky. I personally liked this specially designed hood. It gave me the option to bring this jacket on every winter adventure I had on the calendar. However, if you are mainly using this shell for activities that do not require head protection, this may be something to keep in mind.
Overall Value
Although OR purposely designed the jacket without the classic armpit vents, the Microgravity is insanely breathable, and offers additional ventilation through cleverly designed mesh-lined pockets. I am over the moon about how flexible and soft the material is, love the light weight, and how these features make me feel as though I can bring the MicroGravity on any winter adventure.
Overall, I am exceptionally impressed with this shell. After the extensive testing I have done with the MicroGravity, I feel confident bringing it into any sort of weather condition. It has proven to keep me consistently warm and (most importantly) dry.


Shop the Outdoor Research Microgravity Jacket

Comparable Shells
MSRP: $220
Weight: 12.5oz
MSRP: $159
Weight: 10.6 oz
MSRP: $425
Weight: 10.9oz


This product was donated for purpose of review.
Affiliate Disclosure
This website contains affiliate links, which means The Trek may receive a percentage of any product or service you purchase using the links in the articles or advertisements. The buyer pays the same price as they would otherwise, and your purchase helps to support The Trek's ongoing goal to serve you quality backpacking advice and information. Thanks for your support!
To learn more, please visit the About This Site page.