Outdoor Vitals Summit Down 30 Degree Sleeping Bag Review
In my experience, ultralight gear is a tricky investment. It's easier to go faster and farther when you have the luxury of not being weighed down by heavy gear. On the other hand, cutting gear weight is expensive. Versatile gear options that aren't too heavy but don't break the bank are essential for making backpacking fun and accessible for more people, which is why I was excited to test out the Summit Down 30 Degree Sleeping Bag by Outdoor Vitals.
It's a tiny bit heavier (3-5.5 ounces) than ultralight bags from popular companies like Feathered Friends and Western Mountaineering, but with hydrophobic down it is considerably lighter than popular synthetic bags like the Nemo Forte 35 without losing much versatility. The Summit Down 30 is a solid choice for someone looking to shed some gear weight without shedding too many dollars.
MSRP: $245 (regular length)
Weight: 1lb 11oz (regular length)
Materials: Shell-10 Denier Ripstop Polyester with VitalDry™ DWR Coating; Lining – 10 Denier Ripstop Polyester
Gender: Unisex
Fill Power: 800-Fill Power StormLoft™ Water Repellent Down
Intended Use
The Summit Down 30 is designed for backpacking trips with nighttime temperatures as low as 30°F. The hydrophobic down makes this bag appropriate for trips in both dry and wet conditions, including snow, rain, and humidity.
Circumstances of Review
I tested the Summit Down 30 on spring and summer backpacking and camping trips above 6000 feet in western North Carolina. As a 5'2″ female, I tested the regular length bag (and very much wished Outdoor Vitals had a short length).
Summit Down 30 Features
Hybrid baffle design
Extra shoulder baffles
DWR coated shell
DWR treated down
Center zipper
Responsible Down Standard sourced and certified down
Versatility and Durability
I slept comfortably almost every night I tested the Summit Down 30. The coldest temperature I tested was right around 30°F, and the warmest was about 52°F. In my opinion as a cold sleeper, around 45°F was the most comfortable; 30°F was absolutely the low limit, and 52°F was a bit too warm. One thing worth noting is that because of the center zip/closed footbox design, I couldn't easily vent my feet to cool off when the temperature was too warm, which is a versatility drawback in my opinion. More on the center zip below.
I was pleasantly surprised how well the bag performed in significant humidity. I used a double wall tent on every test trip and would be curious to see if the bag would've gotten more damp had I been using a single wall tent; in any case, the DWR coating did it's job. I sadly haven't had a chance to do any backpacking back out west this year, so I can't speak to the bag's performance in dry conditions but I really can't imagine there would be any issues.
So far, the bag is holding up well and I haven't had any issues with durability. I'd be curious to see how a bag like this would perform on a thru hike, which is most certainly very hard on gear.
Summit Down 30 Pros
Price point. In exchange for having a sleeping bag that weighs a few more ounces and that doesn't have an extremely popular brand name attached, you can save at least $200 if not more, depending on the comparison bag. That's a lot of money, if you ask me.
For an expert backpacker with established preferences, well defined needs and a small window of tolerance for anything that strays from those preferences and needs, the money saved may not be worth the risk of trying to the Summit Down.
But for a relative newbie trying to get into backpacking, a first time thru-hiker looking to go lite but save some dollars, or even an advanced hiker who's just wanting to try something new, the Summit Down 30 is an affordable addition to the gear closet.
Center zip. I haven't been able to find the story on why Outdoor Vitals decided to build their bags with a closed-in footbox and a 7/8 center zip, but I am certainly curious.
If you aren't familiar, most sleeping bags zip up either the left side (for a right-handed person to reach over their body and zip easily) or the right side (for a left-handed person to reach over their body and zip easily). I assume the center zip idea is to remove the necessity for this distinction and thus simplify design and manufacturing, while also making bags generally more accessible to everyone regardless of whether they're a rightie or a leftie.
If that is the concept behind the center zip, then that part of the center zip is a "pro" in my opinion. (Cons below.)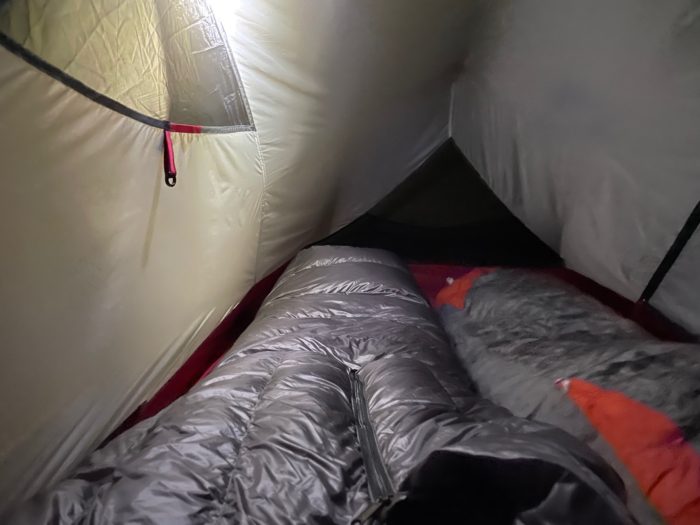 Spacious. Maybe it's just because I'm a very small person who could honestly probably sleep comfortably in a kid's sleeping bag, but the Summit Down 30 felt very roomy to me. The height differential between me and the max height appropriate for the bag (6 feet) was certainly part of that spaciousness and I had a lot of room at my feet. But the width was also part of that; I felt like I had room to turn from side to side and switch positions without getting tangled in the bag, and that was nice.
Ethics. Outdoor Vitals appears to be a company that values sustainability, pays attention to their environmental impact, and uses ethically and sustainably sourced materials. For me, that's a critical piece of what makes me willing to endorse a product. If you aren't doing what you can to protect the wild places you're sending people out into…what are you even doing? Outdoor Vitals uses Responsible Down Standard sourced down (although I wish they'd include a down tracker like Feathered Friends),  the LofTek insulation they use in some of their other sleeping bags is 100% recycled, and they appear to be tuned into fair labor. I would still prefer to support local businesses and suppliers, but paying attention to fair labor is a good start if you're outsourcing. They also donate 1% of proceeds to Charity: Water, a non-profit aimed at delivering safe drinking water to developing nations.
Summit Down 30 Cons
Center zip. While I appreciate what I am assuming is an effort to simplify customer choices, I don't think that the functionality of the center zip matches that of the side zip. I actually found the Summit 30 somewhat difficult and awkward to zip up, and I didn't like the way the center zip felt on top of me while I was sleeping. For those of you who enjoy some nighttime snuggles, it was also not possible to have my partner reach his arm over me without losing a lot of warmth, because so much of the bag needed to be pulled down for him to reach me.
Spacious. Part of what I love nerding out over in gear testing is efficiency. I'm a real sucker for things that fit as close to perfect as possible, that are as streamlined as possible, etc. If you're a person who really doesn't care about finding the optimal gear set-up, then feel free to ignore this part. But for me, as nice as it was to have some extra space for moving around, I couldn't help but recognize that also meant I was carrying the extra space. As I said above, I wish Outdoor Vitals had a "short" and/or "slim" version of this bag to better fit a petite person. I actually wish that about most outdoor clothing and gear, though, so don't take this con too seriously.
Extra shoulder baffles. Outdoor Vitals says the extra shoulder baffles should allow you to have your bag open around your mouth and nose to breath better without losing warmth, because cold air will be blocked by the baffles and unable to enter the rest of the bag. I think conceptually I understand this, but functionally this was not my experience. Some of that might have been due to the spaciousness I mentioned above–the bag just wasn't that tight of a fit to begin with. On top of that, I found it very challenging to get the baffles situated to accomplish what they're intended to accomplish, and usually ended up feeling like they were flipping up onto my face and actually having the opposite of their intended effect.
Overall
Overall, I think the Outdoor Vitals Summit Down 30 is a solid investment, especially for someone just starting to get into backpacking. It would be a perfect 3-season starter bag, comfortable from mid-late spring through mid-late fall, depending on the climate and you as a sleeper. If you're a warm sleeper, you could probably push closer to the lower range of the degree rating and get more 3 season use; if you're a cold sleeper like me, this might be more of a summer bag for you.
Shop The Outdoor Vitals Summit Down 30 Degree Sleeping Bag
Comparable Sleeping Bags
MSRP: $259-279
Weight: 2 lb 5 oz
MSRP: $349
Weight: 1 lb 6.5 oz
Affiliate Disclosure
This website contains affiliate links, which means The Trek may receive a percentage of any product or service you purchase using the links in the articles or advertisements. The buyer pays the same price as they would otherwise, and your purchase helps to support The Trek's ongoing goal to serve you quality backpacking advice and information. Thanks for your support!
To learn more, please visit the About This Site page.