When the PCT Becomes a Catalyst for a Different Adventure…
Dear all of you who may still be following along,
Thank you.
Thank you for reading our very limited posts. Thank you for sending your support and encouragement along our too short journey on the PCT. And thank you, those of you who we have told about our adventure and our reasons for hopping off the trail, for your understanding, your compassion, and your positive responses.
For those of you who are still following along and wondering where we are, I believe I owe you an explanation.
Jon and I hiked approximately 210 miles of the Pacific Crest Trail from the Mexican/ US border to Highway 10 near Cabazon. We explored the exquisite wilderness of the San Jacinto's, including San Jacinto Peak, which aside from the people we met along the way, was our favorite part of the trail.
Our last day on the trail was a nineteen-mile downhill hike under a cloudless shade-less relentless desert sky. Our morale was up from having summited San Jacinto the day before and having finally been able to frolic through the forest. We had spent the last two weeks encouraging ourselves, saying once we made it to the Sierra's we would be glad we made it through, that it would be worth it. But as soon as we ventured out of that forest, the midday sun once again convinced us that we do not belong in the desert. Our last day on the trail left us both with twisted ankles, heat exhaustion for me, and a heap of indecision as to what we should do. We hated the desert.
Under the bridge that day we decided we needed to get into town to rest, recover, and reassess. A fellow hiker gave us info for a trail angel named Hillbilly. Feeling defeated and overheated, I called Hillbilly and pleaded that we needed a ride into Banning. Within ten minutes we were loading our bags into the back of Hillbilly's car.
"Whatcha need to go to Banning for? I got a hot shower at my place, a couple of hikers already on the couch, and dinner on the stove. You're comin' over. You'll find out why they call me Hillbilly." Oh, and we did. Hillbilly's overwhelming hospitality, eccentric character, and wild stories nearly convinced us we needed to keep hiking. We needed to push through the desert if only just to meet more people like this.
We stayed the night on the floor of the back room and spent the next afternoon trying to pick apart our options. With the amount of bills I was paying monthly to try to stay afloat at home while unemployed and hiking, my bank account disclosed that I would not be able to finish the entire trail, even if we really wanted to. This realization was rough. I couldn't finish Te Araroa because of funds and now, even though I had spent significantly more time saving money and budgeting, I would not be able to finish the PCT. At least not this year.
We could keep hiking and finish California? That was our first plan. Though that meant at least 500 more miles of desert before we even hit the Sierra's and if we ran out of money just hiking through the desert or lost our minds first, we'd be pissed we spent all our resources on a section we didn't even like.
We could skip up and do all the sections we actually want to do? The snow report in late May and early June for this year was ABSURD from Kennedy Meadows all the way to Canada. Word was the Sierra's weren't even passable yet. Everyone we met told us that to be at the back of the pack was good. I have very little experience hiking in the snow and I have no idea how to use an ice ax. We all planned to learn those skills and practice them as we approached the tricky sections but at that moment we were clueless. Plus if we were to go in there now, we would need a crew. The hikers that would be up at Kennedy Meadows now would have 500 more miles of recent skill behind them and could we keep up? This plan seemed unpleasant and quite frankly, dangerous.
We could WWOOF or do a HelpX exchange and wait for the snow to melt? This was the best option we found. By WWOOFing or doing HelpX, we would virtually spend no money, we would meet interesting people, learn new skills, make a difference for a family, and still have time to do day hikes and prepare to hop into the Sierra's once the snow was manageable. THAT'S IT!
Deciding to wait out the snow and skip the desert was what we wanted. We wanted to hike. We just wanted to hike in the forest. We wanted mountains and trees and what we had imagined in our minds to be the grandeur of the west coast. So why did we feel so awful about getting off the trail? We felt like we had failed.
Everyone told us to "hike our own hike" and when we decided what that looked like, it was hard. It was hard to talk about to anyone. We didn't feel proud. We were ashamed. We hated the desert. We were running out of money. We watched everyone hike on and we went to "hike our own hike" and it hurt. To be honest, it still hurts a little. It hurts because we had built up this dream in our minds that we were going to hike from Mexico to Canada, together. People were proud, admired us. We were going to accomplish something huge. It hurts because we had become part of a crew that we would have loved to keep hiking with and we don't know if we will ever see each other again. And mostly, for me at least, it hurts because I set out to do another thru-hike that I wasn't able to finish.
That being said, I wouldn't have changed what happened on our adventure for anything.
Where did we WWOOF? Good question! After we left Hillbilly's house, we spent two nights in a strange hotel in Banning trying to match with a help-x host. This wonderful couple in their 60's from Annapolis California (an hour up the coast from Santa Rosa) offered us to come stay on their homestead, the Wildforest Sanctuary, for a month in exchange for a couple hours of work a day.
So we took the first bus to Los Angeles, contacted a dear friend who let us crash on her couch for two nights while she was out camping for the holiday (Memorial Day), spent some quality time in the big city, then rented a car and drove 11 hours up to Santa Rosa.
The Wildforest Sanctuary was incredible. It was nestled into a Redwood grove with acres of land surrounding. They had a trail network they created which we took to maintaining, raking, trimming, and running/ hiking daily. They had goats and chickens and two beautiful dogs. They had a homegrown garden which we used lettuces, peas, wild strawberries, and greens to make salads with lunch every day.
They had a homemade outdoor pizza oven, which we made use of for celebrations. We made dough from scratch, picked ingredients from the garden, shaved local cheese, grated garlic, and made the best thin pizza I have ever had. They introduced us to Slow Food Sunday, where we spent an entire Sunday making dinner from sun up to sun down. We milled the grains to make flour for the bread that we would use to make homemade pasta, we made fresh pesto from parsley in the garden, we hand rolled and flattened noodles from the dough we made, and by the end of the day, it was perfect.
We were staying with two other help-x'ers, a couple from Sweden and Italy. They were in the US for a wedding and had biked down from Portland to Santa Rosa. Antonio was the one who showed us how to make pasta and Elise had a a green thumb and taught us the right conditions for growing all sorts of plants.
During that time I also rediscovered my love for Scrabble and read six books. We worked on projects from cleaning every inch of the barn, taking down furnaces, to putting down vinyl, growing tomatoes, organizing the shed, to decorating a cabin. We did, as expected, learn new skills, learned how much work it is to keep up land and a homestead, met incredibly interesting humans from across the globe, and were able to live the simple life off the trail.
Did we ever make it back to the Sierras? To the PCT after the snow melted? The first day we were on the homestead, I called my mom to check in. She told me that she had just gone to the doctor with grandma and that grandma's cancer was back. They were putting her on hospice.
I had to go home. Mom said it could be weeks, it could be months, they had no idea. So we decided to stay, at least for a little while.
We pushed our time on the homestead back to two weeks. We were determined to see all we could see on the west coast before we had to leave. We left the Wildforest Sanctuary and thought that we may be able to hop back on the trail. We knew our time was limited and that it was necessary for me to stay as close to cell service as possible. We were heartbroken. Two weeks later and there was hardly a dent in the snow pack. Much of the PCT was still impassable and we were not going back to the desert. So we came up with a new plan.
We decided to take a road trip.
We booked flights out of Portland for two weeks from the day we left the Wildforest Sanctuary. We planned to rent a car in Santa Rosa, drive down to Kennedy Meadows to pick up our boxes we had shipped there, explore California and Oregon, spend some time in Bend and Portland with two good friends of ours, then fly out of Portland.
Where did the road trip take us? Only the most beautiful places.
We made it to Yosemite, unfortunately on Father's Day, so it was nightmarish-ly crowded. We hiked 10 miles up to Glacier Point and back on the 4-mile trail. It wasn't necessarily the best choice, but the views were impeccable and at least we got to hike.
We drove through Sequoia National Forest where we stopped to make sandwiches and hang out with some of the most majestic trees I have ever seen/ played on.
After Sequoia, we made our way to Tahoe and Truckee where we had broken down on our way to Hardly Strictly Bluegrass Festival two years ago. From Truckee we head to the Redwoods, which were equally if not more majestic than Sequoia, in the misty afternoon haze and Jurassic Park-esque vibe. We even met an infamous penis tree.
From the Redwoods, we made it to the coast where we spent a little time running in the waves despite the dreary gray that connected the sky to the water in an un-discernable manner.
After that we spent a few nights moving towards Bend, sleeping at incredible campgrounds near the water. We made it to Crater Lake, but 90% of the park was covered in snow, the road wasn't entirely passable, and not a single trail was accessible. We had a good time anyway.
The highlight of our road trip was to a secluded place on Oregon's second largest lake named Waldo. We found you bud, and there we wish we could have stayed. The lake itself was freezing but we couldn't not venture in. We lay on the dock reading Neal Degrasse Tyson and Ta-Nahesi Coates, basking the the sunshine and each other's company.
We finally made it to Bend where we were able to drop off our rental car and spend some time with our good friend and former roommate Clayton. We had late night talks, spent the days walking into downtown and playing Scrabble (back at it, baby) in the coffee shops. We even went on a date to a brewery downtown and explored the Bite of Bend festival and the local arcade.
I never made it to Portland. A week or so before we were supposed to head to Portland, I got a call from my mom. Grandma could last a few days or a few weeks. At that moment I knew I had to come home. Jon helped spot me some money to change my flight and the next morning I took a bus out to Portland airport and was on my way home.
Everything worked out exactly as it should and not in a single way that we expected or planned for.
I made it home just in time to spend a full week with this beautiful gem of a woman before she passed.
I got to spend a full month with close and extended family, strengthening relationships in ways I didn't know were possible.
Nothing about our adventure on the Pacific Crest Trail went as planned. We fought it, loved it, hated it, took a break from it, been ashamed about our relationship with it, but ultimately I am grateful for it. The PCT gave us a reason to get out and adventure and adventure we did. It brought us closer, it helped us work through things we didn't expect to work through, and we had one hell of a summer.
Hopefully soon, we will be able to make it back out to at least do the JMT and other sections we would have loved to dive into. For now, that was enough.
Our next adventure has already started.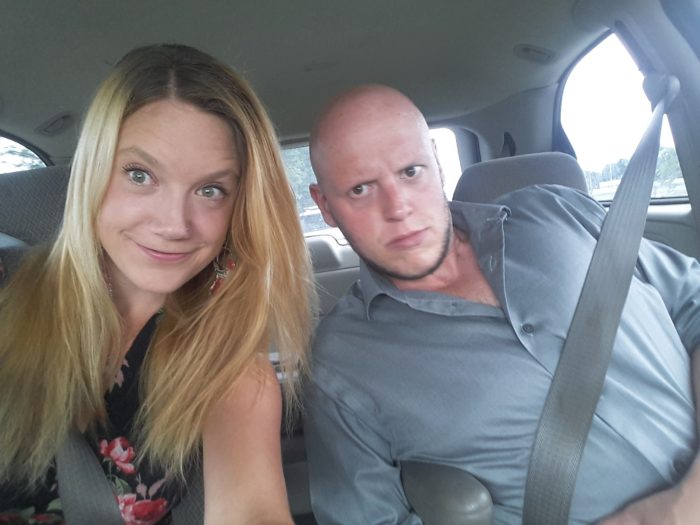 Affiliate Disclosure
This website contains affiliate links, which means The Trek may receive a percentage of any product or service you purchase using the links in the articles or advertisements. The buyer pays the same price as they would otherwise, and your purchase helps to support The Trek's ongoing goal to serve you quality backpacking advice and information. Thanks for your support!
To learn more, please visit the About This Site page.