500 Miles and I Finished My First State!
I left Trout Lake feeling refreshed and ready to go. My next destination was Cascade Locks and that would bring an end to Washington. One stare down, two to go!
Day 33
Miles: 26
The day began with leftover pizza and packing up our stuff. We all said goodbye to Dave, whom we had been staying with, called a ride and then off we went in our separate directions. It was harder to say goodbye to my new NOBO friends than I had ever imagined it would be. Who knew 2 1/2 short days could bring the closest of friendships. I'm confident I will see each one of them again soon, but as I travel south and they travel north I'm going to miss them.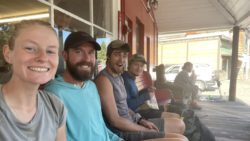 I quickly met a few new NOBOs and made sure they were going into Trout Lake. One NOBO, Puffy the Trail Slayer and I talked for quite awhile. He said he wouldn't forget me and I'm not going to forget him either. I wish I didn't have such limited time with the wonderful NOBOs I've been meeting, but such is the trail.
The rest of the day was filled with sunshine and huckleberries! They are everywhere (and not entirely ripe)! It's amazing what two days of rest can do for the body. My foot feels so much better and 24 miles has honestly never felt so good to do.
I took an alternate route about halfway through my day. Sawtooth Trail went up and I saw some excellent views of Mt. St. Helen and Mt. Adams. The mileage was about the same, Sawtooth was just an extra 500ft up. The views were worth it and it was nice to feel like I was exploring a bit.
Jamming out to my tunes, I walked briskly for most of the day. I arrived at the campsite, Blue Lake, at 7:30 PM with so much time to end my day before it got dark! I collected water, set up my tent and began getting my dinners together before it got dark! I'm excited to see what the next few days hold.
Day 34
Miles: 19
Today has been the most wonderful day I've had on trail. I have met the best people all of whom I'd call Trail Angels.
It started off with a small climb that had huckleberries at the top, and on the way down. At this point I feel like you all know how I am with fruit. I did 3 miles before 10 AM. NOT A GREAT WAY TO START WHEN I NEED TO DO 25 MILES.
Shortly after I talked to two excited NOBOs on the uphill, Knife and McGriddle. I love chatting with NOBOs that are excited to be in Washington! I also I met a couple on the downhill who will become prevalent in my story later.
After the trail leveled out for a bit, (seriously the PCT is still flat now!?!) I ran to this group of six people and three dogs. We stood and talked for about a half hour and as we were about to say goodbye one woman asks if I would like some cucumbers from the garden the other woman grew. My eyes widened and my smile reached my ears, I was so happy to receive two round cucumbers from these wonderful people
Arriving at the Indian Heaven trailhead I sat and talked with another NOBO, Rabbi. He told me the same thing that Tenderfoot told me – take the road walk to Panther Creek Falls. So I set off to take the 10 mile road walk. I don't clam to be a purist and sticking to only hiking on the PCT. The fires I'm hearing about already killed that fantasy. I'm out here to have fun and see all that I can. Oh my goodness was this road walk worth it. And there was a couple taking their wedding photos there too! It was all quite magical.
Unfortunately, my right foot began to hurt again walking on the paved road. It's really starting to make me nervous so I'm going to keep sticking it in the cold water, taking ibuprofen, and keeping my legs loose. Not soon after I began to worry, the couple I met earlier pulled up in a huge van and offered me a ride to where the trail meets the road again. This was going to cut 3 miles of road walking with my foot hurting, of course I took the ride. I already established I'm not a purist.
They offered me such pleasant conversation, a coke, (which I've really liked out here for whatever reason, I'm usually a Pepsi person if I drink soda/pop at all) charged my dead watch for me and refilled my water bottle. I couldn't have been more ecstatic. We get to where the road meets the trail and there's another trail angel at the nearest camp spot to the trail! We get out and take a photo and these wonderful people head out.
The trail angel, Jesus, let me get some more charge on my watch and then I was on my way. 5 miles left before the 2,000 foot climb tomorrow morning. Do I even remember how to go up these? Oh yeah, metal music.
I arrived at the Trout Creek campsite and there were nine people already here. Luckily, everyone was so sweet and I was able to park my tent close to someone else's. I soaked my feet in the cool water and lost track of time talking to the other hikers, Ratatouille, Goodwill, Connor and Emily.
30 miles until I'm done with Washington. It went SO fast and I've gone through so many emotions. Do I hike my first 30 tomorrow? I'm so excited I just want to, but I also want to be smart. Why not 23 and then an easy 7 into town bright and early the next day? I still accomplish the same goal. I'll think on it.
Day 35
Miles: 23
I started hiking up the first 2,000 ft climb into Cascade Locks at about 5:30am. This climb wasn't too bad and the views were amazing. I hiked around the large group of gentlemen I camped with last night, it was nice to talk to some of them individually.
We all stopped and ate lunch at the bottom of the first climb, gearing up for the second 2,000 ft climb.
In order to do 30 miles I need to scoot. I leave my new friends and start heading up the mountain. It is hot, it is humid, and I'm sweating through everything. With two miles left I take a break on a bed of pine needles. It's a warm one today. But after these two miles it's all down hill and I'll have done 30 miles!
As I start my decent, I quickly realize 30 miles was not meant to be. The Bridge of the Gods will  still be there tomorrow. This downhill was full of jagged rocks that were just tearing up both feet. My right foot hadn't felt this sore since the 3 miles into Trout Lake. I also slipped three times going too fast, with the rocks sliding out from under me and landing on my butt. So, with seven miles to go, reluctantly listening to my body I roll into camp. Luckily, two NOBOs, Sunrise and Viking, and a SOBO I met earlier in the day, York were willing to share the tent site with me. Before I make dinner and put my tent up, I slip down a steep "path" to the river below the tent site, collect water and soak my foot. It was definitely needed today.
Day 36
Miles: 7
I woke up at 5 am and my foot doesn't even hurt. I was immediately aware that I made the smart decision and stopped last night. I still wanted to make it in pretty early to meet Meghan and Lexi for breakfast before they headed out.
A huge surprise hit me as I was crushing miles. I HAVE HIKED 500 MILES!!! I didn't even realize I was close to that mark I was so focused on the Bridge of the Gods.
Nearing the end of my decent, I saw poison oak for the first time. A couple of NOBOs told me that there was poison oak just outside of Cascade Locks. I thought that meant as I was leaving it, but in NOBO words, it meant as I was entering it. I successfully avoided it – no rashes for me!
Another big surprise hit me 2 miles from the bridge. Blackberries, blackberries everywhere. Marcus or Headfirst caught up to me and together we spent 45 minutes picking and eating blackberries. These berries tasted so delicious, I don't think I'll be able to go back to store bought ones. I guess I'll just have to come out here every summer and just eat berries for a few days.
Then it happened – We approached the Bridge of the Gods. It felt so surreal to me. I hiked 500 miles AND through the state of Washington! I FINISHED MY FIRST STATE!!!
When we got into town we got a hotel room and I showered immediately. Smelling myself last night after sweating in the humidity all day was not pleasant. I then met Meghan and Lexi for breakfast, joined Mousetrap and B- (who I thought were way ahead of me) for a beer and then was joined by Wahoo and Cyborg for another beer! Plenty of food and a few milkshakes later it was time to organize my resupply. I figured three days worth of food would get me to Timberline Lodge.
After a long day of eating, I curled up in a bed and fell asleep immediately. The famous Eagle Creek Trail was next on my list of alternates.
Affiliate Disclosure
This website contains affiliate links, which means The Trek may receive a percentage of any product or service you purchase using the links in the articles or advertisements. The buyer pays the same price as they would otherwise, and your purchase helps to support The Trek's ongoing goal to serve you quality backpacking advice and information. Thanks for your support!
To learn more, please visit the About This Site page.