A Job Well Done (Days 149 to 158, Stevens Pass to Canada)
Hey there! It's been a few weeks since I last posted an update from the trail. Spoiler alert – Mango and I reached the border on September 15th! The internet in northern Washington was nonexistent, and I couldn't upload my pictures during our brief stays in town. Now that we're back home, I'm catching up on my last few blog posts. Enjoy!
Day 149
Start: Lake Janis
End: Dishpan Gap Junction
PCT Miles Hikes Today: 21.3
This is a rugged 108 mile section between Stevens Pass and Stehekin, so having done almost 10 miles out of Steven's Pass last night gave us a big head start and made us feel good about a potential nearo into Stehekin in a few days time. It's always nice to start a new section having done a few miles the evening before – it's like starting on second base, it almost feels like cheating! We awoke at 6 to a thick fog cover, and as we began to hike, we quickly ascended straight up into fog. The air felt very humid, but the cool morning temps made the ascent up to Grizzly Peak relatively painless.
My new strategy for strenuous climbs is to stop and pick huckleberries when I get tired. It works perfectly every time because no matter where we are on trail these days, there are a million ripe huckleberries within arms reach. I get tired, eat for a minute, then continue climbing. All those natural sugars help with the climb, and maybe the antioxidants are helping to offset the damage I'm doing to my feet?
As we broke out above tree line before grizzly peak, the clouds began to clear, and it turned into a wonderful sunny day, with clear blue skies and no wind. Perfect hiking weather. We were exposed for almost the entire day and got incredible 360-degree views.
More tough up and down today. We had 5,500 feet of ascent and 4,200 feet of descent over our 21 miles, and it felt like we were constantly changing direction. The landscape is much more severe in this section than previous sections, but it's very rewarding.
Something awful happened today. In the afternoon, we passed a junction that had a "Toilet" sign with an arrow down a side trail. I got excited because having a pit toilet is a rare occurrence on the PCT – so I wanted to take full advantage. I dropped my pack and started walking. I walked for a quarter mile before realizing there was no toilet. I sadly dug a cat hole next to the side trail and started to do my business, when all of a sudden a beautiful mid-20s female trail runner runs by, looking right at me. I'm mortified, but also I can't stop at this point, so she just jogs on past me as I yell SORRY! after her. We are in the middle of absolutely nowhere, there's no trailhead nearby, where did this woman come from? And also who jogs down a side trail marked "Toilet"? This isn't my fault. Mango and Bushwhack had seen the woman run down the trail, and found this encounter extremely funny.
After one final climb, our final water source of the day was a very pretty lake called Lake Sally Ann. Platypus, a section hiker heading up to the Pacific Northwest Trail junction a few days North of us and who had been hiking with us for most of the afternoon, decided this was too pretty to pass up and stayed for the night. We filtered water and pressed on another few miles.
Our tentsite tonight is a nice grassy saddle near a trail junction. Bush is cowboy camping, but we like our own space for the night, so we set up our tent and crashed early. We were in our tents before 7:30. In fact, we were lying down so early that Bush needed to wear his sunglasses to bed. Gotta love an early campsite!
We've done well the past few days, and I'm feeling better about getting to Stehekin at a reasonable hour on Friday. Mango is already talking nonstop about the bakery. I'm sure if we get there early enough she will want to make a stop on Friday, and spend most of the day there on Saturday!
Day 150
Start: Dishpan Gap Junction
End: Pumice Creek
PCT Miles Hikes Today: 20.4
I just can't find any comfortable sleeping position anymore, due to leg and back pain. Every hour I've got to flip over. Mango says the only position she doesn't feel pain is sleeping on her stomach. All in all it wasn't a bad night of sleep, but the sleep and the pain are getting worse as the days pass. I feel like I'll be ready to stretch out in a king bed after this is all over.
The winds must have changed overnight, because as we woke, there was a strong scent of smoke from the east. We began the day along a ridgeline, approaching the southern boundary of Glacier Peak wilderness.
The PCT skirts just south and west of Glacier Peak, and the approach is fully exposed for miles. As we hiked, the views just kept getting better and better. The low-lying berry bushes are starting to turn red as the weather gets colder, providing splashes of color on the mountainside.
After we got up and over Red Pass, next 8 miles were downhill. We quickly got back under tree cover and the trail followed several nicely flowing rivers through a dense pine forest. We made great time since the trail was so smooth, and we found ourselves 17 miles into our day by 3pm, facing the raging Kennedy river.
We could hear the Kennedy river from a mile away on trail. The river is fed by the Kennedy and Schimitar glaciers up on Glacier Peak. Sometimes glacier melt off the top of mountains is pristine water, but I've found that often times the water is brown and silty as the glacier melt takes part of the mountain top with it, and this time the water looked disgusting. There used to be a nice bridge hikers used to cross the river, but it washed out a few years ago. The crossing is much more dangerous for SOBOs in July than it is for NOBOs in September due to the massive snowmelt that raises the water level, but it's still no joke of a crossing for us. We found a big log spanning the river and each of us swallowed our pride and butt-scooted across. Trying to walk across was technically possible (and we met people who did just that), but this is what you would call a "high-consequence fall" – at best your gear would all be soaked, and at worst you'd lose gear from the outside of your pack and likely hurt yourself on the many rocks surrounding the log.
We had an absolute gut-puncher of an ascent to end the day after crossing the river. 2,000 feet of gain, parts of which were as steep as anything I experienced on the AT. We were hot and sweaty when we got to the top, and as we got to Pumice Creek, we saw an awesome campsite on an exposed ridge and decided to call it a day. Bushwhack and I hopped in the VERY cold river to cool down. This is definitely snow melt – the water was ice cold. It definitely cooled us off!
As we were eating dinner, who rolls up but Leftover and Sugar! We haven't seen them since Trout Lake. We all chatted for a bit before the cool air chased us into our tents.
Day 151
Start: Pumice Creek
End: Suiattle River
PCT Miles Hikes Today: 24.9
In the early hours of the morning we got our first solid rainstorm in a while – lots of wind, pouring rain, both Mango and I were woken up by it. But the rain all cleared out by 6, and we were hiking by 7.
From the time we began skirting the edge of Glacier Peak yesterday, the trail has been both beautiful and difficult in equal measures. It seems like the trail route tries to stay as high up as it can, but in certain areas it's a very rough trail, made rougher by very remote blowdowns that can't be easily cleared by trail crews. The start of our day was a bit of bushwhacking. As we reached Fire Creek Pass hiking with Possum, the storm clouds were whipping by overhead, and we quickly grabbed a photo and pressed on towards Milk Creek, which we could hear raging down in the valley.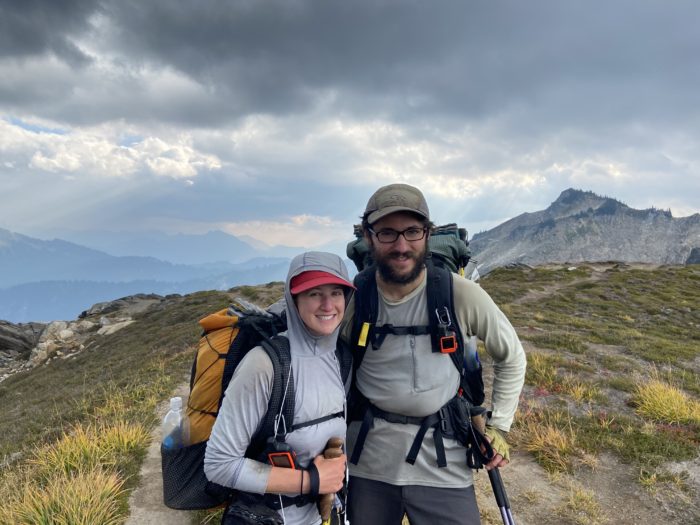 The Milk Creek valley was really pretty, especially as the clouds started to break and we got flashes of blue sky and sunlight. Milk Creek itself was more nasty glacial runoff – it was pure white with silt, hence the name Milk Creek. I was worried for a minute that I'd have to filter some of that milky liquid for the upcoming ascent, a task I was sure my filter wasn't up for. But fortunately there were tiny little feeder streams on the other side of the valley that were crystal clear. We ate lunch near one of the little streams at a trail junction, basically sitting in the bushes because there was no other good spot until we finished the next climb.
On the other side of the valley, we did 2,500 feet of gain via the most switchbacks I've ever encountered, but I had one of those 120mg caffeine Insanity Sticks at lunch and I was so revved up that I didn't stop until I hit the top, when I finally got hungry again and collapsed in the shade by the side of the trail to eat a snack. Mango always gets mad at me for picking terrible snack spots, but it's not intentional – I really just hike until I get deliriously hungry, then find the closest shady spot for a snack break. Is that selfish?
The wind turned back towards the east this morning and cleared all the smoke out by the afternoon, so we had unobstructed views of the North Cascades as we turned off of the switchbacks and started heading directly North. We then trotted down a crazy long descent of 3,500 feet over 9 miles deep into the Suiattle River Valley for our campsite at the bottom of the decline.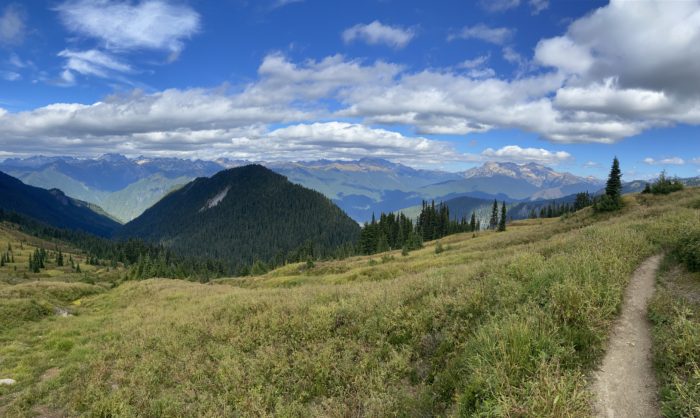 We needed to pull out our headlamps at 7:30, and when we finally crawled into our tents at 8:30 it was pitch black. What a difference compared to hiking in June and July! We are set up right next to the Suiattle River tonight, pretty much directly under a big bridge. I'm very glad we don't have to ford this river tomorrow.
Day 152
Start: Suiattle River
End: Cedar Camp
PCT Miles Hikes Today: 21.7
The river provided great white noise for us through the night, and I slept great. I've noticed that we need to turn on the headlamps while packing up inside of the tent in the mornings now. 6am isn't giving us as much light as it used to. I'm glad we aren't stretching this trip into early October, I feel like the days would be so short it would be tough to put up any serious mileage.
Our whole morning was one huge uphill – 11 miles and 3,500 feet of ascent. It wasn't steep, but it's still an uphill, which means it isn't easy with 30 pounds on your back.
One week away from Canada, and I'm becoming increasingly aware of how short a time we have left on trail now. Many hikers go through this uncomfortable period near the end of their hike. Some hikers slow down to try to draw out the experience, spending more time in town or doing shorter days on trail. Other hikers are anxious to just have it over already, pulling 30 mile days every day without exception just to get home as soon as possible. Mango and I are somewhere in the middle – we're certainly tired and ready for a good sleep, and we have a lot to look forward to after we finish. But we're still enjoying ourselves and looking forward to each new section of trail. It was a lot of mixed thoughts to sort through as I plodded up through dense pine forest, switchback after switchback, mile after mile.
As we neared the top, we got great views back towards Glacier Peak. Farewell Glacier Peak Wilderness! You were a pretty wild 48 hours. I haven't seen this kind of elevation gain and loss since we left the Sierra in June.
We cheered as we summited the pass – it is pretty much downhill from here all the way to Stehekin! Realizing that it's all downhill from here is always the best part of each section. As a bonus, we found a tentsite near the summit that had a little box toilet. Score!
We had a very bushwhacky 10.5 mile descent down to our campsite at Cedar Creek, as parts of the trail were super overgrown. Upon setting up our tent, we found two small holes in our bug netting – a mouse had gotten in to the tent last night, and chewed holes in Mango's bag of Cheetos, which was sitting unprotected in her torn food bag. At this point we just want the gear to last to Canada, so we aren't worrying about patching the holes. Less than a week left, let's just deal with the damage and keep pressing on.
Day 153
Start: Cedar Camp
End: Stehekin Valley Road / Stehekin
PCT Miles Hikes Today: 9.5
No more mice last night! When I woke at 6, I rolled over to see that Mango was wide awake. Getting to the Stehekin Bakery later today is like Christmas morning for her, and I expect she was just too excited to sleep.
Our whole morning was downhill, through a surprisingly dense river valley with lots of green vegetation. We hopped over streams and whacked our way through ferns and reached the dirt road to Stehekin an hour or so earlier than we expected.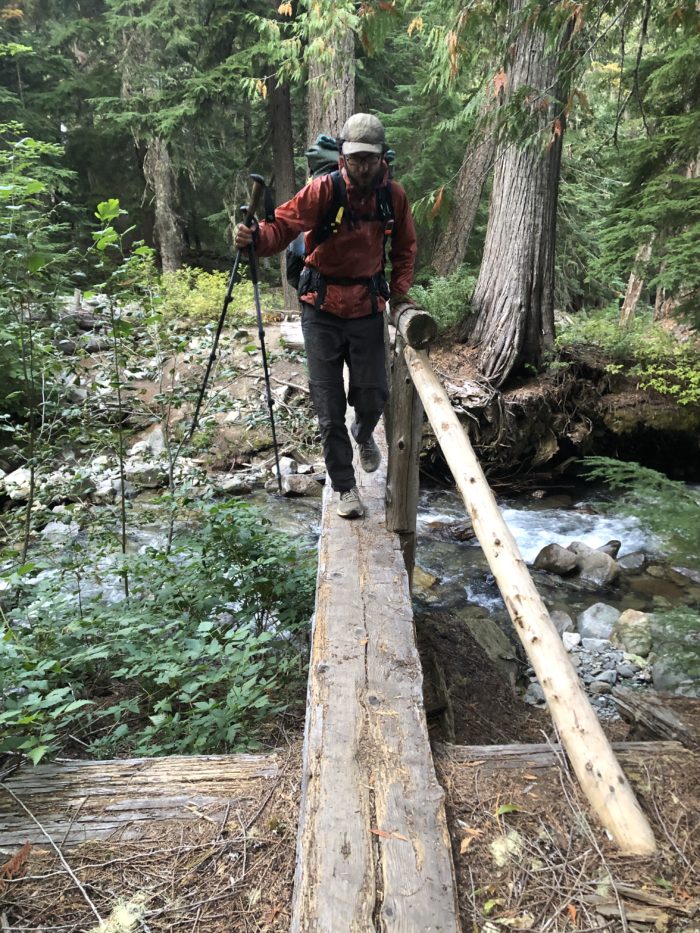 Just before we reached the road, we entered the North Cascades National Park! Our final national park of the trip! We've been to so many parks for the first time on this trip. Many more to check off the list over the coming decades, but for now we've definitely made a dent in the west coast parks.
We walked a few hundred yards down the road to the ranger station, and posted up at the picnic tables to wait for a ride 11 miles down the mountain to town.
Stehekin is an interesting little town. I mentioned earlier that the trail has been getting more and more remote as we've gone through Washington, and Stehekin is the peak of remoteness – It's only accessible by sea plane or ferry. All cars in the area need to be brought in by ferry from Chelan, way down the lake. There is one main road through the area, and it begins at town (where the ferry drops off) and ends a few miles beyond the ranger station, near some campgrounds. Truly this is the middle of nowhere! So, the town runs a red bus and the nearby ranch runs a white bus to shuttle hikers down to town. Before we go to town, though, we got to stop at the bakery, 2 miles outside of town!
So much food to choose from. Pies, pastries, quiche, sandwiches, pizza – this was the restaurant from heaven! No wonder hikers have built this up as the best bakery on trail. The selection was amazing, and I'll let the pictures of the food speak for themselves.
We walked the last 2 miles into town, with each of us having lots of weird food burps from the cinnamon rolls. Mango ran the last little bit to make it to the post office before it closed, and scooped our mail drops right before closing time. We decided to knock out all of our town chores tonight instead of leaving it for tomorrow, so we showered and did laundry at the public building. Bushwhack got his beautiful hair braided by Sugar (while he was flossing), and we drank Pacific Northwest hard ciders as we sat and chatted with Old Soul and Rugrats. Not a bad evening! A short walk later, we set up at the very crowded Lakeview group campsite and passed out for the night.
Day 154
Start: Stehekin Valley Road / Stehekin
End: Bridge Creek Campground
PCT Miles Hikes Today: 4.9
It was a windy but warm night, and we got to sleep in a bit this morning. Because this last stretch was pretty difficult the three of us agreed to spend most of the day in town, nearo out, and work hard to try to make up some calories. As a result, we had an incredibly unhurried morning. We hung out at camp, organized our mail drops, chatted with Possum, and sat outside the general store for a luxurious morning of laziness. The temperature was perfect, and we got a balcony view to watch all the tourists clamber off of the ferry and start taking pictures of the lake. It's going to be a busy Saturday here!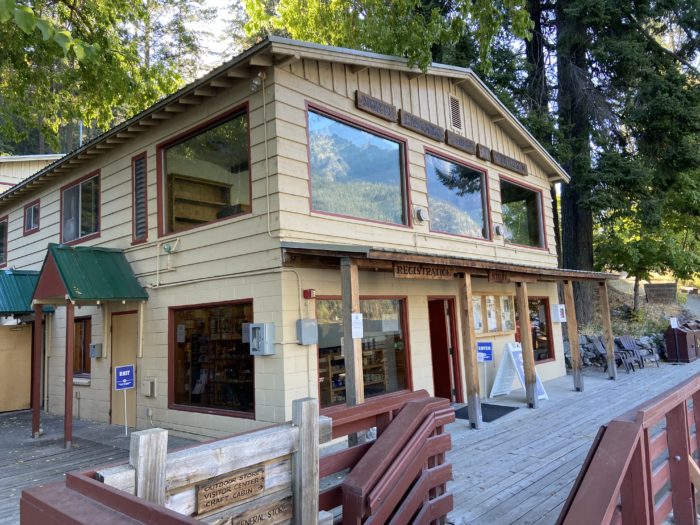 As we sat relaxing on the balcony enjoying the morning, we heard from a local that the weather was going to turn hard next Friday. Temps in the 20s, snow, just nasty weather. We pulled up our weather apps and checked reports for the mountains north of here, and it does indeed look like we'd better be off trail on Thursday night, or we'll be facing the wrath of the mountain gods. In a truly bizarre moment the likes of which can only happen during a thru hike, a lady rode up on a tricycle and warned us that "hikers die every year on the trail north of here and they don't find their bodies". Fortunately Mango formulated a plan to get us to the border on Wednesday and out of Hart's Pass (assuming we can get a hitch) on Thursday afternoon or evening. So for now, that's the plan we're going with! And boy, if we finish the evening before true winter arrives to the North Cascades, I will be so immensely happy that we've been pushing hard through Washington. Even dropping one or two days over the past few weeks may have gotten us in a gnarly situation.
After a few hours we began the 2 mile walk up to the bakery to gorge ourselves one last time before heading back out into the wilderness, but as we were walking, a friendly local pulled over on the road and offered to give us a lift up. Once again we ate way too much sugary food and I was feeling more than a little sick by the time I was done. Even being uncomfortably full, it was really nice to sit and sip some tea in the bakery, with the pleasant smell of cinnamon wafting out from the ovens.
Around 3 we hopped the bus to trail, and got back to the business of hiking. Mango and I both discovered that our food bags were FAR heavier than we had expected them to be. After accidentally running a little light through the last section, I definitely overcompensated with food this section – oops. Plus, we had carried out HUGE sandwiches from the bakery for dinner – I swear my sandwich weighed at least a pound and a half. It was only a 700 or so foot ascent out of the gap, but we really dragged up that hill.
Since we are now in the North Cascades National Park, there are only a few campsites that thru hikers can camp at without acquiring a special permit – one site 5 miles out of town, and one 10 miles out of town. We chose to stop at the 5 mile campsite. We rolled in and met up with Gringledorf, whose mom had sent him a 2.2 pound jar of Nutella in his last resupply box. Mango, whose folks had sent her what was basically an airplane bottle of Nutella, was super jealous – her bottle looked especially sad stacked next to the big boy bottle. Gringledorf surprised her by offering to let her scoop some of his Nutella into her cold soak jar, which made her whole evening. Who says that hikers can't do trail magic for each other on trail? We scarfed down our sandwiches and climbed into our tents before 8 as darkness fell.
Day 155
Start: Bridge Creek Campground
End: Bushcamp 2 miles north of Cutthroat Pass
PCT Miles Hikes Today: 21.5
It was kind of a dark, drizzly morning as we packed up today. Bushwhack got an updated weather report on his Garmin and reported that this morning was gonna be wet. We had the pack covers and rain jackets ready when we set off around 7.
Over the course of the morning and afternoon, we climbed from 2,100 feet to almost 7,000 feet over 20 miles. So our whole day was pretty much a gentle uphill the whole way, with occasional small flats or downhills. The rain did indeed come, and it sprinkled on and off until around 11am. I felt fortunate that it was 60 degrees and raining, since this time of year it just as easily could be 40 and raining. And, the uphill was keeping me warm, so I didn't bother to put on a rain jacket and was pretty much drying out my shirt between rain showers just with the heat of my body. The terrain was pretty rocky, as we followed river valleys with sharp rock walls. Lots of water, with about half the rivers having nice bridges and half having big logs to scoot across.
After 11 we had some sun start to peek through, and the clouds didn't look as scary, so we took off our waterproof pack covers and kept chugging uphill. Our views were beautiful river valleys framed by classic steep North Cascades rock faces. Early in the afternoon we also crossed Highway 20 at Rainy Pass. This is our last substantial paved road until we hit the border! The next 62 miles are pretty far out there.
As we crossed the highway and entered the dirt road parking lot, we saw Sam's grandparents again in their big white van, doing a huge trail magic spread for hikers! This is the third time we've been treated by them on trail, they are such legends and so sweet to talk to. As a bonus, we also got to play with a gorgeous shepherd lab dog. Only another week and a half until we get to see our dog again.
The final push up to the top of Cutthroat Pass was tiring but the views made it all worth it. Seriously, the North Cascades delivered today. Just some crazy views from above treeline, so much exposed rock face, and beautiful red coloring.
We found a nice little campsite right on the edge of the trail, at 6,500 feet. As the sun began to set the temperature dropped very quickly, and we hustled down dinner and hopped in our tents around 7:30. We did a little less mileage today than we had planned, so we will have to make up for it tomorrow. But I gotta admit, this campsite is one of my favorites on trail so far. Stunning views in all directions!
Day 156
Start: Bushcamp 2 miles north of Cutthroat Pass
End: Trailhead parking lot 2 miles south of Hart's Pass
PCT Miles Hikes Today: 21.6
Wow, it was a freezing cold night – one of those nights where you're up every hour, turning over, trying to scrunch up into a smaller ball in your sleeping bag so you can get warm. When we woke and started to pack up, there was frost all over our tentsite, and the fog was whipping by on brisk winds. I chipped a thin sheen of ice off of the tent before stuffing it into my backpack, and we got rolling wearing all of our warm layers around 7.
We quickly dropped a few hundred feet off the ridge and gained some protection from the wind, which warmed us up a bit. As the sun came out and the fog started to clear, the views continued to deliver. Around every corner were more huge red peaks of exposed stone. It was an easy hike down into the wooded valley, where we sat by the river and collected water for the first time since we cleared the pass yesterday.
After lunch, we had our final big ascent until we reach Canada – 3,500 feet of steady uphill. Halfway up the climb we reached Glacier Pass, a cool halfway pass that splits the valley, while huge mountains surround it on both sides. After eating lunch we continued upward. The mountains are all extremely exposed at this point, which provides great views, but surprisingly I felt super hot on the ascent. It's crazy to feel hot now, when this morning I felt frozen to my core.
As we passed these stunning views, I kept glancing north, and I couldn't help but wonder when we'll be able to see Canada. Not yet, I think. But Canada is only about 30 or 35 trail miles away at this point, which means it's probably 25 or so miles as the bird flies. I'm guessing tomorrow, we're going to be able to see some Canadian mountains.
Our tentsite tonight is right next to a trailhead parking lot. There are at least 10 other hikers here tonight, and everyone is diving into their tents even though it's hardly 7pm. As soon as the sun starts to set, it gets WAY colder – too cold to even eat dinner comfortably outside of the tent. My fingers have been frozen the past two nights trying to journal. I've got some hot hands ready to toss in my sleeping bag in case it gets as cold as last night. Fingers crossed we won't have ice on our tent tomorrow morning when we wake up. Is that too much to ask for?
Day 157
Start: Trailhead parking lot 2 miles south of Hart's Pass
End: Bushcamp 0.5 miles before Woody Pass
PCT Miles Hikes Today: 20.6
Thankfully not as frozen this morning as we packed up and headed out. We were all business packing up in the dark and getting moving, since we knew we had much less wiggle room in our final destination today. We can count our days left on one hand, and if we want to set ourselves up for a slackpack to the border tomorrow, we need to land around Woody Pass today no matter what.
Our first stop a few miles away was Hart's Pass, a small trailhead and campground that is the final touch of civilization we get before the Canadian border. In a normal year, hikers would continue on through the border to Manning Park, a quick 8 miles North, then hitch to Vancouver. Because the border is closed to thru hikers this year, we need to backtrack here to Hart's Pass and try to get a 20 mile hitch down the mountain, then somehow get to Seattle. We availed ourselves of the very spicy pit toilet, and bid Hart's Pass adieu until we come back in a few days.
We absolutely flew this morning – a combination of smooth, mostly downhill trail and a deep desire to push miles before the snow moves in. We got an updated Garmin satellite weather report this morning which indicated cold and some scattered rain for today, tomorrow and Thursday, but on Friday the headline was "Heavy Snow". Woof. That hitch down the mountain could be a problem for future Slice and Mango, since the weather is expected to turn hard for the worse starting on Friday, and this is a really remote area. We'd be completely dependent on day hikers and weekenders, neither of which would be making the trip up with 6 inches of snow in the forecast. For now, we wanted to take advantage of the beautiful clear blue skies, and we knocked out 10 miles by 11am.
After getting past Hart's Pass, we were transported to a new world – a world of successful thru hikers returning to the pass to head back home. Every hiker we passed had a shit-eating grin on their face with lots of high fives and fist bumps to go around. "Congrats!" "Congrats!" It was like a conga line of congratulations.
We had made really good mileage before noon, which we were thankful for when around 2pm the skies finally opened up and we got a consistent cold drizzle going. I hunkered under a tree near a stream and waited for Mango and Bush to catch up. Lots of hikers passed in both directions, all of whom looked drenched. Mango caught up and we pressed onward into the gloom. All the beautiful views from earlier in the day were now obscured by dense fog. Just check out this gorgeous view from Rock Pass – you can kind of see some trees towards the bottom? Beautiful.
As I was trudging along after Rock Pass towards Woody Pass, Bushwhack made his first appearance of the day, and he was pretty much sprinting up the trail. I hurriedly squeezed to the side to let him past, and he yelled back that if he stopped he was going to freeze, and that he was gonna stop at the first protected campsite that he could find. Looks like his lack of rain gear came back to bite him and he was worried that his gear was going to get wet. 5 minutes later I hear Bushwhack yell out to me, and turn around to see that he had locked down a nice little site hidden off the side of the trail. This is about a half mile less than we wanted to hit today, but given the weather I'm not sure we want to be camped at the exposed sites up on top of the pass anyway… too windy, it would be difficult to sleep. We hid out in our tents for the rest of the night, trying to keep warm and dry.
Ok, so this is our camp for the next few nights! We're about 11.5 miles from the Canadian border, and we're going to keep most of our stuff set up here and slackpack to the border and back tomorrow. Mango is a bit nervous signing up for a 23 mile day with the big celebration break in the middle of the day, so we're going to wake up at 5 tomorrow to make sure we have plenty of time.
Day 158
Start: Bushcamp 0.5 miles before Woody Pass
End: Canada!
PCT Miles Hikes Today: 11.5
Mango and I woke before dawn, ate breakfast in our sleeping bags and emerged into a cold, dark, foggy morning. Clouds were whipping by just above us as we set off to the gap at Woody Pass. We had zero views until about an hour or so after we started hiking, when the rising sun finally began to burn off the fog and expose the mountain peaks. Like yesterday, the trail was fully exposed for almost the entire morning, which mostly just meant we were getting blasted by cold wind on the ridgeline as we hiked. The sun started to poke through to illuminate lands to the North, almost as if the Lord above was showing us the way to the promised land. This is it, the day we've been marching towards for 5 months – this is the end!
As we rounded the very scenic Hopkin's Lake the trail leveled off to a very gradual descent. The next 6 miles were beautiful, gentle downhill, all the way to the border. The trail signs eventually ran out of things like lakes and passes to point towards, and the destination became clear: we were headed to the U.S. Border on a direct path!
The end of the PCT is very different from the end of the AT. On the AT, Mt. Katahdin dominates the horizon for days as you approach Baxter  State Park. You can tangibly make progress towards it each day as the mountain grows bigger and the ridgelines become more distinct. Then, your final day you are climbing, watching the summit grow closer with each step. You see the famous finish sign coming from a few hundred yards away. On the PCT, you are hiking down, down, down, until you turn a corner in trail that looks like every other turn you've made over the last 2,650 miles. But then, there it is – stuck right dead center in a row of clear-cut trees which marks the international boundary, is a surprisingly small monument with two flags sticking out of it. It was almost surprising when we turned the final corner and found ourselves face to face with the end of our hike.
Unbelievable – WE DID IT!
At the border, I tried to sort out my emotions. When I summited Katahdin 5 years ago, there was this frantic emotional release – complete with lots of tears. Surprisingly there was none of that this time around. I sat on the ground watching Mango taking pictures of Bushwhack, and I was filled with nothing but a quiet sense of contentment for a job well done.
A thru hike needs to be about more than getting to the end. The million moments that make a hike like this special are sandwiched unexpectedly into each day on trail, so getting to the end today simply felt like closing the book on an extraordinary novel. Sure, the ending to novels is important, but what makes it special were the pages that came before. If the AT was about the destination, the PCT was surely about the journey.
Mango and I retreated around the corner and had a private moment together to celebrate our achievement, then we began the long hike back to our campsite. The miles came easy and we got back to camp far earlier than expected – which was a good thing, since towards the end of our day, it began to snow on us. It felt like a fitting end to the trip. The weather window was beginning to close, and we were getting off the mountain just in time to avoid to avoid an early winter in the North Cascades.
The next day we hiked the final 19 miles back to Hart's Pass. As we passed other hikers heading towards the border, we found ourselves in a position we had envied just a few days before – we were now the hikers who had finished, and we were enthusiastically grinning at every thru hiker we passed. The day was a beautiful one – full sun, with the rugged Cascades on full display from every ridgeline. We took lots of breaks, knowing that this was our final day on trail. Mango and I reached the final corner before the trailhead came into view, and I held out my hand to her. We finished the PCT the same way we started 5 months earlier – walking together into the next adventure that life had to offer.
And because I fear I'm getting too sentimental and serious, I'll leave you with a sensual picture of me eating a calzone in our Winthrop hotel room after we got down from the mountain.
It's been a lot of fun writing for you all this year, and I hope that each of you finds nothing but the happiest of trails, wherever you are reading from. Take care!
– Slice
Affiliate Disclosure
This website contains affiliate links, which means The Trek may receive a percentage of any product or service you purchase using the links in the articles or advertisements. The buyer pays the same price as they would otherwise, and your purchase helps to support The Trek's ongoing goal to serve you quality backpacking advice and information. Thanks for your support!
To learn more, please visit the About This Site page.