A new kind of beautiful.
The High Sierra are over and now we are surrounded by the Sierra I know: granite, "short", mountains, covered in trees. Mountains filled with mosquitos and wildflowers and snow. Maybe not filled with snow, but there is still a decent amount. Enough to cause some frustration and route-finding but not as much as before. So far anyways. And it has been beautiful. Definitely not epic, but seriously, wonderfully beautiful.
Memories of previous backpacking trips have been spottily coming back to me as we pass by lakes and passes I have climbed in my past. Of course, everything looks different now that I am older, but I am happy that I can actually recognize these places and appreciate them for more than a new place for beanie babies to explore.
Day 71: Near Boulder Creek, 1031.5
It always takes longer to get out of town than expected, but we still managed 15 miles. We climbed the dry red mountains out of Sonora Pass and our eyes were treated to spectacular fields of wildflowers. Vibrant reds, purples, and pinks above their green tufts and steams drastically contrasted with the red soil they were growing out of. We descended to the pine forests filled with fairy waterfalls and lichen that I am so familiar with. I like being back in my stomping grounds, even if they aren't "epic".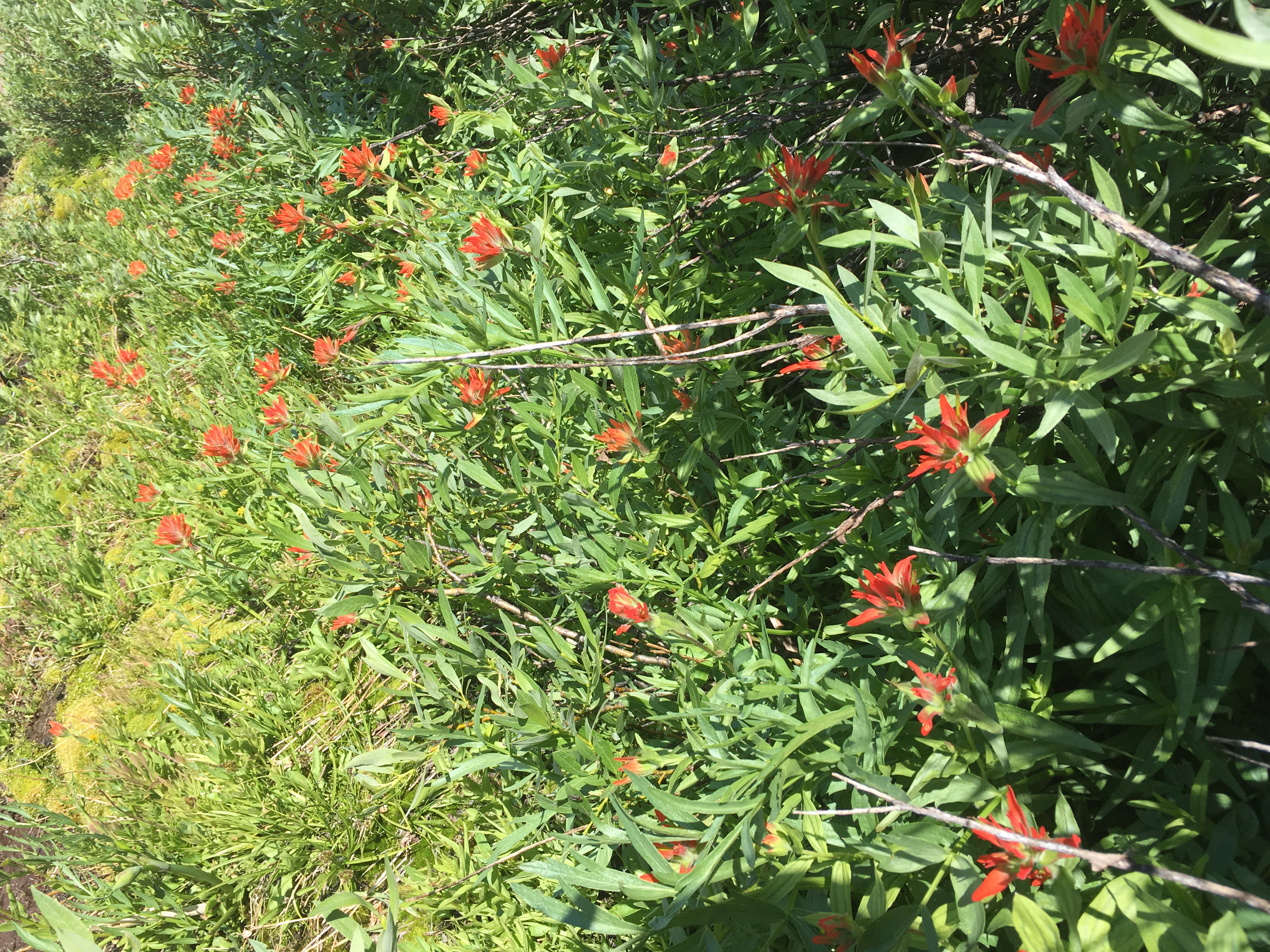 We decided at lunch to write a book, "The Very Hungry Hiker". So applicable. Maybe we'll all turn into butterflies at the end of the hike. Anyhoo, we camped on this sweet, Patagonia magazine cover status, ridge that had the most beautiful sunset. Could not ask for more from today.

Day 72: Pennsylvania Creek, 1055.1
More beautiful. We had to do some trail finding in the morning, but once we got over the saddle, everything was a breeze. I decided that walking in snow is like when a villian with a bullet in his leg is getting chased by the good guy. That swaggery, one foot always sliding out sideways, walk. That's what I feel like anyways. But maybe not as cool as a villian cause I fall. A lot. So I would immediately get caught by the good guy. Had two bad ones today. One, where I postholed into knee-deep mud that I then fell forward into, so mud was up to my belly button, and then another, totally classic banana peel fall. One leg straight up, then the other, then slammed on my ass. Fell so hard my ears were ringing. Damn snow. I just want skis.

We swam in Noble Lake at lunch, when we were notified of trail magic 4 miles down at Highway 4. Perfect for a second lunch. It. Was. Amazing. Top three trail magics for sure. This guy had a PIZZA OVEN. And Caprese salad. And he brought up a full-sized grill. Unbelievable. I stuff my face even though I was still pretty full from lunch. But how do you say no to basil, mozzerella, and fresh, heirloom tomato? You don't. And when they offer you more, you take it.

One of the guys was even from Fair Oaks! Such a small world. We were there for about two hours, eating, digesting, and really not wanting to leave but also trying to get six more miles in. We finally got our swollen bellies out of their way-too-comfy chairs, and walked six more miles. It was pretty. Shocker. More amazing wildflowers and these super cool drip castle rocks. Sage bushes were mixed in with more electric green bushes making the meadows look speckled or polka dotted. We cowboy camped by another creek with another campfire. Life is freaking fantastic.

Day 73: Campsite by Upper Truckee Fork, 1079.33
I need more adjectives cause today was also…fantastic. Have I used that one yet? Wonderful? Great? Beyond magical? Did I mention I love my life? Cause I do. We actually walked about 3mph today. First time we managed that in a long time. It felt good. My mom was planning on doing a small SOBO trip from Carson Pass to Ebbetts Pass and today was the day we planned on crossing paths. She was with Ron and Uschi, the parents of Dani who inspired me to do the trail. They showered us in food. Parmesan crisps, pie, licorice, larabars, you name it. Lunch at 9:30am. Ron knows the trail like the back of his hand and gave us allllll the details of the upcoming miles. It was awesome to see them and receive all of their goodies.

We climbed through the granite mountains and to the base of what is legitmately called the Nipple. Swam in the Lost Lakes where I ran into Sian, one of the founders of the UC Berkeley women's Ultimate team! And two founders of Humboldt's women's team! Again, always wear ultimate gear when traveling.
J
Cruised to Carson Pass and decided to camp 2.7 miles north of there. But 1.7 miles north of Carson is where it all began, seven years ago. 1078 miles into this hike, I came to the spot whete it all began. Where we crossed paths with Dani "Genius" Kelly and I decided I wanted to do the PCT. Seven years ago an idea wad planted in my head and it came to a reality almost a decade later. I sat there for a bit, just remembering. And thinking. And being so grateful for being able to do this. It was pretty surreal being there. Thank you Dani for hiking the PCT. And thank you Mom for introducing us to the world of backpacking. This wouldn't have happened without you guys.

Camped amongst the trees and bugs with the most beautiful, blue and orange-striped sunset. The mountains were lit up with Alpine glow and looked like gold. Couldn't ask for more.

Day 74: South Lake Tahoe, 1090.3
Cruised the 11.5 miles into South Lake bu 10am. God actually being able to walk again! Without route-finding or snow or a zillion trees to scramble over. So nice. The hike was gorgeous. Katie do you remember our trip here? We walked along the ridge and saw the awesome sunrise. The sun kept peeking through these rainish clouds creating the coolest looking rays.

We descended into trees with some route-finding but made it to Echo Summit eventually. Got a hitch with an Uber driver who didn't charge us and went straight to Basecamp Pizza for our free personal pizza. It was delicious. Good beer too. Hung out there for way too long before heading to Chopstick's parent's AirBnB. They had surprised her the day before on trail. They made us the most delicious wonderful dinner of pesto pasta salad, tri tip, shrimp, fish fillet, rice mango salad, and grilled veggies. Gotta see Lizzard again and sleep in a bed. The blanket was so big I didn't know what to do with it.
We actually hiked 17 miles after 12:30pm today! Impressive in my book. Probably helped that we had three egg bakes, fresh fruit, and bacon for breakfast. We slackpacked from Echo Summit to Echo Lake then did the last 15 miles. We passed Aloha Lake, which I remembered! Camped there twice before. Continued our afternoon stroll up Dick's Pass and slipped and slid on snow down to the lake.

Day 76: Five Lakes Creek, 1135.85
New PR- 28.4 miles. Wooooo weeeee. Felt good too! Time to start cranking the miles cause we are about two weeks behind schedule. Oy. The stress is definitely building. But while that is exciting, today was emotionally taxing. The group split up Flicker and Ateam are going to San Francisco and left. Kinda without saying goodbye. I know we'll see em again but it is still sucky. I hiked with Flicker for 750 miles and she is awesome. Her and Pony Express and S&M have impacted my hike more than anyone else so…I'll miss em. A lot. And S&M is visiting her boyfriend for a couple days so she's gone too. Time for new friends. Anyhoo. Enough emotions.

There is a fire somewhere near here cause it was smokey this morning. I had my buff over my face for most of the morning. Loads of haze over the mountains. We saw our first flip-floppers: people southbounding from Ashland to avoid the snow. I wonder when we'll see our first southbounder from Canada. Stoked for that.
Flew the 17 miles to Barker Pass to meet…wait for it…my Grandpa and Uncle Randy! So much family. It wad awesome seeing them they brought us a load of chewy bars. Probably won't see them for the rest of the trail. Thanks for making it out!

We climbed a ridge and walked along Wolverine Bowl by Alpine Meadows! I had no idea the PCT was there. I've skied that a million times. It so cool walking it and recalling childhood memories. I love recognizing places and creating new memories. S&M and I camped together at Five Lakes Creeks. So grateful for her. Tomorrow, I see my mom.

Day 77: Outside of Highway 40, 1152.5
Anoter fast mile day. It's nice having these again. S&M and I were taking our time cause my Mom was meeting us on trail around 2. We did our two 1000 foot climbs and chilled at Tinker's Knob for a while. Hiked through meadows and along a ridgelines seeing the mountains on either side of us. I (embarassingly) walkes down the ski slopes of Squaw, sorry did not have my skis) and climbed a lift tower. Continued onto Sugar Bowl. Three ski resorts in two days! You can walk to them all! Without touching highway! So now I wanna ski between em, but it's easier to walk cause you can ignore the "Ski Area Boundry" signs.

Anyways, saw my Mom and April and Chloe! Nice surprise. Back at the car she did trail magic with baguettes, prosciutto, avocado, fresh blackberry pie, chips, and more. There was another angel there too with a freaking surplus of goodies. Stupid good craft beer, CINNAMON ROLL OREOS (my favorite), Izze sodas, I mean we had it all. He even had a scale to weigh our packs on. PEOPLE ARE SO GREAT. Thank you world.

S&M left, and I had to say a sad goodbye. But I already met another group of hilarious hikers: Legs, Seagull, Pushin it Pete, Trail Dad, and Sherlock. I'll probably hang with them for a bit but do plan on waiting for S&M in either Sierra City or Belden. Hung out at the trail magic for good while then said goodbye to the fam. Probably the last time I'll see em on trail. Lots of fam in this stretch. But that's cause we're a straight shot from Fair Oaks. Bummed to see my friends of 750 miles gone, but I have faith I'll see em again. I hope so. It is time to start pushing miles.
Affiliate Disclosure
This website contains affiliate links, which means The Trek may receive a percentage of any product or service you purchase using the links in the articles or advertisements. The buyer pays the same price as they would otherwise, and your purchase helps to support The Trek's ongoing goal to serve you quality backpacking advice and information. Thanks for your support!
To learn more, please visit the About This Site page.