A Shakedown in Texas
PCT Shakedown Hike? Check.
And a shakedown hike it was. With the heat, cold, rain, and wind, a long water carry, and longer mileage, I didn't leave this 33-mile loop in Big Bend National Park without a single piece of gear going untested. Here's what went down on this hike and what I learned from it that I'll be taking with me this summer.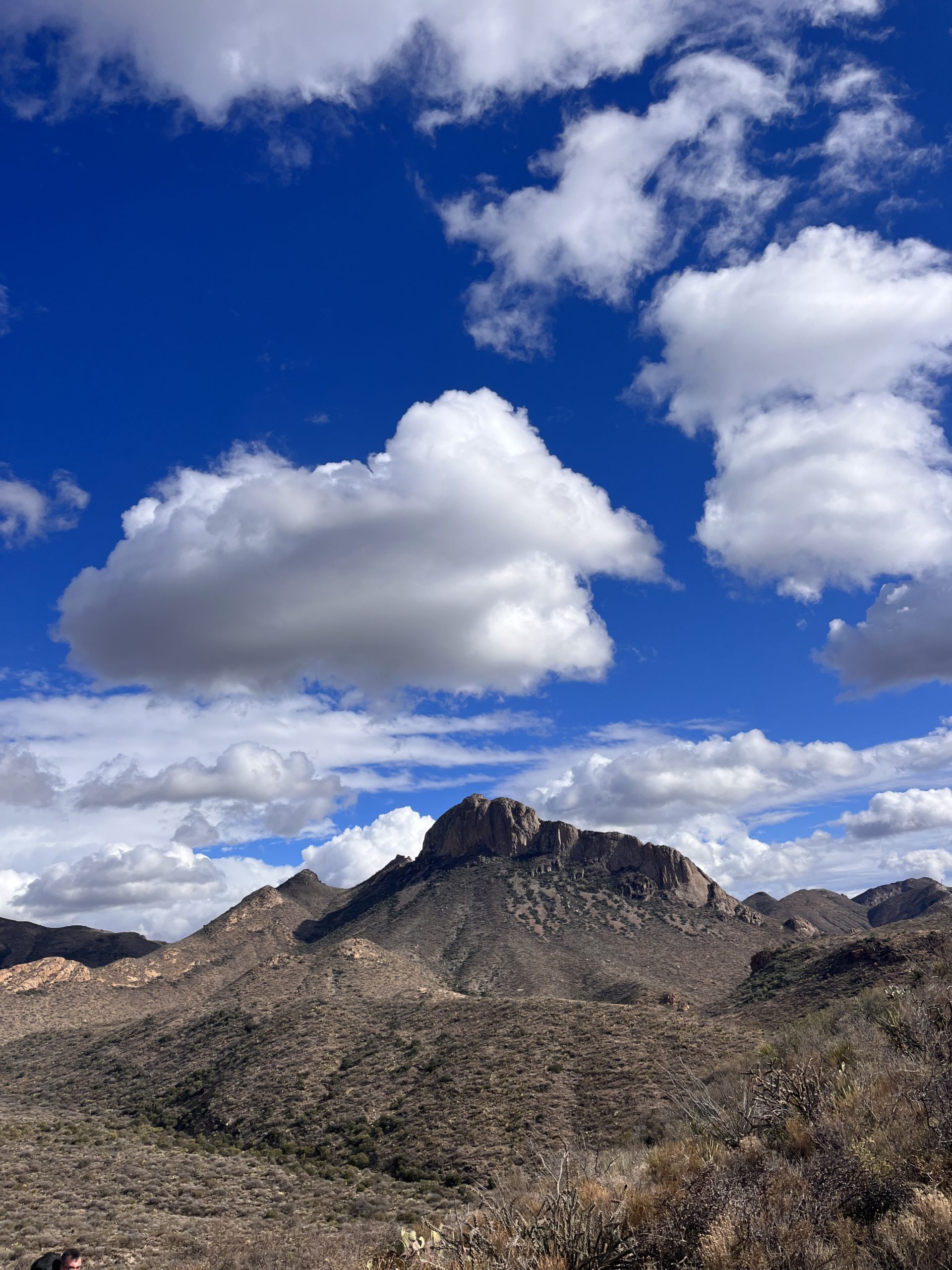 Hike Logistics
Where: Big Bend National Park (Southwest Texas)
What: Outer Mountain Loop
How long: Three days of hiking somewhere around 33 miles total
When: New Year's! Woot Woot!
Gear Stuff
This is not an exhaustive list of everything I brought, but here are the main things I was looking to test:
I also tested my whole setup in general (i.e. how I pack my pack, where I want my snacks to go etc.) as well as going 95% stoveless (not quite ready to give up hot coffee).
Now to Get Into the Hike
I did this hike with four of my pals from when I was doing conservation work in Utah. I won't bore you with our driving logistics, but the trip's first and last two days consisted of driving across the country between Texas and the Chicago area. Also known as a very long drive.
The night before our hike, we cached water at a water cache box about two-thirds of the way through the loop. Big Bend is a desert national park, so there was no water anywhere on the trail. This resulted in carrying seven liters of water for the first two days before we got to the water drop. Another reason why I experimented with stoveless meals is so I didn't need water to cook. Seven liters with three days of food is heavy enough for me. Lucky for us, the temps didn't climb above 70 degrees the whole trip so this amount of water was more than enough.
Day 1- 11ish Miles
Today started with breakfast and driving into the national park, where we got our permit and suited up to go. The hike started with a hefty 4-mile climb over a mountain pass before we walked predominantly downhill into a canyon valley for the rest of the day. The day was filled with laughter, slap happiness, and reminiscing with old friends. After sitting in a car for two days, our bodies were sore and tired by the end of the day, but boy, was I happy sitting on the desert floor eating pasta and tuna with my friends.
That night was extremely windy and rainy. My old duplex held up well in the wind, but I woke up to find a leak in one of the corners of my tent, quickly remedied by some gear tape. Woohoo!
Day 2- 13.5ish Miles
My favorite day, also the one with the weirdest weather. We started early today, packing up our stuff and shuffling around camp in the dark. We sat around drinking coffee and eating breakfast while fully dissecting our ailments for a while before we got going again. The first four miles breezed by as we made our way through a valley surrounded by mist-shrouded mesas and buttes. The canyons and the desert mountains took on a completely different feel in the moody weather compared to the golden hour light we saw them in the night before.
After mile four it started drizzling on us, which quickly turned into a downpour that left us wet and cold. My Frogg Toggs coat held up better than I thought it would in the weather, my pack leaked through after a while (that one is on me for not bringing a pack cover), but luckily, my sleeping bag and clothes were dry inside a garbage bag. Even though the rain was cold and making us all slightly miserable, there was something magical about hiking through the desert in a rainstorm. Listening to the sound the rain made on the ground and the scent it left behind.
Despite its beauty, we were all still very cold and didn't stop much until around mile seven when the rain let up so we could keep ourselves warm. After the sun finally showed its face again, we took a long lunch break, drank some coffee, and warmed up before continuing through rolling hills until we reached our water cache and second campsite. We made dinner while watching the setting sun set the cliffs and mountains on fire before talking about stupid things and eventually cowboy camping under a winter sky.
Day 4- 9ish Miles
We started today hiking on a gradual uphill in the middle of a red rock canyon for the first few miles. The sun didn't catch up to us for most of the morning, and the cool air felt like bliss as we watched the light change on the canyon walls. We then had about a mile and a half of brutal switchbacks in the sun until we went over a pass where we had a long lunch break and were greeted by a herd of deer. After lunch, we plowed through our lastthree3 miles heading back down to the visitor center, and that was a wrap on the loop! That night I rang in the new year by talking to one of my good friends under the stars and the mountains. Not a bad way to kick off 2023.

After All of That, Here are the Takeaways
I loved my backpack, and it carried comfortably even when it was overloaded with water and food.
The enlightened equipment quilt worked great, I got a little cold when I was cowboy camping, but I think that is more due to me not using it properly yet than it was the quilt.
I loved my water bottle holder on my shoulder strap and will 100% be getting one on my other shoulder for my phone.
The Nitecore NB 10000 will probably not hold enough charge to get me through a stretch on the trail.
Stoveless meals are nice, but I will definitely be bringing my stove on trail. I might just not use it much in the desert.
I will be bringing a pack cover for my pack. My tent could use some waterproofing, but everything else held out just fine.
I wasn't a huge fan of the inflatable pillow and will be switching it out for a felt one or just stuffing clothes into a stuff sack.
Love love love the Altra shoes.
Big Bend is awesome!
Overall, I found little tweaks to make my system more efficient. My used gear is still working nicely, and I figured out some meals that worked for me and some that didn't. I had a ball with my friends for three days in the desert, learned a lot, and am more excited than ever to get on the trail come May!
Affiliate Disclosure
This website contains affiliate links, which means The Trek may receive a percentage of any product or service you purchase using the links in the articles or advertisements. The buyer pays the same price as they would otherwise, and your purchase helps to support The Trek's ongoing goal to serve you quality backpacking advice and information. Thanks for your support!
To learn more, please visit the About This Site page.