A Slight Delta To Plan (Days 121 to 131, Crater Lake to Cascade Locks)
Day 121
Start: Mazama Village / Crater Lake
End: Dirt road just past Highway 138
PCT Miles Hikes Today: 9.2 miles on the Rim Trail, then 9.1 PCT miles
Mango and I are coming off a double zero with our dear friends Joe and Jenni at Crater Lake, full of good food and lots of laughter (and if we're being honest, probably too many hard ciders last night, considering the mileage we had planned for today). Our hearts full, Joe and Jenni dropped us off at the Rim trail, and hiked for a few minutes with us before tearfully wishing us goodbye.
So, the Rim Trail. This isn't the official PCT, but hikers pretty much unanimously agree that you'd have to be crazy to skip this alternate – in addition to being able to get good potable water from the National park drinking fountains, the views of the lake are incredible, and it doesn't make much sense to be a "purist" when this kind of scenery is available. Hikers who choose to hike the Rim hop off the PCT at mile marker 1823 and back on at 1839, bypassing 16 miles of trail via a 11.5 mile alternate. I think the PCT prides itself on being equestrian-accessible, and this is the only reason I can think of that the Rim trail isn't the official PCT… I don't think the national park rangers want horse poop rolling down the hill into that pristine clean lake. Every single hiker we spoke to took the alternate, and 100% of them were exceptionally happy with the decision.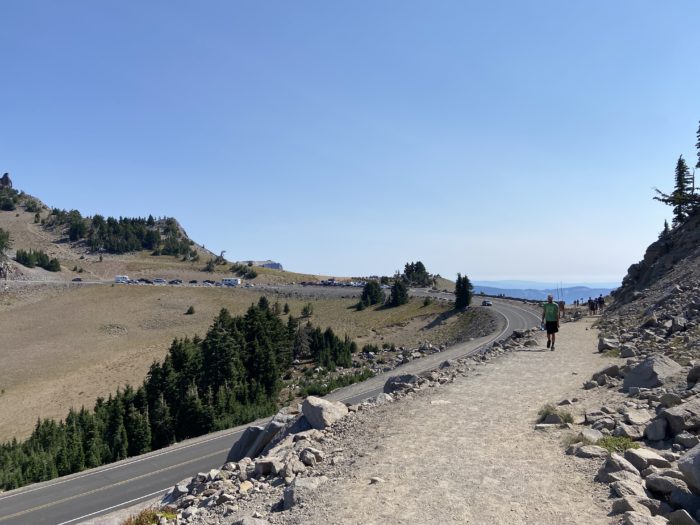 The rim trail was interesting – short sections of extremely steep, sandy trail kept you on the rim overlooking the lake. For 3 straight hours, I could look to my right and see the prettiest lake I've seen in my life. Lots of tourists at the parking lots taking pictures with selfie sticks, but the parking lots also had pit toilets for me to use, so it was worth putting up with the crowds. We hiked slowly, taking in the sights and enjoying the nice cool day.
After we turned off of the rim and got back on the PCT, our pace picked back up. We stocked up on water at a huge water cache maintained by trail angel Devilfish (thank you Devilfish!!), and cruised downhill the rest of the day along smooth trail until we intersected with a highway late in the day.
We decided to set up camp near a dirt road a half mile from the highway. We didn't see many people today – we seem to be between bubbles. Our trail friends hiked out yesterday to do a 24 hour challenge, which is hiking as many miles as you can in 24 hours as a way to test yourself. They were aiming for 60-70 miles. Mango and I think this is insane, and a good way to get yourself injured. I can see the appeal from a self-discipline standpoint, but at this point, I don't have anything to prove to myself, and Mango agrees – we're playing the long game to get to Canada.
Day 122
Start: Dirt road just past Highway 138
End: Six Horse Spring Junction
PCT Miles Hikes Today: 23.7
We let ourselves sleep in a bit today, banking on the easy terrain to help us make up some time. Also helping us save time: a massive water cache, again supplied by trail angel Devilfish. This is the same angel that stocked the massive caches in the Tehachapi to Walker Pass section, and we continue to be incredibly appreciative of his hard work and generosity!
Mango and I hiked together for the morning ascent. It easy extremely easy hiking, and we cruised right along without a care in the world, enjoying the slightly smoky views.
Today we had our longest dry stretch in a while – 16 miles between a beautiful, ice-cold, spring-fed stream, and Six Horse Spring, where we planned to camp. Thankfully it was easy walking and not very hot, so we grabbed 3 liters for the stretch, which was more than enough.
Around midday we hit the highest point on the PCT in both Oregon and (surprisingly) Washington. It's all downhill from here, right?? No dramatic views, but it was a bit clearer from the smoke.
All day we met SOBOs. We caught up with a few of them while filtering water or hanging out taking a break. Many of them started in early July, and were extremely bummed about the NorCal trail closures. You can tell they were trying to stay positive, but the upcoming closures were clearly weighing on their minds. They loved talking about how many NOBOs they're passing right now – somewhere around 70 passed one hiker a few days ago. I think this is the NOBO bubble meeting the SOBO bubble.
Towards the end of the day, the smoke rolled in thick, and our views were once again blocked. But we are old hands at this nonsense by now, so on we hiked, and we reached our planned campsite. I offered to drop down the extremely steep side trail to the spring and gathered water for me and Mango while she set up the tent. Division of camp chores is so much fun! One of the many benefits of hiking with your partner.
Our site tonight is hopping with other hikers. Seems like this is a popular spot for both NOBOs and SOBOs. We also heard lots of hikers passing by, hiking late into the evening, past 8pm. Mango and I are definitely not late-night hikers, preferring to roll into camp by 7, with plenty of time to set up, eat dinner, and lounge around before bed. I think our schedule would be impossible if we were dropping consistent 30s, but at this point, I think we have both made an unspoken agreement that we are not the type of hikers who do 30s. It's a marathon, not a sprint, and we are well on track for a mid September finish. So, what's the rush?
Day 123
Start: Six Horse Spring Junction
End: Mountain Creek
PCT Miles Hikes Today: 24.4
We awoke early to other hikers packing up and leaving, and I couldn't fall back asleep. So we had a nice early start. Most of the morning was a nice flat trail descending to Windigo Pass. The smoke had cleared out overnight, which we were both thankful for.
At the pass we found another amazing water cache by Devilfish, along with a logbook. It's always fun to flip back a few pages to see when our friends rolled through.
The climb out of the gap was slow and steady, though I found myself sweating like crazy. The views at the top were spectacular. The day was starting to get hazier, but in the distance we could just barely see the outline of Diamond Peak, where we knew we wanted to end our day.
After an 8 mile windy descent, the trail broke out next to Summit Lake. The small cove that we found was among the prettiest spots I've seen all trail, and yes, I include the Sierra in that statement. Neither of us could resist hopping in the water for a quick dip, miles be damned. We sat on the shore and enjoyed the views for about an hour before we started to get restless. We both agreed that we wished we could spend the night here tonight, but we wanted to get a nearo into Shelter Cove tomorrow, so on we hiked.
It was hard to leave the beauty of our little cove, but it was even harder to ascend the 1,500 feet to our campsite. The smoke really felt like it peaked for the day as we struggled to climb. Mango was having trouble taking deep breaths, and my eyes were burning. I eventually put on my KN95 mask I carry for COVID protection, to try to filter out some of the smoke before it got to my lungs. Hey, getting smoked out was the theme of the last blog post – no fair, I need to find a different theme for this one! We very slowly finished the climb, looking forward to tossing down our packs and trying to relax in this nonsense. I blew out a ton of bloody boogers before I lay down for the night. Not fun.
I'm at a bit of a loss to explain why the smoke keeps coming back in the late afternoons. Maybe it's something to do with the heat of the day. Either way, it is brutal to climb when the smoke is this dense.
Does putting on a rain fly help keep smoke particulates from making their way into a tent? I have no idea, but it can't hurt – so I tossed on the rain fly, hoping to protect our lungs at least a little bit as we sleep tonight. I hope things get better than they are right now, though – it's just dreadful to hike in these conditions. Rain, snow, hail I know I can handle – but, this smoke seems to be knocking us on our asses.
Day 124
Start: Mountain Creek
End: Willamette Pass Trailhead
PCT Miles Hikes Today: 11.6
I woke to another hiker's cell phone alarm at 1am, which was very annoying – I had trouble falling back asleep for about a half hour. When we got out of the tent around 6:30, the hiker had gone – so maybe they left in the middle of the night? Hey, other hikers are trying the 24 hour challenge, maybe this was another one seeing where their limits lie. Regardless, the smoke blew out overnight, leaving us with beautiful clear views up to Diamond Peak as we hiked out.
Our whole morning was flat or downhill, and we easily cleared 3mph. Along the way we stopped and picked some Bog Bilberries, which look like blueberries and taste like blueberries, but are apparently bilberries. Since I have no idea what I'm doing, I have a blanket rule: Don't eat any berries, or else you'll die. The only exception I make is blackberries, because someone once told me that no poisonous berries look like blackberries or raspberries. I have no idea if it's true but it's worked for me so far! Mango, who has no such inhibitions, gobbled down a few handfuls, and we hiked on until we got to the dirt road side trail to Shelter Cove.
Shelter Cove seems to be mostly a boating/fishing destination. We hikers still found a very warm welcome from the staff, with a separate PCT shaded area for the hikers to hang out at, along with a full charging station and a delicious, reasonably-priced restaurant. Mango and I picked up our boxes and exploded them all over the shower/laundry area, while we got our clothes washed. Believe it or not, this is the first laundry machine we've had access to since Etna, over 300 miles ago. Shower laundry can only get out so much dirt… sometimes you just need a real washer machine to do the job.
We had planned to hike out a few miles to get a jump start on the next section of trail, but late in the afternoon, a crazy amount of smoke rolled in again. After struggling through the smoke yesterday evening at 1mph and likely taking a few months off the end of our lives from the smoke damage, we debated staying put and hiking out early tomorrow morning instead. In the end, we compromised, strapping on our face masks and hiking the few miles back up the side trail to the trailhead. We can hear lots of cars and trucks from our campsite, but at least when we wake up tomorrow, we'll be starting on the PCT.
If this smoke continues to hammer us in the late afternoon, we may need to do the majority of our miles early, then post up for the night far earlier than normal to avoid the late afternoon and evening smoke. I can understand why so many of our friends have skipped portions of Oregon. This is definitely less fun than most of the trail… but, all part of the type-2 fun, I suppose.
Day 125
Start: Willamette Pass Trailhead
End: Brahma Lake
PCT Miles Hikes Today: 25.2
Tough night, sleeping near the highway. Cars kept me up half the night. Not sure how I ever lived in Chicago, with all the car noises. We were up at 5 and hiking by 6, in an attempt to beat the afternoon smoke.
Much of our day was spent weaving around small ponds and lakes, nestled into the mountains. The views were very pretty, and each stop for water was peaceful on the shores, overlooking the water and mountains.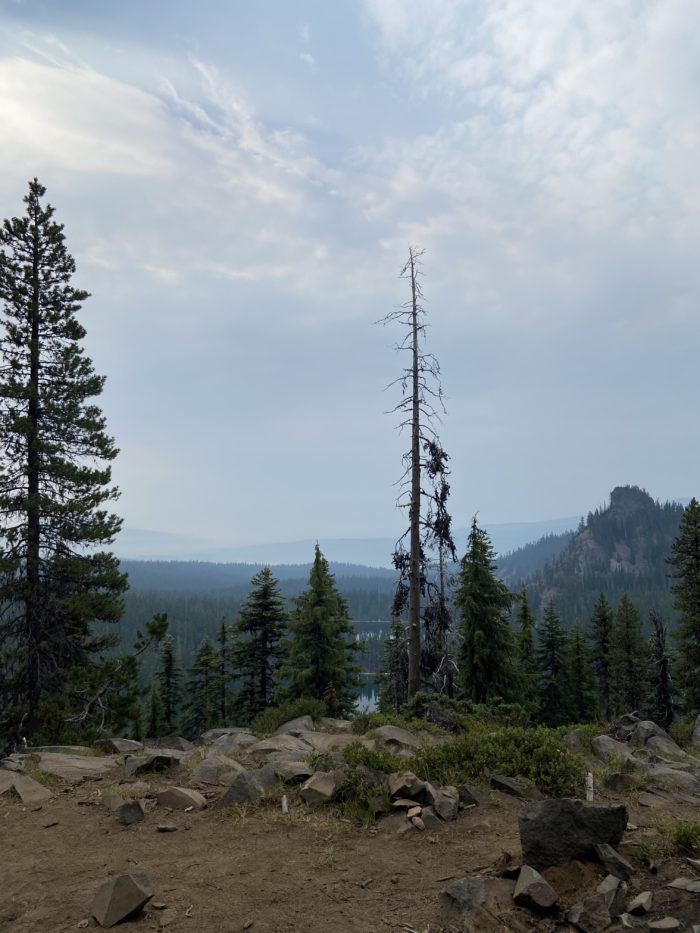 As the day wore on, the smoke once again moved in. We had a double whammy, because we walked through a burn scar for a few hours just as the smoke started to get bad. It was creepy! And today is Friday the 13th. I half expected something spooky to happen, but thankfully it was just another boring, smoky hike. We were both hiking in our facemasks, which made it tough to enjoy. Hiker beards and KN95 masks don't mix very well – I was extremely itchy for most of the afternoon.
Our last few miles were in awful smoke. Fortunately, we had cleared 18 miles by the time we ate lunch at 2pm, so it was an easy, slow final 7 miles in the smoke. Our strategy of waking up early definitely worked today, and we'll be trying it again tomorrow. We set up at Brahma Lake, which I assume would normally be a beautiful campsite, but the smoke made it tough to enjoy. Can you see the sunset in the below photo?
Talk today among the NOBOs turned to the upcoming Trail Days festival in Cascade Locks from August 20-22. Every year, hikers assemble in Cascade Locks for a big multi-day party, with gear vendors from all the major brands on site. I went to the Appalachian Trail version of trail days in 2016 and had a blast. Mango and I have been adjusting our schedule over the past few weeks so that we could walk in to the first day of trail days on August 20th, and we have been really looking forward to taking a few days off and enjoying ourselves. Many hikers we know were planning on hitching or shuttling forward or backward, so as not to miss the celebration, and it's a great way to see hikers you haven't seen in a thousand miles and catch up on each other's journeys.
However, all of this COVID Delta variant stuff has us a little worried. Seems like cases have been really spiking across the US as of today (August 13). We've heard of more breakthrough cases even for vaccinated people, though it still seems vaccinated folks are much better protected from severe outcomes. To top it off, yesterday we received an email from the PCTA warning us that hikers had thrown a party in Ashland last week, and multiple NOBO hikers have subsequently tested positive for COVID and have had to temporarily leave the trail.
Now, I should mention that Mango and I are both vaccinated. I do think that odds are we would be fine, even if we got a breakthrough case. But, best case scenario, it would really throw off our schedule and potentially put our finish at risk, if we had to take a week or two off trail. And that's the best case! No, given what we know right now, it really doesn't make sense to go to Trail Days – the downside is too great. So we sadly agreed over dinner tonight that we would skip the festival, maybe spending one night in town, but trying to stay away from crowds. It's a bummer, but we're playing the long game here – we are so close to crossing the finish line, let's not mess it up now…
Day 126
Start: Brahma Lake
End: Sisters Mirror Lake
PCT Miles Hikes Today: 25.6
I woke with a start at 1am, and something was bugging me. After a minute it came to me – I hadn't actually brought in my food bag last night! I grabbed my headlamp and climbed out of the tent, and sure enough there it was, sitting on the log where we ate dinner, open to any animal who passed by. Luckily it seemed that nothing had pillaged it. I took it back into the tent, thankful that I had gotten lucky.
More of the same this morning. We woke at 5 and set off at 6, hiking by the light of our headlamps. Though the smoke didn't clear all the way overnight, it at least wasn't burning my eyes any more as we set off. A marginal win?
I was amazed at just how flat the trail was today. For the first 19 miles of the day, our total ascent was 1,600 feet and total descent was 2,000 feet. Just a seriously cruisy trail. Before we knew it, we had pulled a 10 by 10, and were sitting on the bank of beautiful lake, eating a mid-morning snack and grabbing more water.
I was pleasantly surprised as the afternoon wore on that I didn't feel the need to put on my facemask, as I had the previous few days. While the views were definitely hazy, I couldn't taste the smoke, and my lungs felt fine.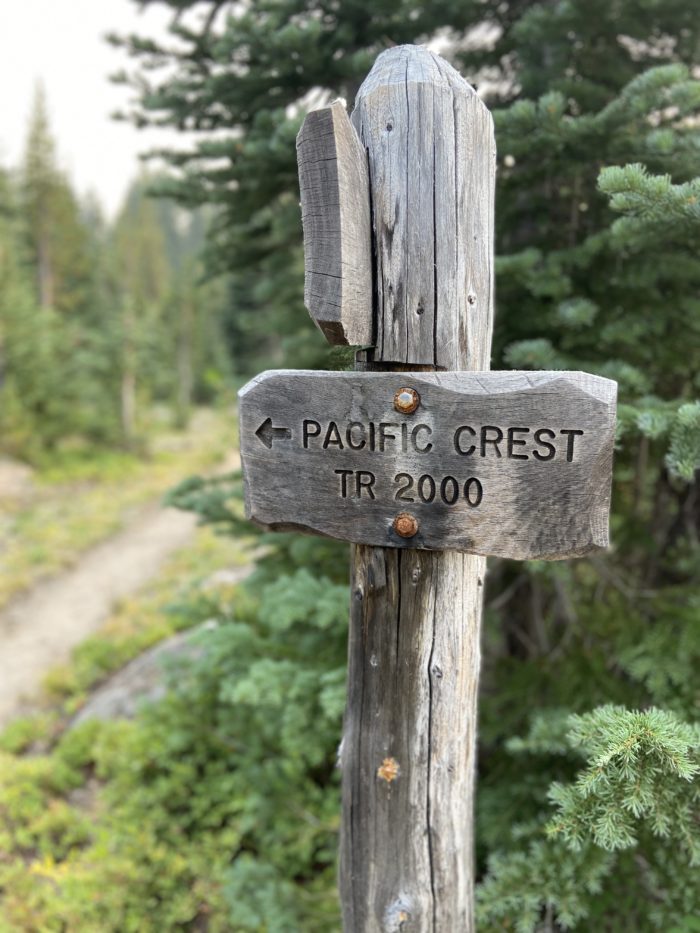 We decided around mile 17 that the smoke was tolerable, and that we wanted to push for another 25 mile day. That would let us camp at a lake, and set us up for a nice nearo in a few days into Bend.
Mango jetted ahead on the final climb of the day. I thought I could get away with not taking an evening snack break like I usually do an hour or hour and a half before we hit camp, but as I climbed, by body rebelled – I got lightheaded and very, very tired. As soon as I sat and ate, I felt fine again. Gotta keep the body fueled!
We are at a gorgeous little lake tonight, and for the first time in days, I don't feel the need to wear a face mask around camp, or sleep with the rain fly on to keep the ash from us. Maybe the beginning of the end for the smoke? Or is this just a tease?
Day 127
Start: Sisters Mirror Lake
End: McKenzie Pass / Bend
PCT Miles Hikes Today: 23.9
The smoke stayed away last night, and we had a beautiful evening of clear breathing. Just a few miles after we started hiking this morning, we broke out into a meadow with clear views of South Sister. Wow! What an epic few miles. We are so lucky the smoke haze was reasonable this morning.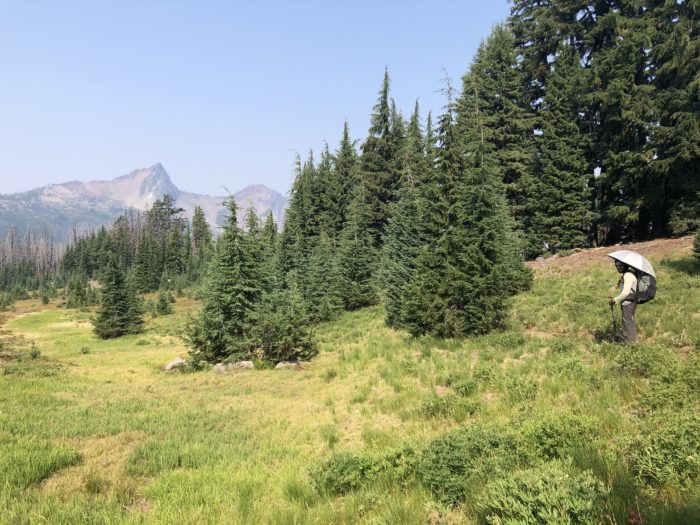 You never know who or what you'll encounter on the PCT. Mid morning we passed a llama train. This was some kind of Parkinson's Disease hike, and they were using the llamas as pack animals. Very cool! Any time the llamas paused on trail, they were cruising for tall grass to eat. One llama was just hiking with a mouthful of grass sticking out of his mouth. What a cute little goober.
Our target for lunch was Obsidian Falls, a large waterfall with shattered obsidian in the surrounding water and soil. For those of you who have seen Game of Thrones, it's neat to think that this is where the Night's Watch got their obsidian to kill the white walkers. We spent about an hour eating lunch and playing in the water. I got as close as I could to the falls and stuck my head in. Ice cold!
The afternoon brought a major lava field. So much loose lava rock, and a completely exposed ascent straight up towards Collier Cone. My poor ankles were yelling at me as I picked my way carefully over the loose rock, occasionally rolling an ankle and cursing aloud. We made a very slow ascent, winding out way among lava boulders (is that a term?). Fortunately a nice cool breeze was blowing, so we didn't roast too much.
Tonight we are camped at a trailhead, a stone's throw from McKenzie Pass. We didn't get to camp until after 7, but it was worth it – tomorrow we will sleep in, pack up and hope for an easy hitch!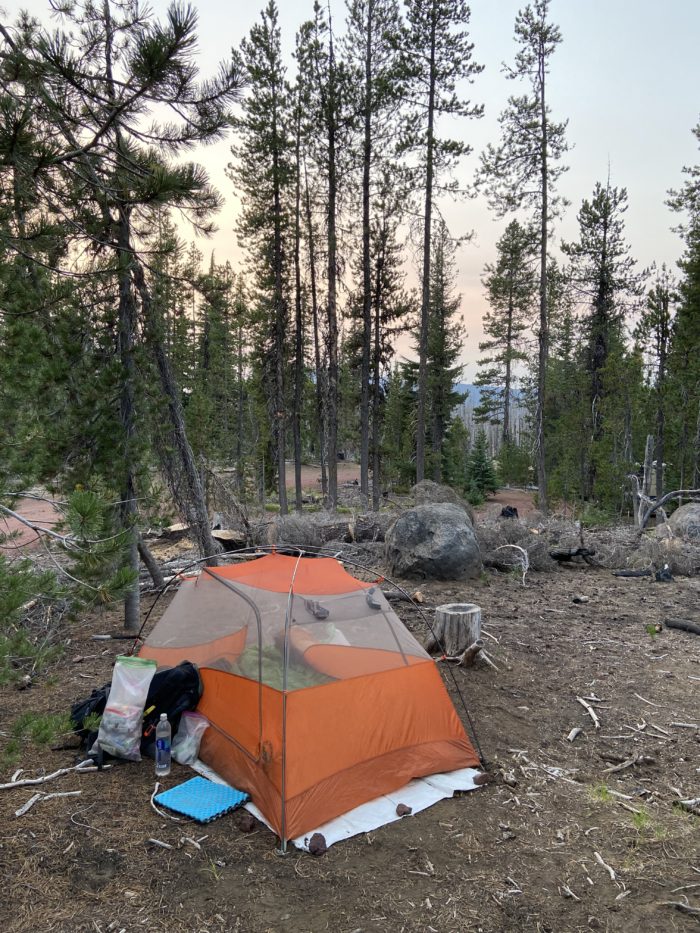 Day 128
Start: McKenzie Pass / Bend
End: McKenzie Pass / Bend
PCT Miles Hikes Today: 0!
Nice night at the trailhead – a car rolled through at 5am and woke us up, but other than that, it was totally silent. We woke to completely clear skies and clear air for the first time in what felt like weeks. Mango told me that I woke her up at 4am with my stomach loudly growling. Clearly I was ready for a town breakfast!
Around 7, we walked down to where the trailhead road met the McKenzie Highway, which was the road we could take down to Sisters, and beyond that, Bend. Over the next hour, we maybe saw a half dozen cars moving in either direction, none of which stopped. After another hour with maybe a car passing every 15 minutes, we knew we were in trouble – this was definitely going to be our toughest hitch of the trail so far. My stomach continued to loudly complain, but it seemed that a town breakfast was not in the cards.
I passed the time playing my favorite trail game – Throwing rocks at other, bigger rocks. I grew up in the middle of nowhere in New Hampshire, and this was as close as we kids ever got to playing Xbox. I'm quite good at throwing rocks at other rocks, but even with my prodigious (Olympic-level?) talents, it became boring, and we relapsed into sitting quietly and praying for a car to pass.
Around 9, a van pulled in near us while heading up the mountain, and out hopped two young people, who asked if we wanted some trail magic. Yes please! Homemade quiche, cookies and brownies! This was Mayhem and Milk Man, two thru hikers from a prior year, who had met on the trail and started dating – and were now coming back out to do trail magic for 2021 hikers!
After chatting with them for 15 minutes and putting a dent in our hiker hunger, they mentioned that we might have better luck if we went up the mountain to the observatory. Indeed, some of the cars that passed us heading down the mountain looked like they had hikers in them already, so we might have missed out on rides just because anyone willing to take hikers had already picked them up higher on the mountain! We climbed in the van and they shuttled us up the half mile or so to the observatory. Our views were spectacular on top of the pass. This must be the clearest day we've had in 3 weeks.
We were offered a ride down the mountain to Sisters, which is halfway to Bend. After 3 hours of hitching, beggars can't be choosers, so we chose to go halfway and try to find a ride from Sisters to Bend. Mango and I posted up at a local coffee shop, sipped some beverages, and considered our next step. At this point it was close to 11am, and we had hoped to get to Bend earlier than this to run our chores and enjoy our time with a family who had offered to host us. But, this is all part of the adventure! We texted our hosts to let them know we were halfway to Bend and hoping to get in soon, and they immediately offered to drive all the way up to Sisters to grab us. Amazing!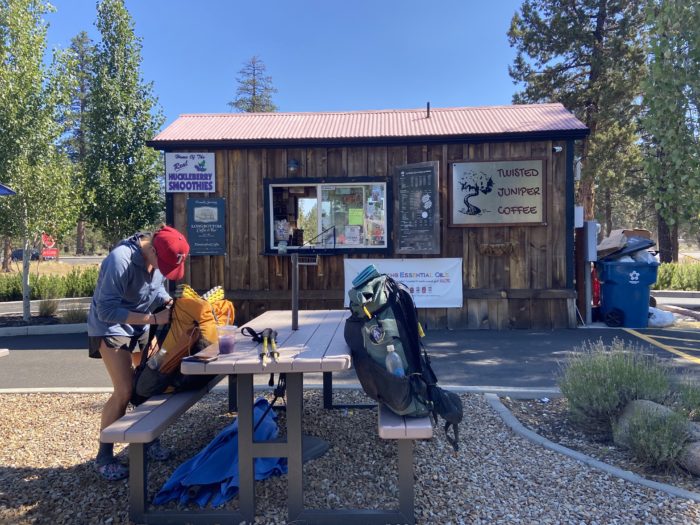 As we waited, we walked over to the Sisters grocery store. In the parking lot, we serendipitously saw the bartender from Grumpy's in Kennedy Meadows on his motorcycle. We hadn't seen this guy in months! We gave us the inside scoop and lots of stories about the folks around Kennedy Meadows. None of these stories are fit to print in this blog, but if you ever see me and buy me a beer or two, I'll entertain you for hours. Apparently Kennedy Meadows south is constantly in a state of mayhem.
Our hosts for tonight are the in-laws of a good friend and coworker of mine from my days in Chicago. Gordon and Barb went out of their way to treat us like royalty – Gordon drove all the way to Sisters to pick us up, and shuttled us around without complaint while we ran our various errands. Gordon and Barb cooked an absolute FEAST of a meal for us from mostly organic ingredients. I swear I'm leaving 5 pounds heavier. And we had an amazing dinner party with Barb's sister and brother in law, Kay and Bill. We also found out that Gordon and Barb have trail names from their time trail angeling for other PCT hikers – Big Donkey and Lil Toot!
Big Donkey and Lil Toot, we can't thank you enough for taking us in for a night. Our lungs were scorched with smoke and we probably smelled worse than anyone who has ever entered your house, but you cleaned us up, fed us well, and sent us on our way with full hearts. Thank you again!
Day 129
Start: Bend
End: Lost Creek
PCT Miles Hikes Today: 5.1
We were so spoiled last night. Dinner, fine Pacific Northwest wines and great conversation led to a deep sleep in the guest bedroom. As we were going to bed, Mango and I actually lamented that we couldn't zero and spend another day here with Gordon and Barb. But, we had purchased a bus ticket for this morning to take us around the Lionshead fire closure, and at this point I'd feel bad dropping days since winter always comes to Washington far earlier than most thru hikers expect or desire. We were up at 5, and all packed up and heading to the bus station at 6:15 for our 7am bus to Government Camp.
Lots of other hikers on the bus this morning. The Breeze bus is clearly the easiest logistical way around the Lionshead Fire closure – it runs daily at 7am out of Bend, and arrives at 9:30am at Government Camp, which is the small town at the base of Mt Hood. The PCT runs up a rural route to Timberline Lodge, so we caught another small bus up from Gov Camp to Timberline 30 mins after we were dropped off, and reconnected with our beloved long trail.
When we left Bend it was 60 and sunny. When we climbed off the bus in Government Camp, it was 40 and raining. What a turn for the worse! As soon as our backpacks were unloaded from the bus, we threw on our puffy jackets and rain coats and ran for cover. As we waited for the bus up to Timberline, we shivered in the rain. Is this a preview of Washington? I hope not, but… probably, right?
As we arrived at Timberline Lodge, all we could see was dense fog, and it was even colder with the wind whipping some fierce. What a difference from the last time I was here! When I visited in 2015, I had epic views up to the summit, with glaciers clearly visible near the top even during the heat of summer. Today, we could barely see to the other side of the parking lot! What a miserable day.
Timberline lodge is epic. It was built in the 1930s, commissioned by FDR under the New Deal act, intended to get Americans back to work after the Great Depression. The lodge has stood the test of time – it continues to be a very popular spot for thru hikers and vacationers alike. But, clearly the most important piece of history is that parts of The Shining were filmed here. We were tipped off by Barb last night that we could request to take pictures with the axe from the movie, and sure enough, I got to yell HERE'S JOHNNY! as I went after Mango with the weapon. Awesome.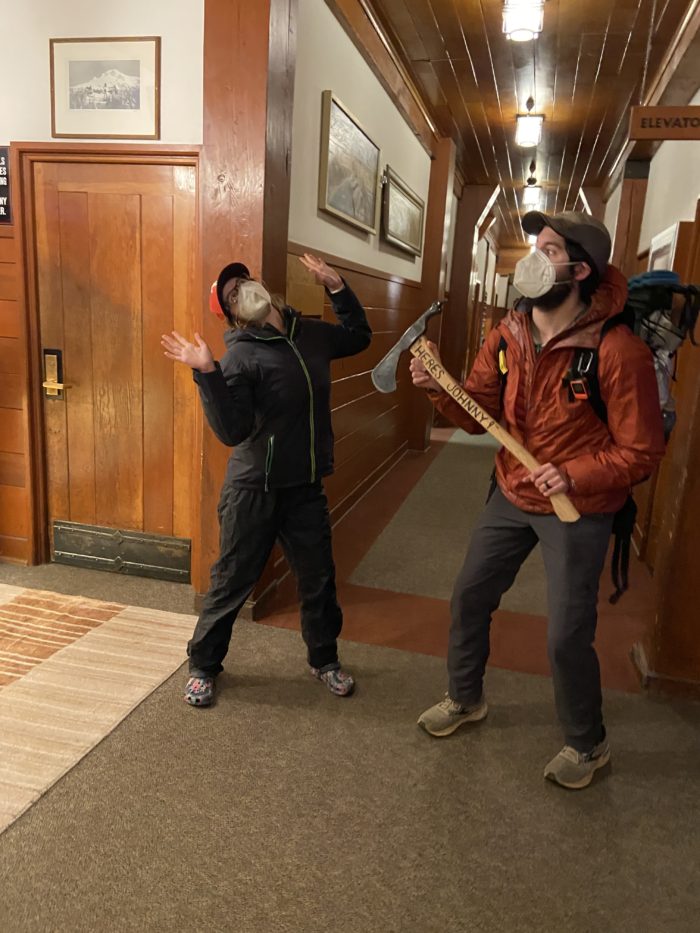 All jesting aside, the most important fact you need to know about Timberline Lodge is that they have a legendary all you can eat brunch buffet. The food is fancy. We were seated after they took away the breakfast items, which I was initially disappointed about, until I saw what they had replaced. Instead of eggs and sausage, they had brought out tri-tip, roasted potatoes and seared broccoli and cauliflower drenched in olive oil. Oh lord, I was in heaven. I had 3 full plates, and a bonus waffle. They had to wheel me out of the dining room.
It was raining buckets at this point, so Mango and I did the responsible thing – we sat on a couch and hoped it would stop. Hikers coming in were drenched! One girl was 2 days into doing the 40 or so mile loop around Mt Hood, and literally tossed down her gear and quit the trail as we watched. Just a gnarly day outside. It was much easier to drink tea, digest our legendary lunch, and watch Ted Lasso on the comfy couches.
Around 4, we finally decided to suck it up and try to find a campsite. We had fallen far short of our planned 15 miles, but the day was still salvageable if we put up any miles to make our next few days into Cascade Locks easier. It was drizzly and cold as we hiked out, and I jealously watched Mango put on her waterproof gloves. Mine are a week ahead in Trout Lake, but hiking today made me wish I never sent them home in NorCal.
We found a nice site next to a stream around 5 miles from Timberline. I'm very happy to be in my sleeping bag right now, and I can tell tonight is going to be a cold one – likely in the lower 40s. Tomorrow morning may be rough. But, all of this – the rain, the cold – this is what I expect Washington to be like. So, we better get used to it, eh?
Day 130
Start: Lost Creek
End: Bushcamp a few miles shy of the Eagle Creek Junction
PCT Miles Hikes Today: 21.5
Due to the rain and condensation, we awoke to our stuff being completely soaked. Single wall tents like the Duplex are great, but there are some very specific drawbacks – one of which is condensation issues. I accidentally rested my food bag against the foot wall of the tent. The result was the condensation dripped straight off the ceiling and puddled at Mango's feet, instead of falling out the small screen at the edge of the tent. Poor Mango woke in the middle of the night to very wet feet.
As we started hiking, we could see blue sky peeking out between the trees, and far below us, we could see the clouds accumulating in the valleys. Such a cool ecosystem around Mt Hood.
As we were descending down Mt Hood for the first half of our day, we had several sketchy river crossings. All the recent rain had clearly resulted in slippery logs and higher than normal water levels. Slow and steady! We don't want a slip to mess things up this late in the hike!
A little after lunch, we hit Lolo Pass, where we saw a sign for trail magic. We met the grandparents of a current hiker surprising him, and separately, we met Big Red, also known on trail as the Unicycling Unicorn. We've been hearing about him for this whole trail! He has unicycled several of the shorter long trails like the Colorado trail (yes, you read that right – he thru-unicycled). He was thru hiking the PCT this year but got off trail recently due to an upcoming work gig. And he decided to spend a day doing trail magic here at the gap! We chatted with him, and he was even kind enough to ride around on his unicycle for us. What a good guy, but also undoubtedly a maniac. This trail is hard enough to hike, let alone unicycle.
So many huckleberries for the next 4 miles. The trail was absolutely lousy with them – it must be huckleberry season here in Oregon right now. My heart hurt as I thought about the trips my family and I make every year to pick wild blueberries on top of mountains in New Hampshire. I sure do miss the east coast sometimes, and the comforts and company of home.
Last year there was a "historic wind storm" (as the PCTA describes it on their website) in the Mt Hood wilderness. The result was hundreds of downed trees across the trail, making it actually impassable for some early-season NOBOs who had to turn back to Mt Hood. We had heard from other hikers that the trail crews had been hard at work in recent weeks fixing the damage, and that the trail was mostly cleared. We could see clear signs that many trees had been recently chainsawed and cleared…
But there were definitely still some blowdowns that slowed our pace significantly…
As the end of the day approached, we had done far fewer miles than we expected, and I was hustling to try to make up for time. The result was that I completely blew by the spring where Mango and I had agreed to have dinner, and this was our last water of the day. I arrived at a very small unmarked water flow about a half mile later before I realized my mistake. Embarrassed, I filled up from a drainage pipe under the trail, and waited for Mango to catch up to me.
About 1 and a quarter miles after we left dinner, just as it was starting to get dark, Mango realized that her phone had dropped out of her hip pocket at some point. She dropped her pack, grabbed her headlamp, and sprinted back up the trail. She ran all the way back to our dinner spot without finding it, but found it in the bushes on the way back down. Phew. We immediately set up camp, ready to lay down for the day.
Well, we finished about 4 miles short of where we were aiming. But we will still land in Cascade Locks tomorrow, and most of the day is downhill, so hopefully it will go quick. Wow, our last day in Oregon is tomorrow! Mango says it feels like we just got here, but I think maybe that's just because California took so dang long – this state feels like it flew by, in comparison. Well here's to hoping that Washington is as smooth (if not as smoky) as Oregon was!!
Day 131
Start: Bushcamp a few miles shy of the Eagle Creek Junction
End: Cascade Locks
PCT Miles Hikes Today: 4.1, then 15.5 miles down the Eagle Creek alternate
We woke at 5am, anxious to make more miles than yesterday. Unfortunately we were immediately met with more blowdowns!
Once we made it past the blowdowns, we emerged into an amazingly open section of trail, looking out over what I assume is the Columbia river valley, and further away we could see Mt Saint Hellens. We are heading down into this valley later today. Man, that descent looks long. We are plunging from 4,300 feet all the way down to under 100 feet, which will be the lowest point on the entire trail.
After only a few miles of PCT hiking, we began our descent down the Eagle Creek alternate. This is one of those alternates that you would have to be crazy to miss – kind of like the Crater Lake rim trail alternate. Beautiful waterfalls and lots of flowing water. To get to the waterfalls, though, we had to walk through a burn scar.
I rarely know the details of these west coast fires, but I actually do know this one. In 2017, some kid shot off a bunch of fireworks (illegally), and set the whole area ablaze. There was a massive wildfire that closed this entire section for years. It just reopened late last year, then closed briefly again due to more blowdown damage, and now is finally reopened again! Although the undergrowth seems to be popping back up fairly quickly, the beautiful tall pine trees are all toasted to a crisp.
As we hiked further down the Eagle Creek trail, we began to hit waterfall after waterfall. Each was prettier than the last, but we hadn't seen anything until we hit…
TUNNEL FALLS! The trail literally curves behind a waterfall, through a small tunnel in the rock! It was the prettiest bit of trail I've ever hiked on!
After passing a billion day hikers (and we hit this on a weekday – don't you hobos have jobs?), we walked into Cascade Locks around 3. Lots of hikers wandering the streets. The nicest building in town was the brewery, which was also where the majority of hikers were hanging out. So, we popped onto their balcony, ordered a few drinks and some food, and hung out for a few hours. And, we met back up with Bushwhack, who had hitched back from Trout Lake to go to Trail Days! Since he's moving about the same speed as us but he's a few days ahead, this might be the last time we see him. We sipped beer and swapped stories from the last month, enjoying the amazing weather.
The highlight of the evening was the 60 minute performance of the Unicycling Unicorn in the parking lot of the Brewery. He juggled flaming torches, hopped over a small child, and even rode a 12 foot unicycle. It was fun to sip beer and enjoy the show from the balcony. Best seats in the house!
So many thru hikers here tonight, hanging out in town for Trail Days, which begins tomorrow. Mango and I are both bummed to miss the party, but we know it's the right call, with all the COVID concerns. We do feel like we got some of the trail days experience, what with the unicycle performance, and being able to hang out with Bush. We stayed up way too late in tent city, eating hot dogs and milking our remaining time together. But eventually it got dark, and we all retreated to our tents.
Breaking news – We heard tonight that all of the national forests in NorCal are closing due to fire risk (or in some cases, active fires). That takes out hundreds of miles of trail between the Oregon border and Sonora Pass. My heart breaks for SOBOs being forced to skip so much trail. Between the Dixie fire and all of the other NorCal fires, the trail will never be the same after this year. I know I'm closing this post on a somber note, but I have to mention that tonight Mango and I reflected on how lucky we are to be in the class of 2021, and to have stayed ahead of all of these fires.
And that's it for this section! Tomorrow morning we enter our final state – Washington. I couldn't be more excited. We are on track for a mid September finish, knock on wood!
Until next time, happy trails!
-Slice
P.S. If you like this post, check out Mango's trail podcast, Take a Hike!, now available on all major platforms (except Apple for some strange reason, probably due to this blog's immense popularity within the software engineer community inside of Apple. Productivity has taken a real hit as the coders spend much of their work day reading my insanely long posts. I tried telling Tim Cook he'd be better off blocking The Trek than Instagram, but did he listen?) https://anchor.fm/takeahikepodcast
Affiliate Disclosure
This website contains affiliate links, which means The Trek may receive a percentage of any product or service you purchase using the links in the articles or advertisements. The buyer pays the same price as they would otherwise, and your purchase helps to support The Trek's ongoing goal to serve you quality backpacking advice and information. Thanks for your support!
To learn more, please visit the About This Site page.