A Whole New Ballgame (Days 49 to 56, Kennedy Meadows to Bishop)
Day 49
Start: Sherman Pass Road / Kennedy Meadows
End: Bushcamp near Olancha Peak
PCT Miles Hikes Today: 20.0
Kennedy Meadows was amazing – For years, Mango and I had been picturing walking around the corner and seeing the Kennedy Meadows General Store. It was surreal to actually walk up and receive the customary standing ovation that hikers give to each other as they finish the desert section of the PCT. But, all good things must come to an end, and we woke very early today to try to pull at least a 20 heading up into the Sierra.
I'm thankful our core trail family (minus Songbird) is hanging together for the next few weeks. And we picked up Sunspot as well! We all walked the 0.7 from the general store back to the trail together.
We had heard from other hikers that it still feels like desert for 40 or so miles out of Kennedy Meadows. That is pure BS. It may not be the impressive peaks of the Sierra yet, but it's sure not what we've been walking through for the last 700 miles. We immediately found ourselves hiking through broad, sweeping meadows, alongside the Kern River. We could hear it trickling gently nearby as we hiked. I can't think of a single time I consistently heard flowing water as I hiked in the last 700 miles.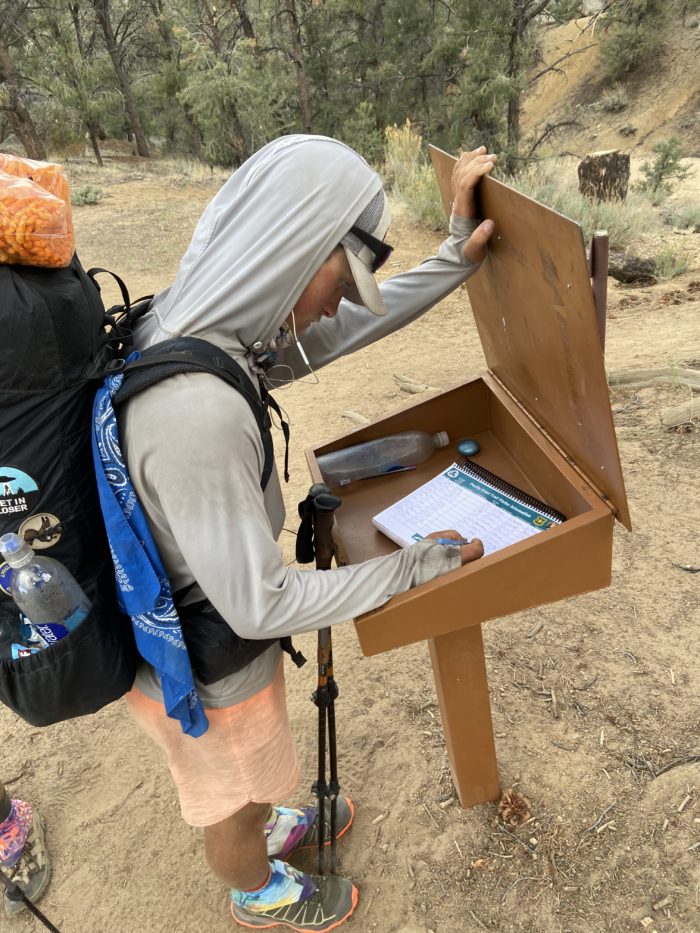 I carried only 1 liter out of Kennedy Meadows this morning, and we came across great flowing water every few miles for snack and water breaks. Some of the rivers were even big enough to warrant bridges! So cool to see this much water!
We're now heading up into bear country, and bear canisters are required starting in this next section. Almost all hikers pick up their bear cans at Kennedy Meadows. I had mine shipped to Grumpy Bear's, and Mango rented one from Triple Crown Outfitters. The dang cans are so bulky, we can't fit them in our backpacks – so we are lashing our empty cans to the top of our packs, and carrying our food inside during the day, transferring to the can at night. Carrying a big hard item on the top of my pack took some getting used to – I kept bending my head up to look at mountains or trees, and banging my head into my canister. If I come out of this section slightly concussed, you'll know why.
Around 14 miles into our day, we once again crossed over the Kern River, and decided to post up for a few hours to eat lunch. As we sat and ate, we saw dozens and dozens of swallows (birds) flitting all over the bridge and the surrounding trees. They must have nests under the bridge! It was fun to see them flying in all directions.
Eventually we packed up and started the serious climb for the day. Over the course of the day, we climbed from 6,000 feet to over 10,000 feet, but most of that came in the last 6 miles. I was huffing and puffing on the way up, but was really loving the shade of the huge pine trees, and the sounds of the birds.
We reached 20 miles on the day and found a nice large campsite at a little above 10,000 feet, and decided to call it a day. We were out of breath from the climb and were clearly still acclimating, and we didn't want to push another 3 miles up and over the ridge that runs near the summit of Olancha Peak. This is my first time camping above 10,000 feet. In a normal snow year, I think this site would be blanketed in snow – but, this is an incredibly low snow year. Lucky us? It certainly opens up more possibilities for campsites, and gives us the freedom to plan bigger days since we're not beholden to the snow gods.
We've got some big days planned for this section. 3 days to the side trail for Mt Whitney, then up and down Whitney in a day, followed by Forester Pass and then Kearsarge Pass the following 2 days. To stay on track, we will need to pull a pretty big day tomorrow. I just hope no one in our group suffers from elevation sickness…
Day 50
Start: Bushcamp near Olancha Peak
End: Junction to Horseshoe Meadow Trailhead
PCT Miles Hikes Today: 23.0
We woke to a cold but sunny morning – camping at 10,000 feet was extremely peaceful, and I fell asleep listening to the birds, something that was absent in the lowlands of the desert. Since we now have bear cans and need to fuss around with moving food into our soft-sided food bags each morning, we decided to wake up at 4:45 from now on to give ourselves more time before shipping out at 5:30.
After finishing off the climb near Olancha Peak, we got our first glimpse of the true high Sierra – including Mt Whitney. It was amazing to think that in just a few short days, we'll be surrounded by those towering granite peaks. For now, though, we settled for trotting along a nice ridgeline, slightly downhill for the next 6 miles.
The environment sure is changing quickly. Lots of big rock outcroppings, huge pine trees, and sweeping green meadows. Although we don't have tons of water (usually lots of snow melt = lots of small streams… but not this year), there is still enough in the small valleys to mean we never have to hold more than 2 liters at a time.
We heard of a few sleeping pad problems this morning as we hiked. First, Sunspot told us she had to blow up her deflated pad 5 times last night. Brutal! Then, we heard that Redline's baffles in his pad had become unglued, and the air pockets were grouping in strange and uncomfortable ways. Given that we are so many days out of town still, this means at least 4 more rough nights for the two of them. But this is the constant dance – our gear is constantly failing, because we use it so hard each and every day for 6 months. The question is not "if" the gear will fail, but "when".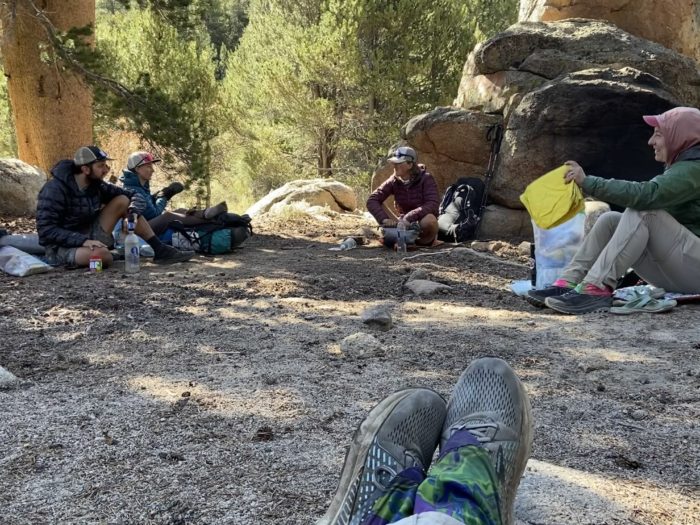 As we hiked out of our first valley of the day, the sun was surprisingly strong, and I found myself huffing and puffing from the combination of thin air and hot sun. Before leaving Kennedy Meadows I was on the fence about tossing my sun umbrella, but held on to it on the hunch that I'll want it again when we hit Northern California. But, to my surprise, it made a huge difference today as well! I never expected to need it in the Sierra, but the climb was much easier without the sun beating down on me. Well worth the weight.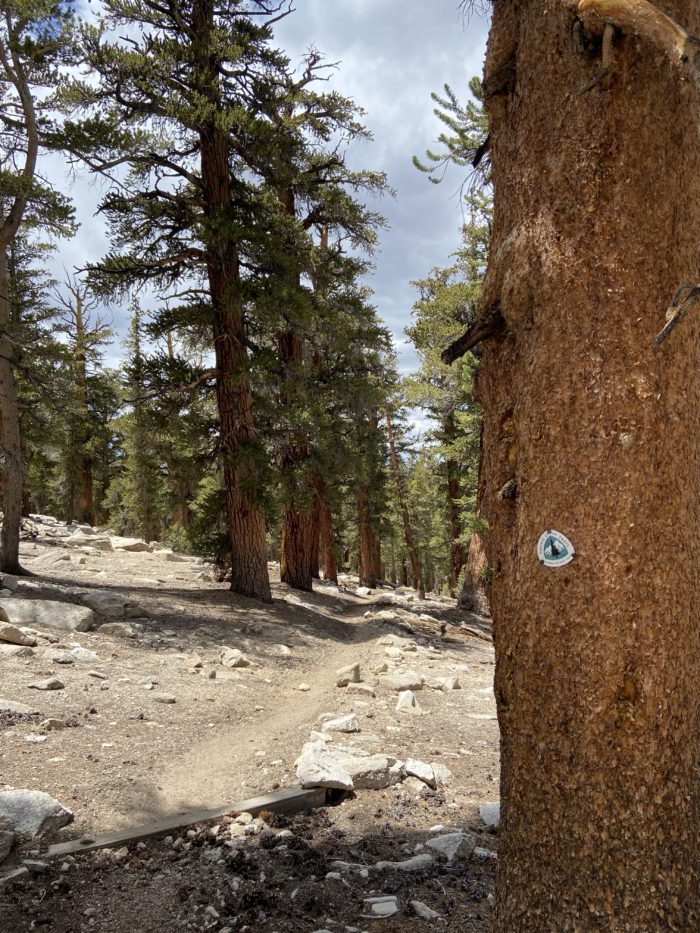 As I was trotting down the last decline of the day, my nose started bleeding like crazy. It took a good 5 minutes of sitting on the side of the trail for it to plug back up, and it would randomly reopen the rest of the day. I guess the elevation is impacting my body in weird ways. Still, other than the nose bleed, I had no problems at 10,500 today, hopefully that'll also hold true at 11,500 tomorrow and 14,500 the day after.
We filled up with water for the evening at Dutch Meadow Spring a short distance off trail, then hoofed it another 3 miles to a nice flat area near a trail junction. If we were heading into Horseshoe Meadow Trailhead to hitch to Lone Pine, this would be our exit. But, we decided on the longer carry to Kearsarge Pass, and I'm glad we did – leaving trail right now would feel like it was too soon.
Tomorrow we officially enter Sequoia National Park. If the views today were any indication of what's to come, then we're in for a treat. Feels like it's a whole new ballgame now that we've left the desert behind, and I'm both excited and nervous.
Mango didn't bring enough food for this section. That's always the tradeoff – 6 days of food is HEAVY, but not bringing enough food absolutely sucks and can ruin not only a day, but a whole section. I gave her my big jar of almond butter… it may not be as delicious as a Milky Way bar, but it's got a ton of calories, and will help fuel her for the next few days. Beggars can't be choosers, eh?
Day 51
Start: Junction to Horseshoe Meadow Trailhead
End: Meadow near Crabtree Ranger Station
PCT Miles Hikes Today: 21.0 + 1.0 blue blaze to ranger station
More strange elevation symptoms – I woke twice in the night to the most insanely dry mouth I've ever had, as if all moisture had been sucked clean out of my body. The swig from the water bottle was the most refreshing drink ever. Very strange, I hope I acclimate soon.
Very easy hiking for the first part of the day. We trotted mostly downhill, and our first stop of the day was Chicken Spring lake, 5 miles in. We emerged onto this beautiful shoreline, with a rock scramble mountain towering a thousand feet in the air directly behind the water. The Sierra is known for this type of lake, and although we hit this one too early in the morning to go swimming, I know in the coming weeks there will be plenty of opportunities for a dip!
I couldn't help but think about how little snow there is in the Sierra right now. Today is May 31. In a normal snow year, this would be very early to ascend into the Sierra, and hikers would be postholing through snow for at least half of their day. The valleys might be clear for camping, but it would be an uncomfortable hiking day. Today, we breezed along, no snow anywhere in sight, other than distant peaks. Selfishly, this is delightful. But on a broader scale, it's sad that this type of drought / low snow year is happening more and more often.
We entered Sequoia National Park around mid-morning. This is the first national park that the PCT enters. Our long-distance PCT permit grants us special access to many permit-only areas along the west coast, including Sequoia and Kings Canyon national parks, and Mt Whitney.
The morning was incredibly easy, and I hiked along talking to another hiker named Meals. Our trail fam picked up many other hikers over the last 3 days. Everyone seems to want a group to roll through this section with, and now we have Meals, Cowboy, Spamuel Adams, Bambi, Twinkletoes and Squish all in our orbit. We ate lunch near Rock Creek, and it was an easy rock hop over to begin the big ascent of the day, up to Guyot Pass, at 10,930 feet.
Fortunately, right as we began the ascent, big clouds moved in, and cooled things off considerably. We hiked in shade, and the climb was not nearly as tough as it otherwise would have been. Steep climbs at 1pm are always a risk, but this time, we won the bet.
I started to get really tired on the other side of the pass, and dropped to the far back of our group. As I turned on the final junction to get to camp near the ranger station, I saw a helicopter swoop in and park less than 100 yards away in a meadow. Cowboy later told me he saw a tent in that meadow, and believes it was a rescue. It doesn't surprise me – elevation hits some folks hard.
We set up camp near the meadow and the ranger station, at 10,650 feet. This is as close to Whitney that we are allowed to camp with our PCT permits. Tomorrow it will be 7.6 or so miles and a little less than 4,000 feet of gain to the summit. We plan to wake up at midnight, leave almost all of our stuff at our tentsite, and slackpack up to the summit before sunrise. Here's to hoping we make it up without any elevation sickness!
Day 52
Start: Meadow near Crabtree Ranger Station
End: Bushcamp just shy of Bighorn Plateau
PCT Miles Hikes Today: 7.6 up Whitney, 7.6 down, 1.0 back to trail, 5.6 trail miles… 21.8 total miles?! Insane.
I've always had trouble sleeping the night before a big event. When I was a little kid, I would get so excited for what was coming in the morning that I would uncontrollably vomit and poop. As an adult, I've toned down the bodily fluids, but I still never get a good night's sleep. I knew today was going to be a big day – sunrise summit of Whitney! I was restless most of the night and woke at 11:55pm, 5 minutes before my alarm. Mango and I packed up our backpacks with only the essentials, and started hiking at 12:30am.
I had the caffeine equivalent of 2 cups of coffee pumping through my veins thanks to my two friends "caffeinated clif bar" and "Mio energy shot", and I hiked like a demon. Unfortunately it's difficult to navigate in pitch dark by headlamp, so that also meant getting us lost a few times in the first 3 miles. We eventually made it up to the inlet of Guitar Lake, where we filled up with some water and prepared for the crazy climb ahead.
We climbed, and climbed, and climbed. So many switchbacks. We had the vague sense that we were winding our way up a steep cliff face, but the moon wasn't out, and it was pitch black other than the stars, and the dozen or so headlamps of other thru hikers elsewhere on the mountain attempting the same ascent. It was a surprisingly nice temperature, and despite the high elevation and late (or early?) hour, I was able to hike without gloves and without a puffy on.
We finished the switchbacks with a little less than 2 miles to the summit, and prepared ourselves for the final push. We had picked up two other solo hikers for our group during the ascent – Meals, and Cowboy. It was 4am, so we were on track to summit before sunrise at 5:15 or 5:30. Together we set off towards the summit.
The last two miles were nasty, technical hiking. Lots of loose rocks to scramble over, which required very careful foot placement and weight distribution. Unfortunately at this point we were above 13,500, and my head was getting a little loopy. Meals was dry retching during the final mile, and as we crested 14,000 feet, my nose let loose again and started bleeding. Still, we pushed hard, seeing the sky lighten slowly and wanting that sunrise summit. As we turned the last corner and the summit hut came into view, I broke out into a run, barely able to breathe from the elevation and the exertion, but not caring. This was the end of the line. And – we made it! By less than 10 minutes. What a crazy end to the hike, but we got our sunrise summit, and damn was it worth it.
All of our friends made it up this morning, though some got pretty sick on the ascent and didn't make it for sunrise. The summit was all thru hikers! Everyone broke out their sleeping bags and ate a celebratory snack. One hiker took a celebratory shot of fireball from an airplane bottle she had packed up. It was 6:00am, but we had already had one hell of a day.
But of course, the day didn't end at 7.4 miles up. We still had to backtrack all the way down the mountain – and this time, we could see exactly what we were hiking. No more blissful ignorance, this mountain is treacherous!
I bonked hard about 4 miles shy of our camp at the ranger station. I had to sit down and eat a snack, chug some water, and stare into space for a few minutes. Thank god that Mango was leading – all I did was plod along in her wake, trusting that she knew the way home. I developed a big headache and my legs felt like rubber.
We got back to camp around 10, and all the thru hikers went silently to their tents to take naps. The whole campground had 20 or 25 tents, but was a ghost town around 11am because everyone was asleep. I ate a snack, chugged a bottle of water, and went down for a 90 minute nap.
I awoke to find that Mango had made more hiking plans. Tomorrow we are hitting Forester Pass, a notoriously nasty climb. We want to set ourselves up for hitting it early in the morning (to avoid postholing in the snow on the North side of the pass in the afternoon), but that would mean hiking another 6 or 7 miles this afternoon. I was completely destroyed still from this morning's Whitney ascent, but the logic was infallible, so I sadly packed up my stuff and hiked out on rubber legs.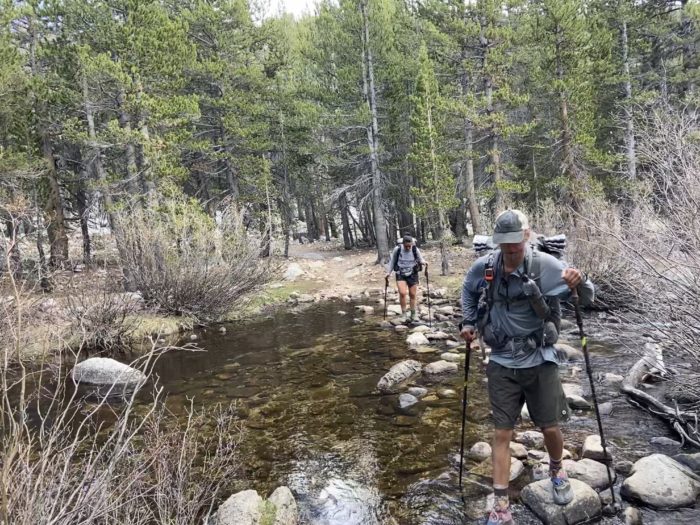 We slowly (and I do mean slowly) hiked the last few miles, and arrived at a really nice spot around 6pm. Everyone threw down their dinners and headed straight to bed.
Mango is completely passed out beside me, and I'm about to do the same. Today was a day I'll never forget, but the wild thing about a thru hike is that tomorrow we wake up and do it all over again. Forester Pass tomorrow morning, the highest point on the PCT. This is bucket-list level backpacking right here, but damn I'm sore, I can't wait until a shower and a bed in Bishop in a few days.
Day 53
Start: Bushcamp just shy of Bighorn Plateau
End: Bushcamp near (but not too near) Bullfrog Lake
PCT Miles Hikes Today: 15.9 + 1.0 off trail towards Kearsarge Pass
Super cold morning! I guess we kind of asked for it – we were camped near the top of a plateau at over 11,000 feet. Redline had frost on his gear this morning. His small backpack thermometer said it was 30 degrees. We quickly started hiking to warm up, and were greeted by amazing views up on the plateau.
Even in a low snow year, at this elevation there were snowfields. Mango and I have microspikes for traction, but we didn't feel the need to put them on during the ascent to Forester Pass. Still, my shoes got wet from the snow, which made for an uncomfortable hike.
The approach to Forester Pass was both incredibly beautiful and kind of terrifying. Beautiful because we passed many frozen lakes, fresh snowmelt streams, and the jagged peaks provided a beautiful backdrop whenever we looked up from our feet. Terrifying because, well, we could see Forester Pass, but there was no logical way to get up there!
As we began the steep ascent, my legs started seriously complaining. Whitney yesterday and Forester Pass today is more elevation than I've ever done, and I was feeling every step. I slowly made my way up the switchbacks, pausing often for water.
How scary this ascent must be in a normal snow year, when everything is covered and every step is treacherous. I had hard ground to hike on, and was very thankful for it! Especially as we approached the famous snow chute near the top of the pass. In normal years, each step is a terrifying posthole, with a steep snow drop to your left. You take a step, reset your ice axe, take another step – it's a tense process. This year, we had solid trail, and it was nothing but a good photo opportunity!
At the top, we spent a good 30 minutes sitting with our friends, eating and chatting. What a good group of people we are hiking around right now. We cheered as each new hiker turned the corner and hit the summit. This is officially the highest point on the PCT! (Sadly, all those miles up Whitney yesterday were technically a side trail.)
The north side of the pass was downright dangerous. Snow melts much faster on the south side of mountains, and we were spoiled by the southern approach to the pass. As we started down the north side, we immediately hit very slanted snow fields. We strapped on our micro spikes, held our breath, and began carefully stepping.
Mango took a fall and banged up her knee, and in one unlucky step, Savior postholed all the way to his hip (he's lucky he didn't twist his knee on the way down). We saw Spamuel Adam's take a big slip and lose a leg down the side of a hill, but he caught himself and was able to stand back up without taking any damage. As we got to a low enough elevation that the snow disappeared, we took a nice long break and recovered.
We wound our way down into a deep valley over the next 6 miles, then took a sharp turn and began hiking up a steep hill towards the turnoff to Kearsarge Pass. The Sierra section of the PCT is so remote that we have to hike a 7.3 mile side trail up and over a 11,800 foot pass just to get to a trailhead where we can maybe hitch down the mountain towards Independence and Bishop. We turned off around 5, and found a nice campsite near Bullfrog Lake around 5:30. Since it's illegal to camp near the shore of the lake (it's a restoration zone), we made sure to go about a quarter mile past the lake, and camped next to the inlet.
Whew, I am absolutely toast right now. We are talking about maybe doing a double zero in Bishop to try to recover. Redline is talking about taking even longer in town. I hurt, and I'm excited to lay in a real bed and try to eat back some of these calories. Tomorrow morning will be interesting, with so many thru hikers descending on a remote trailhead on a weekday morning. We are prepared to wait a long time for a ride down the mountain. It'll be worth it – after a huge, difficult section of trail, town will be a welcome sight.
Day 54
Start: Bushcamp near (but not too near) Bullfrog Lake
End: Onion Valley Trailhead / Bishop
PCT Miles Hikes Today: 6.3 side trail miles to the trailhead
Town day! We slept in for an extra 30 minutes, then raced up towards Kearsarge Pass.
The day quickly turned hot as we quickly trotted down to the trailhead. We were roasting by the time we arrived, and I can already tell it's going to be a scorching climb back to trail if we hit it too late in the day.
When we rolled in around 9:30, we immediately recognized that a hitch this early in the day on a weekday would be pretty difficult. Mango called a shuttle, we held our noses and paid an arm and a leg, and we got to Bishop an hour or so later.
Bishop is an excellent town. Some hikers stay in Independence (right at the bottom of the mountain), but there really isn't a whole lot there, and I've heard negative reviews. Meanwhile, Bishop is a full hour drive from the trailhead, but it's a much more substantial town, filled with restaurants, hotels, and gear shops. We decided to make the drive, and I'm VERY glad that we did.
The whole rest of the first day was a blur of eating, drinking, and hanging. Hostel California was an amazing place to land tonight. They have loaner bikes and we pedaled around town, grabbing beers at the local dive to celebrate Bushwhack's birthday (technically tomorrow, but it's never too early to celebrate, eh?)
The day ended with an insane amount of Mexican food from a local restaurant. We ordered 7 refills of chips for the table, and when ordering dinner, I just asked the waitress to bring the biggest item on the menu, which turned out to be a giant smothered carnitas burrito with rice and beans and sour cream. Mango and I were in physical and emotional pain from eating as we stumbled back to the hostel and collapsed into bed.  
Days 55 and 56
Start:Onion Valley Trailhead / Bishop
End: Onion Valley Trailhead / Bishop
PCT Miles Hikes Today: 0!
Ah, the elusive double zero rears it's head yet again! On the AT in 2016, I never took a double zero, except for one flight to Wyoming for a wedding. This time around, Bishop is my third (!!) double zero, and I don't know what to tell you, other than that double zeros are awesome and I have no regrets. 
At last, today is Bushwhack's Bishop Birthday Bash! Despite getting an early start yesterday evening, today is when the festivities really began. We are staying at the Eastside Guesthouse and Bivy for a few nights, where Bushwhack's family graciously put us up for a night, and Mango picked up the tab on the other night with her credit card reward points. We bought a few cases of beer and invited a bunch of our trail friends over for a celebration, facilitated by a box full of party favors that Bush's family mail dropped to him. 
We ordered a custom cake for Bush – gotta go all out for the big birthdays, and this was number 3-0 for this guy!
The girls also had a blast giving Spam some frosted tips:


To wrap the night, we went down to the local bowling alley and had a surprisingly delicious dinner, followed by a rowdy game of bowling. We only broke the machine 4 times, so I'd say we did relatively well!
All in all, this section of trail beat the shit out of me, but our time in town is leaving me feeling refreshed and ready to head back out there. This must be what boxers feel like as they stumble bloody back into their corner at the end of a round, then just a few short minutes later, they slap their gloves together and jump back into the ring.
The plan is to slow way down to enjoy the High Sierra in this section. One pass per day (other than the first day back to trail out of necessity), done as early as possible in the morning, then hang out in the low valley for the rest of the afternoon and evening. Thunderstorms roll in during the afternoon, and you don't want to be at the tip of a pass when the lightning starts flying. Plus, all that snow melts in the afternoon, leading to deep postholing at high elevation – an exhausting and dangerous thing for a hiker to do. Mango and I are doing 6 days to Vermillion Valley Ranch (VVR), then we will skip Mammoth and head straight to Tuolumne Meadows for our first trip ever in the Yosemite valley! Our trail fam is breaking up, as some folks are moving faster, and some folks don't want to go to VVR. But we definitely closed it out with a bang here in Bishop, and I'm confident we will meet more excellent hikers out there in the bush. 
Until next time, happy trails!
-Slice
P.S. If you like this post, check out Mango's trail podcast, Take a Hike!, now available on all major platforms (except Apple for some strange reason, probably due to that time I met Tim Cook in a local coffee shop and accidentally unplugged his MacBook so I could charge my Android phone. His computer died, he missed an important email, and they had to delay the release of the new iPhone for another 12 months.) https://anchor.fm/takeahikepodcast
Affiliate Disclosure
This website contains affiliate links, which means The Trek may receive a percentage of any product or service you purchase using the links in the articles or advertisements. The buyer pays the same price as they would otherwise, and your purchase helps to support The Trek's ongoing goal to serve you quality backpacking advice and information. Thanks for your support!
To learn more, please visit the About This Site page.